It's fashion week baby! And it's time to get up to date with the latest news that is shaking the fashionsphere, namely the latest expé' concept from Gucci , the new green fashion space at Galeries Lafayette or even a luxury and responsible pop-up store at Printemps Haussmann , a 100% online Hermès auction and the Balmain couture series . To your stilettos!
Rushing to the Vault by Vans pop-up by Sarah Andelman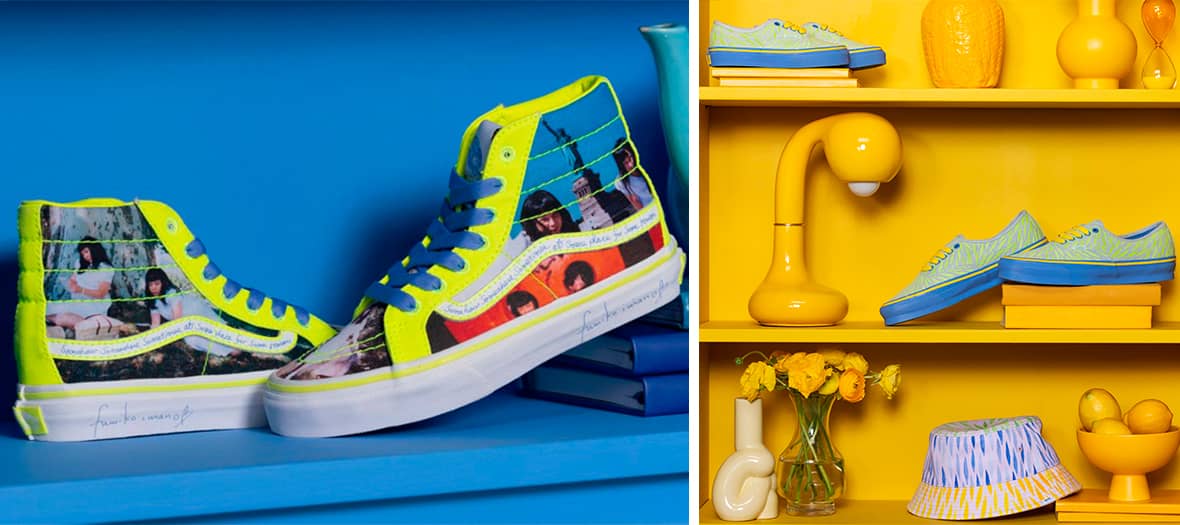 The orphans of the colette concept store are on the go. Sarah Andelman, now head of the agency and publishing house Just An Idea, is opening a pop-up dedicated to an absolutely cool Vault by Vans capsule collection at Le Molière on Saturday.
To create this collab' for adults and kids, Sarah surrounded herself with four female artists she admires and who inspire her. Julia Change, Fumiko Imano, Sokolinski and Sindiso Khumalo have each created two pairs of the iconic sneaker (90 to 120 €) in adult and child versions and a mini line of accessories (t-shirts, bobs, tote bags ...).
The appointment is taken at 40 rue de Richelieu where artists will provide customization workshops Vans, free nail art offered by NS Xperience or a big talk led by the collective Bisou Bouche.
There will also be a small cafe with Balbosté, the Just An Idea Book collection (50 €), the embroidered bandanas Call It By Your Name and the dried flowers Pampa...
Pop-up Vault by Vans x Sarah Andelman at Le Molière, 40 rue de Richelieu Paris 1er Saturday March 5 from 11am to 7pm
Lunch among fashion influencers and editors at the Tuileries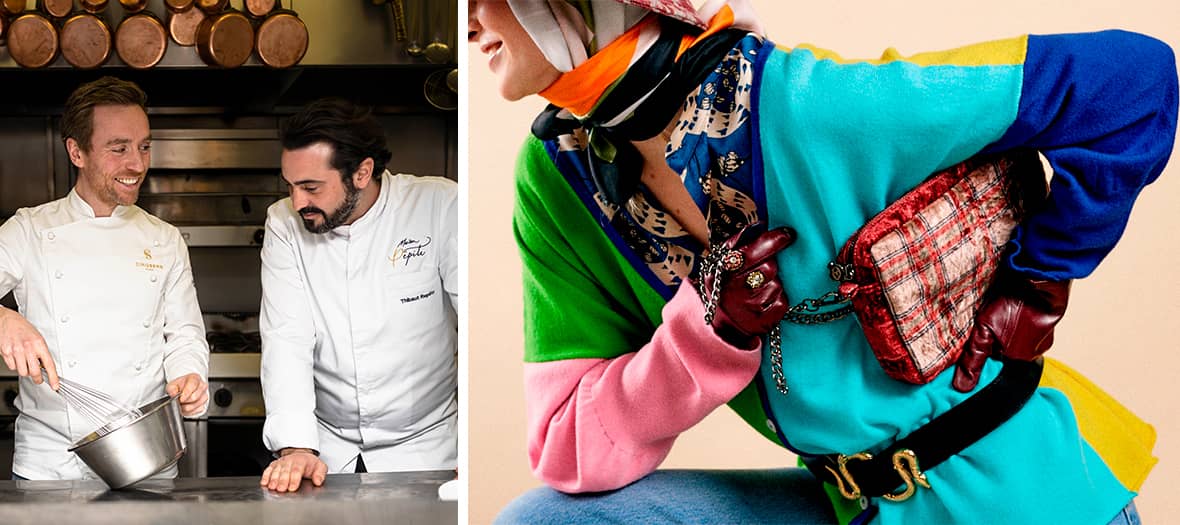 During fashion week, there are the fashion shows of the big houses, and then Première Classe , a happening set up in the Tuileries where the coolest and most popular brands exhibit the most prominent accessories.

Do you dream of going behind the scenes at fashion week ? If Première Classe remains an event reserved for fashion professionals, on the other hand, the ephemeral restaurant incubated by the Parisian food label that everyone is talking about MPépite is open to the public. If you want to meet the cream of fashion editors, the buyers of the most cutting-edge concept stores around the world or influencers, this is where it happens. Too much Loïc Prigent in you!
The opportunity to have lunch in a scenography signed French Cliché and to taste the exquisite small dishes of Thibaut Repéto and Stéphane Jégo.
MPépite restaurant , at the Première Classe lounge, Jardin des Tuileries, Paris 1er. From Friday 4 to Monday 7 March. Menu from €29. Online reservations.
Marvel at Marine Serre's solo show at Lafayette Anticipations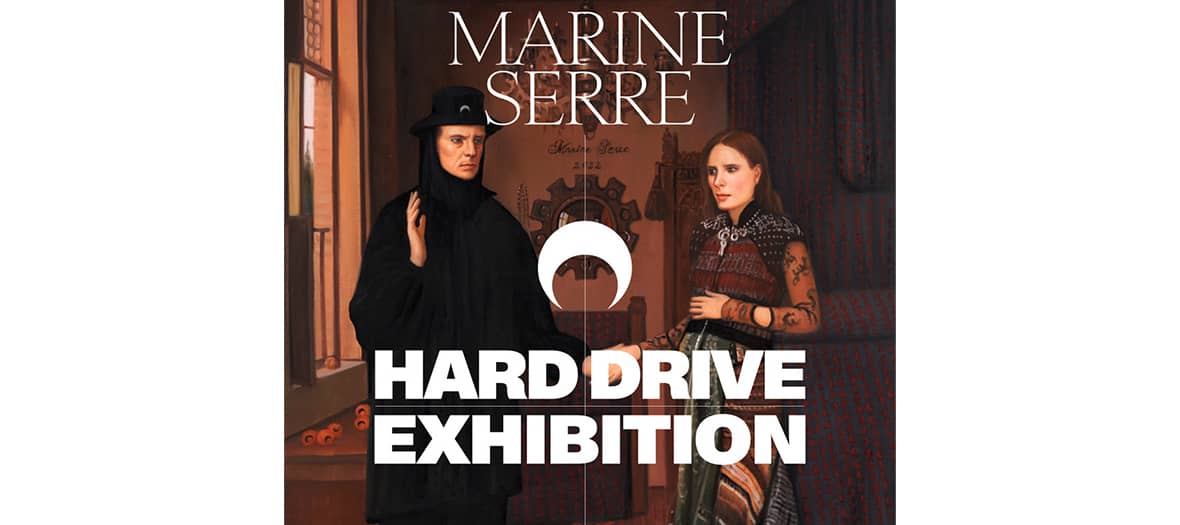 Marine Serre , the darling designer of committed fashion, signs her first exhibition at Lafayette Anticipations in the Marais this weekend, and it's the buzz of this fashion week.
To highlight his work, free guided tours will take place throughout the weekend. Throughout its installation, the sustainable vision that makes Marine Serre 's signature is revealed and all the brand's emblematic green materials, true couture prowess, as well as a floor devoted to the creation process and the upcycling of clothes at the end of life towards new, highly desirable everyday objects.
Note among the hot talks: a conversation, in English please , between Marine Serre and Harper's Bazaar fashion editor Rachel Tashjian at 4:30 p.m. on Saturday ( book your tickets for free ) and a conference by Marc Abélès on Sunday on fashion and power ( book your seats for free ).
Don't miss: the pop-up with a selection of objects, books and goodies from the designer.
Marine Serre exhibition Saturday 5 and Sunday 6 March. Free tickets on reservation at Lafayette Anticipations , 44 rue Ste Croix de la Bretonnerie, Paris 4th.
See the scene of Yves Saint Laurent's ball gowns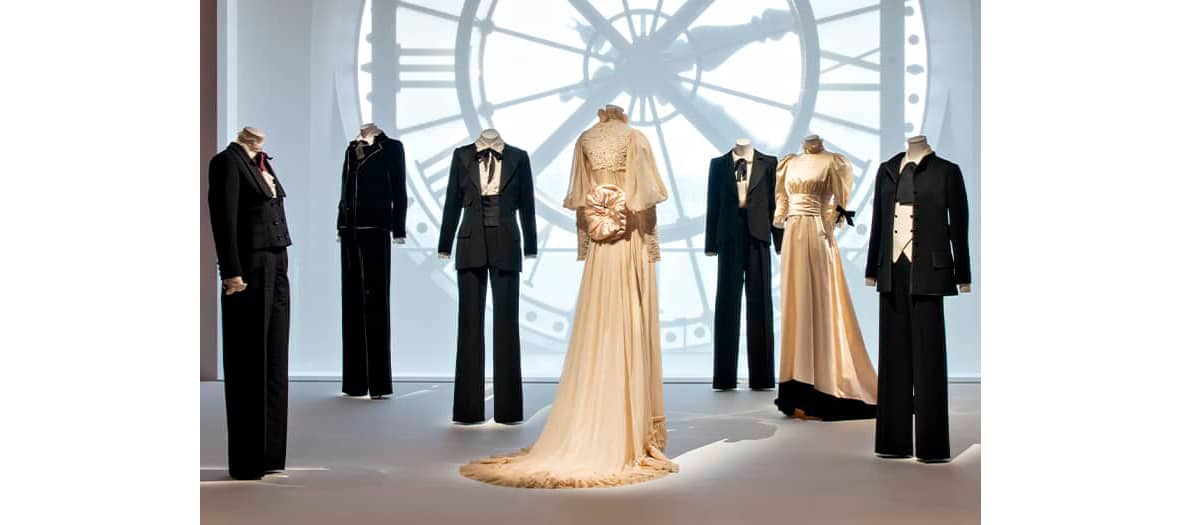 Head to the old hall of the Gare d' Orsay in the Salon de l'Horloge where festive outfits for the grand balls and sketches by Yves Saint Laurent are displayed . In a Proustian atmosphere, we dive back into the world of the writer whom the couturier so adored with tuxedos galore and satiny dresses with lamb sleeves. All the elements of the time are there!
Don't miss: Jane Birkin 's dress worn for the Rothschild Bal Proust in 1971, the surprising sketches of headdresses and costumes made by Saint Laurent for the Bal des Têtes in 1957 given by Baron Alexis de Rédé at the Hôtel Lambert . We never get tired of timeless women's tuxedos that brilliantly explore the feminine-masculine wardrobe.
Yves Saint Laurent at the Musée d'Orsay , Esplanade Valéry Giscard d'Estaing, Paris 7th. Tuesday to Sunday from 9:30 a.m. to 6 p.m., late opening on Thursday, admission €16, free for those under 25.
Take part in Guillaume Henry's masterclass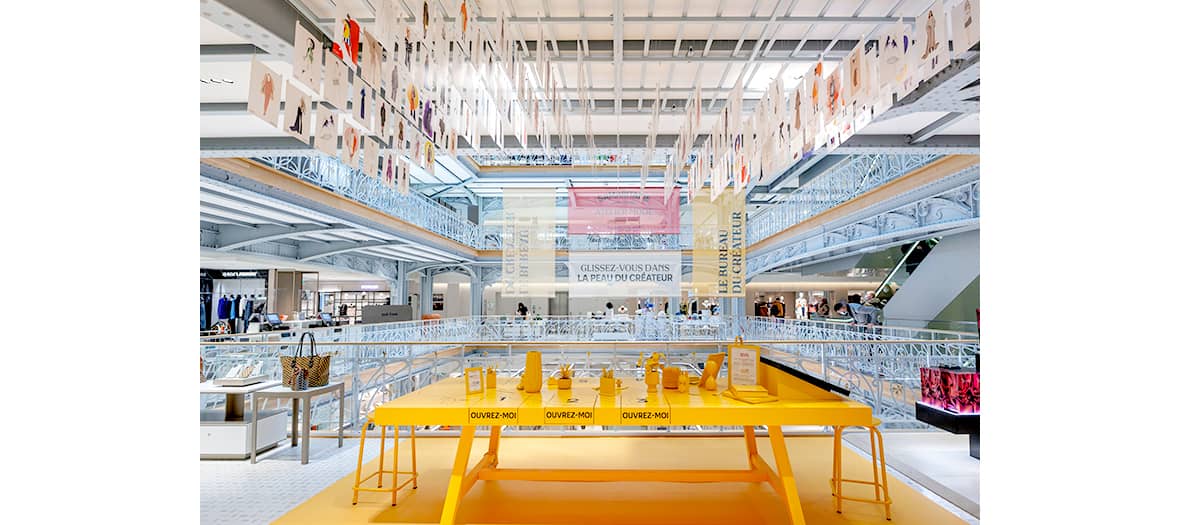 Do you dream of entering a fashion house with access to the backstage of this secret world? That's good, La Samaritaine has teamed up with Patou and its star stylist Guillaume Henry in collaboration with ESMOD to recreate " designer's table ". On the 3rd floor: a workshop entirely designed by Patou's artistic director where you learn how to create a silhouette, pimp off scraps of unused fabrics like the pros as well as the narration of the creation from A to Z by drawing from the XXL yellow boxes made available.
Don't miss: the photo studio on the first floor to create your own magazine cover in the too beautiful Photobooth set up especially for the occasion: wahouuuu.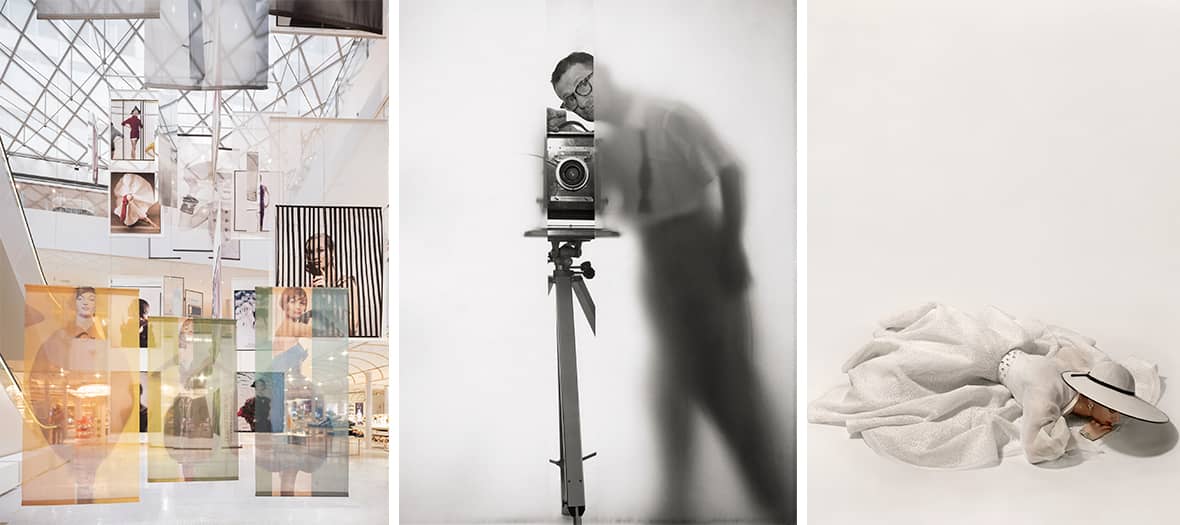 Another highlight of this fashion week: the sensational exhibition of Erwin Blumenfeld , the avant-garde photographer from Vogue and Harper's Bazaar who brilliantly crossed the boundaries between art and fashion and sublimated the female body like no one else. The opportunity to discover iconic and unpublished shots through a staging in homage to his graphic prowess with XXL installations and games of transparency.
© The Estate of Erwin Blumenfeld © _stephane_sby_balmy
Fashion workshop , at La Samaritaine, 9 rue de la Monnaie, Paris 1er. Open daily from 10 a.m. to 8 p.m., free entry.
Explore Paris and fashion with Yoshi Takata at Thaddeus Ropac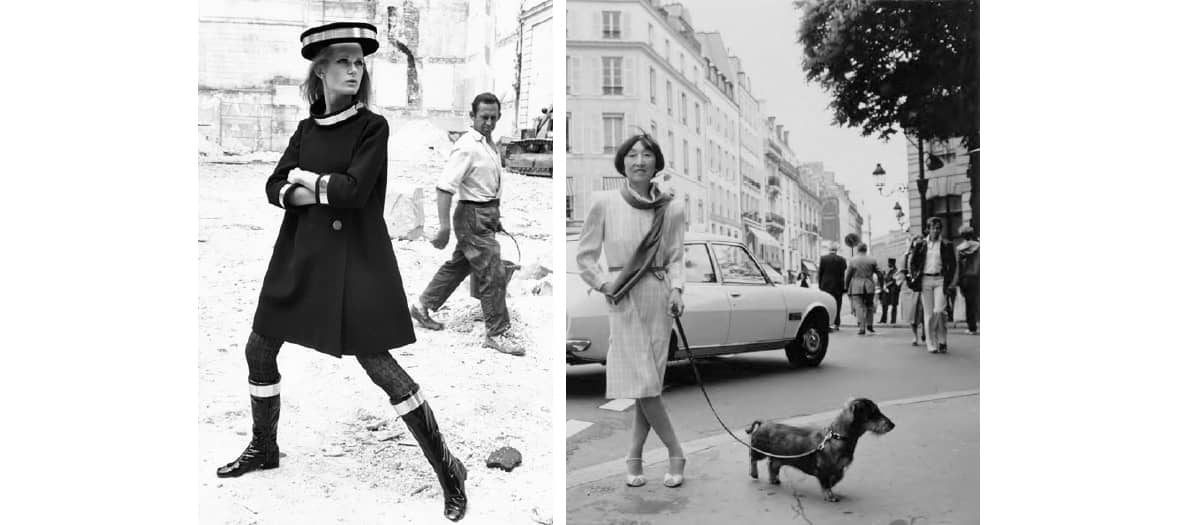 Back in the glittering Paris of the post-war period with the cult photographer Yoshi Takata exhibited as the ultimate star of the Thaddeus Ropac gallery in the Marais. A reminder: the brilliant Japanese cut her teeth alongside her sidekick Pierre Cardin , whose pop and graphic touch influenced her work.
It gives an exhibition of fashion shots that revealed it with free moving bodies, but also unusual scenes of Parisian daily life. It is also a dive into the era of the first street shoots, where models were taken out of the studios for a trip to the edge of the quays with swaying blows on stiletto heels under fitted petticoats.
Don't miss: the iconic prints of futuristic fashion, take-off atmosphere for the Moon.
Free admission. Yoshi Takata , at the Thaddeus Ropac gallery, 7 rue Debelleyme, Paris 3rd. From March 2 to April 23.
© Yoshi Takata. Courtesy Pierre Pelegry.
Squat the beauty coffee shop at Bon Marché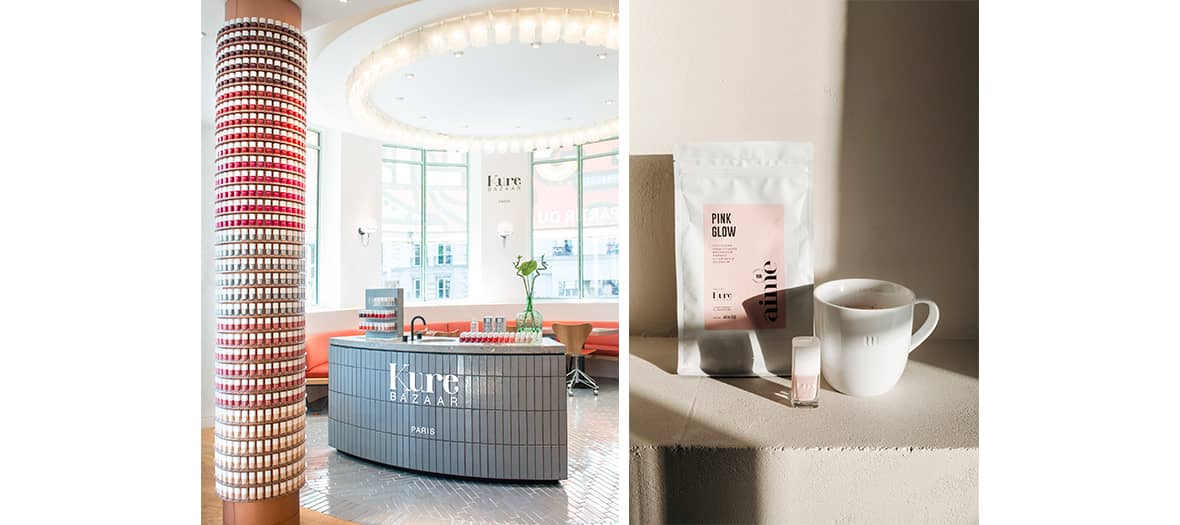 Always where you least expect it, Le Bon Marché is taking advantage of fashion week to launch " Exposition x ", the coolest and most improbable encounters ever thought up for the season, in a scene designed with Philippe Katerine , a wacky character who slums with panache the bourgeois universe of the BM. It gives absolutely brilliant collabs like a pair of Scholls with Erès , Baccarat & Pokémon ….
The beauty break not to be missed: a healthy break on the 1st floor of Le Bon Marché in the studio incubated by Aime Skincare x Kure Bazaar , halfway between a cool institute and a coffee shop. You can have amazing treatments before going to a party: collagen hair care, manicure or LEDs while sipping an all-pink latte with the magic powder, the famous Pink Glow with a thousand good-looking virtues.
Exhibition x , until April 24 at Bon Marché, 24 rue de Sèvres, Paris 7th. Event concerts on 1 and 2 March, from €20.
Trust Christophe Lemaire's arty capsule at Galerie Derouillon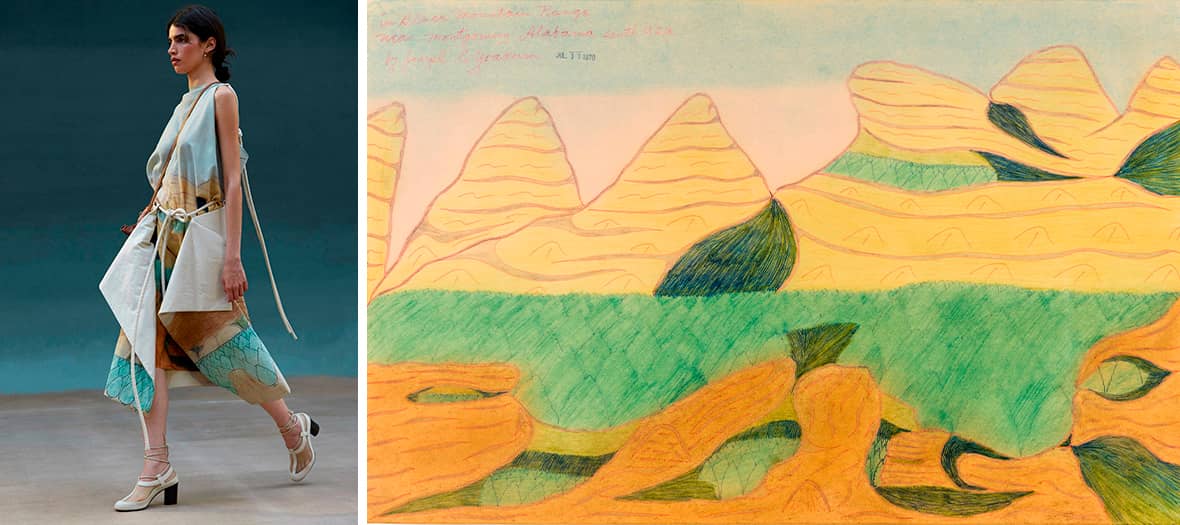 From Hermès style to collaborations with Uniqlo , everything he touches is brilliant. Fashion genius Christophe Lemaire was inspired by the paintings of Native American artist Joseph Yoakum for his 2022 capsule collection.
The two creatives join forces with the Galerie Derouillon in the Marais for an exhibition event which brilliantly celebrates the links between art and fashion, but also know-how and craftsmanship.
For the occasion, the designer has imagined pieces in silk and cotton with imaginary landscape motifs in soft, pastel colors. The result is poetic prints revisited on casual outfits that we're going to snap up this spring.
Don't miss: the sublime paintings by Yoakum , including Black Mountain Range , from 1970, adapted on a dress with straps from the Lemaire SS22 capsule collection.
Inscape , at Galerie Derouillon, 38 rue Notre-Dame de Nazareth, Paris 3rd. From March 3 to 13. By appointment .
Snack and get a massage at Azzedine Alaïa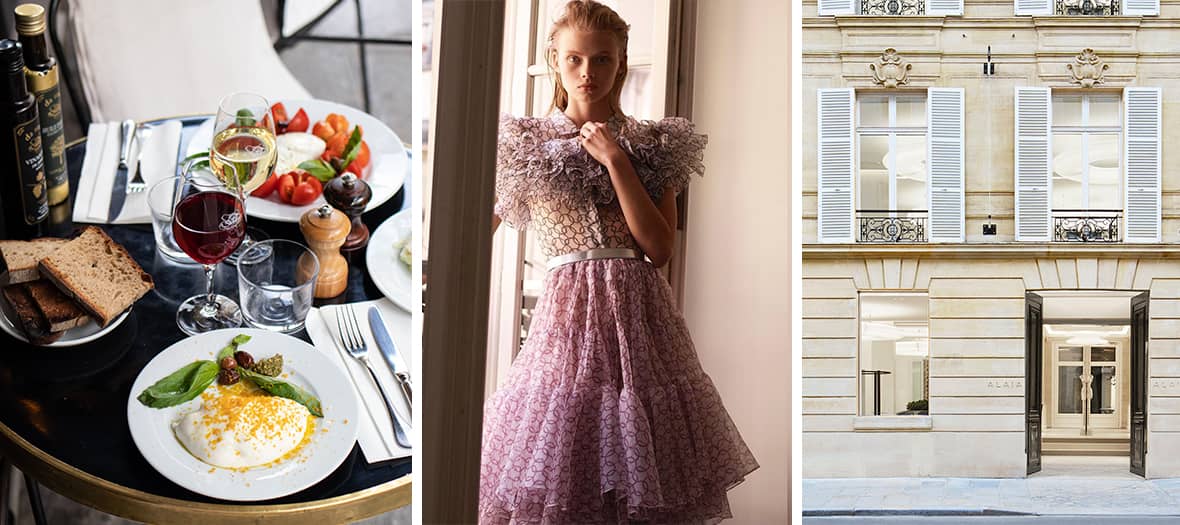 Newsflash: Da Rosa , the most popular Iberian canteen-grocery store (formerly in Saint-Germain-des-Prés), has opened a café on the pretty terrace of the private mansion where the Azzedine Alaïa boutique is located .
Here, it's the cult of the best products : sublime salmon tartare (€24), Iberian Bellota ham (€16) and chorizo (€9), real tarama (€15), burrata (€16). Bonus: we find our favorite from the parent company: a fabulous club sandwich with Iberian ham (€20), or its equally addictive smoked salmon (€26) or cecina (€24) variants.
We don't miss: ultimate couture snobbery to cultivate your dream body, the Alaïa house has teamed up with Martine de Richeville to create a beauty cabin that could not be more chic, just to provide slimming massages ultra-prized by the stars
Open Tuesday to Saturday from 12 p.m. to 7 p.m.
Martine de Richeville and Café Da Rosa at the ALAÏA boutique , 5 rue de Marignan, Paris 8th.
Spend an ultra-private evening with top models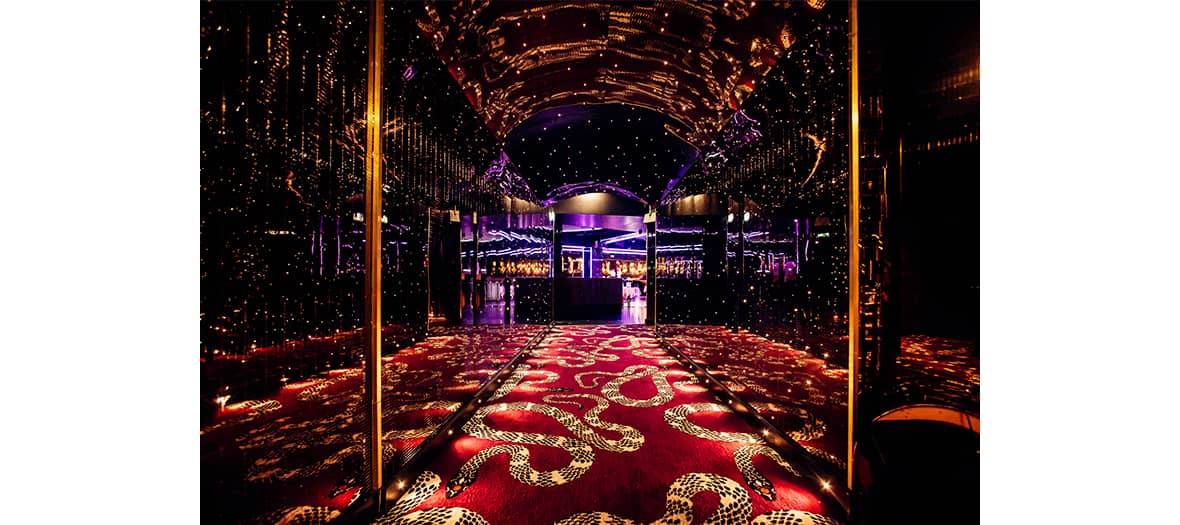 We no longer need to introduce this mythical Etoile club, known for its bling-bling and very popular fauna. To celebrate fashion week as it should be, the club L'Arc is organizing an evening in after show mode on March 3 with DJ Agoria on the decks. The decor is breathtaking: cozy alcoves, a snakeskin carpet, and the program with little onions with shows , entertainment and photocall all evening in the company of passing stars.
One watchword: Fiesta! So to optimize your chances of getting in, we advise you to come before midnight at 2 or 4, and finally bring out your pre-Covid party girl micro-dresses. Heels , sequins and rhinestones galore will be welcome.
Don't miss: the catch-up session the next day, for the hip hop evening on March 4 with a maximum of American-style starlets expected for the Miami evening, including DJ Roddy Ricch 's showcase in partnership with Miami's megaclub LIV .
Fashion week evening at L'Arc , 12 rue Presbourg, Paris 16th. Open Thursday to Saturday from midnight to 6am. Entry €80 with a drink.
Relive the parade tribute to Picasso by Yves Saint Laurent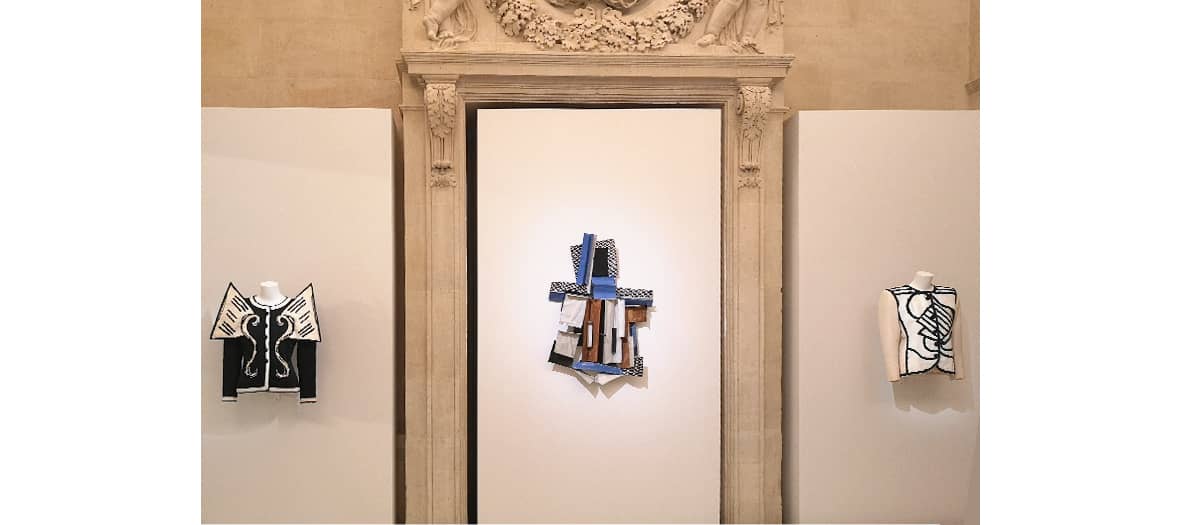 An authentic upcycling of Picasso 's works , transformed, appropriated and then sublimated, the outfits from Yves Saint Laurent's 1979 collection are much more than a tribute to the painter . Almost theatrical, the couturier deciphers: " My collection was built like a ballet", confronting the couturier with the artist.
Don't miss: the Hommage à Pablo Picasso jacket from 1979 facing Picasso 's Portrait of Nusch Eluard , the totally surreal trompe-l'oeil jacket from 1988 imitating the violin, but also the Hommage satiny dress and its disturbing face unstructured in sequins in memory of Bust of a Woman with a Striped Hat (1939) by Picasso.
Yves Saint Laurent at the Picasso Museum , 5 rue de Thorigny, Paris 3rd. Open Tuesday to Sunday from 10:30 a.m. to 6 p.m., admission €14, reduction €11.

Also discover the new essentials of Parisian lingerie and Chateau Voltaire, the new Parisian hotel that obsesses the stars.