Surprising your date by offering him a date that stands out from the crowd is the unstoppable assurance of capturing his attention and titillating his interest. Speakeasy dealing intoxicating potions, night-time exhibition , pizza to share in an overly beautiful restaurant, breakfast on the Eiffel Tower , good vibes only painting workshop , feast to share late at night… Focus on these amazing good ideas, tested and approved by the editorial', which will make you score points... and transform the essay. We bet ?
Last drink at the Hôtel Particulier Montmartre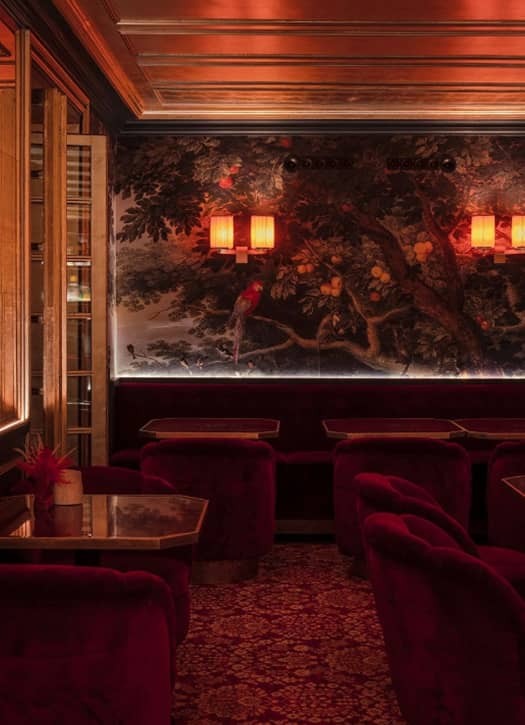 It is at the most confidential address in the capital. This ultra-secret hotel and former residence of the Hermès family , perched on the heights of Montmartre , has only 5 rooms (some suites, by the way) and has slyly welcomed Brad Pitt and Angelina Jolie , Cameron Diaz and even Johnny Depp who completely privatized it for a week all to himself.
No need to stay there to enjoy its superb bar, the Very Particular , open every evening and which proves to be the ideal option to conquer the heart of the coveted person... It must be said that, in its sexy red armchairs, you immediately fit into an intimate atmosphere worthy of a movie set, to share sophisticated cocktails : Juste un Doigt (Bulleit bourbon, lime, white pepper, Aquafaba, €17), Le Très Particulier (Tanqueray gin, elderflower cordial, tonic, tincture of verbena & lavender, €15)... to be served with raunchy plates to share (snails, pâté en croute, roasted cabbage, Corsican ham, Mont d 'Or roasted with truffles… between €14 and €42).
Le Très Particulier at the Hôtel Particulier Montmartre , 23 avenue Junot Pavillon D, Paris 18th. Open every day without reservation from 6 p.m. to 2 a.m.
A pétanque aperitif on Place Dauphine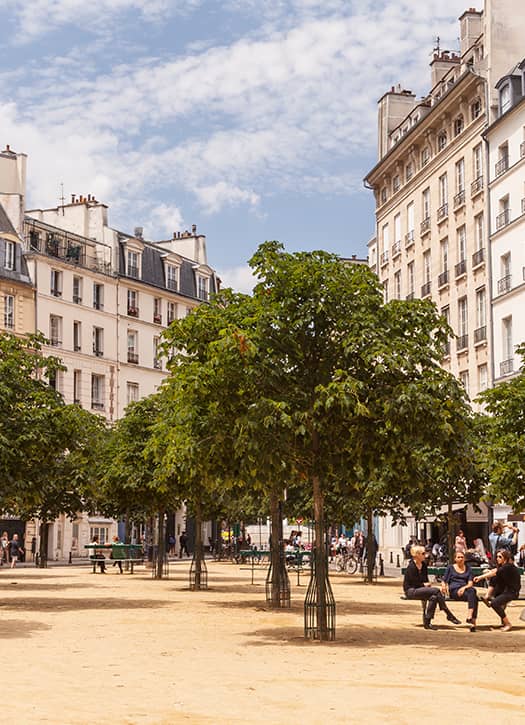 To astonish him, or even completely bluff him, meet him at Place Dauphine , one of the most romantic spots in the capital behind the Palais de Justice , on the Pont Neuf side . Tell him to cover up well. There, you'll be waiting for him with a packed basket (a good bottle of wine , pretty glasses , toast , sausage) and… two sets of pétanque balls (to rent here or invest here ).
Before summer, you won't be bothered by the crowds, the square and its sandy paths are lit up thanks to the restaurants that surround it, and the view clearly invites you to get closer. The winner gives a kiss to the other?
Place Dauphine, Paris 1st
Chic pizza for two at Paparazzi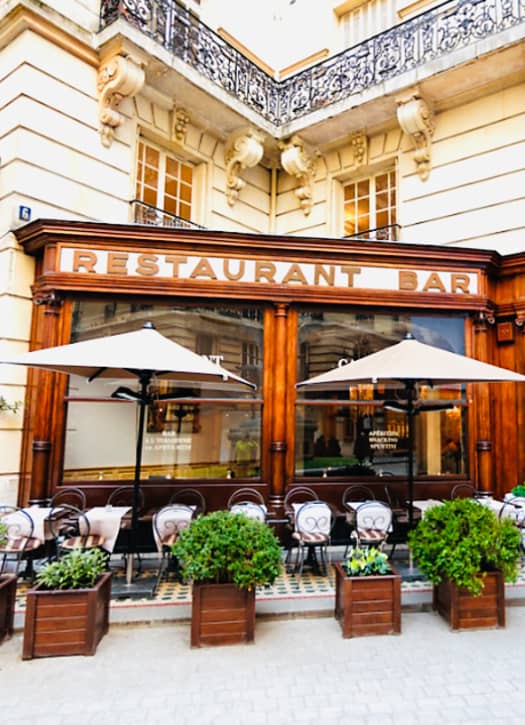 This bellissima pizzeria , nestled in the shelter of the city on a pretty square a stone's throw from the Olympia , is one of the most charming Italian spots in Paris : cozy room with royal decor and ultra-romantic terrace illuminated with small garlands, atmosphere like in Rome on the plate with an XXL pizza star with a super-thin dough, served straddling two plates (between €22 and €24)… Or have a pizza remake of Lady and the Tramp for two !
Paparazzi , 6 square de l'Opéra Louis Jouvet, Paris 9th, open Monday to Saturday from 12 p.m. to 3:30 p.m. for lunch, from 3:30 p.m. to 7 p.m. for a snack and from 7 p.m. to 12 a.m. for dinner
Drink and confidences in a secret bar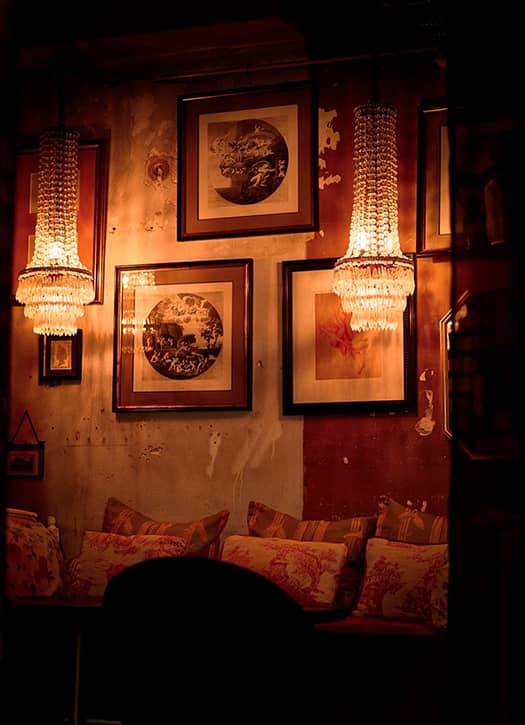 Lower your voice when someone listens to us: here is the most confidential spot in the capital. It is within the Hotel Normandy that hides the bar that will allow your date to reveal all its mysteries...
Once you arrive at the Hôtel Normandy (aka Le Chantier ), you enter through a back door at the back of the breakfast room. You just have to go down a narrow spiral staircase (be careful in heels) to discover Rehab , this cozy and super intimate place halfway between the New York of the Roaring Twenties and the padded sensuality of In the mood for Love . We whisper sweet nothings in our ears while tasting the CBD cocktail creations , just to optimize the feeling of relaxation and fullness (creative cocktails around €20).
Rehab Saint-Honoré at the Hôtel Normandy , 7 rue de l'Escale, Paris 1er, open Tuesday to Thursday from 6 p.m. to midnight, Thursday from 7 p.m. to 1 a.m.
A nocturnal exhibition in a Parisian museum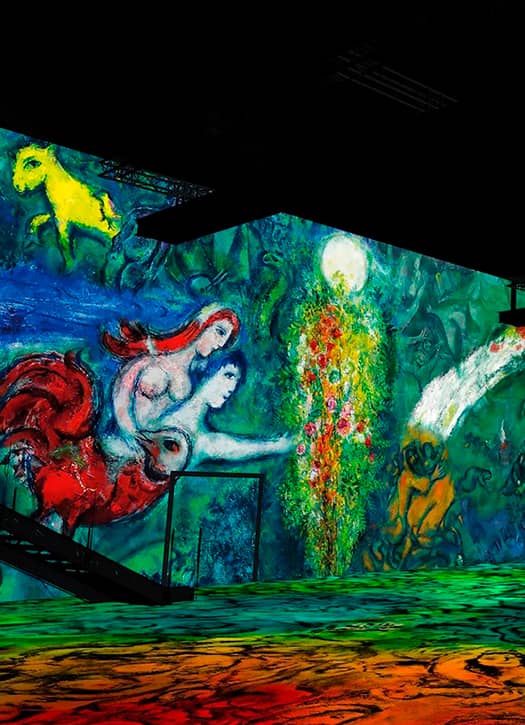 What could be more romantic than a date haloed with a touch of arty delicacy? Good to know : Parisian museums are offering late- night openings of their exhibitions to all art-loving night owls and lovers in the making. Short list of places and exhibitions of the moment to trust hand in hand depending on the day of the meeting:
The Fondation Cartier : La Vallée Fabrice Hyber, open until 10 p.m.
The Maillol Museum : Hyperrealism. Ceci n'est pas un corps , open on Wednesdays until 10 p.m.
The Center Georges Pompidou : permanent collections until 9 p.m., galleries 1 and 2 until 11 p.m.
The Musée d'Orsay : The 1001 designs of the ABCD d'Orsay
The Quai Branly Museum : until 10 p.m.
L'Atelier des Lumières : Chagall Paris NY from 02/17 until 10 p.m.
The Louvre Museum : until 9:45 p.m.
Breakfast at Madame Brasserie
An enchanted hideout on the first floor of the Eiffel Tower and 57 meters high to impress your target? Head to the Madame Brasserie lounge , a table as close as possible to the bay windows to savor the panorama around a Parisian-style breakfast (coffee, croissants, toast and fruit juice at €19).
Open from 10 a.m. to 12 p.m. without reservation, before strolling through the superb streets surrounding the Champ de Mars . A word of advice: arrive 20-30 minutes early, just to have time to go through all the security steps.
Madame Brasserie , 1 allée des Refuzniks, Paris 7th.
A fluorescent painting workshop in the dark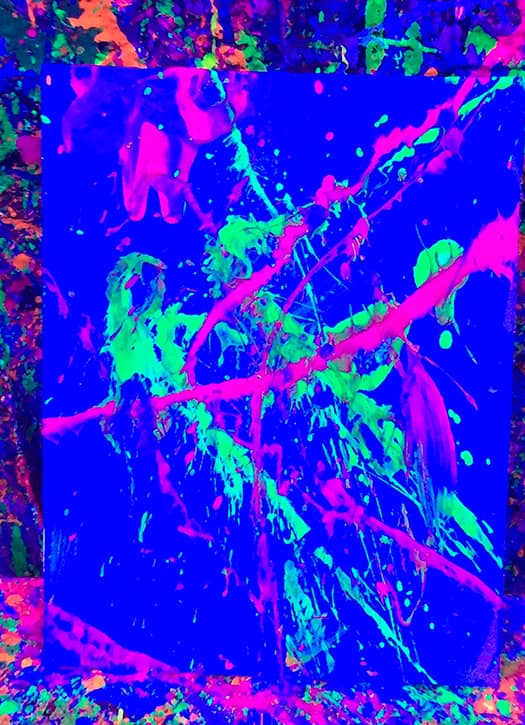 Notice to wannabe artists eager for fun experiences: Paint in the dark returns to Paris for a few additional dates. In a retro-futuristic decor , we alternate between tasting gin cocktails signed Bombay Sapphire (with non-alcoholic versions) and creating masterpieces in fluorescent paint. All equipment is provided !
It remains to go there and radiate our date with the good vibe that infuses everywhere in this sensory and whimsical journey. Top: we obviously leave with his painting, the first memory to keep of this meeting.
Paint in the Dark , 1h30 workshop from February 22 at the Théâtre du Gymnase Marie Bell, 38 boulevard de Bonne Nouvelle, Paris 10th, Wednesdays and Thursdays at 7 p.m. and 9 p.m., Fridays at 5 p.m., 7 p.m. and 9 p.m., Saturdays at 3 p.m., 5 p.m. and 7 p.m. and Sundays at 5 p.m. and 7 p.m., online reservations , price from €40
A nocturnal feast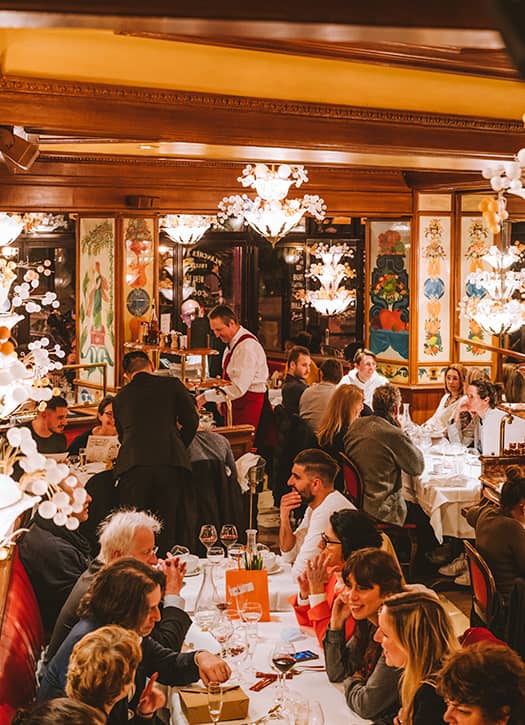 © Joann Pai
Legend has it that the stoves haven't been extinguished since 1946! Le Pied de Cochon is THE HQ par excellence to celebrate at any time around a good table. At night, the atmosphere is happy and exalted, the plates are always full and the characters you meet there are colorful and full of fantasies: enough to relax the always a little stressful atmosphere of a first date. .
Between seafood platters (from €29.50) and artisanal charcuterie from Eric Ospital (€11 for artisanal white ham), the night promises to be long, the menu promises to be raunchy, and so are the customers. .
Au Pied de Cochon , 6 rue Coquillière, Paris 1st, open every day and 24 hours a day

Also discover 10 hot chocolates to try once in your life and the perfect treatment to book as a couple