If you're a fan of grandiose shows, you've probably already been to the Casino de Paris, the temple of music hall, host to sensational events and the most fashionable dinners of the Belle Époque. Before entering the legendary concert hall, from the lobby, look up: you'll see Mistinguett, the brand new festive table to check out before or after the show. Dress up in your finest and follow us.
A magnificent setting
It can be accessed through a secret door to the left of the main entrance. At the top of the stairs, Mistinguett is revealed and one thing is for sure: nothing is too good for her. Check out the red and black leopard print carpet (ggrrr), the Murano glass feather chandeliers, the banquettes, the cloud ceiling and, above all, the showstopper behind the bar: the wow-worthy stained-glass windows that hint at an extraordinary Belle Époque setting in an arc. Did someone say theatrical?
Try to spot clues in the room of what awaits you: throughout the evening from Thursday to Saturday, performances by artists featuring dancers, acrobats, impersonators, and musicians follow each other. Birthday parties are already having a blast.
Magical elixirs
In addition to its movie-like decor imagined by the Atelier Ha, the main attraction of Mistinguett lies in the divine well-shaken cocktails behind the bar by a trio of bartenders who have arrived en masse from the south. Mischievous to the extreme, their potions invite flirtation or open the dance floor before sitting down: the ultimate crush for the Zizi Jeanmaire (gin infused with rosemary, syrup and pear eau-de-vie, lemon and prosecco, €14) and the surprising Arielle Dombasle (vodka, verjuice, pandan syrup, aquafaba, mint and rhubarb bitter, €13).
Food's ready!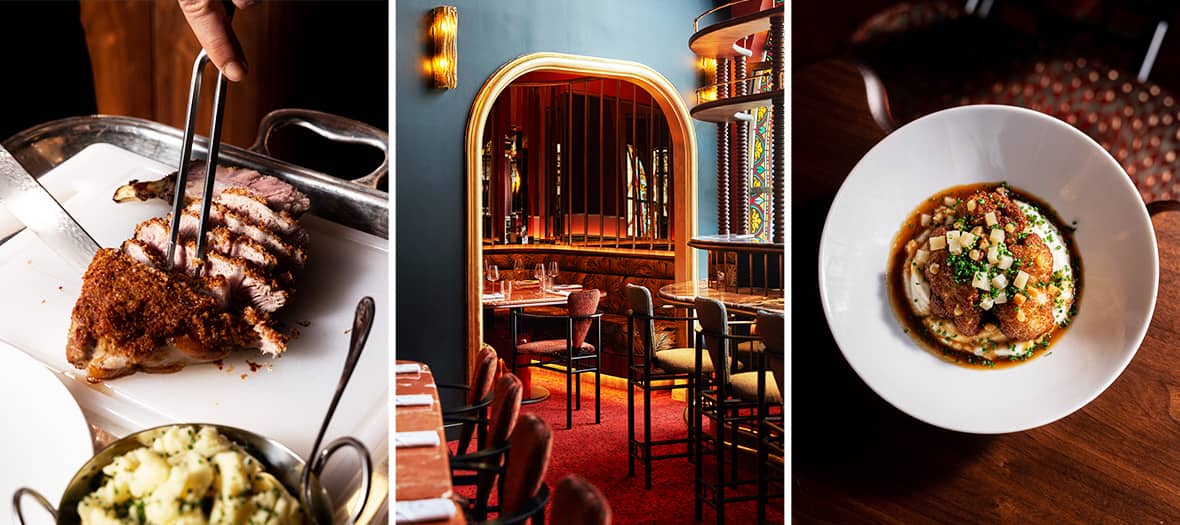 After a visit to the bar, it's time to take a seat at the restaurant, where chef Etienne Daviau, originally from Angers and trained in palaces, serves up joyfully colorful and generous plates: smoked chestnut butternut soup (€13), perfect egg with mushrooms and roasted chicken juice (€16), pearly cod with artichokes (€29), or a succulent veal chop in Serrano ham and parmesan crust, cut in front of us for two and accompanied by an addictive mashed potato (€69). For dessert, it's hard to resist the rice pudding, a sure value that never disappoints (€11).
Open every day of the week (except Sunday) from 12pm to 3pm and from Tuesday to Saturday from 7pm to 2am. No reservation required for drinks from 7pm, dinner served in two services: starting at 7:30pm and then at 9:45pm.

Also Discover 6 must-have tables for partying and Dar Mima, the new festive table in collaboration with Jamel Debbouze