From the most foodie to the smash , passing by Californian and even vegan versions, the burger continues to satisfy our foodporn cravings. Overview of the best buns to eat in Paris.

The Most Left Bank: Specimen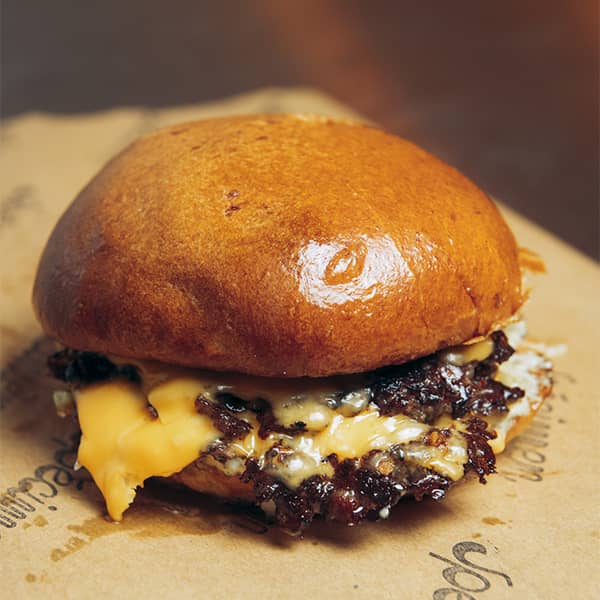 The smash burger craze continues to expand its territory and is attacking the left bank. It is just a stone's throw from Rue Princesse in the heart of Saint-Germain-des-Prés that the brand new Spécimen has set up its burger craziness in a pop 70s American-style diner setting, with dim lighting and vintage furniture. At the helm is Benoit Heraud, who has gone from cocktails (Le Persifleur) to burgers and is determined to send the cream of the crop in a recipe pimped with super products.
On the menu, there are two options: a delicious double cheeseburger with two smashed matured meat patties, a revisited mayo, and melted cheddar all over, all captured in a potato bun baked every morning and ultra-soft. Verdict? Addicted from the first bite! And for vegetarians, a breaded and fried portobello mushroom replaces the meat: too good, not to mention the double-cooked fries that ensure a crispy and melting texture. For thirst, we let ourselves be tempted by the frozen mezcal cocktail (€ 8) or the super naughty peanut butter milkshake (€ 6 ).
Priced at €12.90 for the double cheeseburger and portobello burger, plus €4 for fries, Spécimen is available for dine-in, takeaway, or UberEats delivery.
Located at 3 Rue Guisarde, Paris 6th, Spécimen is open from Tuesday to Friday from 12pm to 3pm and from 7pm to 10:30pm, and Saturday and Sunday from 12pm to 10:30pm (closed on Mondays).
The Most on the go : Junk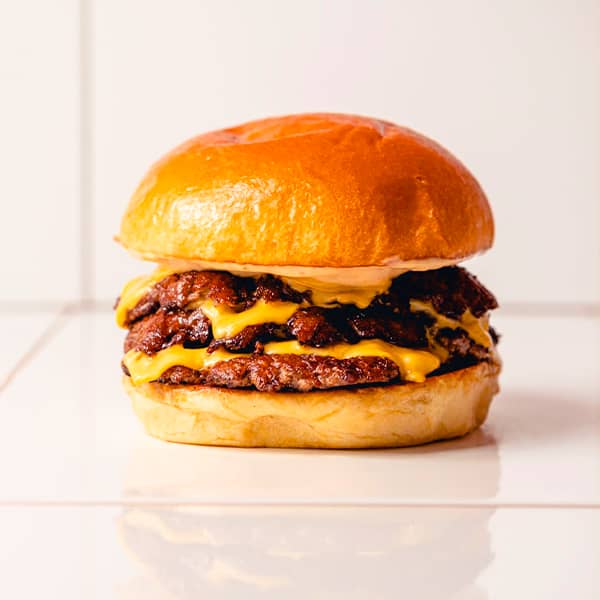 The new smash burger of the capital is devoured at Junk in the Sentier. After a full house on Deliveroo, Junk Burger is moving to an address 100% dedicated to takeaway. A culinary laboratory that combines street food and quality is the philosophy of the inmybelly group, owner of several successful Parisian brands.
An incredibly airy brioche bun that seems to vanish in your mouth, a beef steak specially prepared for Junk, an ultra-melting American cheese and, last but not least, a secret sauce with a subtly spicy taste: the perfect burger to accompany the crunchy-melting house fries.
€14,50  for the M smash burger and fries formula available on site and on Deliveroo
Junk Burger 114 rue Montmartre, Paris 2e, open every day from 12h to 14h30 and from 19h to 22h30
The most Californian: Echo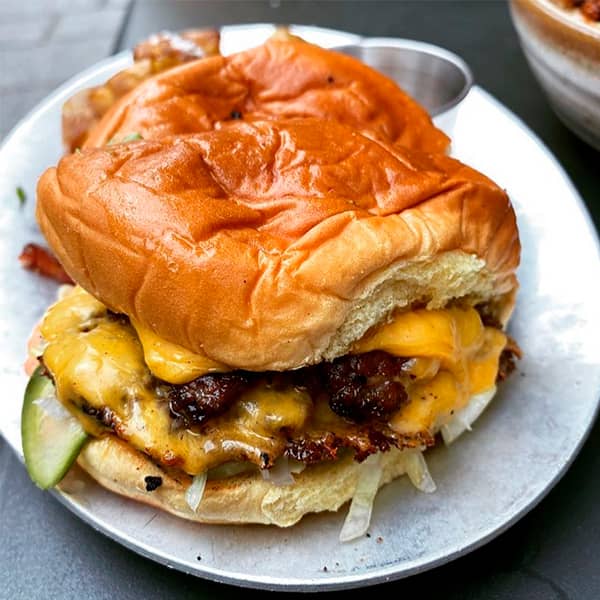 A kif like in Venice Beach . Those who know will drool just reading this news! You can find the fun Shake Shack , the coolest and most famous burger chain in Los Angeles , at Echo , the Californian canteen that is all the rage in the Trail .

Every evening, the Double Echo Smash Burger wreaks havoc with a Martin's bun (the same bread as at Shake Shack, so be it), 2 beef steaks, cheddar cheese, tomatoes, iceberg salad, onions, pickles, and the famous secret sauce… To devour with an IPA beer.
€ 13, available on site or via UberEats

Echo 95 rue d'Aboukir, Paris 2nd
Most smash: Dumbo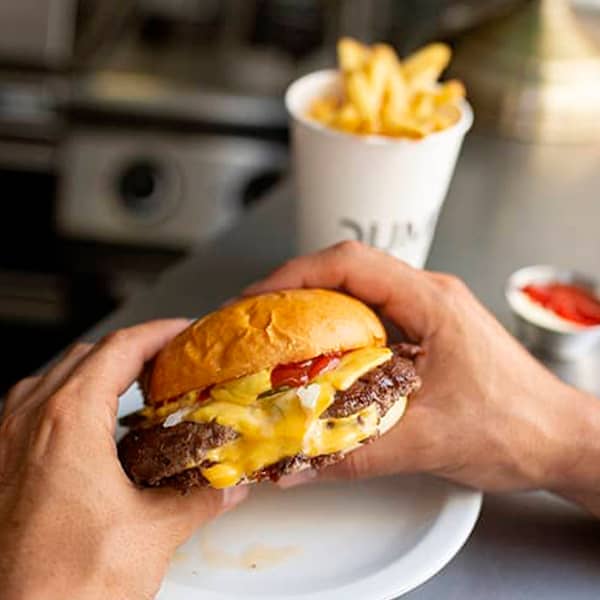 Dumbo's XXS counter is the first place dedicated to the smash burger in Paris, a technique that consists of cooking an ultra-slim steak on a hot plancha until obtaining a " patty " slightly caramelized and crispy on the edges with a unique recipe and the minimum of ingredients to get to the point. Less is more.
The Cheeseburger offers a 130g smash patty with a slice of American cheese, freshly ground pepper, sliced raw onions, sliced iceberg salad, house pickles and house sauce. Please note: there is no seat. Real street food in super limited edition. Good to know: a new sign on rue martel in the 10th district is about to see the light of day. A good hearer ...
Burgers at € 10 in take away, € 10,90 on Deliveroo
Dumbo 64 rue Jean Baptiste Pigalle, Paris 9th
The most foodie: Baby Love Burger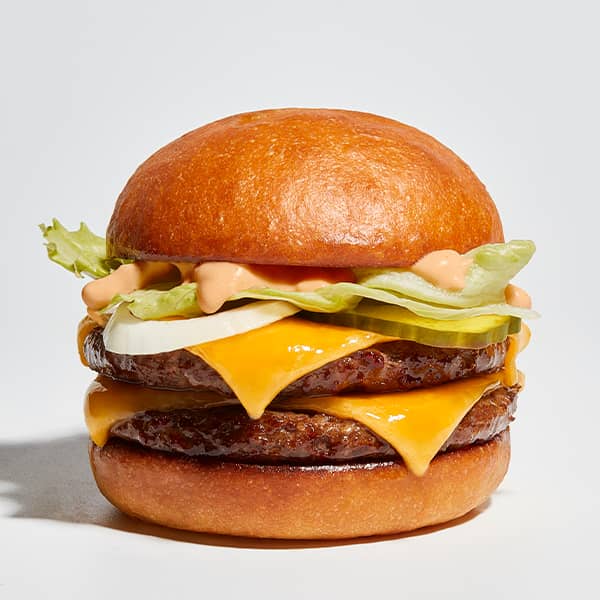 Here is an outsider coming to titillate Dumbo with an address which makes a lot, a lot of noise in the kingdom of foodies. Behind this hipster brand, two friends with well-known names of food bobos installed rue Saint-Maur: Camille Fourmont de La buvette (voted best cellar to eat by Le Fooding , that says a lot ...) and Jérémie Kanza , founder of Balls , successful dumpling dealer in the 11th.

Obsessed with junk, greedy criminals have opened the burger box of all their fantasies. The deal is clear: no fuss, but a menu with variations with good products in it. You order your cheese in a single, double or triple version depending on the hunger of the day. Pickles ( € 0.5) and bacon ( € 1) are added , depending on taste, with a fried chicken variant ( € 9). Basta. And for large slabs: special dedication to the " good " sundae ( € 4.5) and cookies ( € 3).
Cheese double €11
Baby Love Burger 63 rue Saint-Maur, Paris 11th
The most vegan: Naked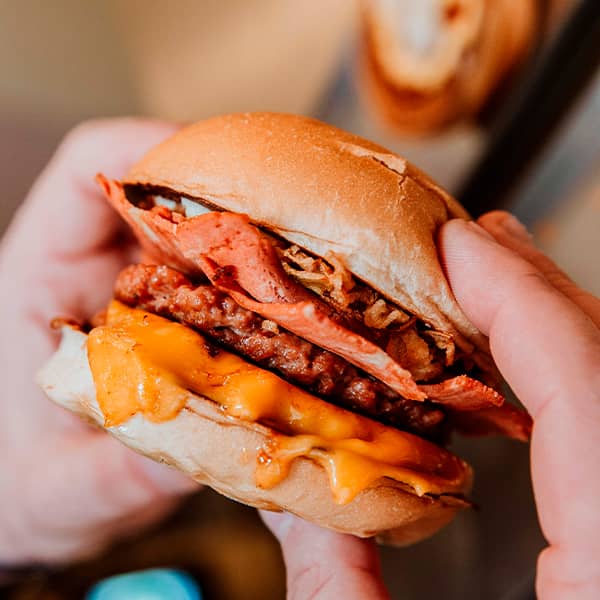 Natalie Portman , Jessica Chastain and Billie Eilish are all gorgeous, talented and… vegan. Joining the movement has never been easier since Naked sells its cruelty-free and very sexy burgers live from Saint-Germain-des-Prés from its shop in Palm Springs, very pink and Insta-friendly.
Théodore Charoy (ex-Mandarin Oriental and Coya) and his team have put together crazy recipes with vegetable "steaks " made from pea protein, cheddar with coconut oil and even vegan bacon. The result: stunning. We bet ?
Burger from € 6.90, also available on UberEats and Deliveroo
Naked , 1 rue de l'Ancienne Comédie, Paris 6th
The Emily In Paris plus: Ralph's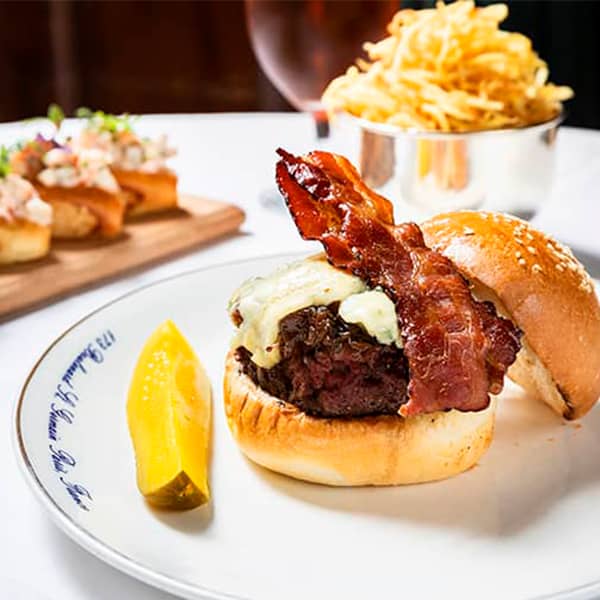 Season 1, episode 9 of Emily in Paris , the buzzing Netflix series : Emily takes a picture of her neighbor at the table's decidedly couture cheeseburger. In the restaurant on Boulevard Saint-Germain, decorated in the style of a hunting lodge, there is obviously the most chic burger on the left bank, served in a beautiful porcelain plate with the fries placed in a small cup.
A little luxury as elegant as it is gourmet: heirloom tomatoes, crunchy salad, pickles, onions, crispy bacon and melting cheddar and beef from Ralph's ranch in Colorado… To try at least once in your life, if only for the atmosphere.
Ralph's Burger 31 €
Ralph's , 173 Boulevard Saint-Germain, Paris 6e, 01 44 77 76 00
© Yann Deret
The most juicy: Blend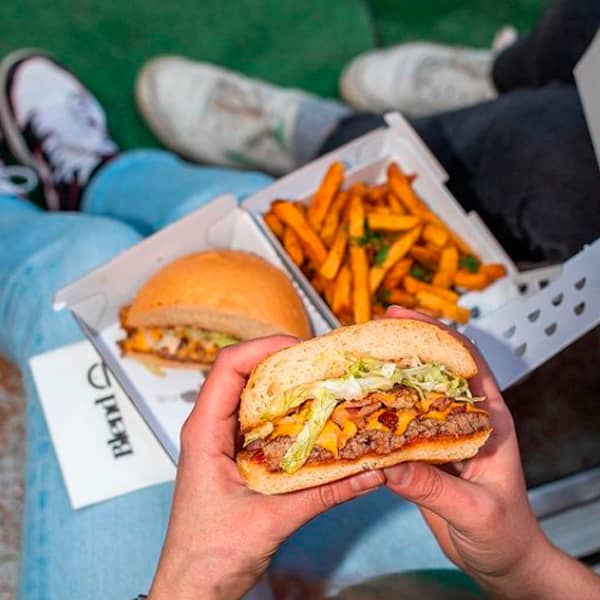 A pioneer in the democratization of the gourmet burger, Blend is causing more sensation than ever in its Madeleine setting with a Mad Men decor that is worth the detour. The secret to a formula that works? Outrageously juicy steak and insanely plump buns that hold particularly well in the hands without getting all over the place.
So grab the Signature (bun, Emmental de Savoie PDO, beef steak, garlic mayonnaise, spinach leaves, caramelized onion compote) or the Scottie Pepper (matured beef covered with mignonnette pepper, farmhouse cheddar with pepper, candied shallots, Blend pepper sauce, oak leaf salad). Absolutely essential, the sweet potato fries served in their small dinner rack and the cheesecake, yum!
€ 13.90 for a Signature Burger, menus from € 18.50, also available on UberEats
Blend , 18 rue Duphot, Paris 1er, 01 40 15 06 69
The Biggest Mac: PNY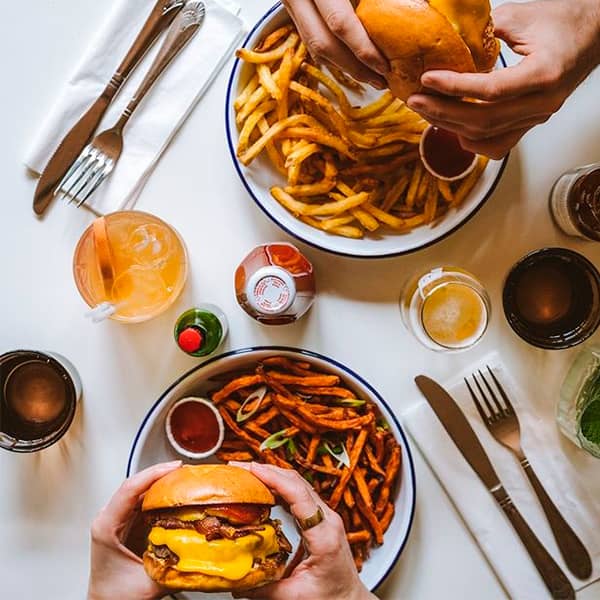 McDo 'groans. Suddenly, it has become the burger " whose name should not be pronounced " from PNY , the trendiest burger box in Paris under the leadership of Rudy Guénaire, whose cool potential of his furiously stylish restaurants is no longer mentioned. .
We salivate with this cool tribute to the cult Big Mac and its magical sauce, prepared here with luxury products, starting with organic bread and steak from Picardy farms. Nothing to do with those of Ronald, therefore. Veggie steak option available. Thank you !
Big Mac, € 13.50 Available in click & collect and delivery
PNY , all the addresses to find here
The most fish: Le Ruisseau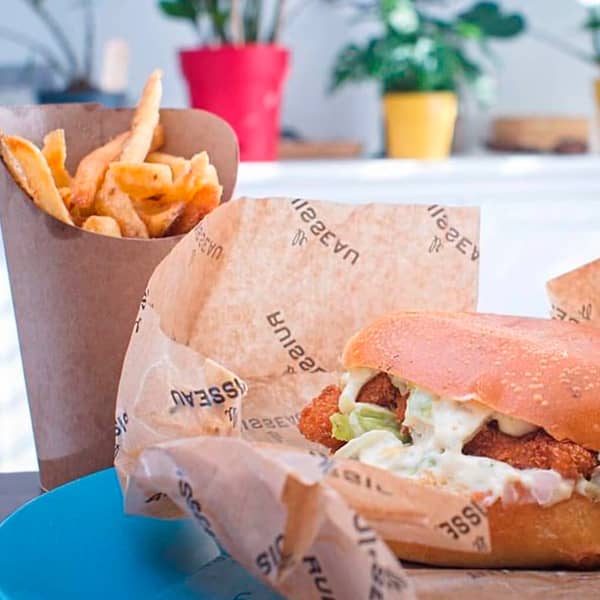 It is cited as the best quality / price ratio in Paris. The Ruisseau burger is a sensation for its shiny bun, its meat that melts in your mouth and its devilishly foodporn dripping cheese.
Montmartre's most famous burger box has opened a small address in the Marais . Its fish version is a must: crunchy homemade breaded pollock fillet, tartar sauce, capers, lime juice and iceberg lettuce. In short, a Filet-O-Fish from the top.
Fish Burger € 11, formula € 145with fries and drink
Le Ruisseau Burger Joint , 22 rue Rambuteau, Paris 3rd, 01 43 70 02 21
and Le Ruisseau , 65 rue du Ruisseau, Paris 18th, 01 42 23 31 23
Available in Deliveroo delivery
The most local: The marché des enfants rouges Burger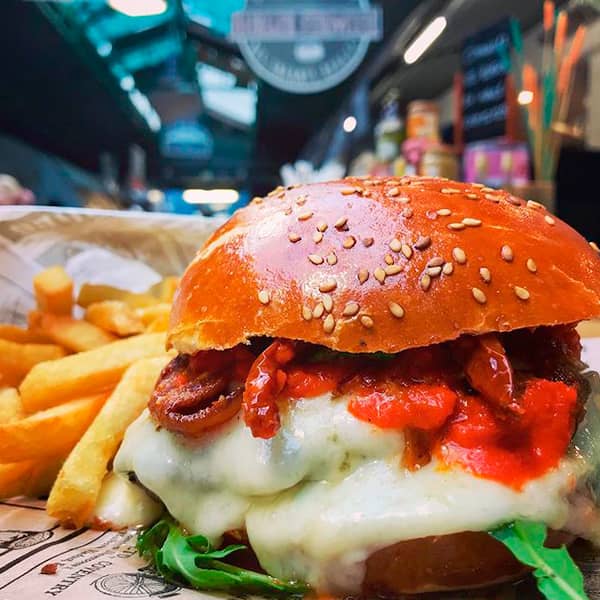 Fresh and local products, homemade bread with organic flour from the Brimeux mill, meat from Pas-de-Calais , producer cheeses, English cheddars, Picardy cider tomme, homemade sauces ... No doubt about the provenance, here everything is sourced from top to bottom.
Star of the covered market of the Red Children , the stand of the Burger Fermier is always full. Its core asset? The possibility of choosing all the ingredients to garnish your brioche bun: marinated chicken, Angus beef and veggie steak, then the desired cheese (fresh goat cheese, tomme de Savoie, maroilles, Saint-Nectaire, cantal, etc.) and the extras for gourmets (farmer's bacon, pan-fried mushrooms ...).
Burger € 15
Available for delivery on UberEats
The Fermier des Enfants Rouges , Marché des Enfants Rouges, 39 rue de Bretagne, Paris 3rd, 07 81 92 03 33
The greenest: Bio Burger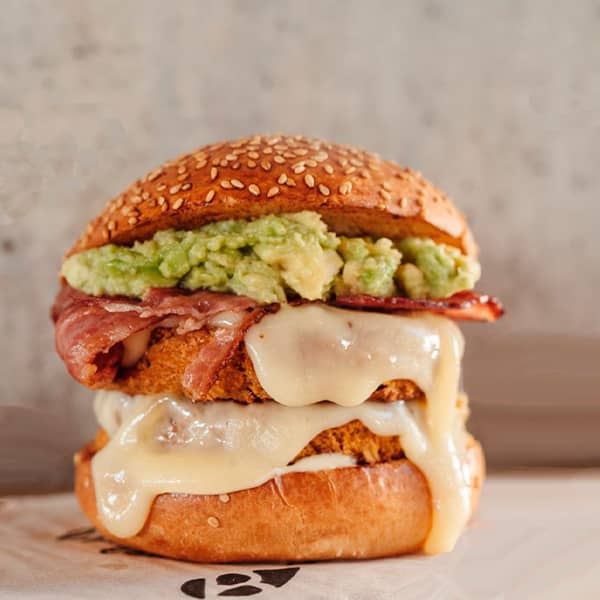 Burger pasionarias and sharp foodies all cite it in their top 3. Between respect for short circuits, fresh organic products without GMOs and really cool prices: the greenest fast-food in Paris manages to play the glam 'mix. an address that combines eco-responsibility and foodporn.
Among the stars of its menu: the perfect classic (brioche bun, steak, farmhouse cheddar made in England, tomatoes, salad, onion confit, pickles and its house sauce. Or its Californian version with an avocado bacon and homemade mayo which Also worth noting: versions with veggie steaks that are worth the detour, before being tempted by the terrific ice creams and milkshakes .
13.90 € the burger menu with fries or coleslaw + drink
Bioburger 45 rue des Petits Carreaux, Paris 2e and 3 other Parisian addresses in Montparnasse, in the Marais and in La Défense
The most Japanese: Shiso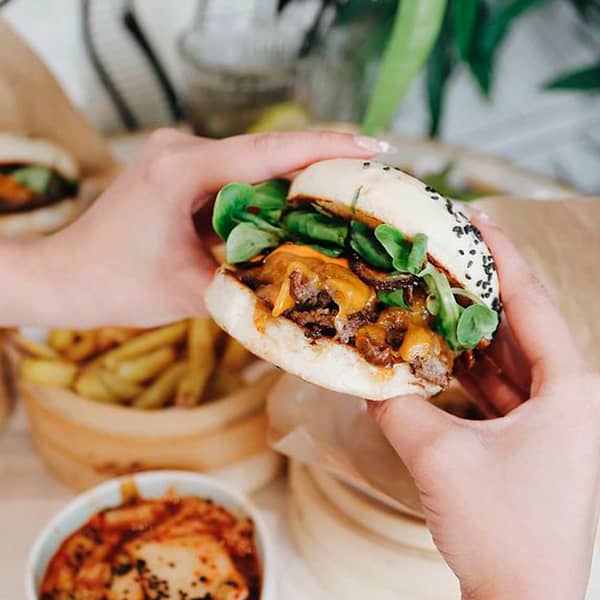 If you like Asian curiosities, this address should be on your shortlist of little nuggets. A rather classic burger, except that its bao bread with rice flour turns out to be an orgasmic kif, like its ultra-soft and tasty beef.
The other specialty is the spiral potatoes like in Thailand , rare to find in France, as well as a nice veggie selection with burgers with tofu steak and grilled eggplant or the Toad burger with Portobello mushrooms.
Burger from € 11, available in click & collect and on UberEats
Shiso Burger , 21 quai Saint-Michel, Paris 5th, 01 77 16 96 93
The most starred chef: Clover Grill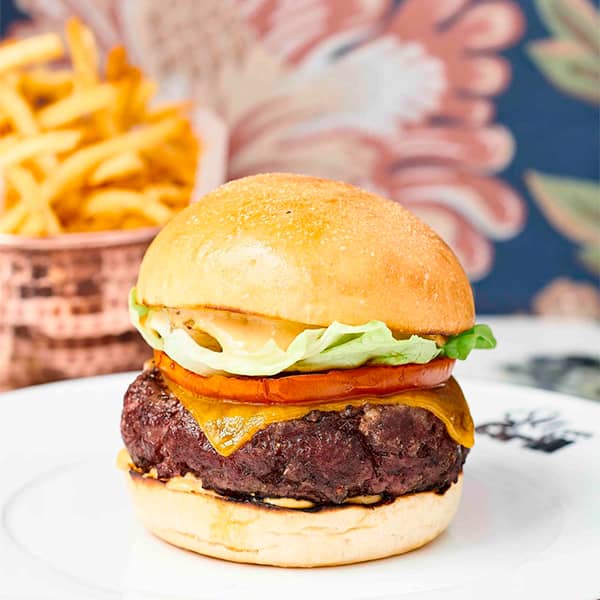 Jean-François Piège signs the most gourmet burger in Paris, obviously served on board his extraordinary Parisian grill, located a stone's throw from the Ventre de Paris. Rare fact: here, the luxury steak (sourced from Olivier Metzger , star of butchers, please) is cooked over the embers for an inimitable BBQ effect.
The steak is then served palace style, on the plate, lightly grilled with farmhouse cheddar, salad, pickles, an addictive secret burger sauce. Glass of Crozes Hermitage and perfect French fries. You will never look at a burger like this again, it says.
Burger fries 28 €
Clover Grill , 6 rue Bailleul, Paris 1er, 01 40 41 59 59
© Nicolas Lobbestael
Also discover pétrelle, the table of stars to be urgently re-tested and the Bouillon Pigalle team in République