Do it in Paris and Histoire d'Or jewellery stores are inviting our readers to come live an exclusive and very intimate experience at the Appartement de la Parisienne.
This is the not-to-be-missed event before the holidays: a very private evening to discover a large selection of jewellery and pick up gift ideas for Christmas, exclusively presented for our favourite Parisiennes.
Darling charms, incredible hoop earrings, resolutely trendy bracelets or cuffs and chains in keeping with the times, without forgetting great looking rings inlaid with fine or precious stones to pamper yourself or to give cool gifts to your friends—for every style and all budgets. Ideal to find the perfect present for your entire tribe. The ultimate high.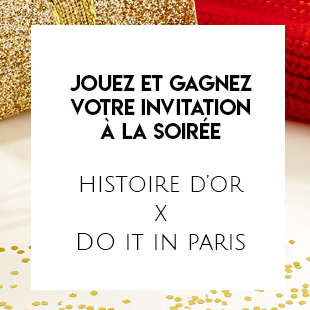 A scintillating happy hour signed histoire d'or
Save the date: Friday the 15th of November.
The concept? Infiltrating the universe of a fairy tale Christmas during a very chic cocktail, signed Do it in Paris, nestling comfortably on our velvet banquettes with your BFF, to chill, and post a selfie while wearing your favourite piece of jewellery with #HOxDoitinparis in order to win a gift voucher...
On the programme of this incredible happy hour incubated by Histoire d'Or? Creating a beautiful Christmas wreath with trendy florists before sitting at the bar to sip a long drink with just the kind of street food we love, signed Le Réfectoire: veggie mini burger, salmon club, pita guacamole, baby croque-monsieur as well as cheesecakes.
The must? The customized engraving workshop to personalize the super gift of the evening: an adorable medal or a bracelet.
Le Noël de la Parisienne by Histoire d'Or at the "Appartement de la Parisienne", on Friday the 15th of November from 6pm to 10pm.