Stroll along the tree-lined quays , treat yourself to an arty shoot in a trendy gallery , grab a little dress in a pretty boutique or a beautiful book in a cult bookstore , sit down in a discreet starred restaurant or for a chic breakfast at the Two Magots … Saint-Germain-des-Prés is a call for a walk that lasts, that lasts. Our selection of the best addresses in the area .
blueberry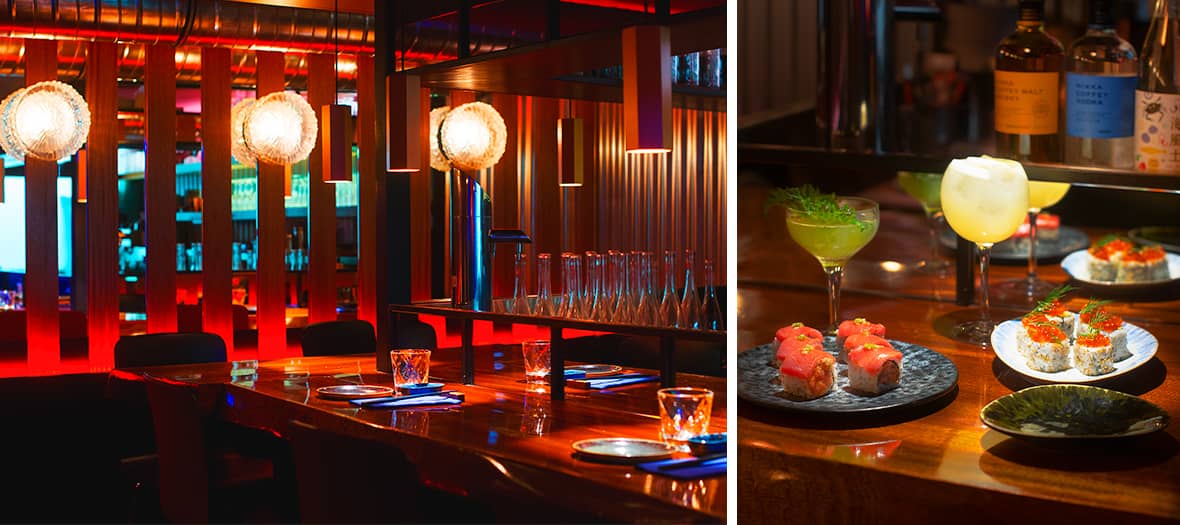 The place: with its ultra- cinematic decor inspired by the films of Wong Kar Wai , the very stylish Blueberry is an immediate eye-catcher! In the hands of the Vaconsin sisters ( Marcello ), this fine restaurant, which will soon celebrate its tenth birthday, is one of the best Asian pickaxes in Saint-Germain-des-Prés . At the helm, a new chef, Alberto Fulong , who also offers a carte blanche plate that changes according to his inspiration.
Why are we going there ? It is for its signature makis that Blueberry has become the darling of discerning palates fond of salty delicacies : the iconic Rackham Le Rouge with marinated tuna, truffle, prawn tempura (€23 for 6 pieces), Trans- Siberian (snow crab, prawns, Salmon roe, apple, grapefruit (€27 for 6), sushi, sashimi and chirashis, mochi (€8 for 2) or black sesame tiramisu (€12).
Blueberry , 6 rue du Sabot, Paris 6 th . Open Tuesday to Saturday from 12:30 p.m. to 2:30 p.m. (3 p.m. on Saturday) and from 7 p.m. to 10:30 p.m. 01 42 22 21 56.
© Gabriel Pistre
Rock the Kasbah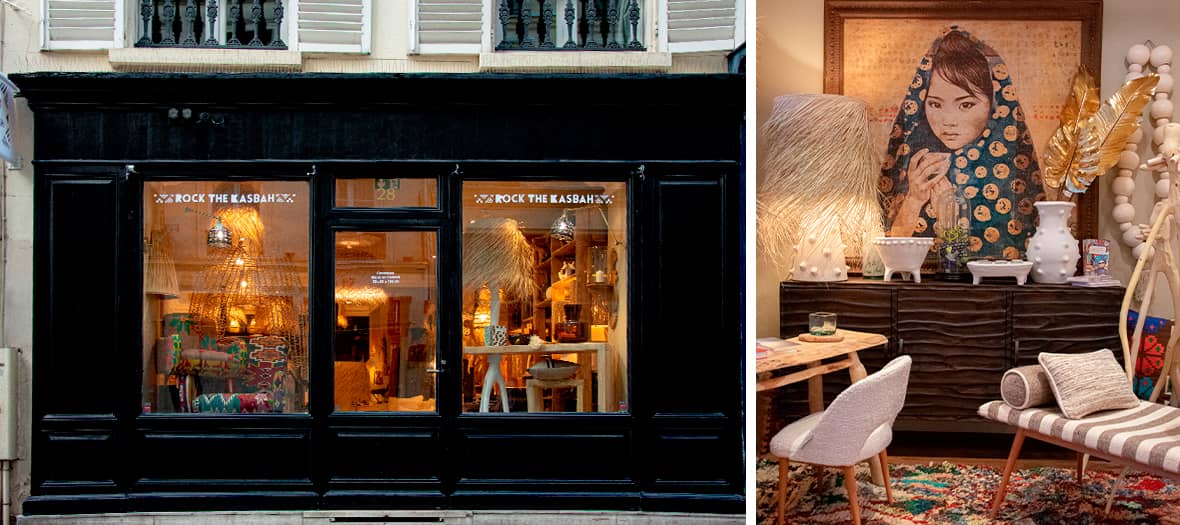 The place: friends of Berber decoration, welcome to the temple of the genre. Rock The Kasbah inaugurated its first germanopratine store last year. On the program: natural materials , beige , ivory , palm trees , weavings and linen galore.
Why are we going there ? To redo a gypset decor from floor to ceiling by grabbing a candlestick in olive branches (€45), a giraffe coat hook (€40), beautiful wall lights in natural rush (€89), a braided mirror (€75) , a palm tree lamp (€225), a wooden and cotton terry armchair (€650).
Rock the Kasbah , 28 rue Jacob, Paris 6th. Open Tuesday to Saturday from 10 a.m. to 7 p.m.
The Two Magots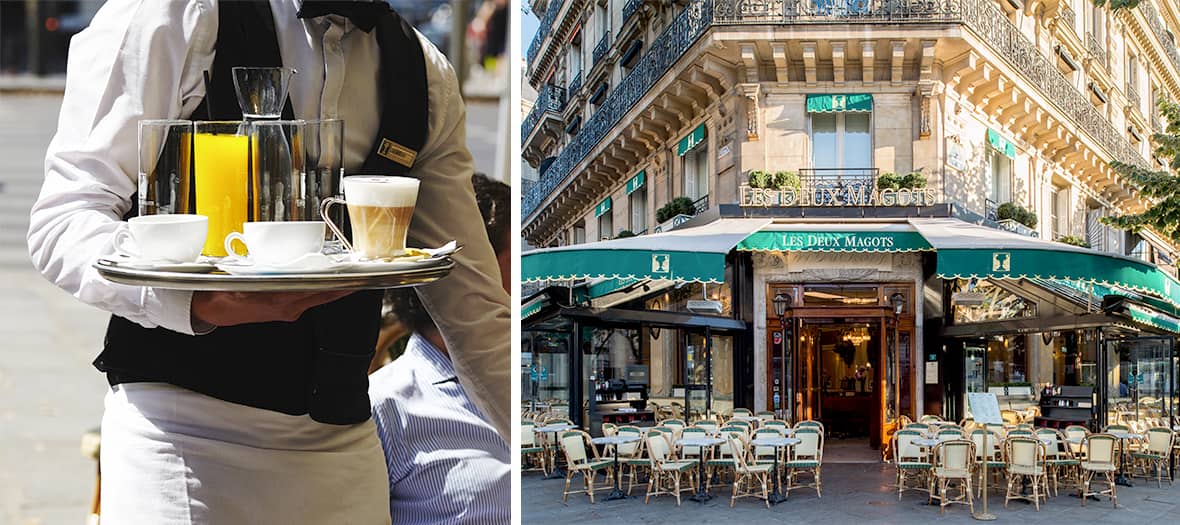 The place: once upon a time there was the Deux Magots ... Wedged on the cobblestones of the Place Saint-Germain-des-Prés opposite the church , this institution which has seen the illustrious personalities of the last century ( Hemingway , Verlaine , Picasso …) still and always loves the beautiful Parisian world. On its royal terrace or in its large retro chic room, here everything is tasted with a little more class than elsewhere.
Why are we going there ? For a stylish breakfast, of course! We head for the JP Sartre breakfast (€27) with hot drink (coffee, old-fashioned chocolate or Dammann tea), two pastries and toast, freshly squeezed fruit juice, yogurt or fruit salad. Or the savory version with the Hemingway breakfast (€29) and its eggs as you please (fried or plain omelette, ham, cheese). Note for swing lovers : meet up for Les Jeudis du jazz on Thursday evenings from 7:30 p.m. to 10:30 p.m. in the legendary Deux Magots room, which is surrounded by the vibes of saxophones, guitars, double basses and pianos (reservation strongly recommended) .
Les Deux Magots , 6 place Saint-Germain-des-Prés, Paris 6th . Open daily from 7:30 a.m. to 12:30 a.m. 01 45 48 55 25.
Allison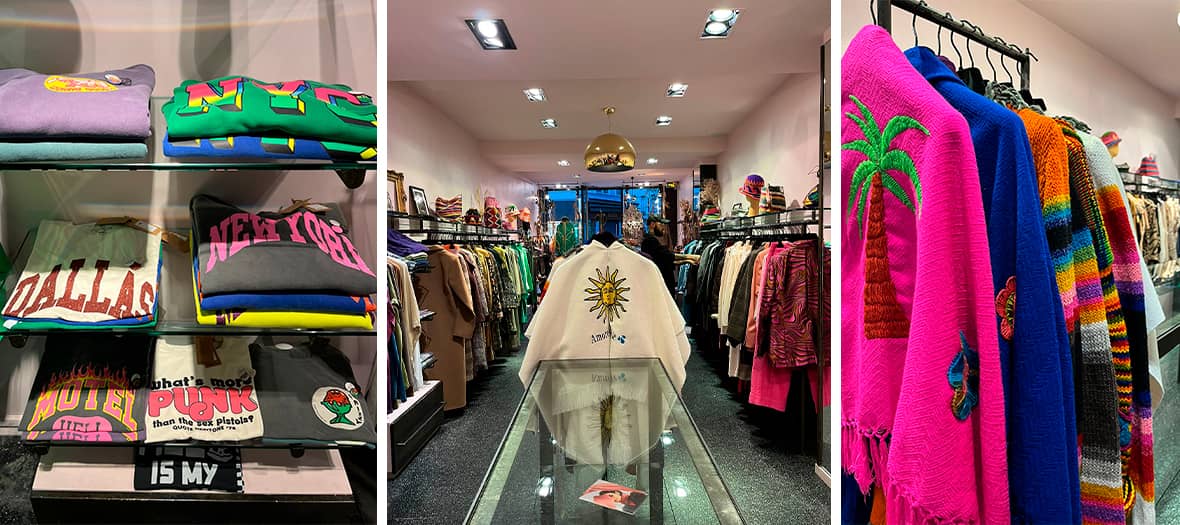 The place: a friendly little family store on the corner of rue de Buci which deals in the nuggets unearthed by Allison from the collections of small brands such as accessories from Maison Badigo or dresses from Jane Wood and knitwear from Samsoe Samsoe.
Why are we going there ? To find all kinds of colorful clothes and accessories and satisfy our desires for small favorite purchases. Crochet bucket hat , leopard pants , wrap dress , pretty socks , dozens of t-shirts , bags , jackets … For all prices, from €10 to €500 for a coat, for example.
Allison , 1 rue de Buci, Paris 6th. Open daily from 10 a.m. to 7:30 p.m. Sundays and Mondays from 11 a.m. 01 43 26 88 82.
Ze Kitchen Gallery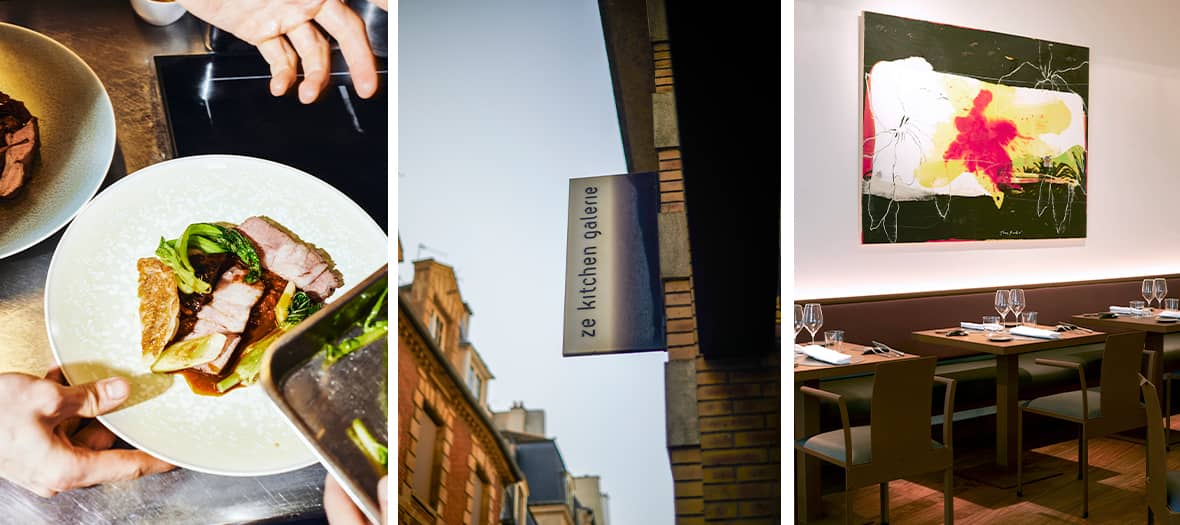 The place: vinaigrettes, broths and condiments hold no secrets for him. The king of creative gastronomy William Ledeuil continues to amaze his guests at his starred restaurant Ze Kitchen Galerie , a stone's throw from the Pont Neuf . Note: further down the street, Kitchen Galerie Bis (KGB) is the Asian extension of the parent company, with divine little plates to share.
Why are we going there ? Marinated line-caught fish, lobster ravioli, catch of the day in bouillabaisse juice, guinea fowl with quetsche condiment, wasabi white chocolate ice cream… The journey is constant, the discovery always happy.
Ze Kitchen Gallery , 4 rue des Grands Augustins, Paris 6th. Open Monday to Friday noon and evening. 01 44 32 00 32. Starter main course dessert menu €48 for lunch, 5-course dinner €95.
Crazy about pastry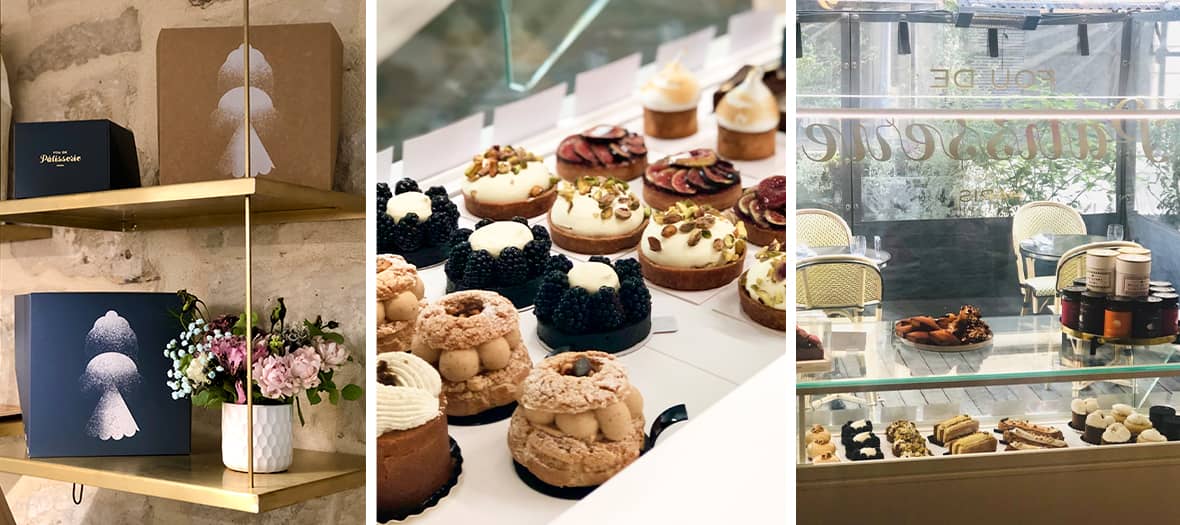 The place: the strong concept of Muriel and Julie? The selection in a single address of the best Parisian sweet labels. You had to think about it!
Why are we going there ? To grab the caramel pear vanilla pie from Angelina , the cabbage topped with Bulliz , the pistachio orange blossom pie from the Jardin Sucré , the praline financier from Hugo&Victor , the rolls from Babka Zana, the ice creams and sorbets from La Fabrique Givrée or again the Ispahan cake from Pierre Hermé . Mmmmhhh… Top also: the pretty jars of jams from Stéphan Perrotte (to die for) or Confiture Parisienne , as well as the crunchy granolas from Catherine Kluger for Supernature and the chocolate bars from Gilles Cresno , Edwart or Plaq .
Fou de Pâtisserie , 64 rue de Seine, Paris 6th. Open daily from 10 a.m. to 8 p.m. 01 42 49 83 16.
The society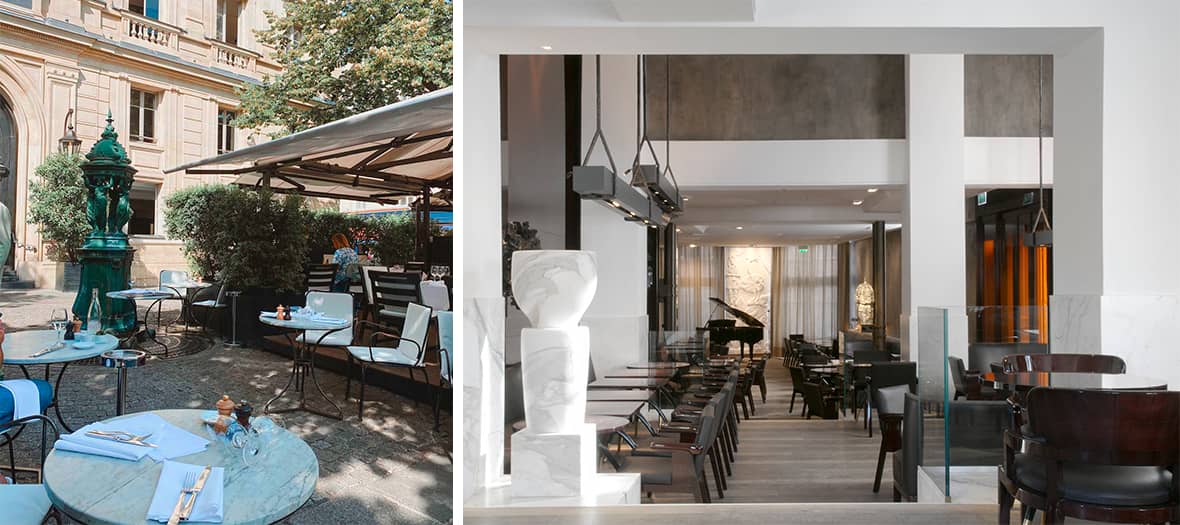 The place: the most chic meeting place in the 6th! A sublime terrace highly acclaimed at the slightest ray of sunshine and a more than elegant interior signed Christian Liaigre , where it is possible to have lunch or dinner in beautiful armchairs or on an impeccably set table.
Why are we going there ? To discreetly ogle the door so as not to miss the entrance of the stars incognito, to listen to the passionate debates of our neighbors at the tables of the neighborhood gallery owners or political figures , for the quality of an irreproachable service, and for a crying tiger ( €44) typically Costes , whose success has already conquered all of Paris.
La Société , 4 place Saint Germain-des-Prés, Paris 6th, open Monday to Thursday from 12 p.m. to 4 p.m. and from 7 p.m. to 11 p.m., Friday to Sunday from 12 p.m. to 11 p.m.
© Eric Morin and © Instagram/@lisableymade
Bookcase bags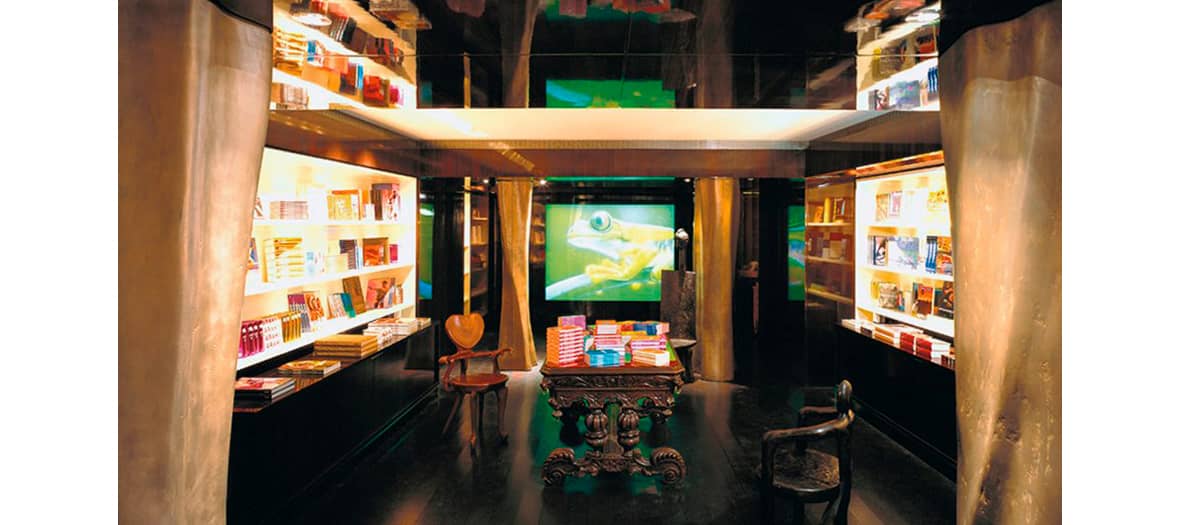 The place: the haunt of the boho intelligentsia of Saint-Germain , or the store of reference for all the books with the cover so stylish that you are dying to leave them prominently on your coffee table. Impossible to leave empty-handed!
Why are we going there ? Taschen owes its notoriety largely thanks to books on subjects usually ignored by traditional bookstores. Painting , fashion , design , but also queer art , pop culture and erotic black and white photographs, enough to fill up on gift ideas. Psst: remember to watch the sales of the shop which regularly sell off its beautiful books.
Taschen , 2 rue de Buci, Paris 6th, open every day from 11 a.m. to 8 p.m.
Assa Spa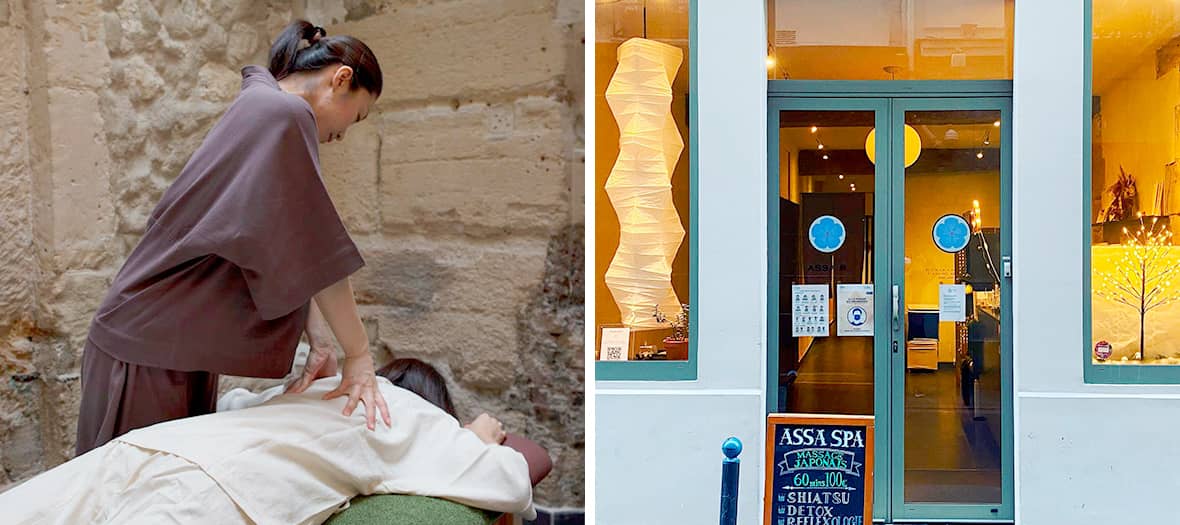 The place: a traditional inn from the Land of the Rising Sun , a haven of peace and serenity, a setting of typically Japanese simplicity and refinement, all nestled in the heart of the 6th arrondissement. The dream!
Why are we going there ? For a shiatsu session (€100 per hour), this traditional Japanese massage which rebalances energy, reduces stress and tension and stabilizes the energy system as a whole. An address where the word omotenashi takes on its full meaning: Japanese hospitality.
Assa Spa , 8 rue Christine, Paris 6th. Open Tuesday to Sunday from 11 a.m. to 8 p.m. 01 46 34 59 08.
AND ALWAYS...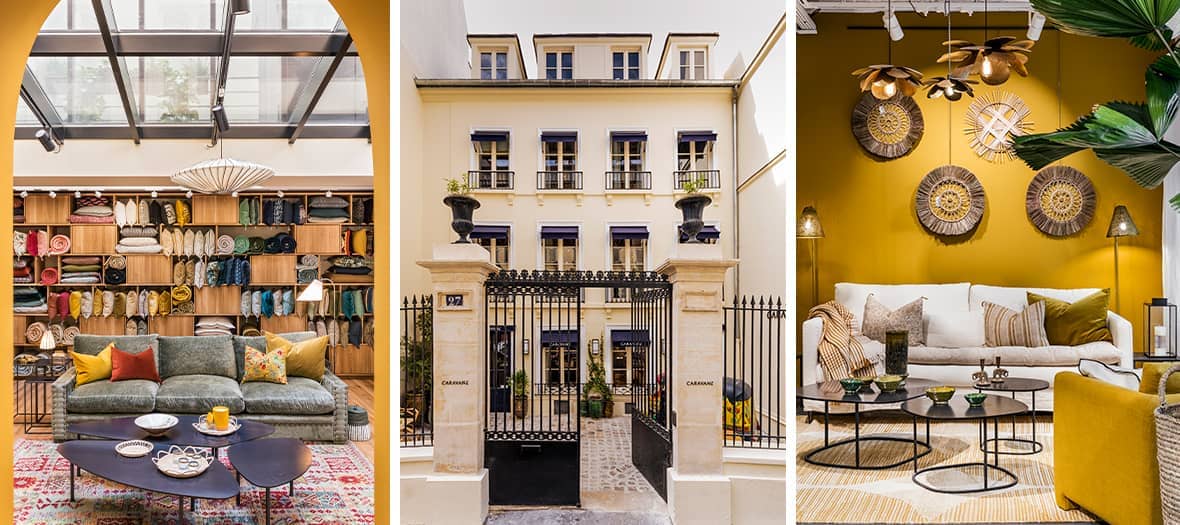 Also discover the three decoration boutiques on rue Jacob and the most chic terrace in Saint-Germain-des-Prés .