Under the pavement, the beach! The Do it team reveals 5 amazing places among their favorites to lay your towel and get a tan without leaving home. Nice!
Fine sand, parasols, loungers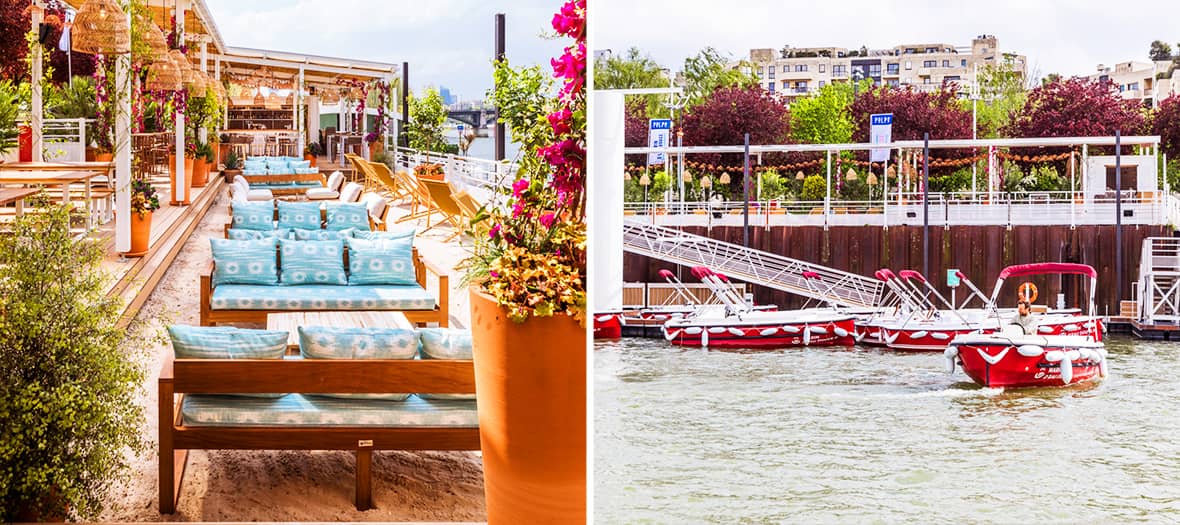 The Cap Ferret spirit takes over the beach of Polpo every summer weekend, the fabulous seafood brasserie moored in Levallois-Perret. After renovations, the restaurant now has a real marina in collaboration with Marin d'Eau Douce to enjoy a glass of rosé and a tuna taco with your feet in the water, and then go on a boat excursion.
Tuna Tacos €16.50, glass of rosé €6. Polpo Brasserie, 47 quai Charles Pasqua, 92300 Levallois-Perret. 01 41 34 32 86 Open Monday to Thursday from 12:00 PM to 2:30 PM and from 7:00 PM to 10:30 PM, Friday until 11:00 PM, and weekends from 12:00 PM to 2:30 PM and from 7:00 PM to 10:30 PM. © Polpo Brasserie
A floating garden on the Seine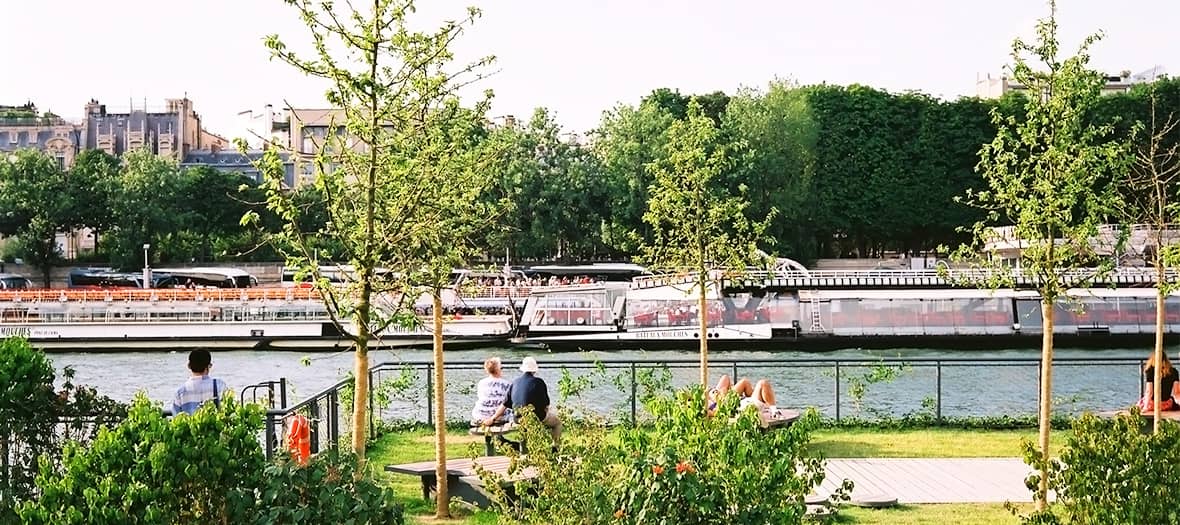 This architectural UFO invites you to sit in a giant rope hammock, amidst tall grasses and wildflowers, with a view of the Alma Bridge. Sunscreen is a must: with the reflection on the water, it gets scorching in the Niki de Saint Phalle Archipelago Gardens on the banks of the Seine.
Free admission. Niki de Saint Phalle Archipelago Gardens, quai d'Orsay, Paris 7th. Open every day from 10:00 AM to 8:00 PM.
By the lake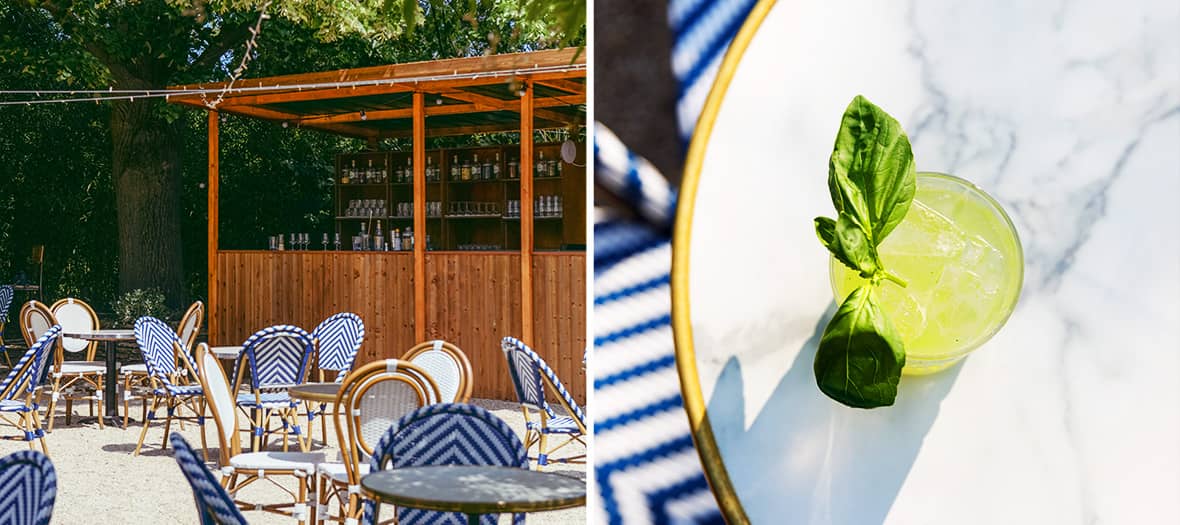 Nestled in the heart of the Bois de Vincennes, alongside Lake Daumesnil, the Chalet des Iles Daumesnil opens its garden for a lunch or snack in the sun in its charming guinguette space. Settled comfortably on the vast lawn in one of the XXL deck chairs, you can sunbathe your legs and shoulders while sipping on a gin cocktail and nibbling on a pizza. Nice!
Gin cocktail Anaë starting from €13, margherita pizza €10. Chalet des Iles Daumesnil, Bois de Vincennes, Ile de Reuilly, Paris 12th, 01 43 07 00 10. Information and online reservations. © Pauline Gouablin / Le Chalet des Iles Daumesnil
Claiming a solarium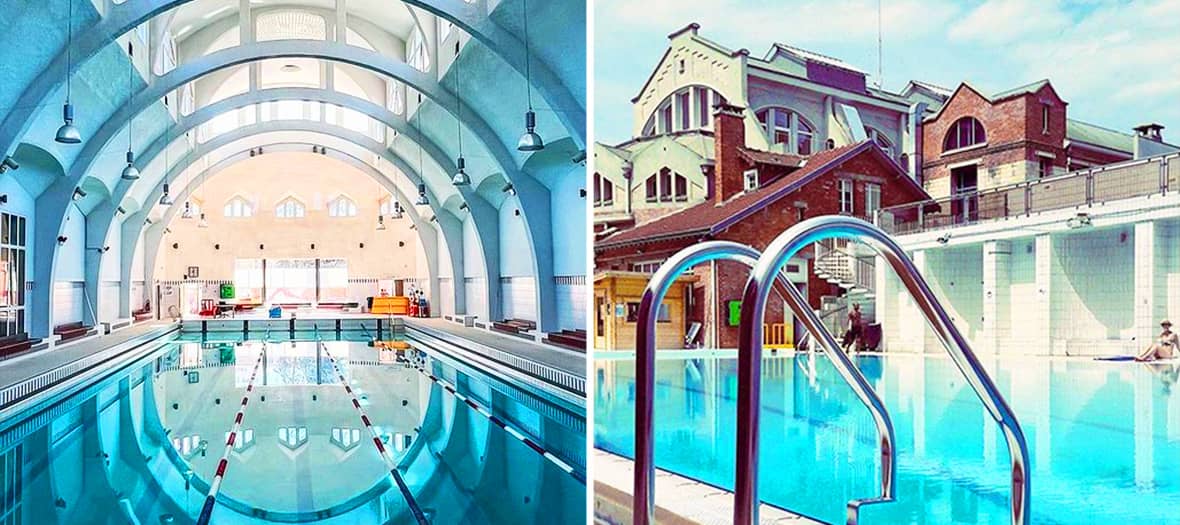 This architectural gem dating back to 1924 features a 33-meter indoor pool under arches that give it the ambiance of an aquatic cathedral. A unique feature in Paris: its outdoor pool, heated to 28 degrees, is open year-round and offers a sublime solarium where you can lay your towel for a successful sunbathing session!
€3.50 entry fee during the summer. Piscine de la Butte aux Cailles, 5 Place Paul Verlaine, Paris 13th. © @justinem_d and @pixorol / Instagram
Hidden in the Saint-Ouen flea market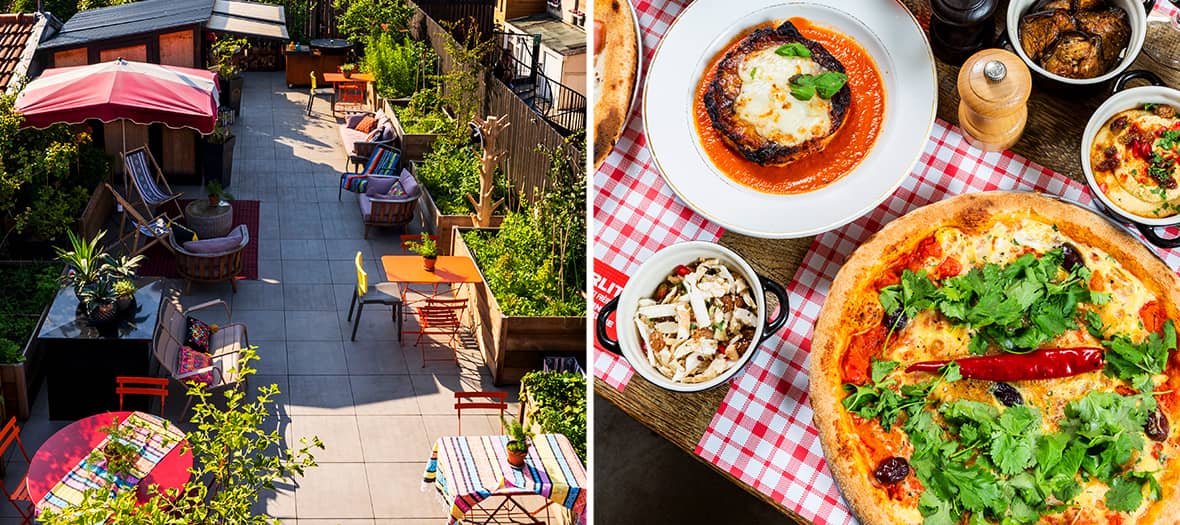 The MOB, also known as the coolest hotel in "almost Paris," has an XXL terrace open to everyone with loungers that encourage laziness. Perfect for perfecting your golden tan while nibbling on a delicious pizza from Karlito, the MOB's new Italian canteen, accompanied by a rocking organic wine. Note: there are "happy hours" every day from 6:00 PM to 8:00 PM, where you can grab a Spritz for €8 and a glass of wine for €3.
Burrata and Chakchouka pizza for €16. MOB Hotel Paris, 6 rue Gambetta, 93400 Saint-Ouen. © Aldo Paredes / Mob Hotel Paris
But also...
It's not just Buttes Chaumont in life! When it comes to lounging peacefully in your swimsuit without being crowded, good parks always do the trick...
Parc Floral de Paris
For beautiful Instagram stories, surrounded by flowers and peacocks, with the lake in the background.
#countrysideinparis.2
Route de la Pyramide, Paris 12th. © Sonia Yassa / Ville de Paris
Parc Monceau
To settle comfortably on the soft grass and enjoy the shade of tall trees in case it gets too hot.
35 boulevard de Courcelles, Paris 8th. © Christophe Noël / Ville de Paris
Parc Montsouris
To enjoy the most majestic Napoleon III setting on the Left Bank. Rarely seen: dogs on a leash are allowed!
2 rue Gazan, Paris 14th. © Clément Dorval / Ville de Paris
Also, discover the best waterfront aperitifs and the most beautiful outdoor pools.