It's too hot for work. We all want to dive into a pool. We have put together for you the listing of the prettiest and most unusual outdoor pools to keep cool in style. Splash !
Hanging out on a rooftop pool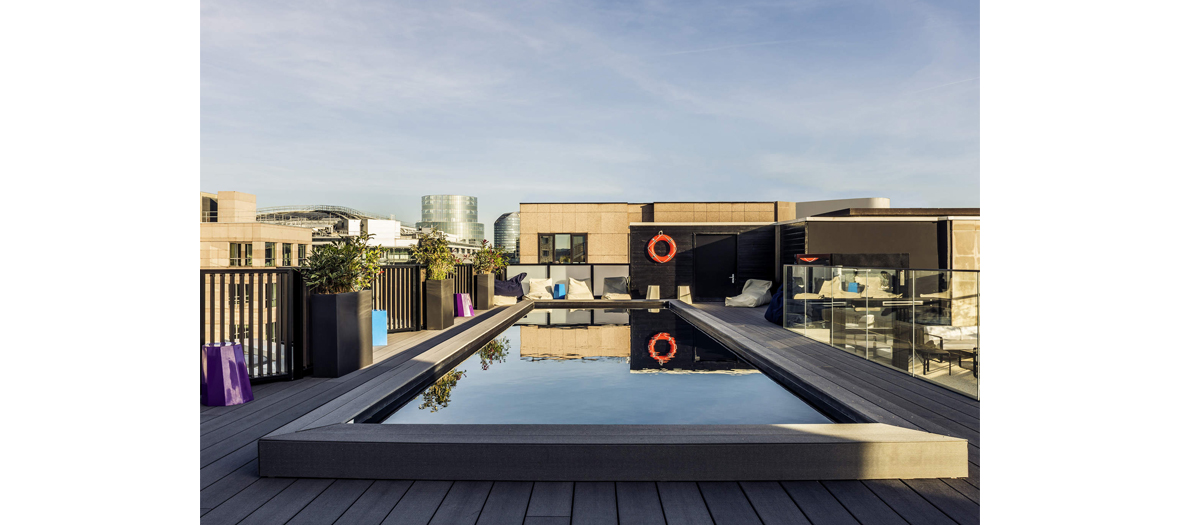 A pool perched high up on the rootop of a trendy hotel, what else ? Clients of Le Mercure Paris Boulogne can dive into a pool with a view, starting at €99 per night. The ideal pretext to treat yourself to a naught parenthesis with your other half, before sipping a cocktail along the water, on a wonderfully chill terrace.
Double room starting at €99with access to the outdoors pool from 10am to 5pm, as well as the terrace, the fitness room, restaurant and bar.
37 Place René Clair, 92100 Boulogne-Billancourt. 0 825 80 47 47.www.accorhotels.com.
A pool party on the roofs of Paris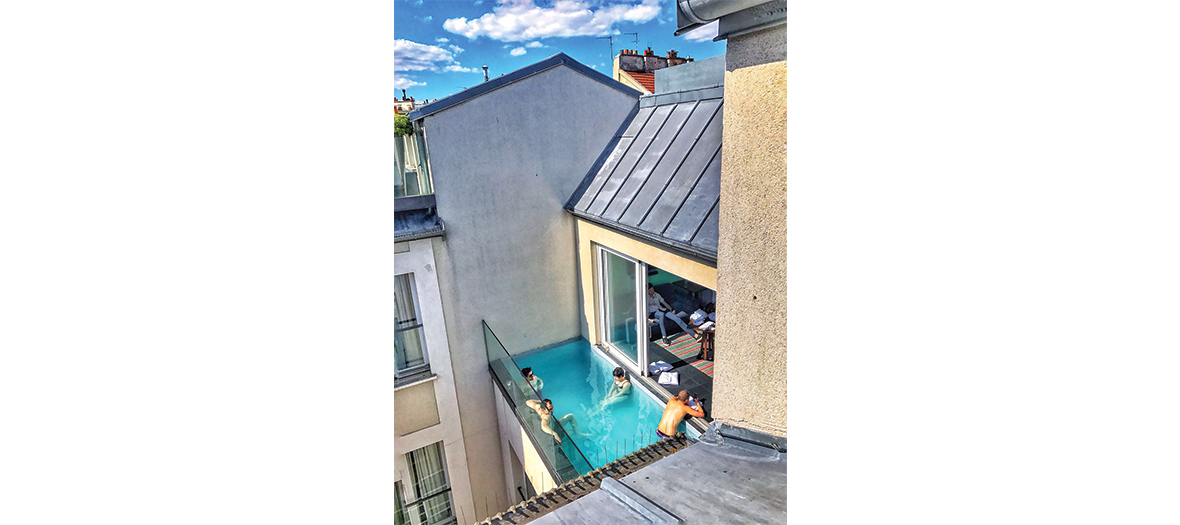 A curiosity in the middle of the Marais! A skip and a hop from the Filles du Calvaire metro stop, the 1k hotel shelters the most secret pool in Paris.
The principle? You don't rent the house for the night, but book for the day a stylish 70 m² suite with a small private basin on the roofs of Paris and a bar. In short, the ideal spot to celebrate your birthday with your buddies or organize an original venue in influencer mode. You can take advantage of the pool until midnight.
€2000 to rent the pool suite all day for up to 40 persons.
Reservations on www.1k-paris.com
Diving into the Seine at Joséphine Baker pool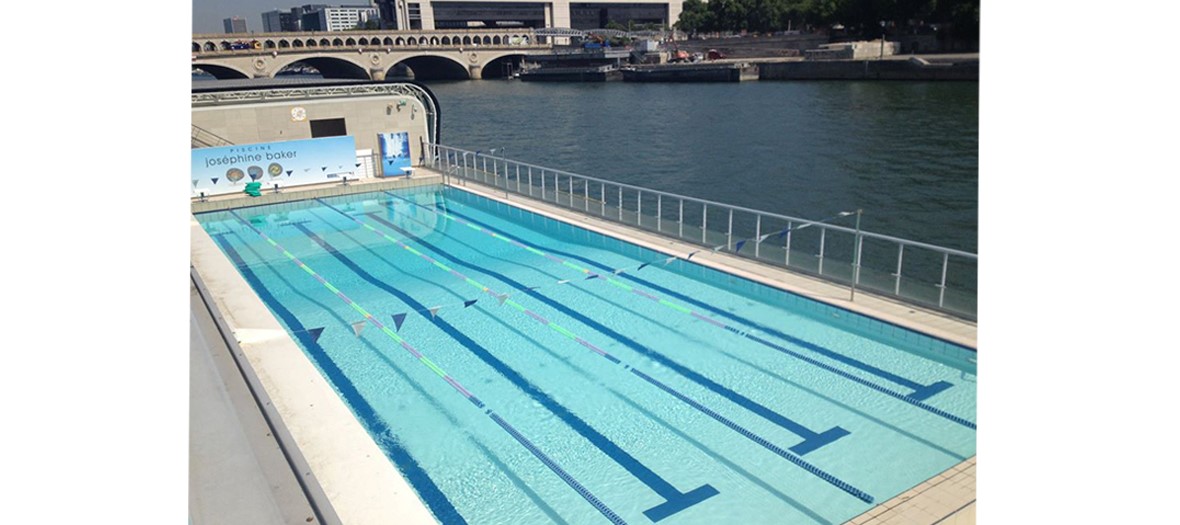 After diving in the Joséphine Baker pool, a real "inflatable" basin of 25m placed on the water, one has the impression of swimming laps on a light blue Seine, along the BnF library. It's the real charm of "holidays in Paris"… for only €3.60. The added plus? Dynamik Palmes and other activities to muscle that fanny and tone those legs…
Monday to Friday form 7am to 11pm, Saturday and Sunday from 9am to 8pm. Entrance:€6.20. Reduced rate:€3.10. Exceptionally closed until July 15th.
Piscine Joséphine Baker, Quai François Mauriac, 75013 Paris. 01 56 61 96 50. Info on www.piscine-baker.fr.
Renting a holiday house…in Saint-Michel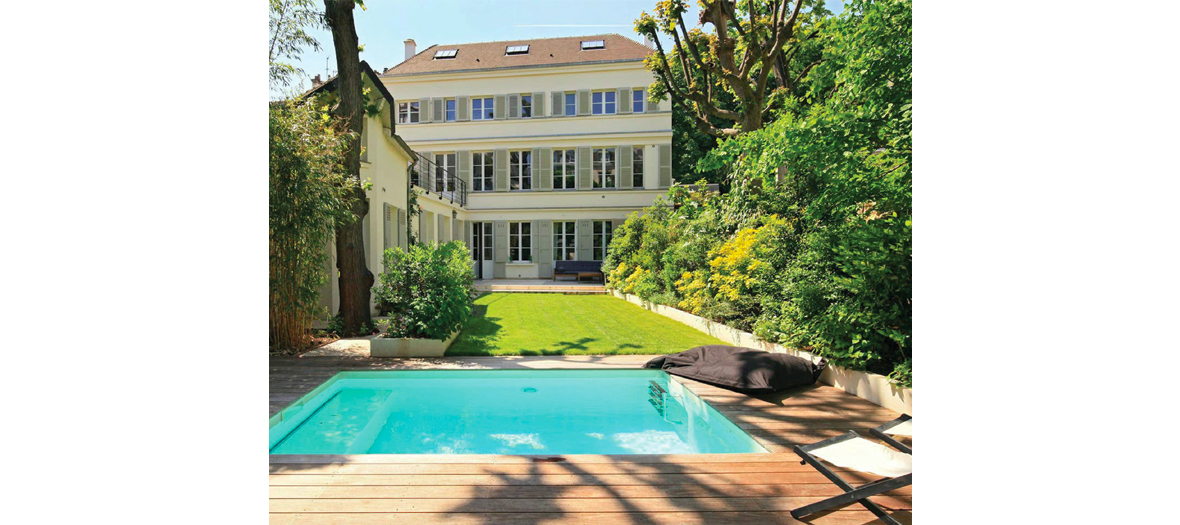 This villa features 6 rooms, a real 350m² country garden, a cinema in the lower level and, of course, a pool. This is not an add for a mas in Provence, nor a superb villa in Tuscany….But an incredible house, hidden between the Panthéon and the Jardin des Plantes. Airbnb is going to make you dream.
At €2,600 per night, this villa is a must to rent with a gang of friends for a week totally out of time that will give you the impression of playing the leading part in a film. Reservations on www.airbnb.fr
Swimming laps in a historical monument at La Butte aux Cailles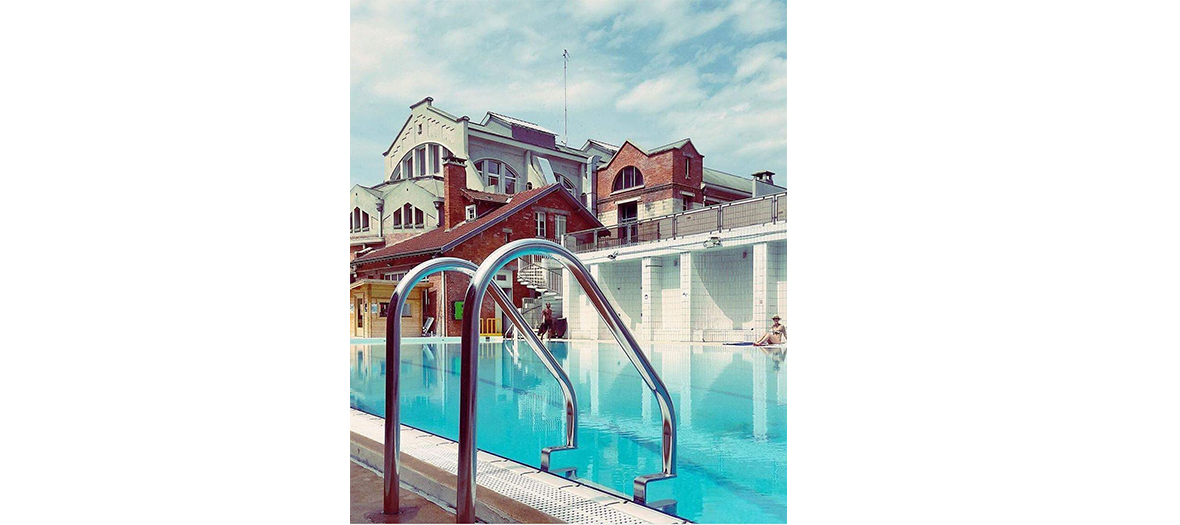 © justinem_d on Instagram
Such is the super chic promise of the Butte Aux Cailles pool… The stunning decor of this establishment dating back to the 20s could be the perfect backdrop of a film.
Its outdoors 25m basin is idyllic and deliciously "no kids" since a small 12 m basin is reserved just for them (yippee !). And let's not forget the superb solarium, ideal to read just like when you are on holidays. At rock bottom price.
On Tuesday from 7am to 8:30pm, from 11:30am to 1:30pm. Wednesday to Saturday from 7am to 8:30am and from 11h30 to 6pm. And on Sunday from 8am to 6pm.
Entrance: 6.20 € Reduced rate: 3.10 €
Piscine de la Buttes aux Cailles, 5 place Paul Verlaine, 75013 Paris. 01 45 89 60 05
Swimming in one of the most glam pools at Molitor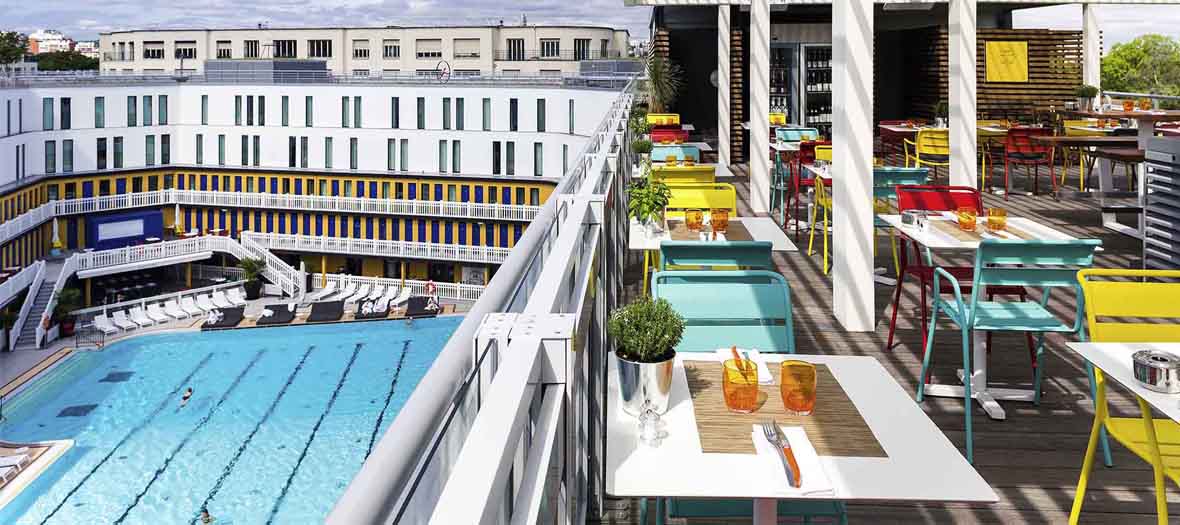 Socialite mermaids only swear by the Molitor pool, a 46m gem from the 1930s, entirely relifted in a very couture pool club within the 5-star MGallery hotel.
Phew, if you dream of spending an entire day being pampered, this will not necessarily cost you a month salary … The hotel has planned a privileged access filled with freshness for Parisiennes eager for a deluxe pool. The ideal pause for working-girls.
Reserve l'Escale Molitor at the SPA by Clarins including 1h of treatment and access installations (basins, hammam, sauna, fitness room). Offer starting at €280.
Another option in case of a heat wave? Rent an air conditioned room to swim at sunset + dive in sunrise mode.

Monday to Friday from 7am to 10pm; Saturday and Sunday from 8am to 10pm.
Piscine Molitor, 13 rue Nungesser et Coli, 75016 Paris.01 56 07 08 50. Info on www.mltr.fr
Lounging around a Miami Style poo!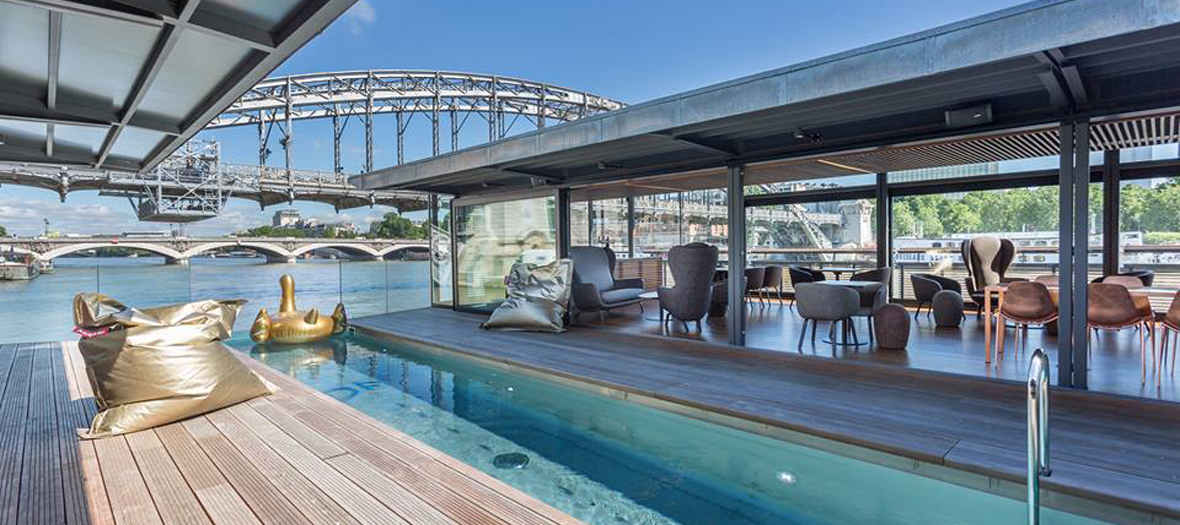 You have not doubt already heard of OFF Paris Seine, the first floating hotel in Paris. Its particularity? It features a super deluxe 10 m swimming lane that would make Racing Club members pale with jealousy.
If you dream of diving into it, now is the moment to test the hotel and take a tropicool parisienne break—nothing could be more simple. Book a fresh room (air conditioning ) with porthole and view on the water, jump into a swimsuit. Then just take a dive and order a cocktail while your are drying.
Rooms starting at 150 euros per night.
Off Paris Seine, 86, Quai d'Austerlitz, 75013 Paris. 01 44 06 62 65 www.offparisseine.com
Playing the mermaids on the Neuilly lawns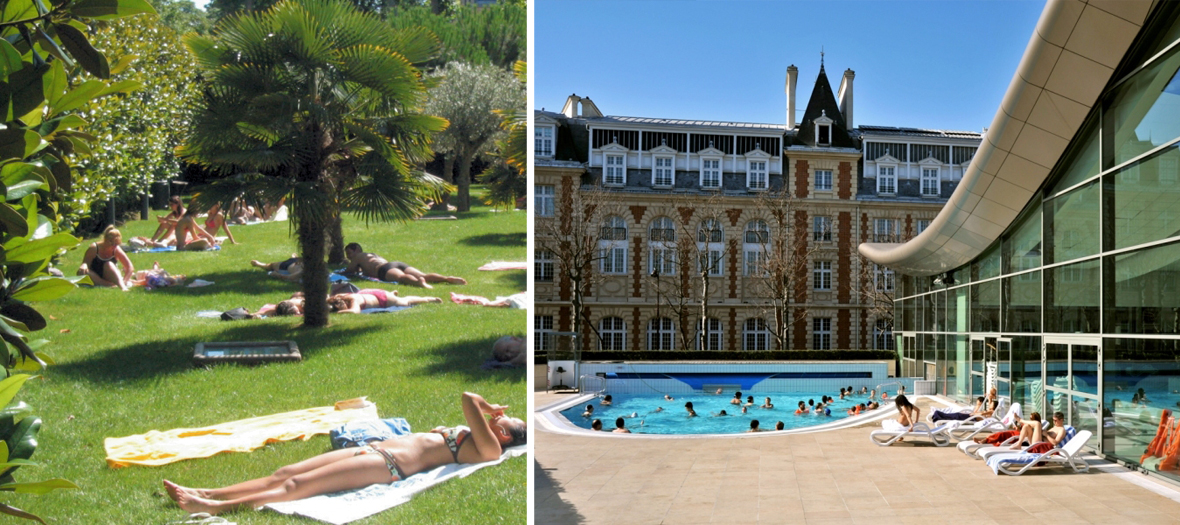 Clean, huge and with lots of activities, the Neuilly-Sur-Seine pool is a secret gold nugget. An ideal spot to alternate laps and et farniente all day long—along with the locals.
After your kilometer of breast stroke or circuit-training (trampoline, aqua-bike, elastic), make a bee line for the breezy lawns to chat with the gals or work on your tan in the shade of pines and palm trees.
Open Monday noon-8pm, Tuesday 11am-8pm, Wednesday and Thursday 9am-9pm, Friday 9am-10pm and week-ends from 9am-7pm. Entrance 6,40 €. Group classes 15€.
Centre aquatique de Neuilly-sur-Seine, 27-31 Boulevard d'Inkermann, 92200 Neuilly-sur-Seine. 01 55 62 62 70 www.neuillysurseine.fr
Just like being a Parisienne, member of a private club in the Bois de Boulogne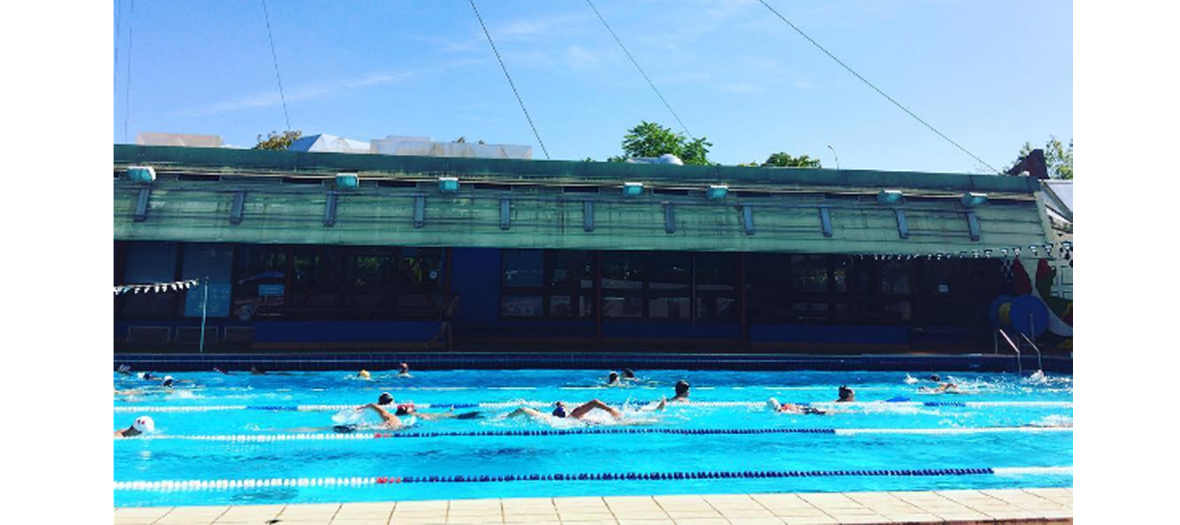 © oriane_hdn on Instagram
Who has not dreamt of being invited to a private club with a pool such as the Cercle du Bois de Boulogne? We have found even better: the €3.5 version next to Porte de Vincennes, with a public basin of 50 meters and another 25 meter one reserved for sports clubs.
Extra option: admiring the handsome swimmers from the lawn.
To be noted for the most daring: in the evening, the pool is reserved exclusively for Parisian nudists. A good way of initiating yourself to the new made in Paris trendy, that should be opening its first nudist zone in the nearby Bois de Vincennes by next year. Strip everybody !
Open every day. Hours on line: www.equipement.paris.fr
Entrance €3.5. Two basins of 50m and 25m.
Piscine Roger Le Gall, 34 Boulevard Carnot, 75012 Paris. 01 44 73 81 12. Check hours on line : www.equipement.paris.fr
Slipping on a Manaudou swimsuit in an outdoor Olympic-size pool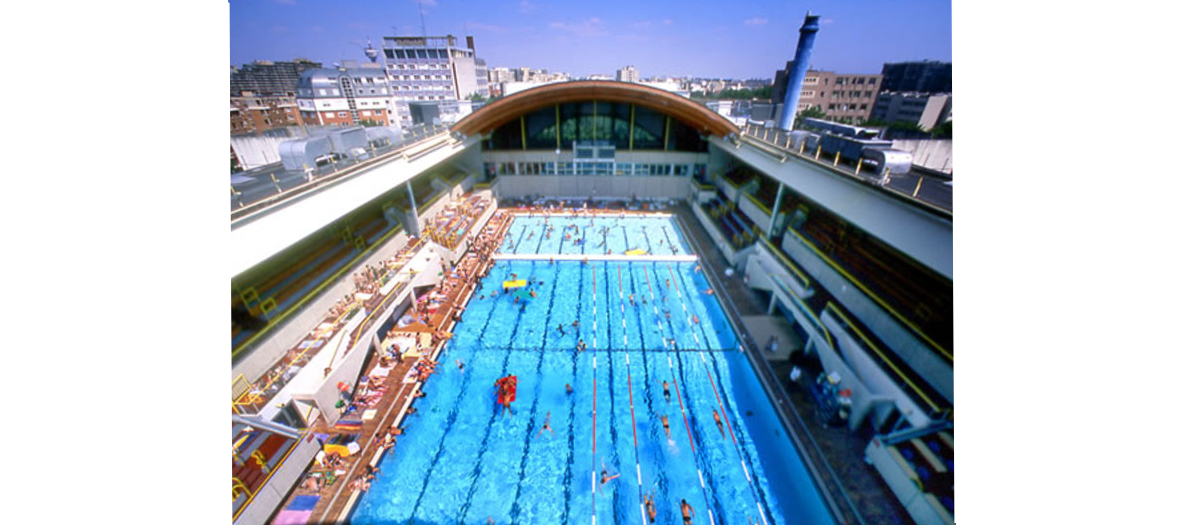 Athletes don't have the monopoly of 50m pools to practice their sport. The Georges Vallerey pool welcomes the swimming championships of France—but not just that. Twigs also come to squat the competitions basin to practice their Indian side swim, breast stroke and other beginner exercises who aim at having a bikini body. All while tanning, of course, thanks to the modular rooftop.
To each their own rhythm: there is a slow lane in case you are a little run down. Tops: many courses to morph into a bomba in just one month with AquaGym, AquaJogg', Dynamik Palmes, AquaBike...
Available hours on www.piscine-vallerey.fr. Entrance 3 €, sports activity 6 € per session.
Piscine Georges Vallerey, 148 avenue Gambetta, 75020 Paris.
Also discover Saturday : parisiennes will paddle on the Seine.