It's too hot to work. We all want to swim. That's good, here is the list of the prettiest and most unusual outdoor pools to cool off in style. And splash!
Rent an apartment with a rooftop pool on Airbnb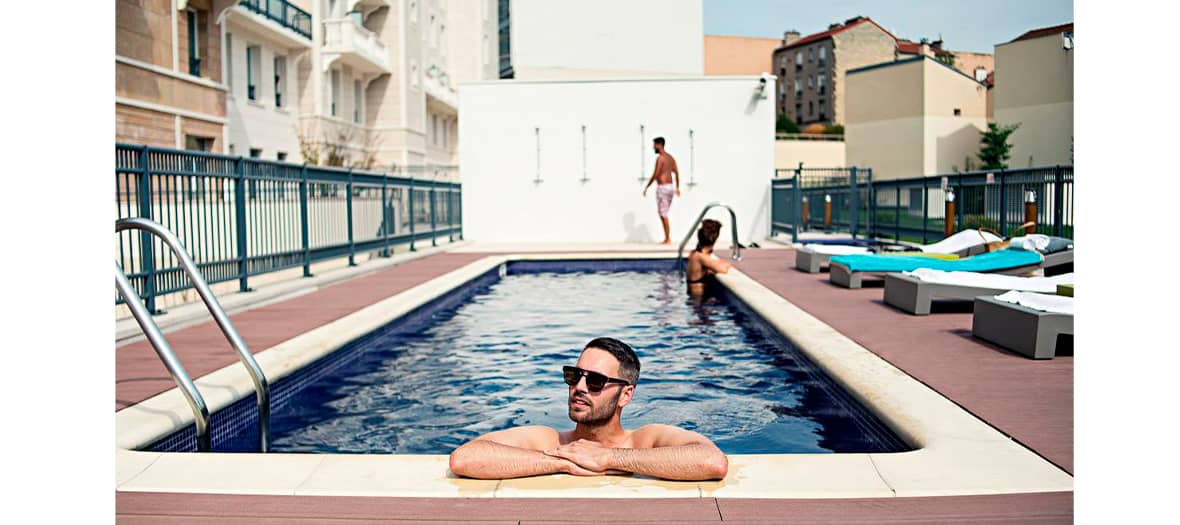 If the idea of squatting in a municipal swimming pool frightens you, we have the idea of the year. A beautiful apartment in the style of a terrace suite with a breathtaking view of the Eiffel Tower in the heart of an upscale residence towards Les Gobelins . Surprise on the top floor: a swimming pool with a view over the rooftops of Paris, unearthed on Airbnb … It's like being in Melrose Place .
At 140 € per night, this is a nice surprise to chill and sunbathe when you leave the office. You just have to take your swimsuit, enjoy the pool and the view! Too easy. The extra thing? A fitness area and a ping-pong table, enough to maintain or start sculpting your summer body.
Reservations on airbnb.fr
Squatting the house of a billionaire left bank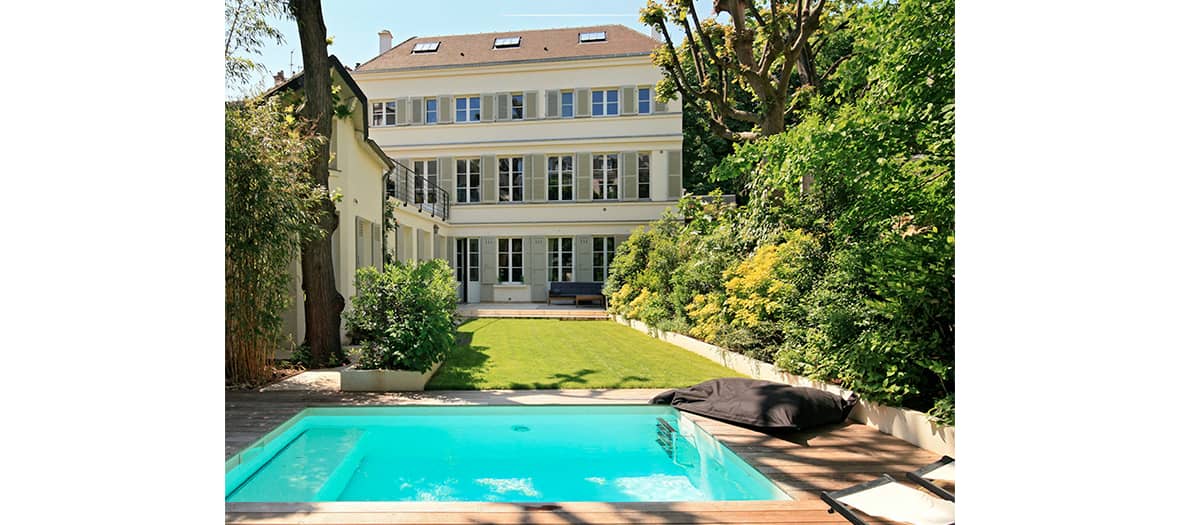 Maison Latine is the dream vacation villa: a bohemian hut with fireplace, garden, rooftop, swimming pool and 5 bedrooms to chill with friends. Except that this house is not located in Le Perche, in Le Lubéron or Puglia… But on the left bank a stone's throw from Odeon. There you go.

We let you imagine the price of this little gem which must belong to a CAC boss and drool ... Unless. The awesome luxury home rental site Le Collectionist is selling this dream spot at 25k a week. Divided by 10 friends, it's 357 € a night. And there, it begins to be considered for a real luxury kif.
Info and reservations on lecollectionist.com
On the rooftop of a trendy hotel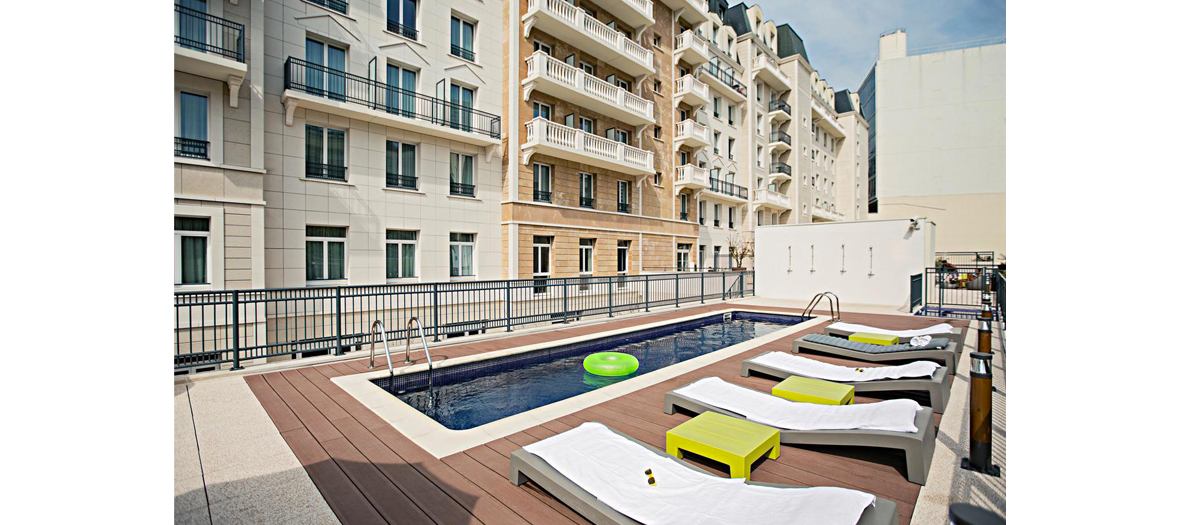 A rare occurrence, The Student Hotel Paris La Défense hides on its roof an ideal swimming pool for lengths and sun loungers like a solarium. The golden opportunity to sleep off a summer night in one of its stylish rooms. Remember to book your dip slot: covid requires, access to the swimming pool is limited to 15 people with one hour per day and per customer (with the possibility of exceeding a little if no one takes over!).
From € 70 per night. The Student Hotel Paris La Défense , 56 rue Roque de Fillol, 92800 Puteaux. 01 49 03 51 00
Take yourself for a Parisian member of a private club in the Bois de Boulogne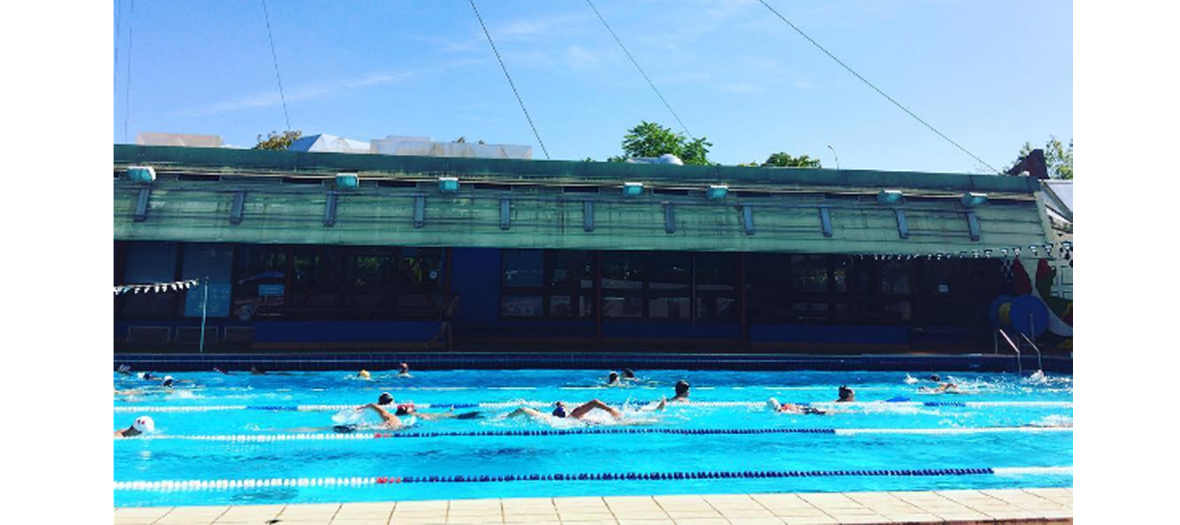 Who has never dreamed of infiltrating a private club with swimming pool like the Cercle du Bois de Boulogne ? We have found better: the version at 3.50 € near the Porte de Vincennes , with a public pool of 50 meters and another reserved for sports clubs of 25 meters. Enough to enjoy the comings and goings of the handsome swimmers from the lawn.
Note for the more adventurous: in the evening, the swimming pool is reserved exclusively for Parisian nudists. A good way to learn about the new made in Paris trend, which has reopened its first naturist area in Bois de Vincennes since May 19. All naked!
Open every day. Entrance € 3.50. Two pools of 50m and 25m.
Roger Le Gall swimming pool , 34 boulevard Carnot, Paris 12th. 01 44 73 81 12
© oriane_hdn on Instagram
Make a splash in the Seine from Joséphine Baker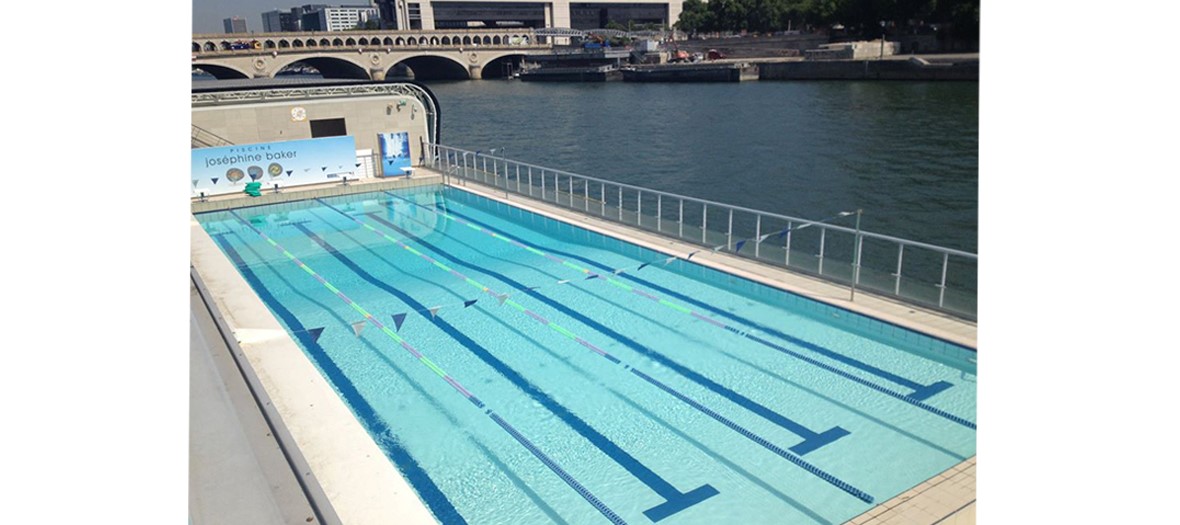 After having plunged into the Joséphine Baker swimming pool, a real " inflatable " pool of 25m placed on the water, one has the impression of swimming laps on a sky blue Seine, along the BnF. This is the real charm of a " vacation in Paris " with a beautiful sunbathing area like on a boat for only € 3.60. His little extra thing? The Dynamik Fins and other activities to build your buttocks and shape your legs ...
Booking of your time slot is compulsory on moncentreaquatique.com . Entrance: € 6.50.
Joséphine Baker swimming pool , Quai François Mauriac, Paris 13th. 01 56 61 96 50.
Do your laps in a listed historic monument at the Butte aux Cailles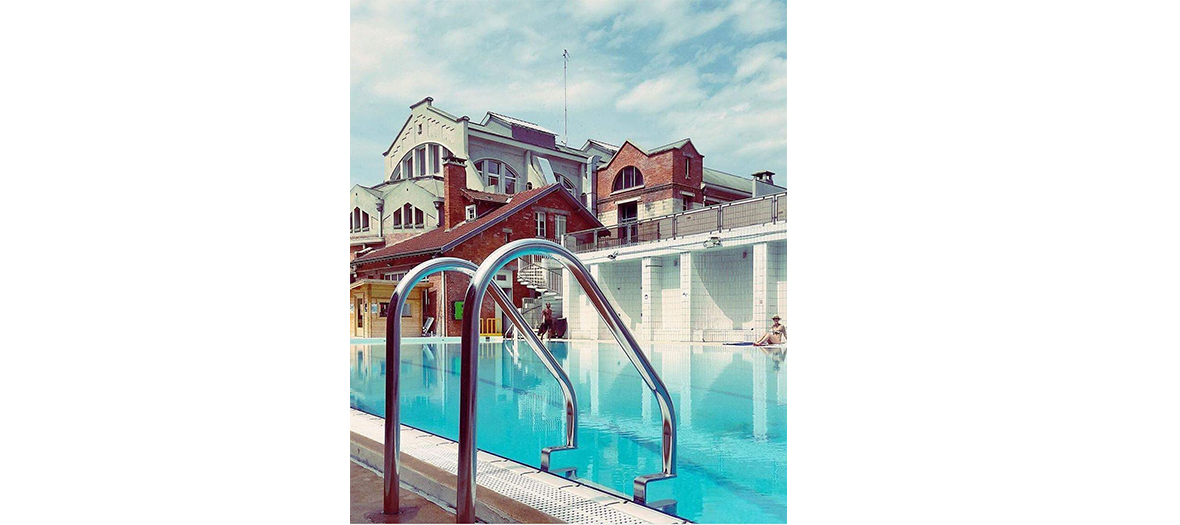 This is the promise of the ultra chic swimming pool at Butte Aux Cailles … It must be said that the sublime setting of this 1920s establishment could be the perfect setting for a movie.
Its 25m outdoor pool is idyllic and deliciously " no kids " since a small 12m pool next to it is reserved for them (phew!). This is without forgetting the superb solarium , ideal for reading a book in the fresh air or on vacation. All for 3 francs six sous.
Open every day. Entrance: 3.50 €.
© justinem_d on Instagram
Swimming pool at the Buttes aux Cailles 5 place Paul Verlaine, Paris 13th. 01 45 89 60 05.
Swim in the most sublime swimming pool in Molitor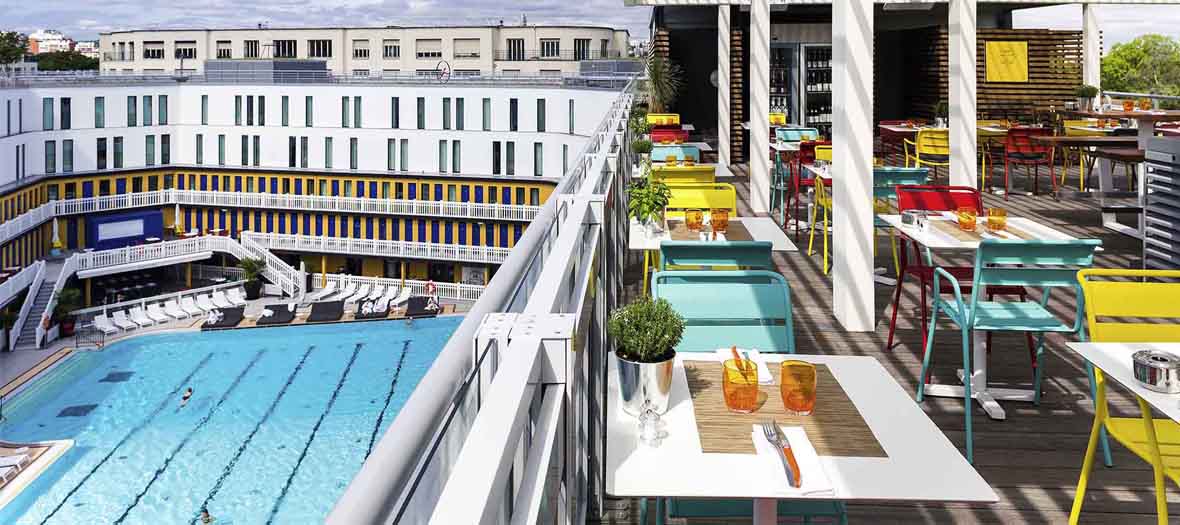 The socialist sirens swear by the Molitor swimming pool , a jewel of the 1930s of 46 m completely relifted into a very fashionable swimming pool club within the 5 star MGallery hotel .
Phew, if you dream of spending a whole day there pampering yourself, it doesn't necessarily cost you a month's salary… The must of the summer: the Evasion offer (starting at € 280) which includes a session of 1h to u SPA by Clarins with access to pools, steam room, sauna, gym. The hotel has provided privileged access, full of freshness, for Parisians in need of a luxury swimming pool who have reserved their treatment. The ideal break for working girls.
The other option in the event of an acute heat wave? Simply take a room with air conditioning to swim with the setting sun + take a dip in sunrise mode. From 250 € .
Molitor swimming pool 13 rue Nungesser et Coli, Paris 16th. 01 56 07 08 50.
Laze by a Miami Style pool!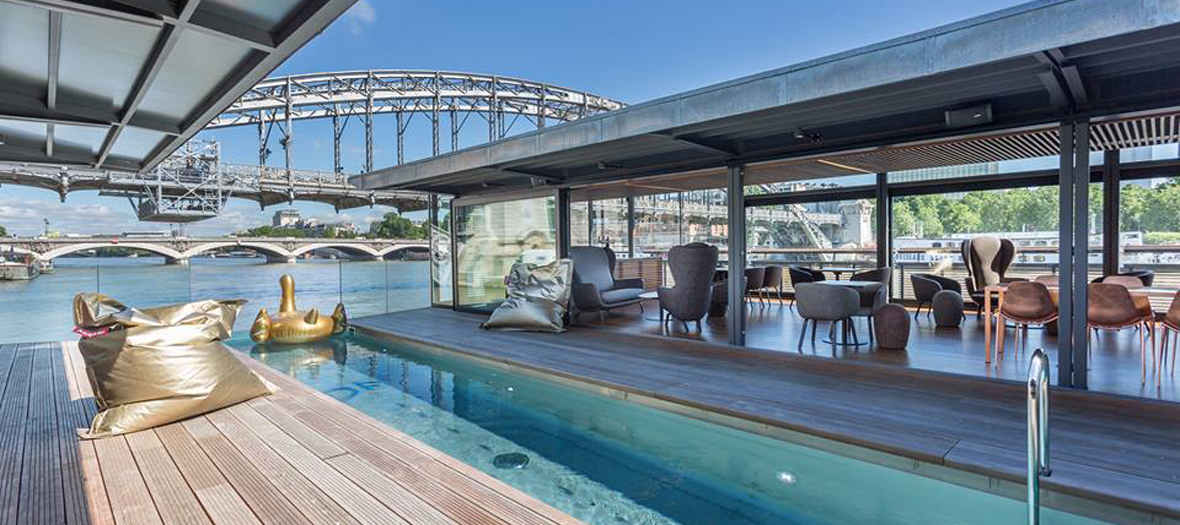 You have undoubtedly already heard of OFF Paris Seine , the first floating hotel in Paname. His particuliarity ? It has a super luxury 10m swimming lane to make Racing members pale.
If you dream of diving there, now is the time to test the hotel and treat yourself to a Parisian tropicool break. Nothing could be simpler: book a cool room (air conditioning, sometimes it's good) with window and view of the water, put on your little swimsuit . You just have to dive in and order a cocktail while it dries up.
Room from 742 € per night. Pool accessible to hotel guests.
OFF Paris Seine 86 quai d'Austerlitz, Paris 13th. 01 44 06 62 65.
Play mermaids on the lawns of Neuilly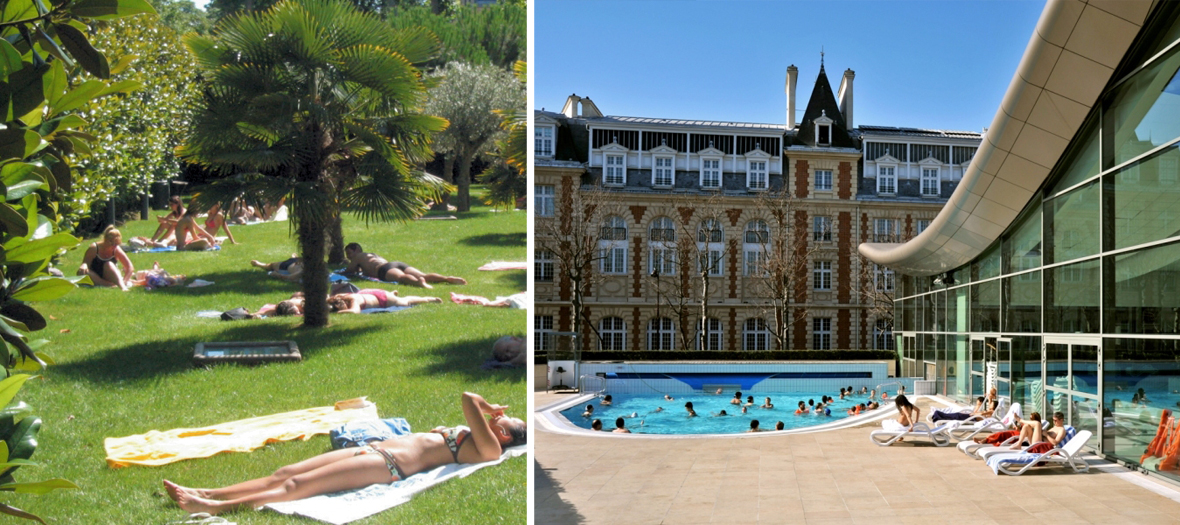 Clean, huge and with lots of activities, the Neuilly-Sur-Seine swimming pool is a secret little nugget. An ideal spot for alternating lengths and lazing around all day, popular with locals.
After your kilometer of breaststroke or the circuit-training (trampoline, aqua-bike, elastic), we go chat and polish our tan on the lawns of soft grass in the shade of pines and palm trees.
Entrance (6.40 €). Group lesson (€ 13.50). Please note: access reserved only to residents or people working in Neuilly-sur-Seine.
Neuilly-sur-Seine aquatic center 27-31 boulevard d'Inkermann 92200 Neuilly-sur-Seine, 01 55 62 62 70.
Put on the Manaudou jersey in an outdoor Olympic swimming pool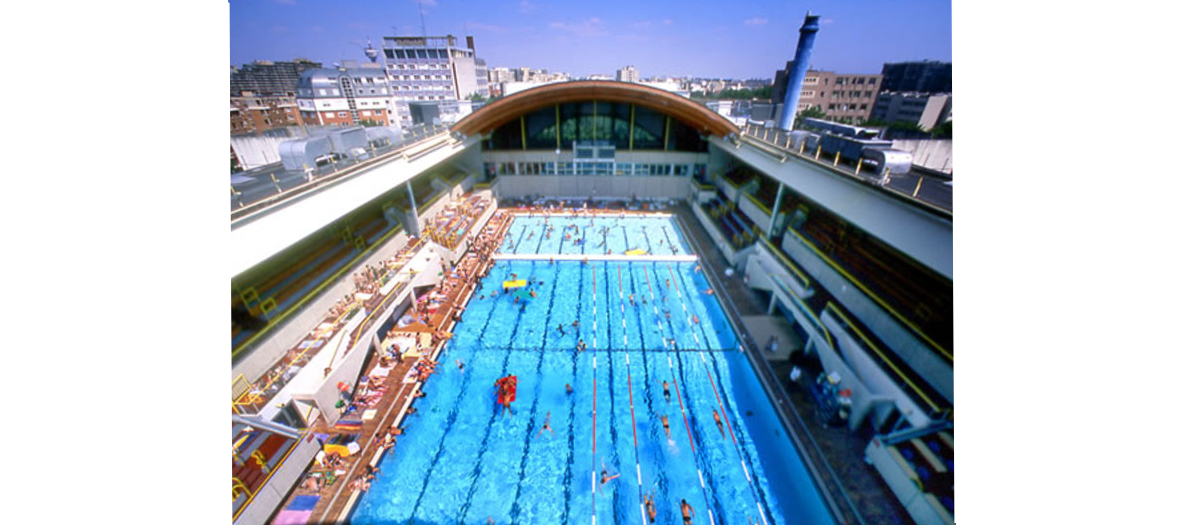 Athletes do not have a monopoly on 50m swimming pools to do their little sport. The Georges Vallerey swimming pool hosts the French swimming championships, but not only. The twigs also come to squat the competition pool to indulge in Indian swimming, breaststroke and other exercises for neophytes in need of bikini body . All while tanning, of course, thanks to the sunroof.
Everyone has their own pace: we fall back into the slow queue in the event of slack. Top: the many courses to turn into a bomba in a short month with AquaGym , AquaRunning , AquaPalmes , AquaBike ...
Entry without reservation (€ 3.50), € 7 sports activity.
Georges Vallerey swimming pool , 148 avenue Gambetta, Paris 20th district. 01 40 31 15 20.
Also discover 7 hotels with swimming pools a stone's throw from Paris and the 9 sexiest spots in Paris Plage .