Where can you party outdoors, have a drink, snack, and dance under the open sky by the water? Follow the guide to the best summer parties with a view.
Les Maquereaux Rive Gauche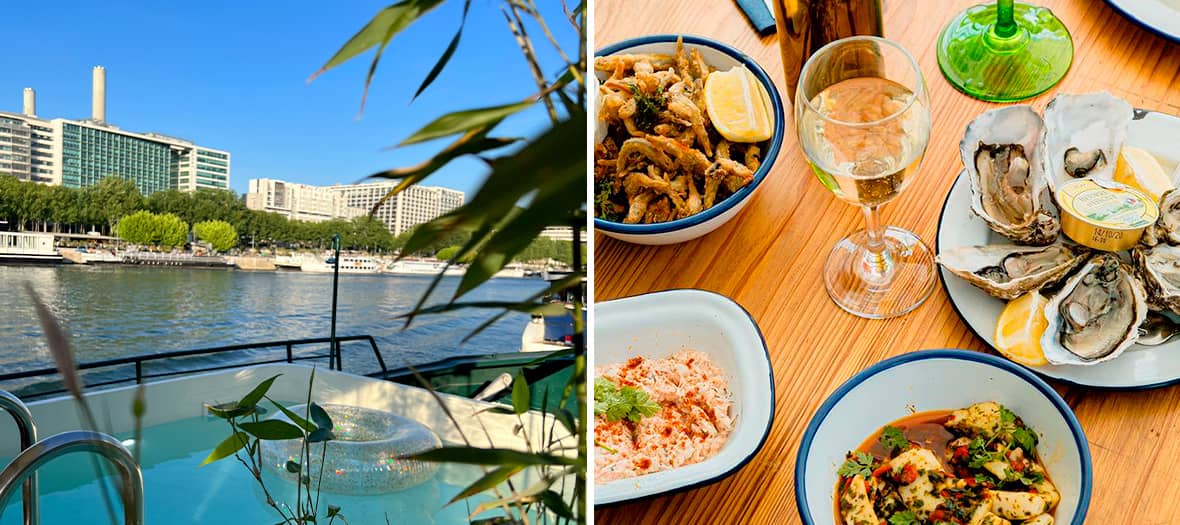 Les Maquereaux strike again. This group of ambiance creators on the water, who have already given us the fantastic barge near Pont Marie, has just dropped anchor at the foot of the Cité de la Mode et du Design. Disconnect on this astonishing green and red boat, which hides a well-kept secret: three terraces... one of them with a swimming pool. Yes, a swimming pool. What's more, you can even privatize this space for an insane pool party, or you can claim a spot every Saturday from noon for DJ sets by L'Ultraviolette sur Seine. There's just one step between Paris and Formentera.
Of course, you'll find what makes Les Maquereaux so great: a selection of finely sourced seafood snacks (oysters, shrimp, accras, whelks with mayo...) as well as well-crafted cocktails (Moscow Mule €11) or a must-have bottle of rosé (starting from €30) to perfect the holiday atmosphere we all love. We toast, take a plunge, rinse off in the shower, change in a cabin, and refill our glasses... the endless joy of these never-ending evenings!
Les Maquereaux Rive Gauche, 66 quai d'Austerlitz, Paris 13th. Open every day until October, from 12:30 PM to midnight. Reservation/privatization of the pool area: customized options starting from €40 per person. More information at +33 1 73 78 36 41.
Perchoir Y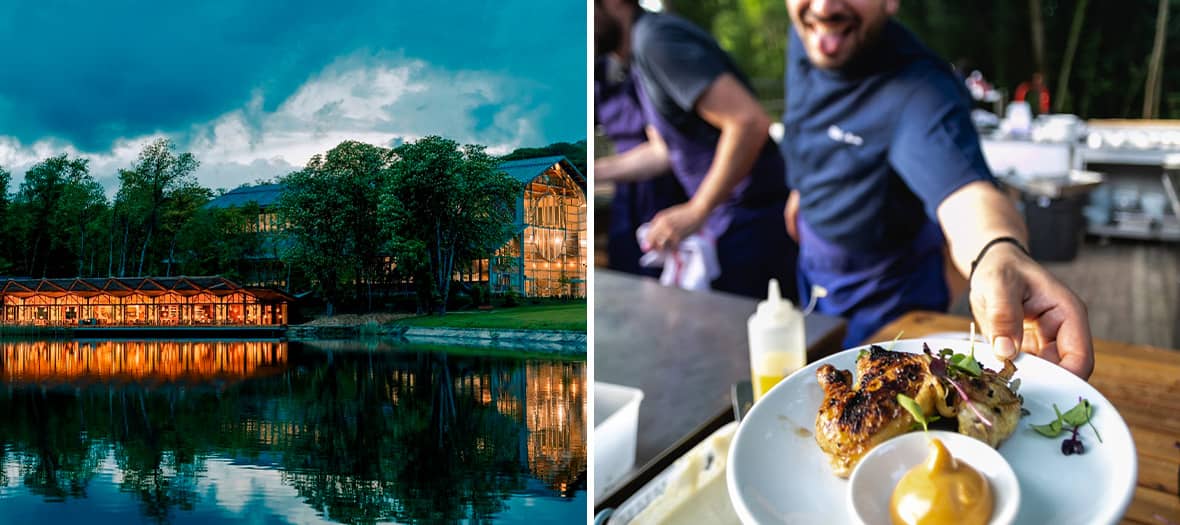 Immediate boarding for Hangar Y, a monumental heritage from the 1878 Universal Exhibition, revived after forty years of slumber on the edge of the lush Meudon forest. It is in this green setting, around a vast water basin, that Le Perchoir had already set up its guinguette (open-air café) last year. With the inauguration of this new cultural destination, complemented by a 10-hectare sculpture park featuring works by Subodh Gupta, Ugo Rondinone, and Kiki Smith, the most elevated group unveils a restaurant designed by Studio Perrier, helmed by the starred and tattooed chef Guillaume Sanchez from Neso.
Two rooms, two culinary atmospheres! On the terrace of the marine-inspired brasserie, we toast with mackerel rillettes (€10) or bulots mayo (€9) before indulging in a potato waffle with wild garlic and trout eggs (€12). Feeling like going all out? Go for the sole meunière (€33), the crustacean and sweetbread vol-au-vent (€35), or even the Breton lobster à l'américaine (€49). On the guinguette side, nestled in the coolness of the woods, the style is more casual with finger food and barbecues on the weekends. And what do we drink? The always well-crafted cocktails by the bartenders made in Perchoir: a Moscow Mule or a Basil Gin take the lead, unless you opt for a little sulfite-free rosé!
Perchoir Y, 9 avenue de Trivaux, Meudon (92). Open from Tue to Sun, from 12 PM to 7 PM for drinks. Restaurant open on Fri and Sat from 7 PM to midnight, Sat and Sun from 12 PM to 3 PM. Guinguette open from Wed to Fri from 6 PM to 2 AM, Sat from 12 PM to 2 AM, Sun from 5 PM to 9 PM. © Jerome Galland
La Nouvelle Seine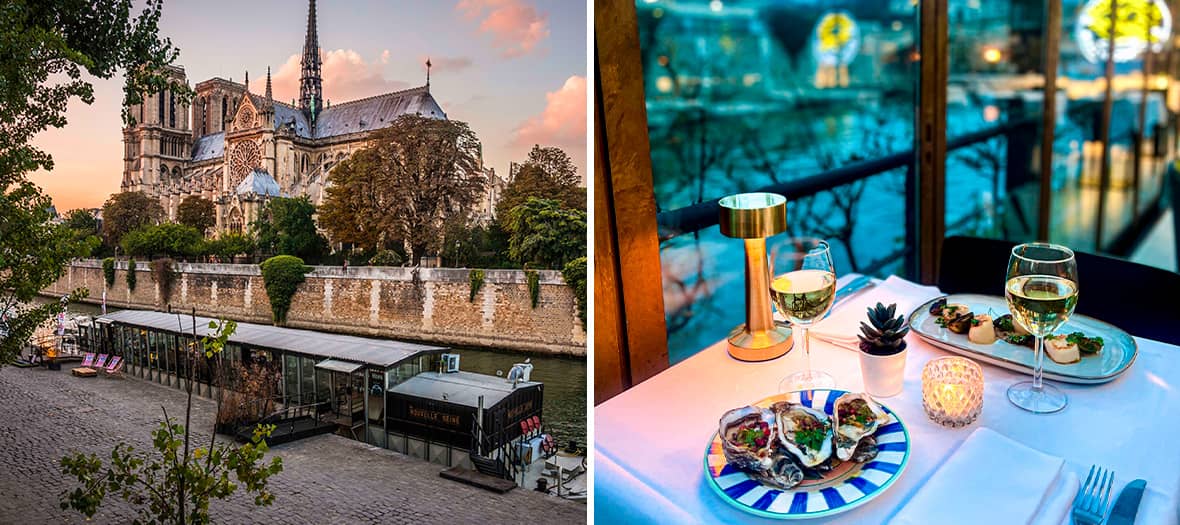 La Nouvelle Seine is celebrating its 10th anniversary! First, the stylish barge moored on Quai de Montebello offers a superb view of Notre-Dame. The mantra? A glass in the sun, a chef's dinner, and hilarious comedy shows all at once! Below deck, the boat hides the theater that launched the careers of Guillaume Meurice, Bun Hay Mean, and Blanche Gardin, now hosting the new generation of up-and-coming comedians.
This month, chef Gaston Savina (a contestant on Top Chef this year) takes the reins of the restaurant. Start with asparagus in gribiche sauce or oxtail with mustard and potatoes. Mmmh... Next, try the guinea fowl with charred cauliflower mousseline, or for vegetarians, creamy polenta with brie and Paris mushrooms. For dessert, indulge in rhubarb with white chocolate and caviar, or go for the strawberry preparation with mezcal pavlova cream.
La Nouvelle Seine, Barge on the Banks, facing 3 Quai de Montebello, Paris 5th. Chef's dinner by Gaston Savina until July 7, 2023, three-course menu for €55. Online reservation or call +33 1 43 54 08 08. © Christine Coquilleau
Bal de la Marine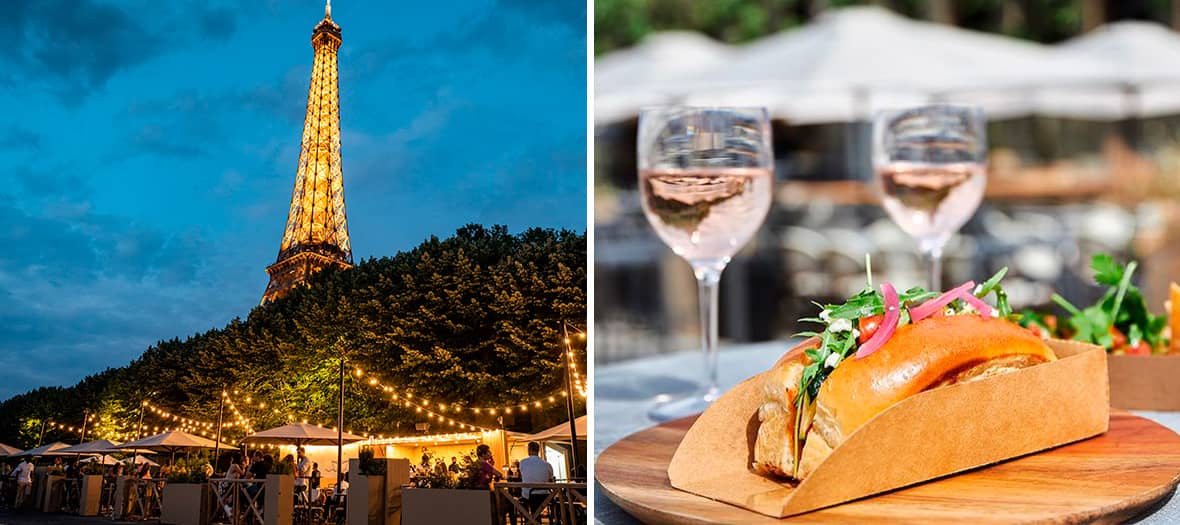 There's the sky, the sun, the Seine, and the Eiffel Tower. It creates an infinitely chill atmosphere, like being on vacation at the foot of the most iconic Parisian monument. It's the perfect deal to refresh your mind just a stone's throw away from the metro. Sounds good, right?
Head to the Bal de la Marine. With its neo-vintage decor inspired by Louisiana and its crew straight from La Javelle, this barge-restaurant moored in front of the Iron Lady is the trendy spot to sip rosé, dip homemade nachos in guacamole (€9), taste beetroot hummus (€8), and grab a cheese stick (€9), all while enjoying the waterside ambiance.
Le Bal de la Marine, Port de Suffren, Paris 7th. +33 1 47 05 65 57. Open Monday to Sunday from 5 PM to 2 AM. Lunch menu starting from €28.
La Démesure sur Seine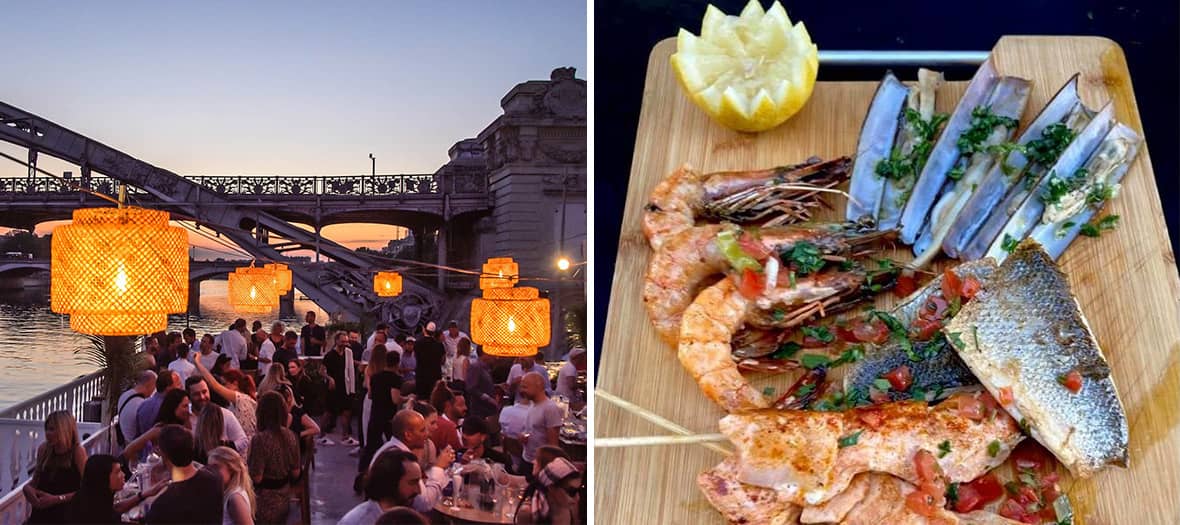 Fairy lights hanging from the trees, large wooden tables... La Démesure sur Seine returns to Quai de la Râpée to make Parisians' apéros swing under the sun. When it comes to music, get ready to groove with sharp DJs on the decks, playing funk, soul, disco, and hip-hop. It's everything we love.
On the menu, you'll find Mediterranean delights like an assortment of favorites (hummus, lemony artichoke cream, tzatziki, figs, olive tapenade, pita bread, €19), crispy shrimp with sriracha mayo (€18), truffled ham (€21), or veal tataki with vitello sauce (€18). And to accompany it all, they serve incredible cocktails like the refreshing Pamela (dry gin, cherry liqueur, cranberry, vanilla syrup, red fruits, €14) or the Doudou Mojito (coconut rum, coconut water, mint, lemon, €14).
La Démesure sur Seine, 69 Quai de la Râpée, 75012 Paris. Open Monday to Saturday from 6 PM to 2 AM, and Sunday from 2 PM to midnight. Find all the information online.
Rosa Bonheur sur Seine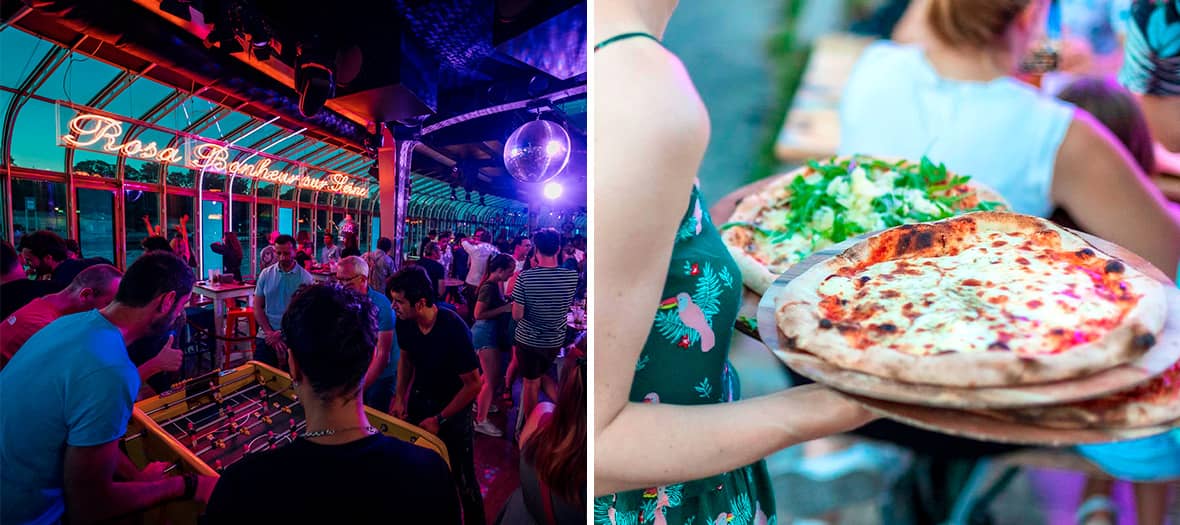 Just near the sublime Alexandre III Bridge, it's THE iconic headquarters for parties by the Seine. Inspired by a resolutely Camargue mood, the Rosa Bonheur group docks at Port des Invalides next to the Musée d'Orsay. The massive terrace, with its rainbow colors and always cool disco DJ sets, instantly transports you to a vacation vibe with friends.
As a bonus, Rosa Bonheur delights us with its perfect selection of shareable food, featuring amazing pizzas (starting at €9.50), small tapas (starting at €4.50), and even delicious Camargue-style cannelés (€8 for 4) to be enjoyed with a glass of rosé (€6) or a pint of Saint Omer (€8.50). What we particularly love? Its guinguette spirit, with a special focus on inclusivity and an anti-harassment party atmosphere. A standout feature is the stunning view of the Grand Palais!
Rosa Bonheur sur Seine, open Wednesday to Sunday from noon to 2 AM, Port des Invalides, Paris 7th. +33 1 47 53 66 92. © Leviet Photography

Discover The most beautiful guinguettes of the summer and The must-try rooftops in Paris