You may not have noticed yet the newcomer on the Champs-Elysées. Kusmi Tea, the super hype tea brand has just landed on the most beautiful avenue in the world.
After filling up on cult « detox tea », go upstairs for a light lunch with a Russian accent. In a super designer space with a diving view on the Champs Elysées, Café Kousmischoff offers nice little dishes to give yourself a treat without feeling guilty.
On the light gourmet menu: a delicious crab salad filled with proteins and Omega 3, the bortsch, that traditional Russian soup with beet and cabbage, or farmer cheese with fresh herbs (from 9 to 33 €).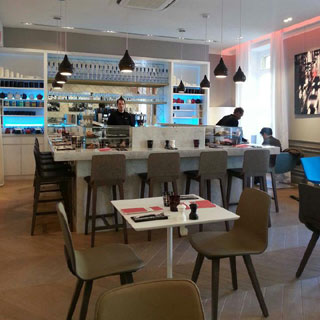 Since it's out of the question to skip dessert, boost yourself with vitamins found in the Euphoria tea with citrus fruit or the 100% organic cereal bar with fig and apricot from Marlette.
A little side-kick without too many consequences, the no-gluten chocolate delight (4 to 12 €) to nibble on while sipping the wonderful Detox tea of fruity nectars by Alain Milliat.
We like: the wink to Russian architecture with hanging lamps that are a reminder of Red Square.
Tops : Sunday breakfasts and brunch.
Monday to Friday from 8am to 11pm
Weekends from 9am to 11pm