Calling all fashion accessory addicts - our team of editors have spotted three new Parisian boutiques to sniff out fashionable pieces, such as scarves, hair clips, bags and jewelry: Be Parisian, Alexandre de Paris and L/Uniform.
Calling all fashion accessory addicts - our editors have spotted three new Parisian boutiques to snag stylish pieces like scarves, hair clips, bags and jewels to spice up any outfit. Ready?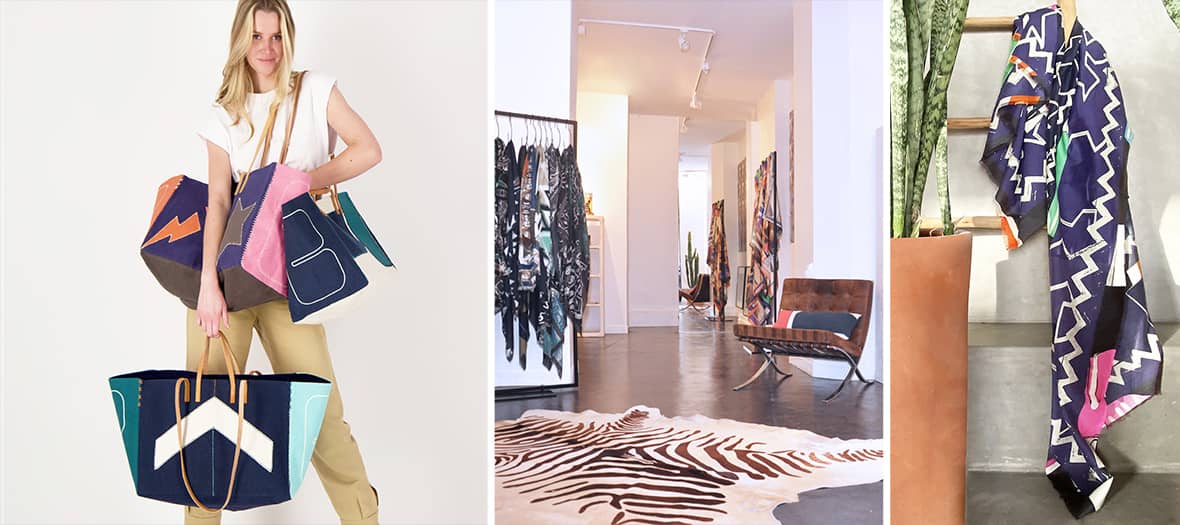 Target audience? The Arty Parisienne.
Silk carrés (scarves), timeless classics and symbols of French chic, are reimagined in Be Parisian's first boutique, located at 118 Avenue Mozart. This French fashion house, known for its large format carrés, claims its urban style through illustrations inspired by Pop Art and the artistic buzz of the 70s and 90s. For the past two years, the designer Emmanuelle Legrave has been using her designs on a capsule of ready-to-wear and accessories made in France, revisiting staples of women's clothing. Finally, it wouldn't be possible for this former interior designer not to include a lifestyle home collection. Available in store: illustrated wallpapers and up-cycled cushions made of silk scrap!
Our favorites: at the top of our wishlist, the "Arty" or "Rive Gauche" silk scarves, both iconic models (295 €). Then there's the exclusive collection of "Emmanuelle" handbags with logos (465 € for the skin model and 590 € for the leather version).
Feeling artistic or simply looking for a custom scarf? 100% customizable, "Un carré à votre image" lets you create your own model from scratch with your own photo, a design frame (among the 5 available), and your favorite colors, texts and formats. So cool!
Be Parisian, 116-118 Av. Mozart, Paris 16th. Open Tuesday to Saturday from 11am to 7pm.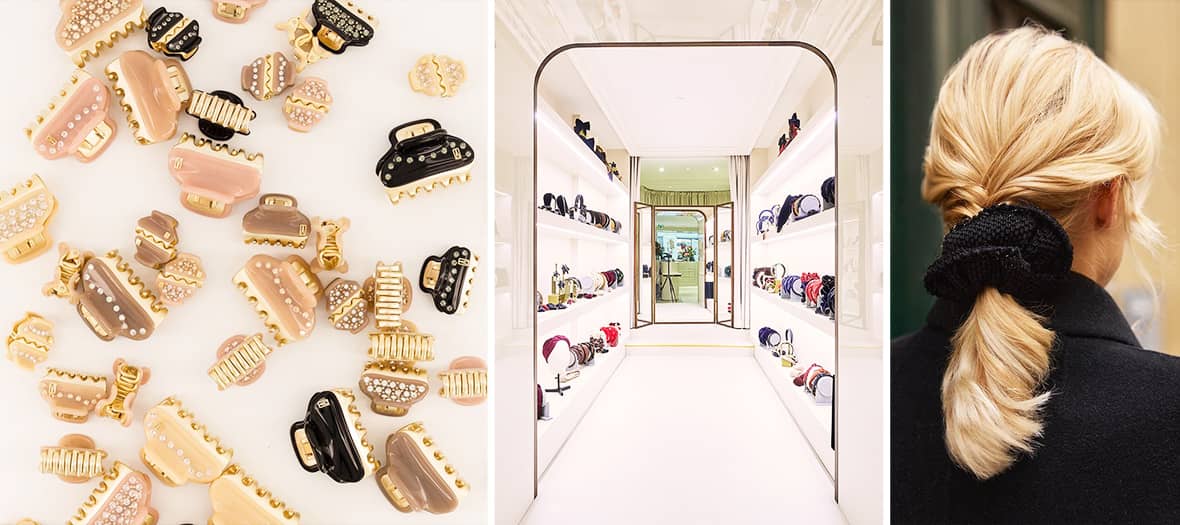 Target audience? The Preppy Parisienne.
Fashion red alert: Emily in Paris loves Alexandre de Paris! Spotted wearing the "Adèle" model, a stunning ruby red velvet headband, the most dapper American girl in town has fallen for the elegant hair accessories and jewels made by this upscale fashion house. Last December, the brand moved to a new, larger boutique at 342 rue Saint-Honoré, close to Place Vendôme, where the brand made its debut in 1989 and which inspired its first piece: the Vendôme comb.
Since then, in a new décor designed to resemble a sleek, contemporary boudoir, the brand offers a variety of headbands and hair clips worthy of Blair Waldorf.
Our favorites: The Vendôme Tocade clips, which are among the house's finest pieces. Available in 4 different sizes, they come in a wide range of colors - with or without Swarovski crystal inlays (between 21 and 112 €). We also fancy the thick braided velvet headbands "Olympe" (192 €) or the "Surprise" model (134 €) in silk, liberty print, perfect for spring. For a bold, sophisticated look, choose the « Feu follet » clip with a big pink bow (188 €). It should be noted that all pieces are handmade in France in workshops that uphold the craftsmanship expertise and excellence of French artisans.
Alexandre de Paris, 342 Rue Saint-Honoré, 75001 Paris. Open daily from 10:30 am to 6:30 pm.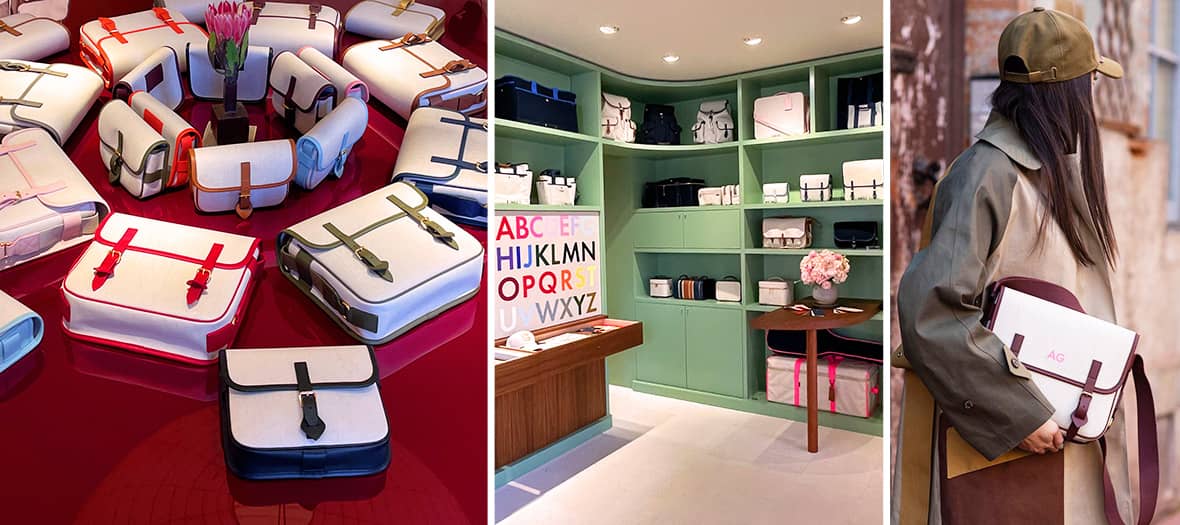 Target audience? The Adventurous Parisienne.
French bag and accessory brand L/Uniform has just set up shop at 1 quai Voltaire in Saint-Germain-des-Prés. « Beauty starts with utility » (« le beau naît de l'utile »), here's what prompted Jeanne Signoles to found her own manufacture in 2014, and create woven canvas bags designed for everyday use: practical, durable and elegant. The store is laid out in different sections showcasing lifestyle collections with accessories for the office, pets, sports... plus a special customization corner.
With 7 colors of canvas and a dozen colors of finishes, you can pick and choose letters and symbols according to your wishes (the first three symbols are free).
10 minutes later, you'll walk out with your dream bag!
Our favorites: the smaller the better! Who could resist the mini versions of the shopping bag n°183 (580 €) and the tool bag n°176 (640 €), flagship models and new arrivals in store. "La Gibecière" n°146 (695 €) is a gem, both elegant and understated: a versatile but crazy chic shoulder bag.
For a slightly larger version, we love "La petite besace" n°43 (550 €).
L/Uniform, 1 Quai Voltaire, 75007 Paris. Ouvert du lundi au samedi de 11h à 19h.
Also discover the Monogram Paris Lab in Paris and Tityaravy that opens its first Parisian Store in Paris