You always dreamt of slipping in the stilettos of a fashion editor and having access to all the privileges of the most followed Instragrammers?
Wandering without any inspiration in the different alleys, getting annoyed in the fitting rooms, arriving too late… If shopping remains for you an often painful experience, here is some very exclusive information that should make you change your mind radically…
BOOK FOR FREE THE PRIVATE SALON OF THE GALERIES LAFAYETTE CHAMPS-ÉLYSÉES
Are you looking for THE amazing dress that will also make you look extra slim for a wedding? In the mood to pick up the 3 perfect pieces that are going to change everything about your style? Wondering how to put together a mix and match both cool and trendy for work? How to spot the perfect pair of pants?
Happiness is just a few clicks away. DO IT IN PARIS is offering to its readers the opportunity of living the privileged experience they were dreaming of.
The idea? Booking for free during one hour an amazing hidden suite with your very own Personal Stylist—even if it's outside regular opening hours, in order to treat yourself to a shop-op worthy of an it-girl !
A FREE PERSONAL STYLIST FOR A PRIVILEGED EXPERIENCE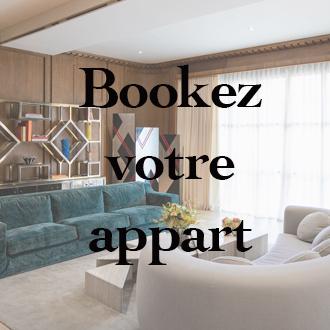 Check it out: a style coach is expecting you with a nice drink in the incredible private apartment with view on the Champs-Elysées, usually reserved for visiting stars. Initial brief: defining your needs...
No obligatory minimum purchase: the stylist pinpoints your needs and whims during one hour, brings you to find the best pieces and gives you advice before you can try on everything "comfortably" installed in the intimate salon with a view of Paris.
Another strong point: your personal shopper helps you find the best deals by giving you access to the private sales reserved for members!
THE NEW TEMPLE OF PARISIENNES
As the new temple of the stylish Parisienne, Galeries Lafayette Champs-Élysées have imposed themselves as the perfect venue, halfway between the concept-store and a human-sized department store where you can come select the perfect wardrobe: the coolest sneakers in Paris, a fab evening dress, perfect basics, street as well as neo-bourgeois accessories... Without forgetting beauty and food!

This fashionista headquarters offers a selection of brands along with the most desirable small designers of the moment as well as very interesting exclusivities— from Rouje to Jacquemus including Marine Serre, Charlotte Chesnais, Comme des Garçons, Gucci or La DoubleJ.
Reservations from 11am to 8pm as well as outside normal opening hours. These rendezvous are free and there is no purchase obligation.
Also discover the favourite brands of Parisiennes.