It's done ! After the success story of Bouillon Pigalle , the coolest restaurateurs in Paris are doing it again with a new address in Répu, replacing the legendary old brasserie Chez Jenny.
A new broth at République
We will not tell you the cool story of Bouillon Pigalle , but a simple summary. In 2017, Pierre Moussié and his gang had the idea of resuscitating the forgotten concept of Parisian broth , these very popular restaurants in the Belle Époque (like Chartier ) which allowed butchers to sell their less noble pieces of meat. with dishes in sauces and marrowbones, which delighted the forts of Les Halles like night owls (Colette, Cocteau , Proust or Apollinaire were crazy about them ...)
3rd millennium version, this gives an ultimately trendy XXL institution where you arrive without reservation to feast on rascal dishes at ridiculous prices, and drink good bowling without breaking the bank! Suffice to say that there is the tail ...
An orchestra, rascal dishes and ridiculous prices
Never mind. Bouillon does it again, of course keeping the recipe for its success: well-dressed white tablecloths, a Parisian atmosphere full of balloons, Poujauran bread, cleat service and a flood of mayo eggs (€ 1.90), leeks vinaigrette (3 , € 40), mashed sausage (€ 8.90), steak and fries with pepper sauce (€ 4.50), profiteroles (€ 4.50) and Bloody Mary (€ 6).
No cut and paste, you can imagine, this is not the kind of house. The Lafont firm has rehabilitated the so 1932 atmosphere of this legendary address: sculpted woodwork, marquetry, revolving door, thick carpet, blown ball lamps ...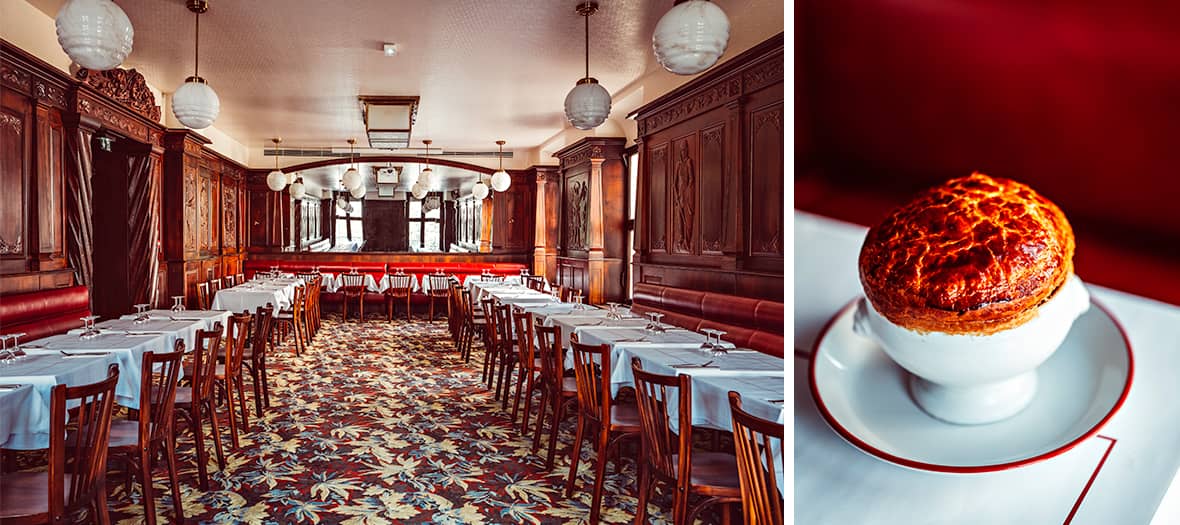 And since we are in the old Alsatian cult brasserie Jenny , we can of course find a good sauerkraut (€ 9.80) or its marine version (€ 11.90), oysters (€ 6 per half-dozen) or the black forest (€ 4.50). To set the scene for the frenetic atmosphere: an incredible orchestra that makes you want to party. Except that hipsters and fashion twigs have replaced the fascists who are no longer in the odor of sanctity at Bouillon, so much the better.
Another breaking news: the possibility of privatizing lounges on the 1st floor to celebrate your birthday (25 people) or even a wedding with that of 120 seats.
Another kif: the separate Bouillon Service corner, located on the street (you don't even need to park your bike!) Which is advertised as the best caterer in the neighborhood to bring your good little dinner and toss your truffle shells , eggs mayo and a lemon tart in front of his favorite series!
Open every day for lunch and dinner.
© Benoit Linero
Also discover the best bistros in Paris