The place? The rooftop of Mélia, the most spectacular hotel of La Défense. La Défense? Yes that's right! This is where the Paris arty in crowd and the wolfs of the financial world hang out to discover this architectural gem signed Claude Vasconi and Jean-Philippe Nuel. A radical high rise building, like a convex glass veil on the edge of the Esplanade.
A nice moment? When you come out of the office! Here the expression "after-work" really takes over in the snobby New York sense—because you feel just like in Manhattan.
Its main asset? An ultra-confidential experience with 30 terrace seats for tapas and cocktails: Gin Fizz, Mojitos, Bloody Mary, Caipi (14€) or a glass of white wine (10€) around a plate of Spanish chorizo (12€) or refined cheese (15€).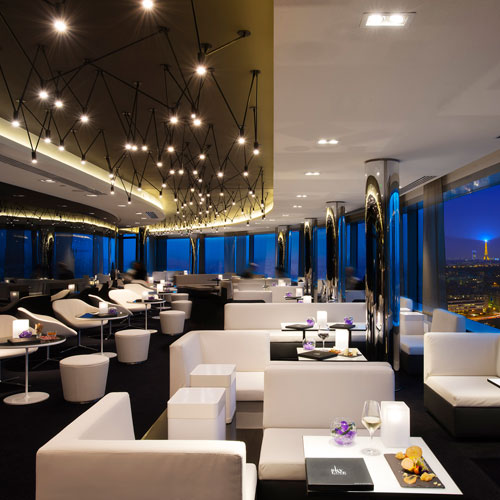 With whom? An arty girlfriend, an architect target you feel like impressing. Or friends who work at La Défense.
For the Skyline bar & lounge, it's a terrace located on the 19th floor of the hotel.
The Skyline bar offers 30 seated places on the terrace and 60 inside.
Open from 5pm to midnight. Reservations highly recommended: 01 75 57 99 00