Couture is creating the museum buzz! The enfant terrible of fashion is taking over the Grand Palais for a spectacular exhibition that has already been showcased with great success in Montreal, London and New York, before conquering Parisian fashionistas.
Excerpts from the runway shows, and concerts bring alive –backed by images–the rather daring style performance of the leading couturier: his shocking stage costumes for Madonna, those of Yvette Horner, the dress for men and of course his iconic striped sailor top.
The slightly brazen universe of the couturier is displayed through a hundred archive pieces. From his early experimentations in the 70s to the silhouettes of his last ready-to-wear fashion show, including sketches and amazing haute couture creations.
We looooove: a superbly organized exhibition put together by the Musée des Beaux-Arts de Montréal along with the Réunion des Musées Nationaux - Grand Palais and the collaboration of the Jean Paul Gaultier House, that we were waiting for impatiently.
Good news, 25 entrances for 2 persons are to be grabbed on the instagram of Do it in Paris (@doitin_paris) !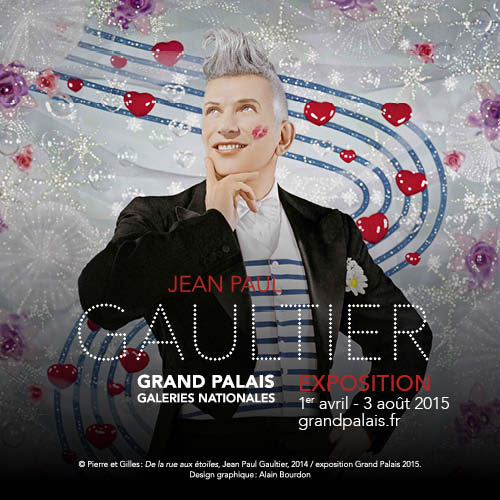 Jean Paul Gaultier, from April 1st to August 3 st 2015, Wednesday to Saturday from 10am to 10pm. Sunday and Monday from 10am to 8pm. Full rate 13€.
©  Jean-Paul Goude – Jean Paul Gaultier, Made in Mode – 2012