You've finally made the decision, this year that you are going to quit smoking... But how can you keep up this resolution that you put behind you year after year?
Imagine an ultra-design concept store with a total New Yorker spirit, entirely dedicated to the electronic cigarette. This substitution fag allows you to reduce your consumption while keeping the gesture and the smoke, without bothering your neighbors with the smell and polluting your lungs.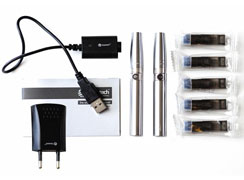 The must? Choose a taste (and that's nice): tobacco, mint, apple liquorish, passion, strawberry, chocolate, pine tree, coffee!
The high added value of the place? Specific tips to choose the ideal e-cigarette in keeping with your consumption and your needs, as well as support to reach your goals.
We like: the library corner for a quick read or to borrow a novel for a change of scenery.
Open Monday from 1pm to 6h30pm and Tuesday to Saturday form 11am 7h30pm.
Count 46 € for a light smoker kit and 85 € for a heavy smoker kit.