The bad idea during the sales? Extend your wishlist to infinity without taking action, then sulk because our favorite pieces are already sold out.
Now is not the time to hesitate: at 24S , the stylish e-shop of the venerable temple of fashion incubated by Le Bon Marché , the prices are low and make the biggest names in luxury accessible. Balenciaga , Burberry , Chloé , Fendi … It's now or never to fall for these couture pieces that change everything! Quick, before everything flies away ...
We love floral prints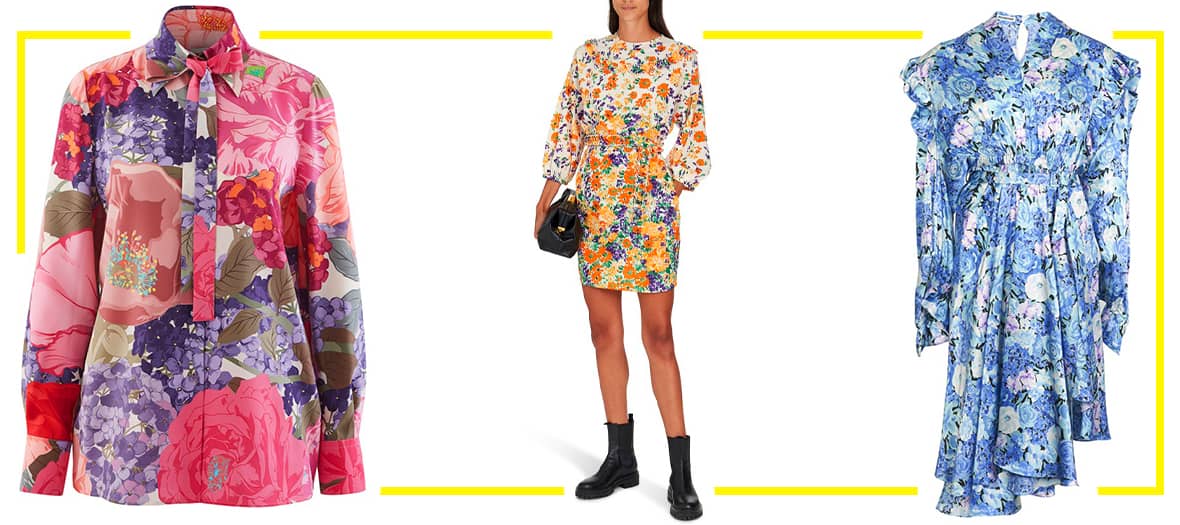 We have seen beautiful floral prints on the parades of Balenciaga , Dries Van Noten , Erdem and many other houses with strong potential desirability. Normal, flower power is a real constant in fashion, and does not fail to bring its feel good vibes to our wardrobe. On a dress, a blouse, a skirt or an accessory, it is the most imperative motif of the moment ...
Floral print dress, Roseanna , € 216 (instead of € 360)
Floral print shirt, Valentino , € 645 (instead of € 1,290)
Gather floral print silk dress, Balenciaga , € 1,918 (instead of € 2,740)
We prepare for spring with mid-season shoes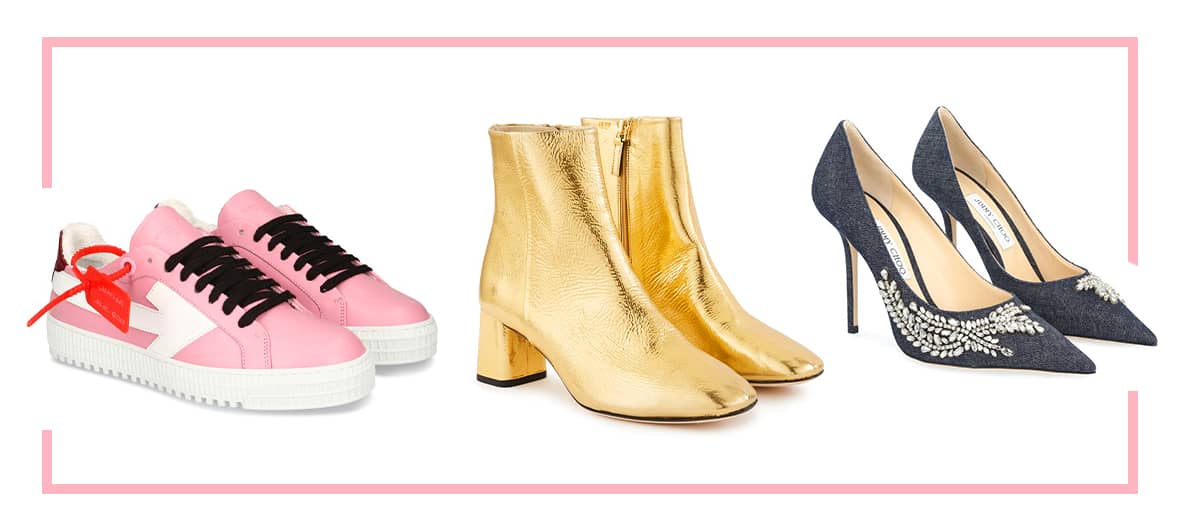 No desire to get involved now in the purchase of big winter boots when all that interests us is the arrival of spring!
The good compromise in the meantime is to opt for mid-season shoes like pastel sneakers , denim pumps (to put on with pretty socks) or even very fine glitter ankle boots . Three models that will match perfectly with white jeans, the absolute garment for elegant women.
Arrow sneakers, Off-White , 176 € (instead of 420 €)
Love 100 pumps, Jimmy Choo , € 525 (instead of € 750)
Melo, Repetto boots, € 297 (instead of € 495)
We nestle in a beautiful designer knitwear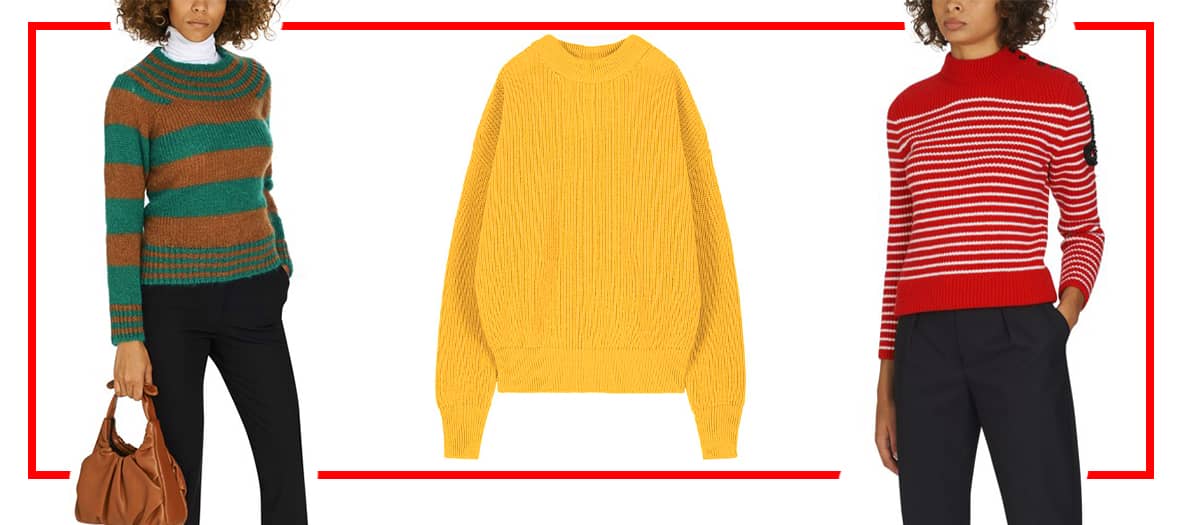 For a completely stylish look, a blanket sweater must be available in a colorful, healthy-looking knit, in a soft wool that does not itch and ideally cut to enhance the silhouette. Exit the waistcoat informs that we hardly dare to leave the house. We choose one that is worn proudly and brings added value to a jeans-sneaker combo: vibrant red, sun yellow or striped.
Breton sweater, Patou , € 297 (instead of € 595)
Two-tone sweater, Alexa Chung , € 91 (instead of € 260)
Polka sweater, Vanessa Bruno , 132 € (instead of 295 €)
We assure with the sure value of denim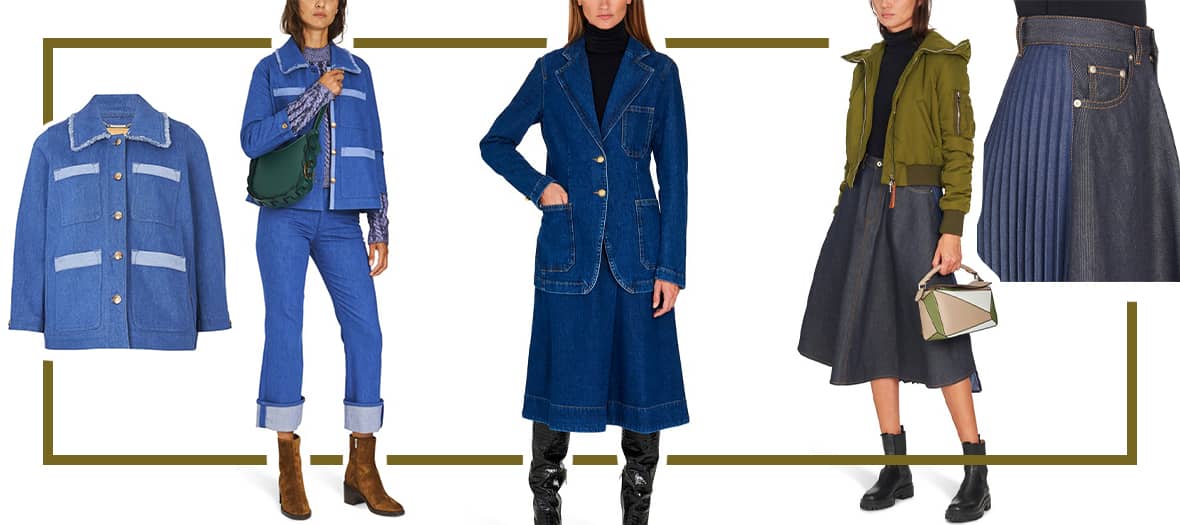 Aristocratized by the Celine , Balmain and Dior fashion shows, denim is the utilitarian bond that cools an urban look. In a patchwork version, on a jacket, a pleated skirt and of course in pants, we dare the " all-over " menu from head to toe by mixing influences: neo-bourgeois, ranch, 90's… The main thing is to always choose a crisp fit and an elegant wash.
Jacket, Chloé , € 495 (instead of € 990)
Pleated denim skirt, Loewe , € 770 (instead of € 1,100)
Judah jacket, Wales Bonner , € 417 (instead of € 695)
We invest in an it-bag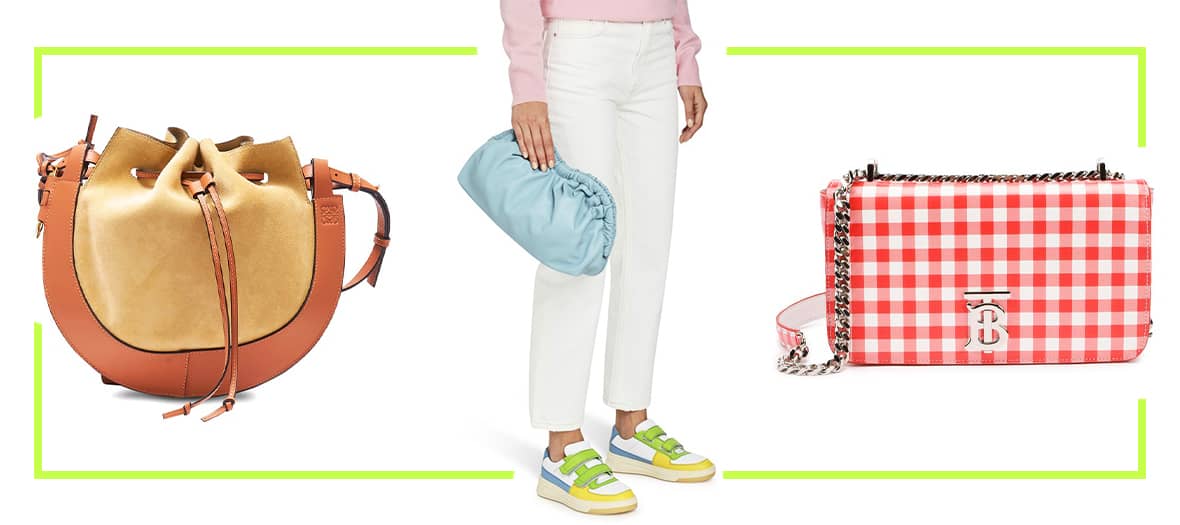 Able to save the furniture from a look that is not really thought out, the bag is truly the most important accessory of the Parisienne. It gives its mood for the day, illuminates an outfit when it is chosen colorful, enhances a dark coat and appears as a real statement. If the maxi tote is not so topical for the coming spring, choose its medium or very small it-bag .
Lola crossbody bag, Burberry , € 1,043 (instead of € 1,490)
Horseshoe crossbody bag, Loewe , € 980 (instead of € 1,400)
Cloud pouch, Mansur Gavriel , € 307 (instead of € 615)
We put everything on the blazer 2.0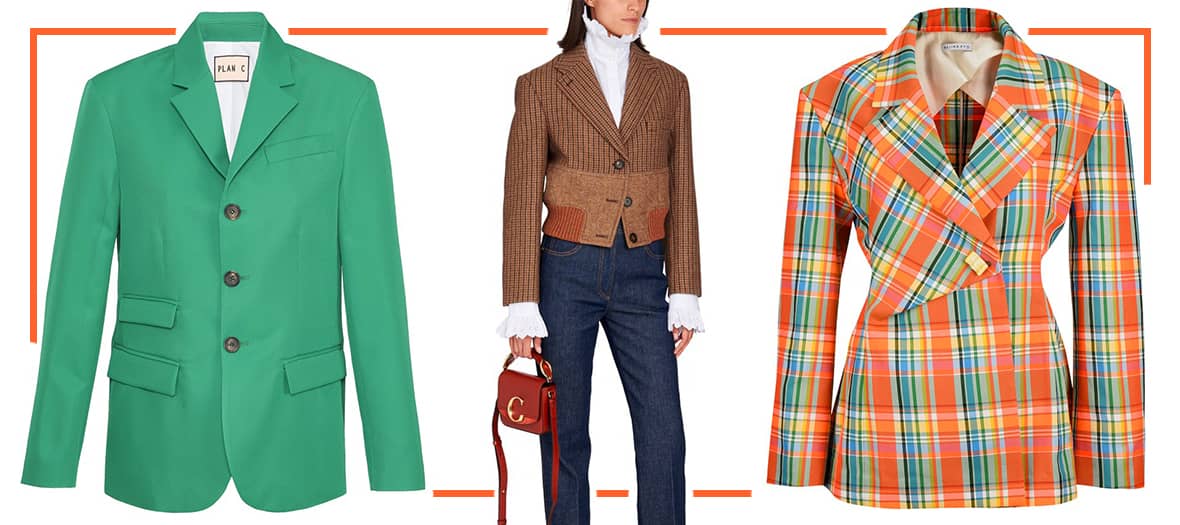 Nothing like a contemporary blazer to give yourself a princely touch worthy of Lady Di's best looks. She was crazy about it as well with jeans as on a dress or to calm down a pair of cowboy boots . Like her, we opt for colorful or checked models with, above all, a beautiful work on the shoulders to structure the silhouette.
Jodie jacket, Rejina Pyo , 365 € (instead of 730 €)
Blazer, Plan C , € 445 (instead of € 890)
Short jacket, Chloé , € 845 (instead of € 1,690)


Psst ... From Friday February 12 at noon and until February 17, we take advantage 20% extra to have fun with the secret code EXTRA20 . It's a gift !