This is the new piece that every chic Parisian who respects herself must hang on her smartphone to assume her couture statement.
A young brand made in Paris
With Studio Grigri , a stunning new label launched and crafted made in Paris by Marguerite de la Rochebrochard and Clarisse Boerner, surfs on two fashion trends that explode through a resolutely cool and unique object.
On the one hand, the breakthrough of telephone accessories , a new hobby of digital girls. On the other, the popularity of lithotherapy which consists in using the natural benefits of semi-precious stones by wearing them.
Semi-precious stone phone accessories
Their concept: to sign chic and precious stone charms. And (finally) afford the possibility of soaking up all day long with the magical powers of quartz , jade or opal , by hanging them on the device that does not leave us with a sole (or even sleeps with it). us…): a smartphone!
A gesture inherited from the pearl necklace offered to bourgeois mothers for their 18 years with which they all played the holy day on their turtlenecks.
This wildly 2.0 piece of jewelry is displayed as the precious stylish winter gift at cool prices. A single price: 45 € the small model and 65 € the large… and stones to choose according to their sublime colors and their virtues. If you don't believe it, you will have a very pretty accessory.

The Mercury grigri in tiger and black agate , the perfect cocktail to reduce sadness and promote the refocusing of vital energy. The Neptune , in imperial jasper and rose quartz , anchors self-assurance in everyday life by reinforcing its natural authority. As for the Earth grigri, in sodalite and rose quartz , it will boost wisdom and self-esteem. Admit it's worth a try!

How to order it? In DM on their Instagram account Studio Grigri
How to earn it?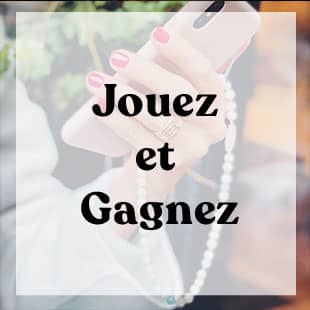 Do It In Paris and Studio Grigri have teamed up to give you the grigri of your choice!