It is THE slimming massage par excellence. Renowned for its ability to remove fat and smooth the skin, the palpate-roll is the invaluable help to deflate quickly… especially before the fateful test of the jersey.

Overview of the greatest pros who excel in manual palpate and roll. A single watchword: efficiency.
See My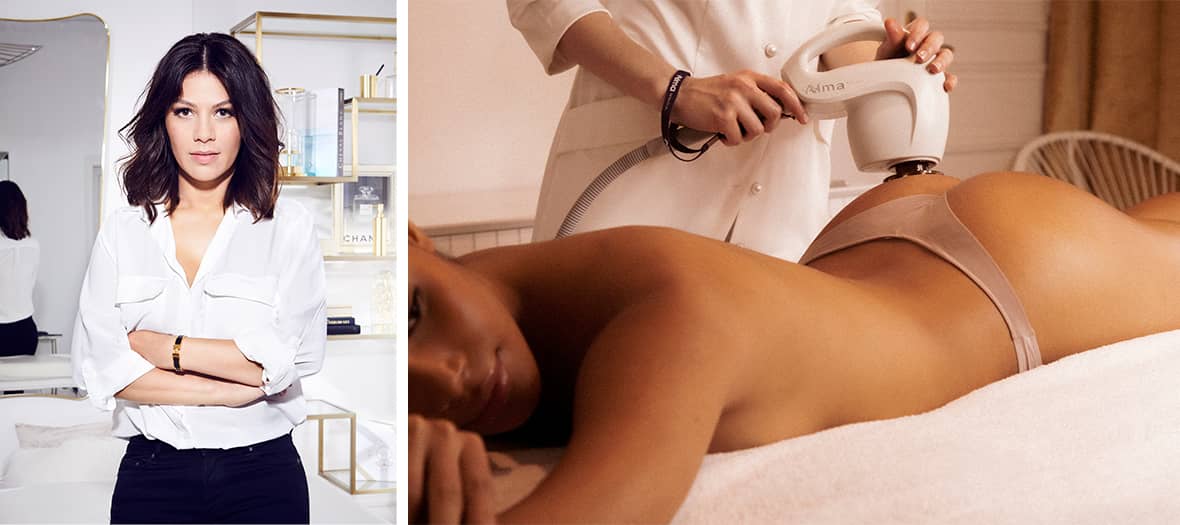 The challenge. An ultra-sharp, non-invasive and quick alternative to lipo on the buttocks and legs (stomach or back and arms, it depends) with an immediate Photoshop effect to display the dream bikini body. Ideal for freeing yourself from your complexes hyper effectively without torturing your body.
The place. See My Cosmetics , an ultra chic apartment rue de la Trémoille opened by Elodie Rahera . A head researcher of beauty and slimness, this obsessive travels around the world to find the most recent innovations and state-of-the-art therapies before adapting them to Paris through wow-effect protocols! In short: the incubator of all new avant-garde methods, this is where it happens.
The protocol. We start with a (unique) 20-minute body sculpting session of Alma Accent Prime lipocavitation, the latest generation of adio-frequency which diffuses ultrasound painlessly, which will then be eliminated by natural means. To multiply the effects, this first step is followed by a lymphatic drainage of 1 hour according to the Renata Franca method, world star of manual slimming massage to be practiced over 3 sessions spaced 5 days apart.
SeeMy Cosmetics 9 rue de la Tremoille Paris 8e, 01 45 53 03 90. 480 € the dual RF, anti-cellulite and anti-aging
The House of Tui Na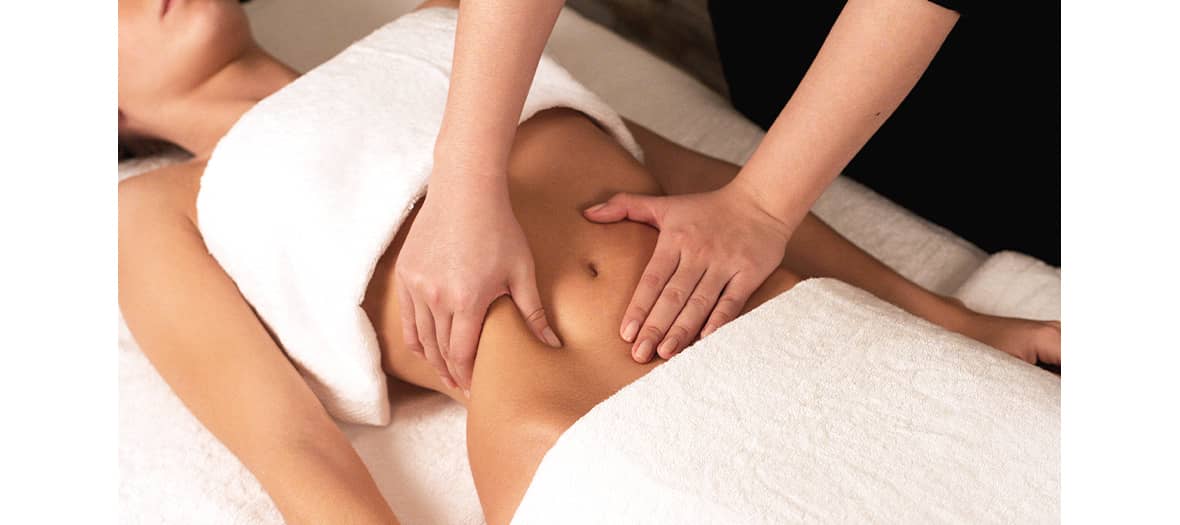 The challenge. No more talk. With Power Minceur, we concentrate in a minimum of time to relieve tension and remove cellulite and water retention with the formidable effectiveness of Chinese medicine .
The place. In Asia, massage is considered to be the most powerful drug that prevents illnesses and health problems. It is the philosophy of this holistic temple which has rethought for the urbanites all the ancestral Chinese rituals lavished by incredible pros, considered as true therapists in Asia.
The protocol. 30 minutes flat that combine the performance of the Asian palpate and roll and the unequaled virtues of the sliding suction cup to redraw and firm the silhouette by focusing on the areas where our complexes are lodged (hips, thighs, stomach, buttocks, etc.). To be practiced once a week for 5 to 10 sessions depending on the work required.
Power Slimming by appointment at Maison du Tui Na 9 rue Nicolo, Paris 16th, 14 rue duvivier, Paris 7th, 13 rue Saint-Gilles, Paris 3rd, 32 rue pergolèse, Paris 16th . 55 € for a 30-minute session
les jardins suspendus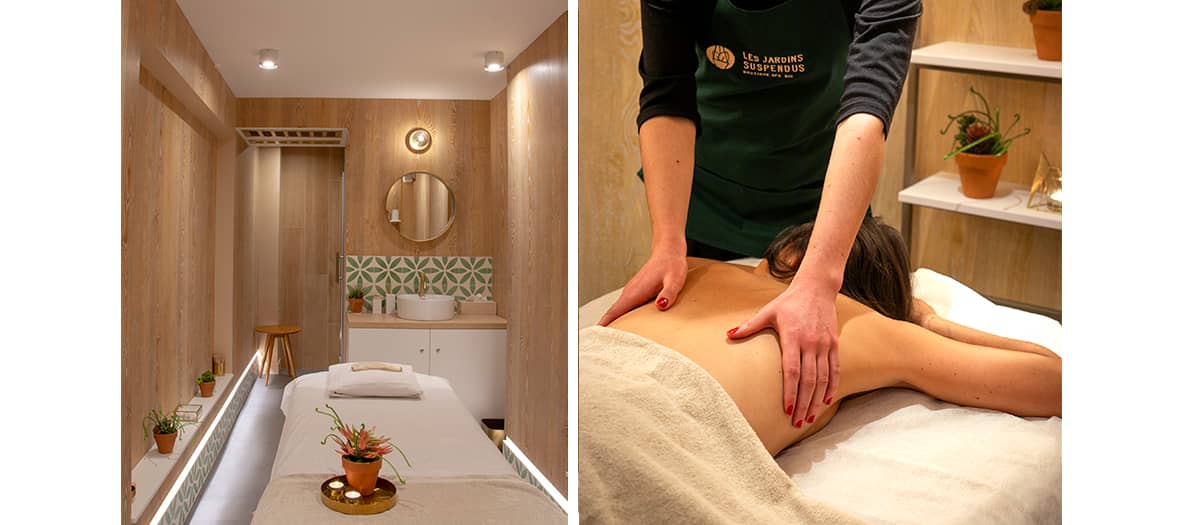 The challenge. No magic recipe but an anti-cellulite massage in the rules of the art which promises an effective loss of cellulite without being tortured, nor exploding its PEL.

The place. Two too beautiful addresses in Paris and Boulogne created by Déborah Seroka . Its mantra: a sharp and sexy proposal of organic products and rituals, in an ultra-lifestyle and vegetated atmosphere (blond wood, mosaics and hanging plants), far from the very " clinical " codes of the old-fashioned institute.
The protocol. 50 minutes around a precise and supported gesture that allows the skin to roll between the fingers, in order to promote lipolysis without suffering, by concentrating, of course , on the areas that annoy! This process of destroying the fat cells that causes cellulite drains and unclogs the tissues, while the activation of venous and lymphatic circulation eliminates toxins, and reduces the appearance of orange peel . Cherry on the baba : we end in style with a good massage that relaxes.
Les Jardins Suspendus 28 rue du Fief, 92100 Boulogne-Billancourt and 4 bis rue Jules Vallès Paris 11e.
1 session for € 70, € 300 for a 5-session notebook
The Olfa Perbal Institute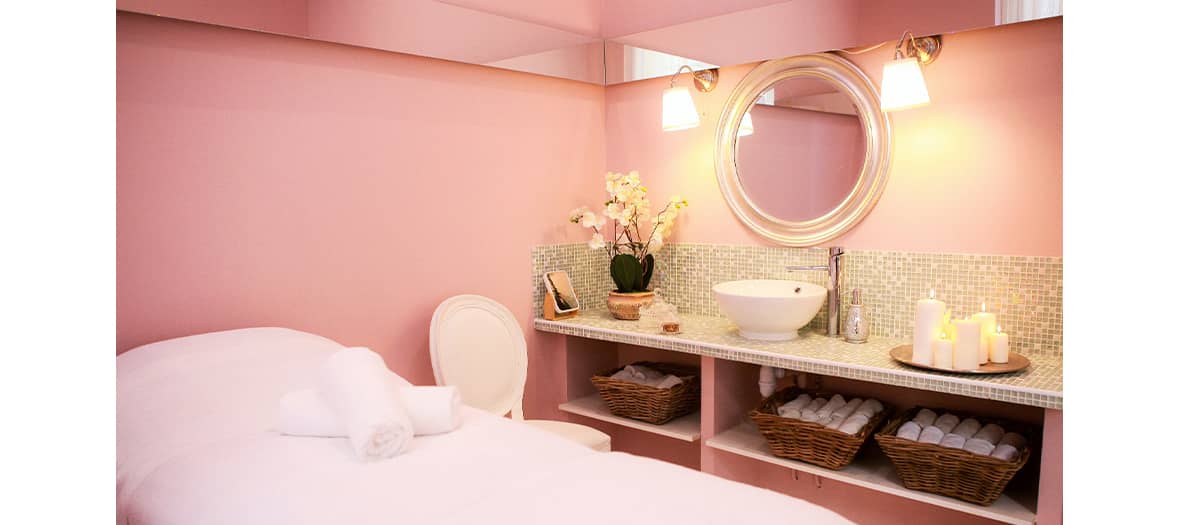 The challenge. To be gaulated like a goddess in less than 2 months flat. At the rate of two sessions per week, Olfa and her team of shock are able to make you lose up to two sizes of pants , your small bottle and to mold you arms of a ballet dancer. Downright stunning. Having visited very prestigious establishments ( Spa Carita , Royal Monceau, etc.), this gifted esthetician has developed her own technique of palpating and rolling , which she has been practicing for 10 years.

The place. Olfa officiates in a very cozy boudoir on the street with six cabins in total, four of which are equipped with a heated bed .

The protocol. 50 minutes of intensive manual kneading on a targeted area , according to your needs and after a first personalized diagnosis . Pinches to remove fatty deposits, bearings to drain and smooth to remove stored water, all with a few drops of sweet almond under your fingers. Be careful, not recommended for chochottes. The first few sessions are usually quite painful and it is not uncommon to have bruises between two appointments. But after a few weeks, we already see a change and after 10 sessions, the results are really there.

Institut Olfa Perbal , open Monday to Friday 8 a.m. to 8 p.m., Saturday 10 a.m. to 6 p.m. 11, rue Fantin Latour, Paris 16th, 01 73 77 37 10. 750 € for 11 sessions of 50 min.

THE PALPER-ROULER WORKSHOP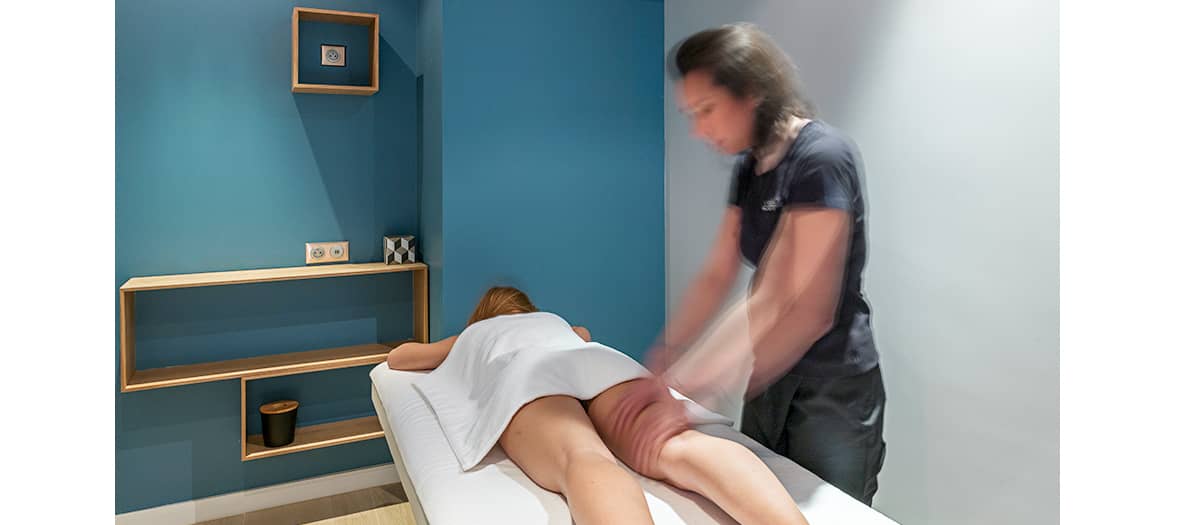 The challenge. Prove to you by a + b that your palpate-roll cure was not superfluous. Translation, you made a good investment. Good thing, L'Atelier du Palper-Rouler has a state-of-the- art 3D body scanner , a high-tech machine capable of taking your measurements down to the millimeter. At the end of the day, you can compare your hip or waist circumference measured at the first and last session to accurately assess your progress.

The place. In the beautiful neighborhoods, right next to the Place du Marché Saint-Honoré , a pretty shop window from which you can see the contemporary lounge which serves as a stylish waiting room. Same atmosphere in the 4 cabins which tick all the boxes of the perfect Pinterest moodboard.

The protocol. 45 minutes of kneading, drainage, firming gestures with a massage cream developed by an aromatherapist . The goal? Cleanse fat deposits, boost circulation and / or blur the orange peel . The sequence of maneuvers is systematically personalized, it all depends on each person's desires: to refine, smooth the skin, limit water retention ... For an attack cure, plan two sessions per week. Nice, the discovery session of 30 minutes at 30 €, just to get an idea before starting.

Atelier Palper Rouler , open Monday to Friday from 10 am to 8 pm, Saturday from 10 am to 7 pm, 3 rue Saint Hyacinthe, 75001, Paris, 01 71 70 96 73. € 600 for 8 sessions of 45 min.
Martine de Richeville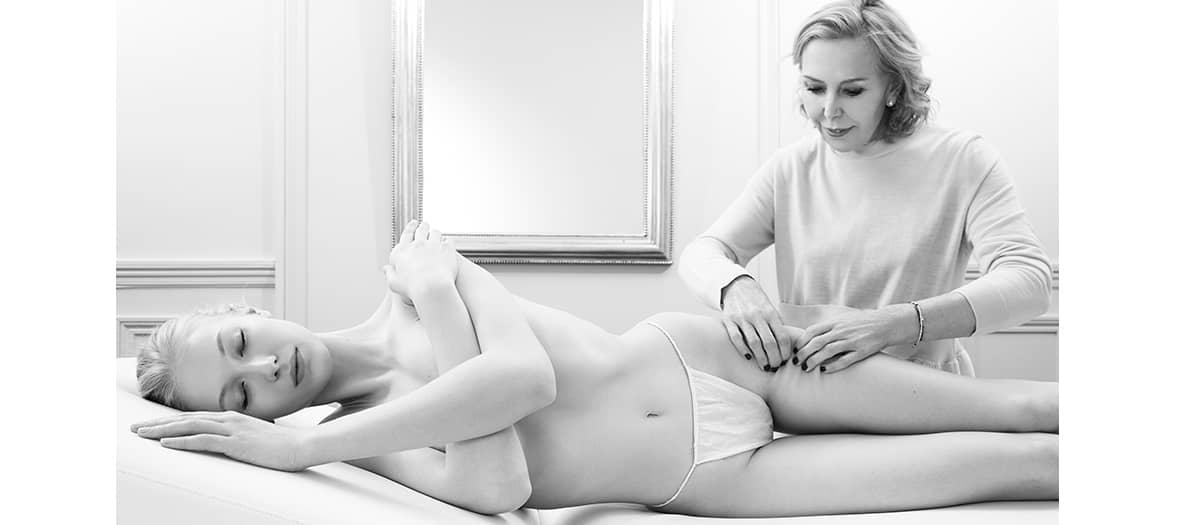 The challenge. Lose inches, reprogram your body once and for all and overcome cellulite by taking into account its emotional causes and energy blockages. This is the whole philosophy of Martine de Richeville, whose firm has been full for 20 years… and for good reason. Its method (sometimes a little painful on fatty areas) has the merit of efficiency while providing frankly addictive well-being. In short: it feels good where it hurts.
The place. We no longer present the institute to Madeleine where we meet all the Parisians of high incognito in the waiting room. What we do not know is that the priestess of thinness has just opened a very couture booth hidden in the Alaïa boutique , rue de Marignan, and inaugurates a booth in the heart of the Bon Marché Rive Gauche , until 22 August (reservations on 01 44 94 09 38). Total chic.
The protocol. 1h watch in hand of remodeling all over the body mixing shrink, medicine
traditional Chinese massage and eurythmic massage by Rudolph Steiner : this is Martine de Richeville's signature, whose objective is to oxygenate the tissues via (deep) pressure on the fatty deposits and to detoxify the body in depth. If Martine really does wonders, her disciples, especially Jonathan, are also incredibly efficient. Count 8 sessions for a visible result, then 1 session per month to keep the benefits.
Martine de Richeville cabin at Maison Alaia 5 rue de Marignan, Paris 8th, 01 44 94 09
38 and Institut Martine de Richeville 13 boulevard Malesherbes Paris, 8th, 01 44 94 09 38. 150 € with a therapist. 200 € with Martine de Richeville. € 1,300 for a 10-session subscription.

les mains d'odiles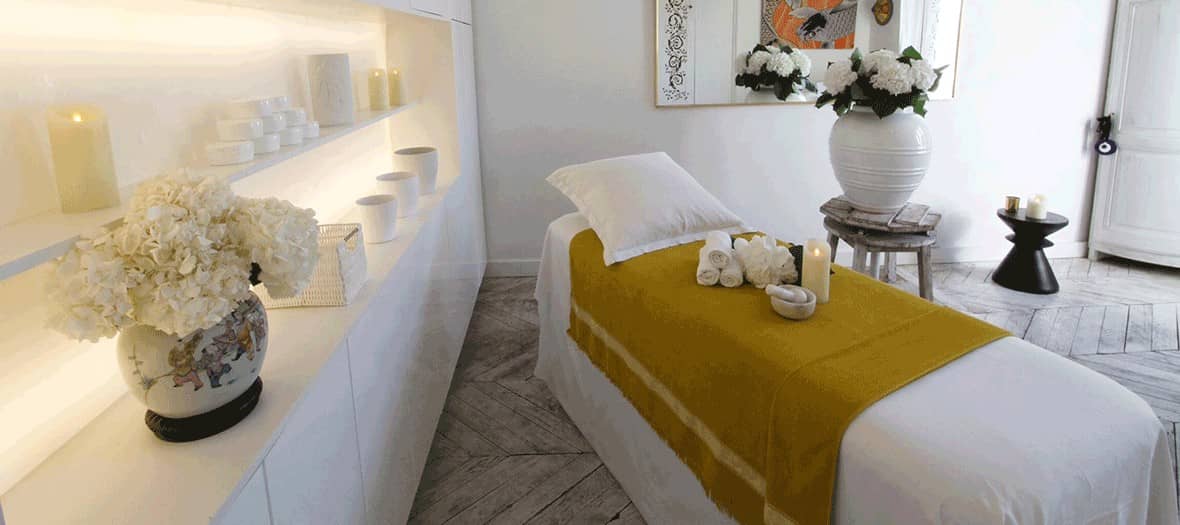 The challenge. Refine legs, hips, stomach and / or arms in a few weeks without morfering. Suffice to say, almost impossible mission, as the palpate and roll is deemed particularly painful. But that was before knowing Odile Vilain and her body language, which delocalizes fat and gently boosts circulation. Magic. A physiotherapist by training, she has developed her method which she personalizes after observation and a quick discussion on your lifestyle .

The place. The very intimate setting of a Haussmannian apartment hidden away a stone's throw from the department stores. Design decoration, jazzy music, infinitely cozy massage table for a 100% " me, myself and I " moment in a room upholstered in a really comfortable cottony white.
The protocol. 45 minutes of relaxation during which Odile attacks your cellulite and activates your lymphatic circulation , without you even realizing it. Hands always flat, with a mixture of essential oils , she practices circulatory movements from bottom to top, without ever pinching. Result: zero pain, the body eliminates and deflates without suffering any shock. After 10 sessions, you can really see the difference.

Odile Vilain , open Monday to Saturday by appointment, 34, rue Tronchet, Paris 9th, 01 40 07 12 78. € 985 for 10 sessions of 45 min.

Also discover the hairdresser who sign the blonds of the stars and The best sport app to be motivated