The beautiful days are back and our desire for t-shirts with them. It's the ultimate fashion accessory , it fits any outfit, it doesn't cost an arm and it looks so stylish. From insane prints to the most discreet , including vibrant colors … We present you the 10 most beautiful t-shirts of the season.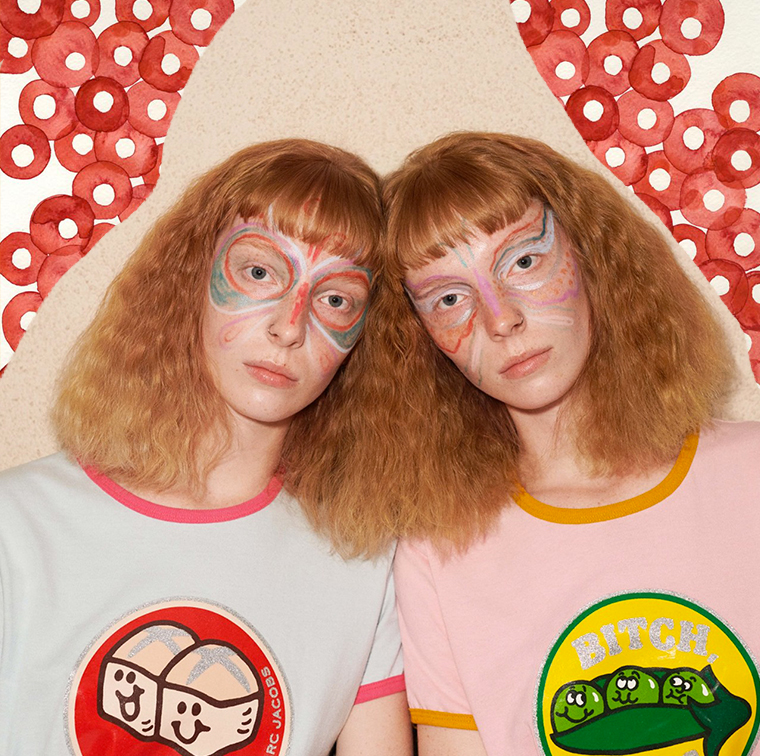 At Marc Jacobs , the trend of the " The Ringer T-shirt " collection is to put on what you would like to eat, adding puns to it .
How to wear it: With high waisted slim jeans and a pair of loafers . In case of a gust of wind, you put on your leather jacket .
The Ringer t-shirt, Marc Jacobs, 110 €
The Ringer t-shirt, Marc Jacobs , € 110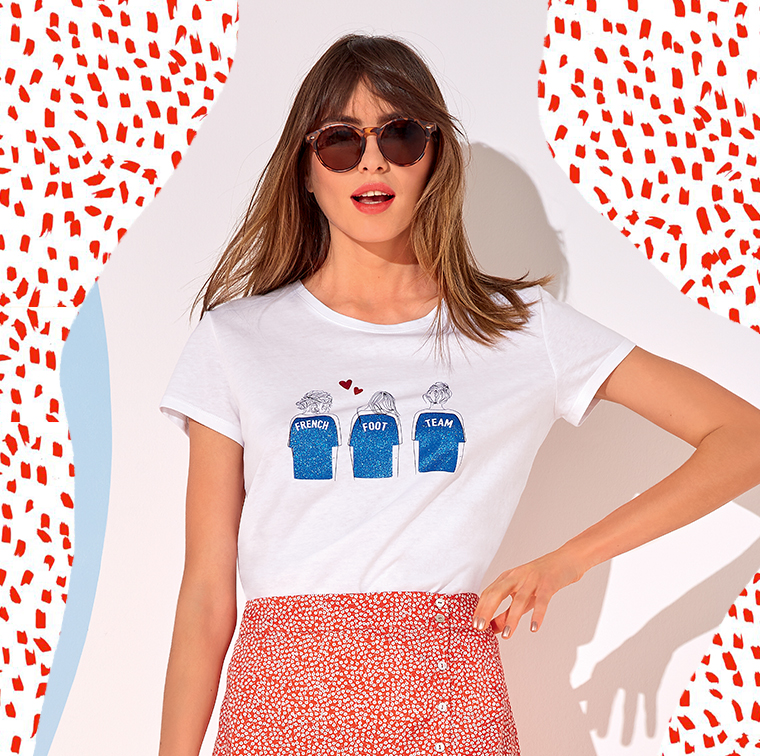 Show your feminism and your unconditional support for the French football team with this Camaieu t-shirt launched for the World Cup. Hearts and glitter: nothing is too good to support Les Bleues .
How to wear it? With a tube skirt and a pair of sneakers for a chic but slightly street look.
World Cup, Camaieu , € 12.99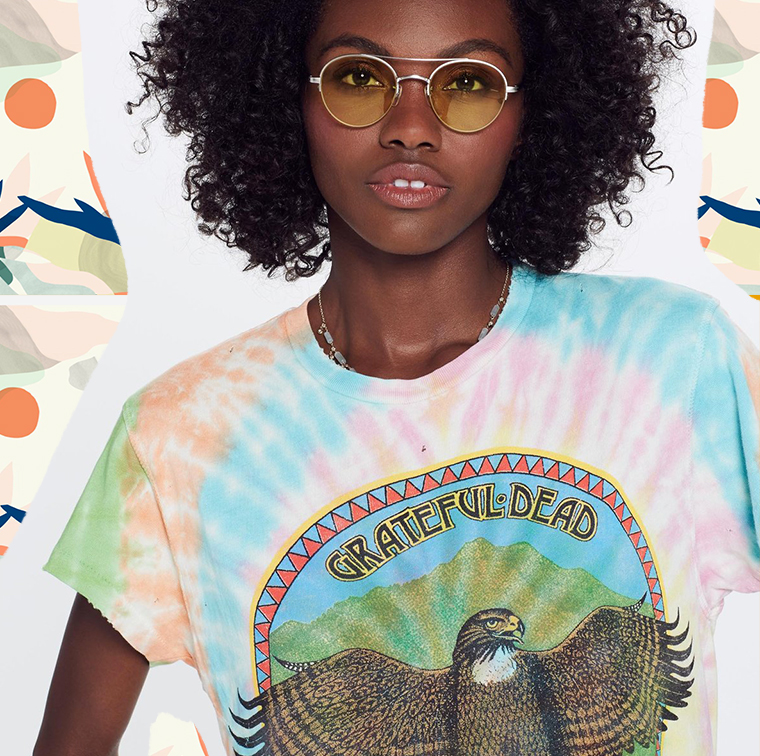 With its tie & dye effect and eagle, this t-shirt comes straight out of an American movie from the seventies.
How to wear: denim shorts high waist with a braided leather belt. We add a pair of heels to break the too hippie look .
Rock, MadeWorn available on the Mother site , € 99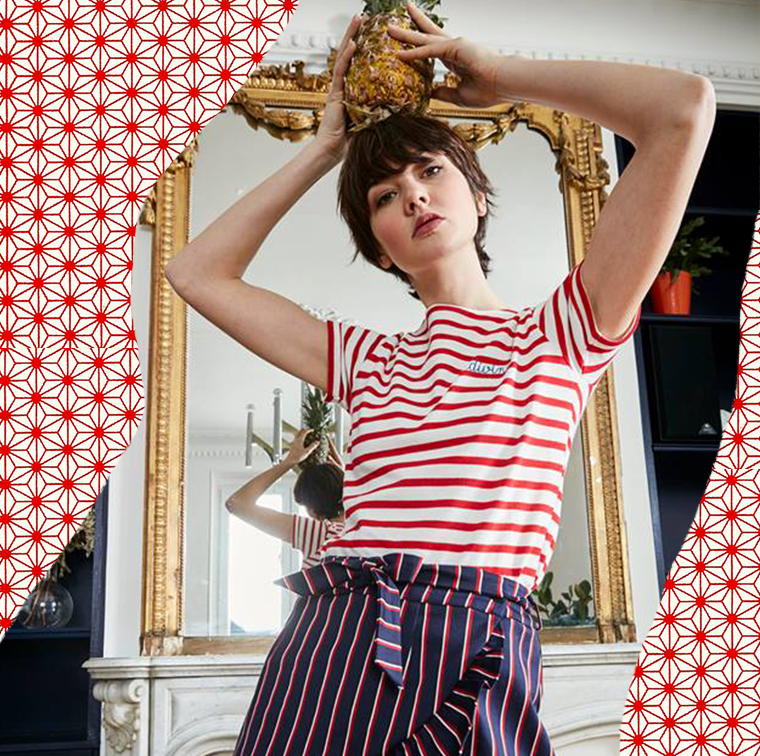 We gave in to the fashion for embroidery and ran to Maison Labiche to get this dapper sailor top .
How to wear it: to go to work, team it with tailored pants and a pair of flat sandals .
Striped, Maison Labiche , 60 €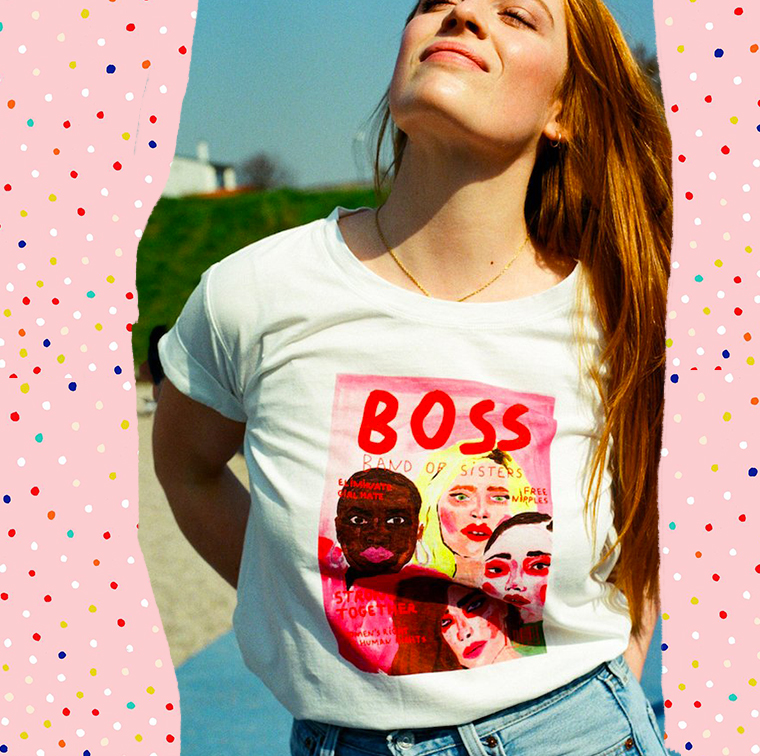 At Patina is the Girl Power is in the spotlight this year. "Strong together, Free the nipples ": this t-shirt proclaims its demands loud and clear.
How to wear it: a white Levis' 501 , a pair of flat slingbacks and a cascade of gold necklaces .
Boss, Patina , 60 €
Vanessa Paradis inspiration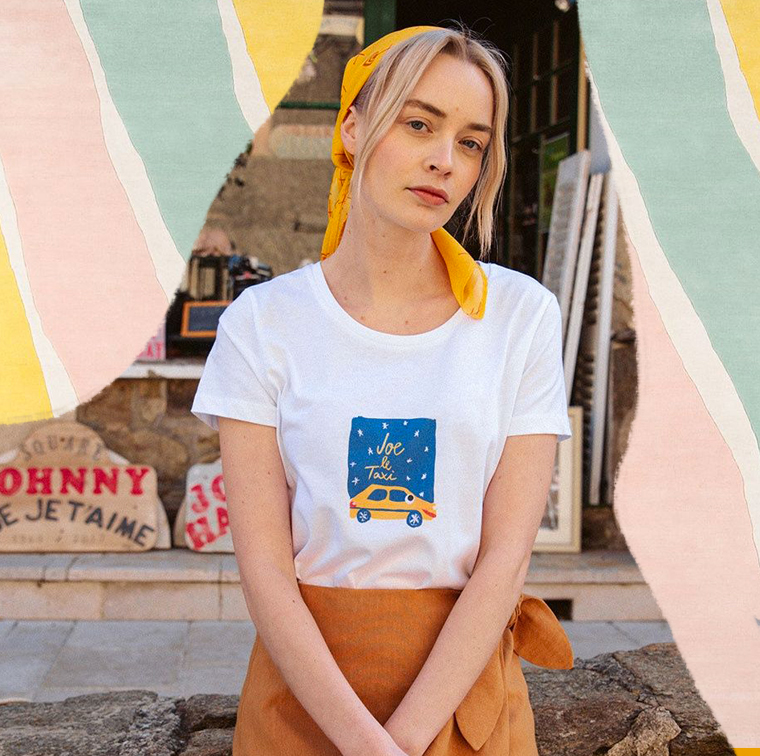 Fans of Vanessa Paradis will proudly wear this shirt Soi Paris inspired by the eighties tube latter, Joe le taxi.
How to wear it: with raw jeans cut at the ankles and a pair of espadrilles for a simple look. And above all, don't forget to add a yellow accessory to recall the print of the t-shirt.
Joe the taxi, Soi Paris , 49 €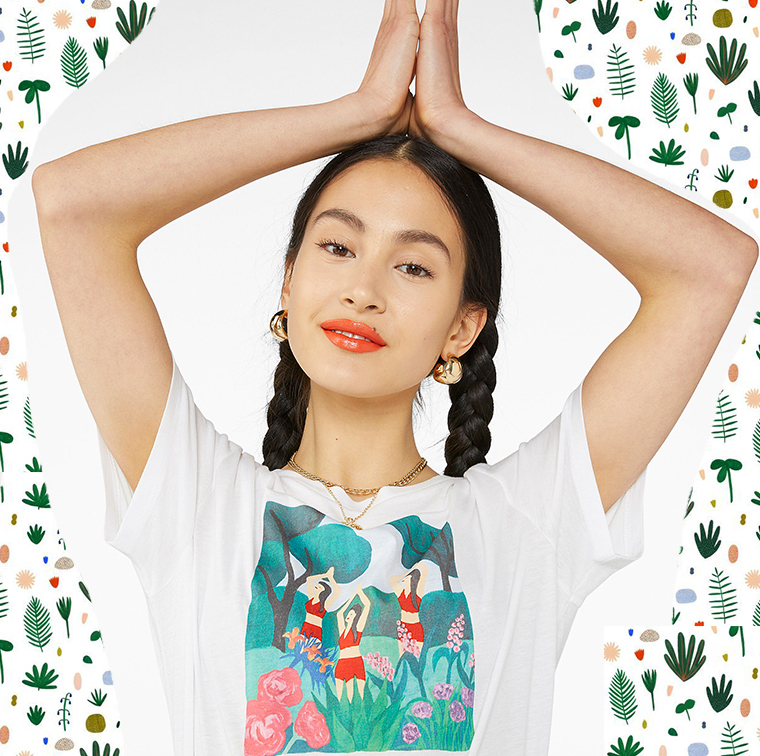 Play it zen with this Monki organic cotton t-shirt representing an outdoor yoga class in a heavenly place.
How to wear: a high waist shorts striped, colorful hair band and a necklace with a large pendant.
Yoga, Monki , 10 €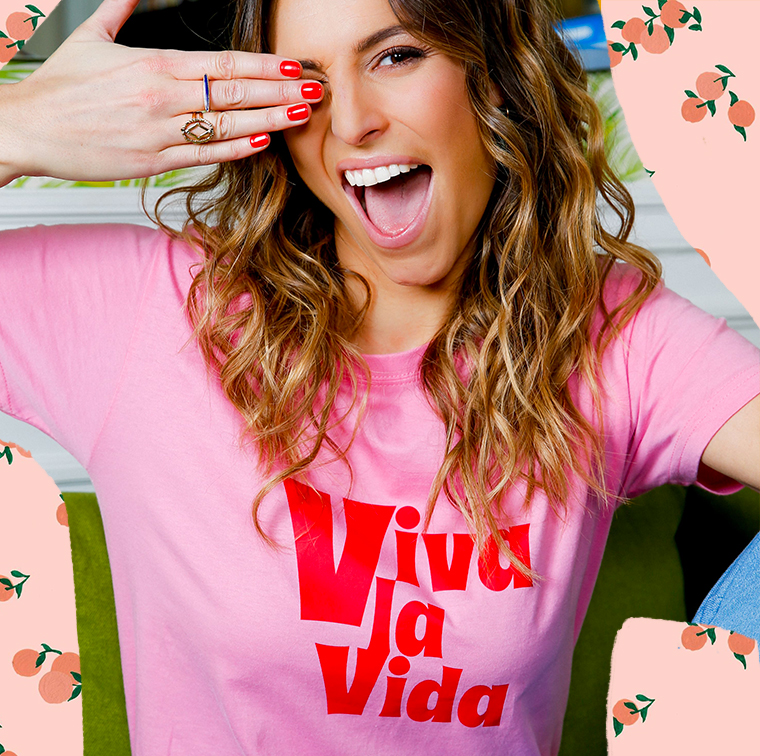 For the ingenuous who think that life is sweeter when you're a child , Parisienne and so has imagined this candy pink t-shirt.
How to wear it: With green terrycloth shorts to compliment the pink thanks to the complementary colors . We add a pair of clogs .
Viva la vida, Parisienne and so on , 35 €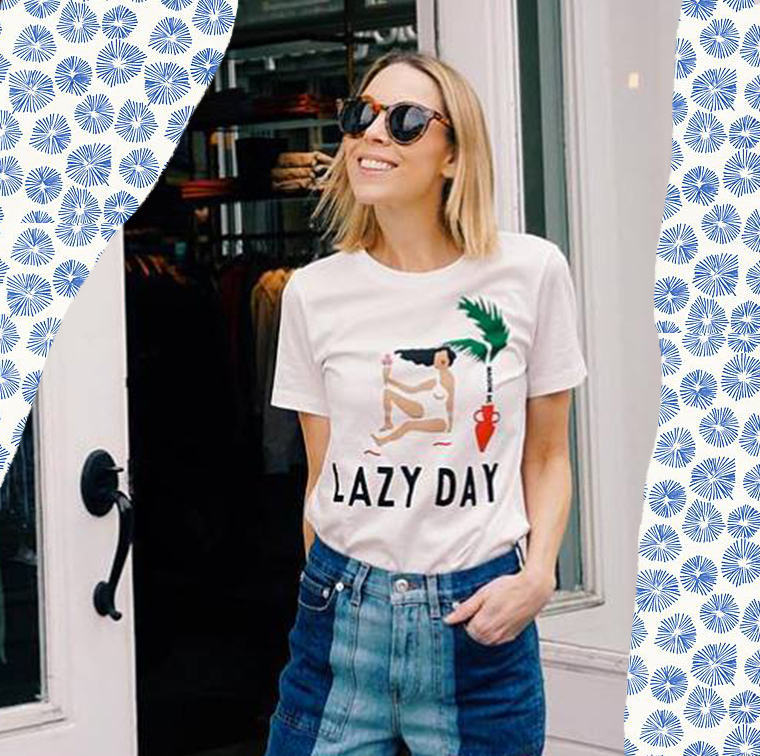 For Scotch & Soda , the t-shirt is synonymous with relaxation . We can already imagine ourselves on vacation in Mauritius.
How to wear it: with loose cotton pants and a pair of wedge sandals to feel completely on vacation .
Lazy Day, Scotch & Soda, 59 €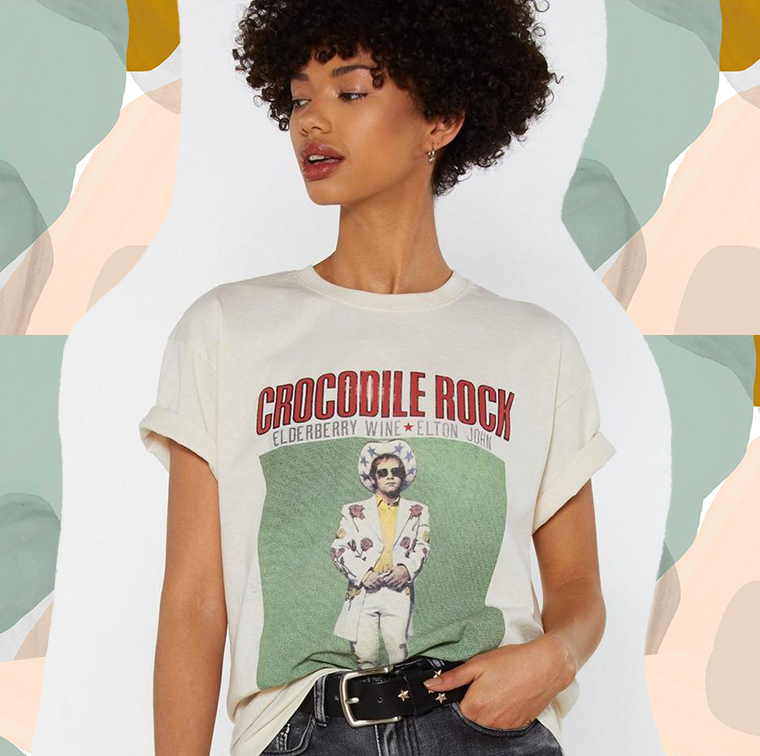 To celebrate the release to the cinema of Rocketman , the biopic of Elton John , we go for this t-shirt with his effigy which will give you a rock side.
How to wear: shorts high waist jeans with a thick black leather belt. We do not forget a thin and feminine watch to counter the allure too rock .
Crocodile Rock, Nasty Gal, 36 €

Also discover: the most beautiful bags of the season and Flolove, a first secret store in rue de Charonne .