Summer's fine weather is upon us, creating this irresistible urge to walk the streets of Montmartre. Strolls to the highest peak of Paris, irresistible brunch spots, outdoor parties, you name it! We climbed all the way up there and found the most outstanding places.
Monsieur Aristide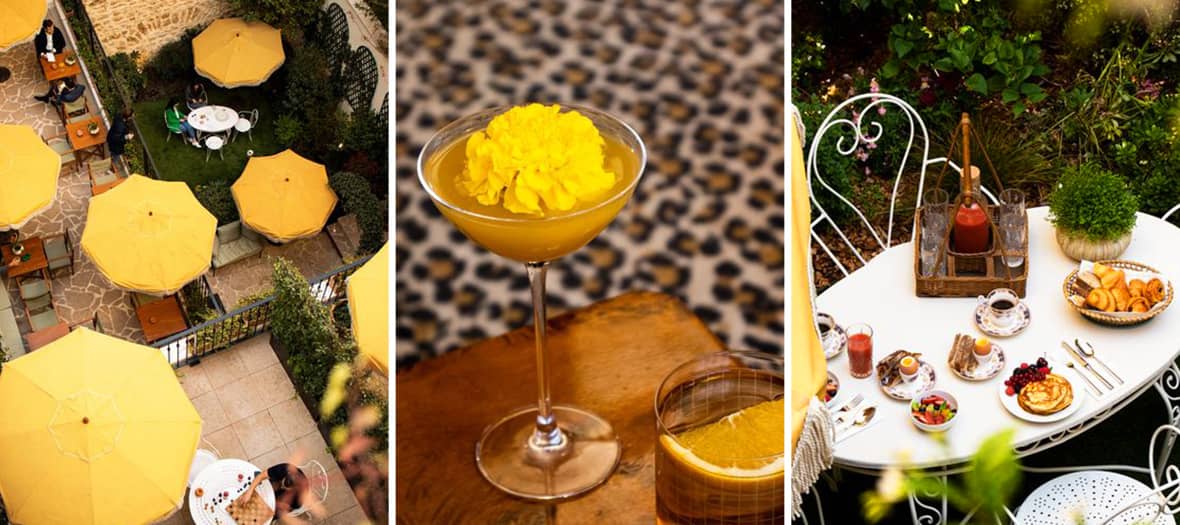 A trip through the 30's, that's what you're in for. Monsieur Aristide, the newest boutique hotel from the Adresse hotel group (Monsieur Cadet and Monsieur George), is a journey into the bohemian spirit of Montmartre and the Belle Époque. Interior designer Marion Collard has masterfully orchestrated the entire setting. From the moment you step foot inside, a space-time gap opens up revealing jukeboxes, velvet sofas, terrazzo floors (created from rubble), mahogany bar counters, bamboo armchairs, globe lights, ceramic lamps, old radios in the rooms, staircase carpets... Collected furniture and unusual pieces of furniture create a peculiar yet delightful ambiance where everything else seems small.
Good reasons to stop by: for Sunday brunch! A menu consisting of a hot drink and fruit juice, a basket of bread and pastries, selected jams and butter, scrambled eggs, fried mushrooms, baby spinach and pesto, and a golden brioche with cinnamon caramelized apples or a fruit salad for added sweetness (36 €).
Not a brunch fan? You can opt for the à la carte menu, which includes hummus and chili jam (9 €), fresh pasta of the day (18 €) or chocolate, banana and coconut cream (11 €).
Monsieur Aristide, 3 rue Aristide Bruant, Paris 1st. Brunch on Sundays starting at noon.
Le Très Particulier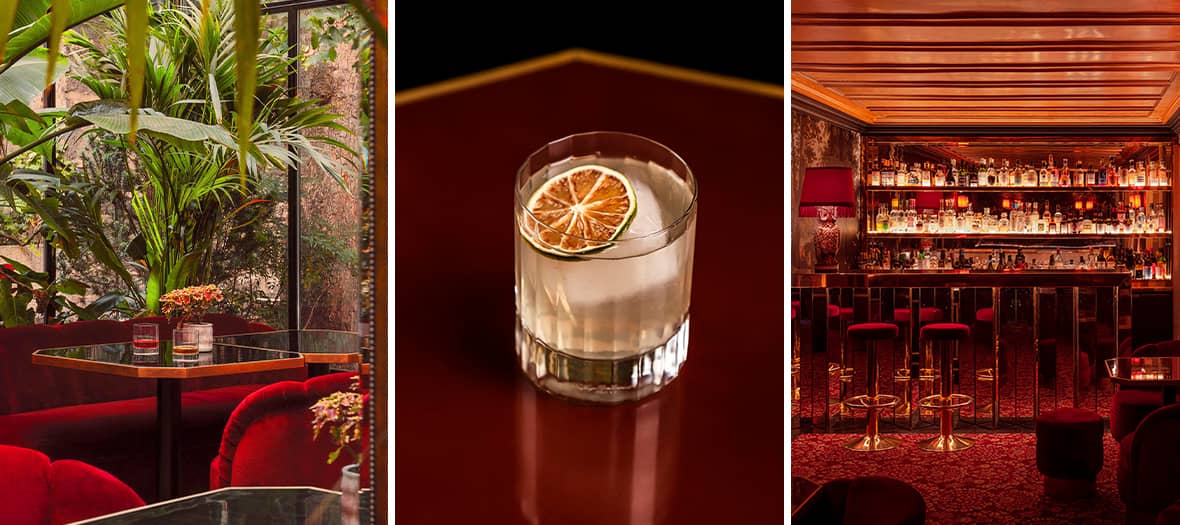 This private hotel where Brad Pitt and Johnny Depp have both stayed is full of surprises. Former residence of the Hermès family, the Hôtel Particulier Montmartre has only five rooms (and they're all suites) it boasts a stunning bucolic garden reminiscent of Monet's paintings, where one would dream of hosting a grand aristocratic garden party.
Good news is, no need to book a room to make the most of it: the restaurant and the bar are ideal places for a night of great romance.
Good reasons to stop by: for the magnificent bar, Le Très Particulier, which is open every night and proved to be THE ideal spot to win the heart of your date… we should point out that, snuggled up in those sexy red armchairs, you'll feel right at home in a cosy movie-like atmosphere, drinking fancy cocktails: Juste un Doigt (Bulleit bourbon, lime, white pepper, Aquafaba, 17 €), Le Très Particulier (Gin Tanqueray, elderflower cordial, tonic, tincture of verbena & lavender, 15 €)... to be paired with canaille platters (snails, pâté en croûte, roasted cabbage, Corsican ham, roasted Mont d'Or with truffles... 14 €/42 €).
Hôtel Particulier Montmartre, 23 avenue Junot Pavillon D, Paris 18th
Jardins Renoir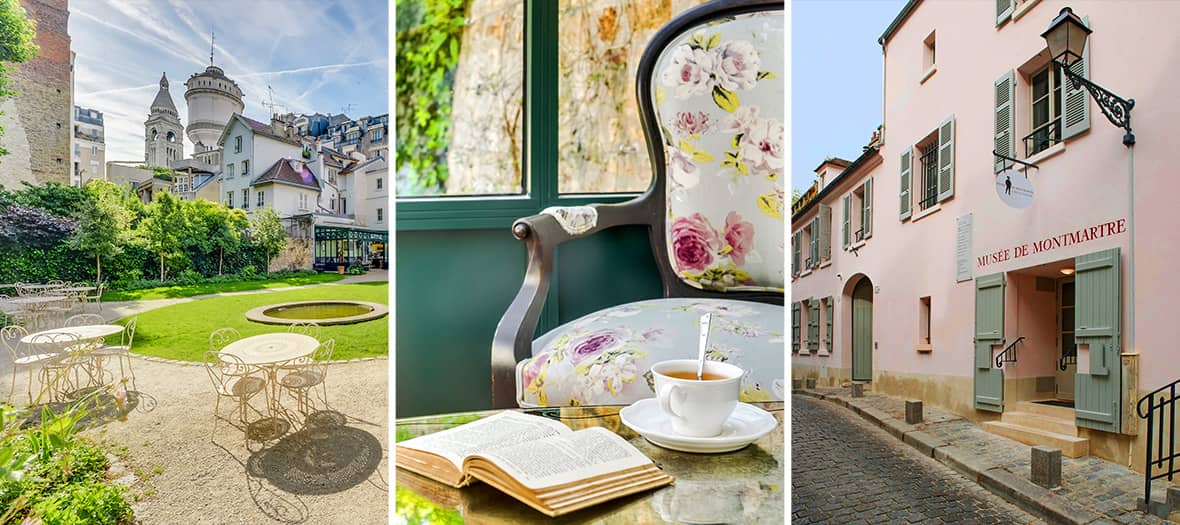 Also known as the Butte's best kept secret. Behind the door of the Montmartre museum hides a breathtaking garden inspired by the masterpiece Le Bal du Moulin de la Galette by Renoir, who set up his studio there in 1876. You can get there after visiting the current exhibition (always fascinating) or with a garden ticket alone to contemplate the vineyards and the north of Paris, before settling down on the white wrought iron tables laid out on the property's well-trimmed lawns, similar to a Downton Abbey set.
Good reasons to stop by: for tea time! Where you'll enjoy lemon pies, muffins, cakes or cheesecakes with Alain Millat juices, cappuccinos or hot teas.
Jardins Renoir, 12 rue Cortot, Paris 18th, the museum is open every day from 10am to 6pm until March 31st, then from 10am to 7pm, last entry 45 minutes before the museum closes ( the visit lasts 1h30). The Renoir café is open from Wednesday to Sunday from 11:30 am to 6 pm. Museum ticket 15 €, garden ticket 5 €.
The Woods Gallery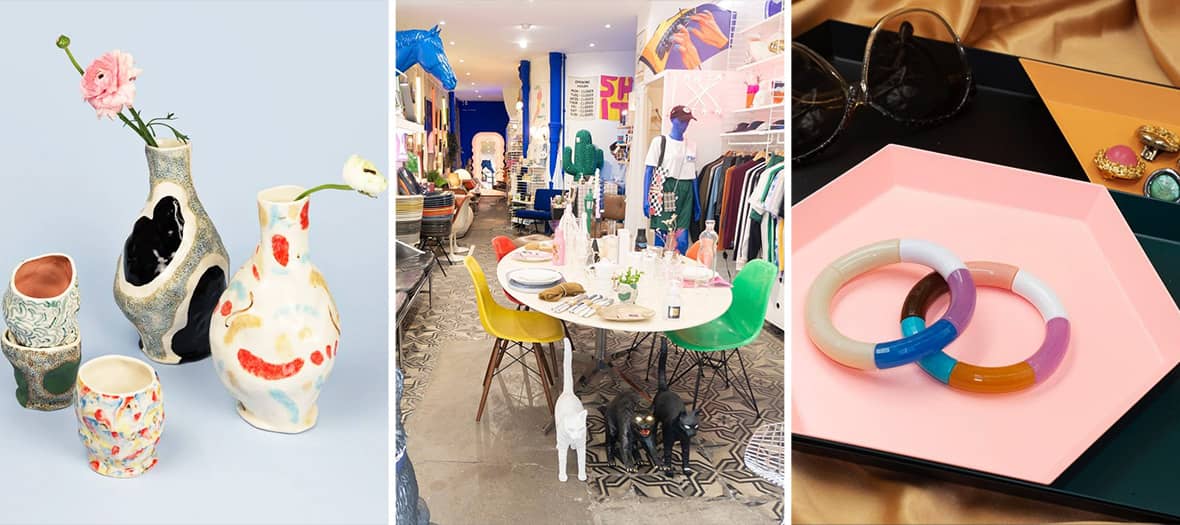 To snag vintage furniture, design and art books, decorative objects and contemporary art pieces you're in the right place! Laurent and Simon opened this store 5 years ago, 5 minutes from Sacré-Coeur. This store carries a wide range of attractive items to enhance home decor (Ettore Sottsass's cult Ultrafragola mirror, 'Aykasa's pastel crates...).
In addition, they also sell fun beauty products such as Toiletpaper's crunchy soap (12€) and a set of orange toothpaste (21€).
Good reasons to stop by: for the array of items! From Playboy posters (200€) to ceramic fish carafes (64€), from books and magazines to designer furniture, you'll find the hottest brands, all styles and at all prices.
The Woods Gallery, 22 rue André del Sarte, Paris 18th, open Monday to Saturday from 10am to 7pm
Terrass'' Hotel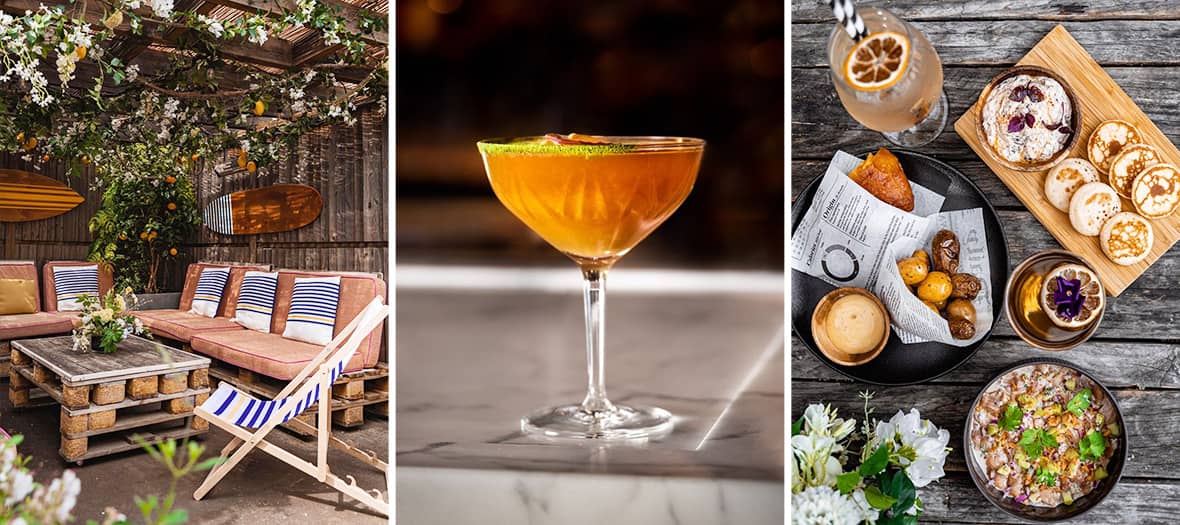 In the heart of Montmartre, this hotel attracts not only tourists but also locals by hosting a variety of activities to be tried without spending the night! The restaurant Edmond boasts a breathtaking view of the entire city, with chef Santiago Guerrero serving up a cuisine that blends different cultures, using fresh, local ingredients, from morning to evening.
The Nuxe spa in the hotel offers treatments from 30 minutes to 1 hour and 15 minutes.
On the fitness front, yoga and cardio classes can be booked every Saturday and Sunday.
Good reasons to stop by: for the rooftop! One of the most beautiful views of Paris.
Guests can drink and dine on the rooftop terrace overlooking the Eiffel Tower. Cocktails range from creatives (10€ to 15€) to classics (17€), with snacks to nibble on, roasted camembert, roasted hazelnuts and black beer caramel (15€) plus a selection of charcuteries (20€).
In short, this is THE place to hang out with a group of friends or a date.
Terrass'' Hôtel, 12-14 rue Joseph de Maistre, Paris 18th. The rooftop bar is open from Tuesday to Saturday from 3:30 p.m. to 12:30 a.m. and on Mondays and Sundays from 3:30 to 11:30 p.m.
Barbot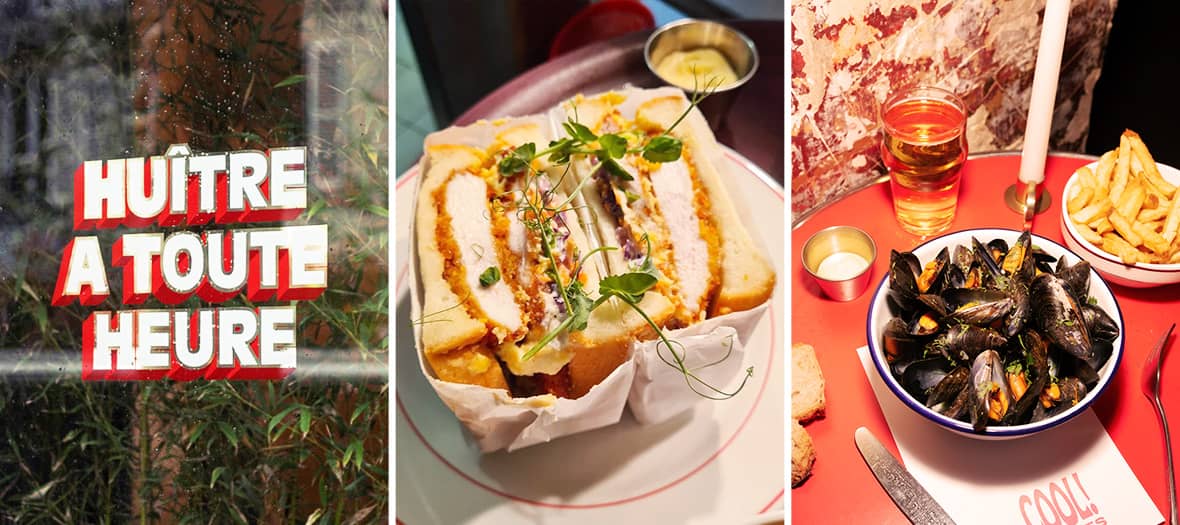 A drink and a bite to eat is the idea behind this insane restaurant, the latest restaurant of the Maquereaux, ultimate hotspot for summer evenings along the Seine.
In Montmartre, we switch to a boho chill vibe where good mood prevails.
Fresh fish, whelks with mayonnaise, marbled razor clams and fried mussels are served for lunch and dinner in a very warm atmosphere.
Good reasons to stop by: To enjoy the aperitif on the sunny terrace and hang out with friends to savor the seafood. The fish for two (25 €/person) with homemade purée or roasted seasonal vegetables is a must.
Barbot (les Maquereaux), 47/49 avenue Trudaine, Paris 9th, open Tuesday to Saturday from 12pm to 1am and Sunday from 12pm to 10pm.
YAY Bijoux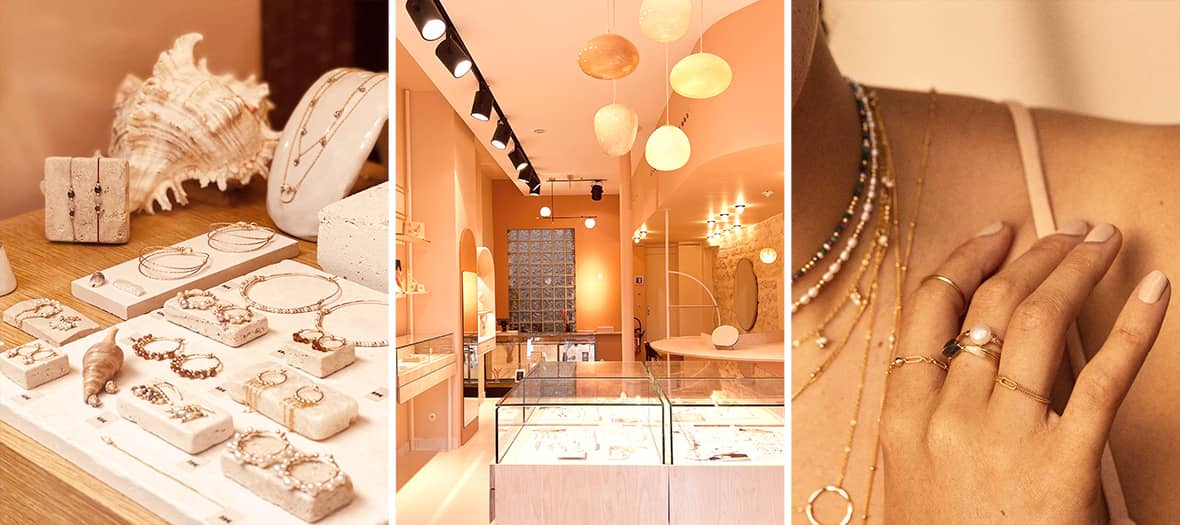 This fab jewelry brand has just opened shop on the heights of Paris with its varied and refined collections in a pretty boudoir-style case, all pink with alcoves and rounded lines. Earrings, rings, bracelets or necklaces, its creations,all made in France, are manufactured in the company's own Parisian workshop. Spoil yourself with accessible jewels designed to be worn in sets, at great prices.
Good reasons to stop by: For the large selection of pieces! The new collection, Escale en méditerranée, is simply stunning, mixing purple, blue and pink stones, which makes us dream of vacations.  The Helios ring with magnificent pearls (65 €) or the Stella necklace with tanzanite stones (59 €) are irresistible. Note: the jewels are water resistant and have a 24-month guarantee, replaced or repaired free of charge. On your way, are you?
Boutique YAY Bijoux, 48 rue des Abbesses, Paris 18th, open every day from 10.30 to 7.30
Riv'k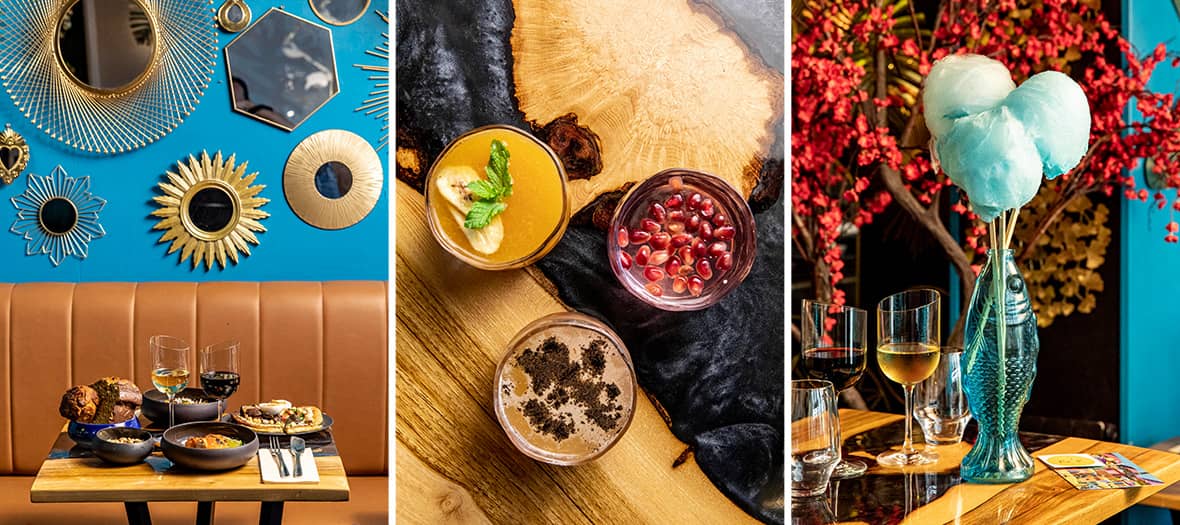 Looking for something different and exciting? Head to Rue Véron at Riv'k! This sun-colored restaurant is home to chef Rebecca Rohmer, who honed her skills with top chefs (Christian Constant, Yannick Alléno, Cyril Lignac) and offers spectacular Israeli cuisine. We love everything about Riv'k: the colorful decor, the daring cocktails and the fusion cuisine that brings together Israeli flavors and Asian spices.
Good reasons to stop by: For the epicurean vibes and for the spicy international dishes. We love the wild pita bread with shredded beef, cheese and tahini (28 €), the addictive avocado salsa, tahini and ponzu sauce (13 €), and the gourmet Tunisian fricassee (16 €). To share, go for the hearty Eastern plate with pistachio hummus, Jewish artichokes, Egyptian falafels, Moroccan butternut and shizo leaf chips (25 €). For the big finale, treat yourself to the wonderful fluffy homemade brioche, queen of the menu, which comes in a variety of gourmet flavors (from 12 €). Enjoy!
Riv'K, 35 rue Véron, Paris 18th, open Wednesday to Thursday from 7pm to midnight, Saturday from 12pm to 4pm and from 7pm to midnight and Sunday from 11am to 6:30pm
Odette ma fille !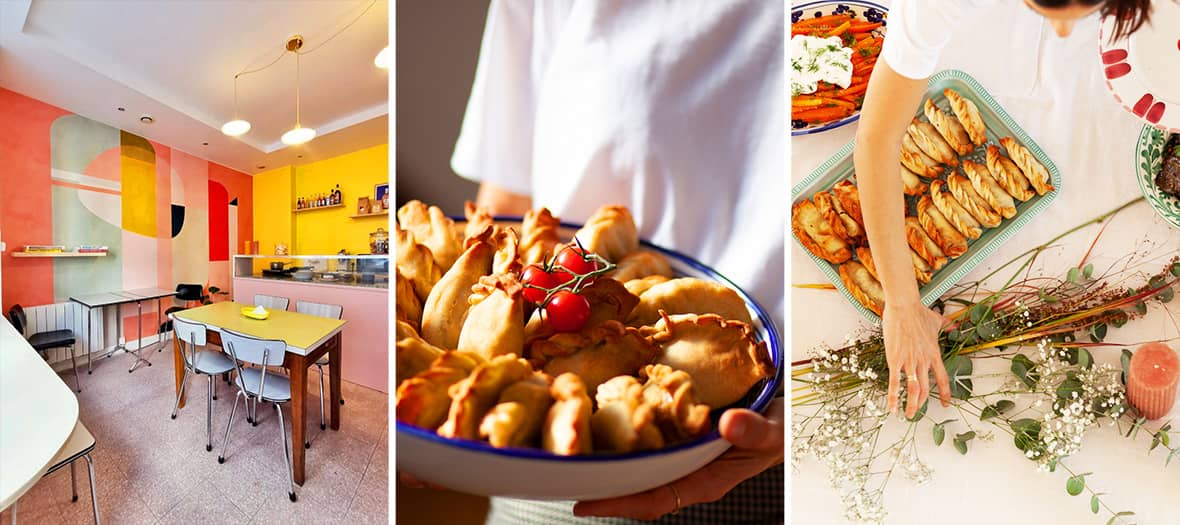 Have you ever heard of coca? This small filled salted turnover, similar to the Spanish empanadas, is a new version to be found at Odette ma fille, a lively and colorful restaurant. You'll find a daily menu (seasonal vegetables and 2 cocas 11 €, 3 cocas 13 €) and of course you can try them individually (3,80 €). Do not forget to ask for the home-made Sicilian brioche bread (6 €) with its dips (4 €), spicy feta cream, houmous with candied garlic or onion ketchup.
Good reasons to stop by: For the homey feel of this very family-owned place. Odette, Judith's grandmother who runs the restaurant, used to prepare these delicious little turnovers. The family still holds the secret of this tasty recipe, to be savored with fingers. Yes, you read it correctly: no sauce or cutlery, just grab them with your fingers.
Odette ma fille !, 16 rue de Trétaigne, Paris 18th, open Tuesday to Saturday from 11am to 7pm
Also discover our favorite addresses in the Marais and The best vintage shop in Paris