It's the exuberant new obsession that dresses stylish Instagram girls. Code name ? The " chunky knit ", or sweater knitted in a very, very chunky stitch. Better still: demanding diehards go so far as to knit it themselves, with extra-large yarns called " jumbo " (yes, like the big makeup pencil), in all colors to match their whims perfectly. from the moment.
It must be said that in the middle of winter, bundling up in a gigantic sweater is as much snobbery as pure comfort. So you might as well take ownership of this great trend that flourishes on the Etsy accounts of the restless of the pelota and which comes straight from the Slavic countries. But where can you find these beauties that are almost impossible to find in stores in France? Follow the guide.
Hope Macaulay's " colossal knit "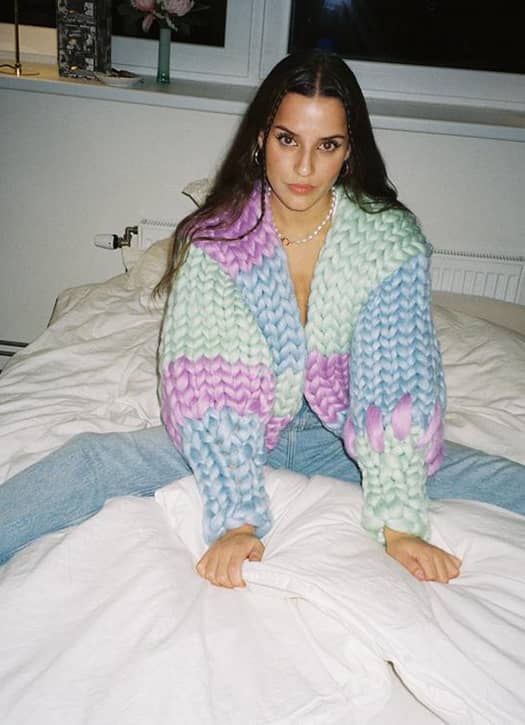 It is THE reference for fashionistas seen in the pages of Vogue and on the shoulders of Gigi Hadid . Based in Northern Ireland, Hope Macaulay knits her colorful " colossal " sweaters to order in a soft merino wool or a vegan version in acrylic. 90's vibes guaranteed!
Neptune Colossal Knit Jacket, Hope Macaulay , € 542.27
Gilda's balloon sleeves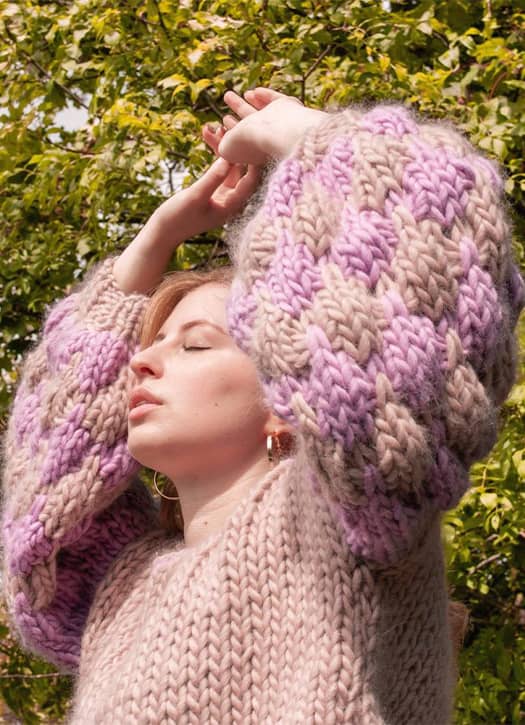 Lightweight, soft, antibacterial, odor resistant, temperature regulating and breathable, merino has it all. It is therefore in this naturally magical material that Gilda , a knitter from London, offers her marvelous woolen sweaters on her Etsy shop. Special mention for the balloon sleeves and the soft colors of his creations.
Merino wool jumper, Twelveandahalfmm on Etsy , € 189.99
The DIY vest from We Are Knitters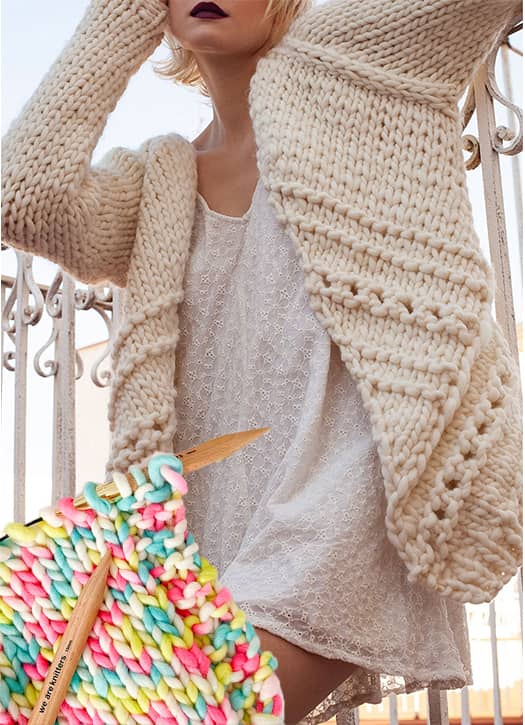 What could be more satisfying than knitting your own cozy sweater yourself? Between curfews and potential reconfigurations, we take this almost meditative time with the We Are Knitters kits including balls, wooden needles, pattern and everything for all levels with crazy colors: flamingo, cream, fluorescent yellow, neon marshmallow ... It's me who did it !
Scott Cardigan knitting kit, We Are Knitters , € 129
The deep green of Knit Design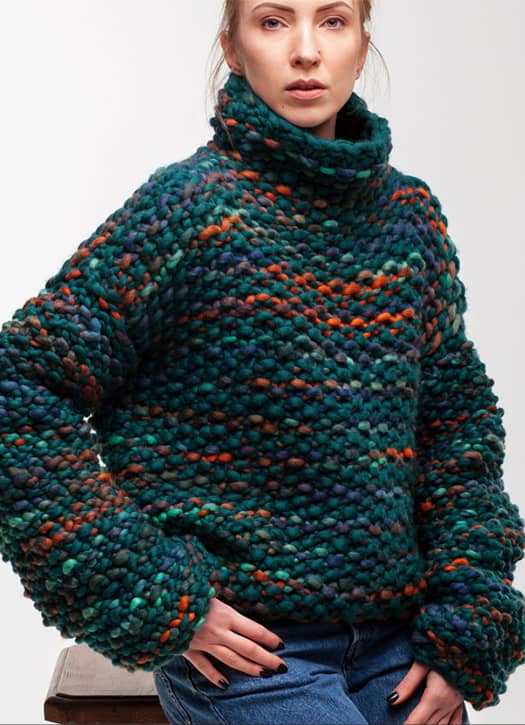 Finding the perfect color of wool is good. You still have to have the time and patience to knit your sweater yourself. The Ukrainian label Knit Design takes care of it with this deep emerald green suiting the complexion, enhanced with orange and with a slightly wide high collar perfect for slipping a square of silk.
Pull émeraude, Knit Design, 170 €
Le tricolore flashy de Moroshka By Vingil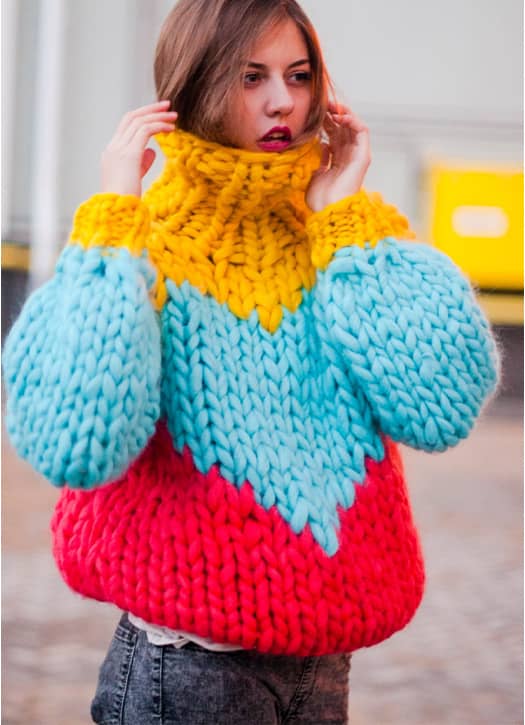 For those who are very cautious who do not like to go unnoticed, Moroshka By Vingil deals its huge sweaters direct from Moscow. The high collar, the cardigan, the cardigan, the scarf, the beanie… all available in as many pop colors as you want.
Oversized sweater, MoroshkaByVingil , 210 €
Lana Serena's luxurious cape
The ultimate luxury is this cape made to order, by hand and signed by an expert knitter from Castilla y León in Spain for Lana Serena . Its divine wool comes exclusively from sheep from the region's pastures, and will look great on a dress as well as over a leather jacket.
Short cocoon cape, Lana Serena , € 890
Your Yarn colors of your choice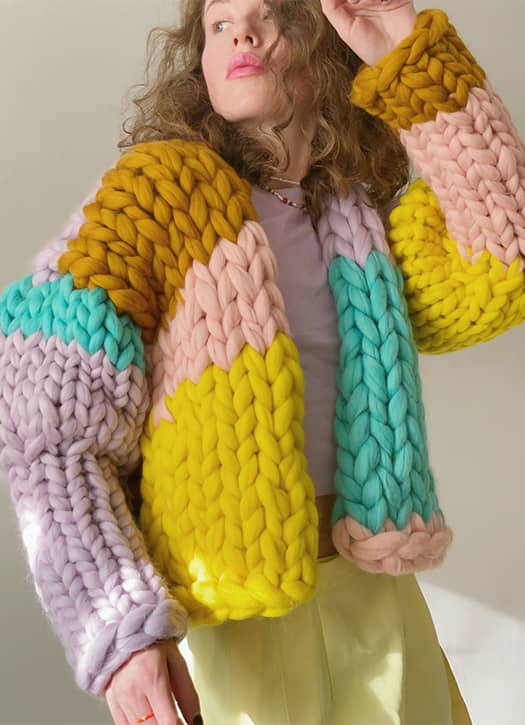 Based in Kiev, Your Yarn offers to choose the colors of its future blanket sweater from a palette of absolutely divine shades: mint green or grass, bubblegum, caramel, sky blue, powder pink ... With, therefore, the possibility of making the garment of her dreams.
Oversized Wool Cardigan, YourYarnUa on Etsy , € 165
Also discover the great comeback of the balaclava and the pretty winter sweaters .