This is the ultimate chic of this season ... while waiting to be able to sit on the terrace! The 3-star chef Yannick Alléno , guardian of the Ledoyen temple, reinvents the lifestyle of lunch on the grass with a picnic of the highest quality. A little luxury to treat yourself to urgently!
The chicest lunch on the grass in Paris
Picnic spirit: a stroll in the sun is a must this weekend to come and get your feast directly from Ledoyen , a true gastronomic gem in the Champs-Elysées gardens.

The must ? Sit in front of the restaurant on the large bucolic lawns and re-invent the Manet 2.0 spirit.

For a chic business lunch or a more lazy Sunday craving, we'd rather have the wicker trunk delivered to you directly from your terrace… Or right in front of your favorite garden!

The ultimate chic? For 30 €, we lend you the basket which allows a setting worthy of the elegant news: wicker trunk, occasional crockery with ceramic plates, cutlery, glasses, tablecloth and linen napkins. Needless to say, it allows for the most photogenic Insta posts. And if you love it, you can keep it (90 €)!


In the basket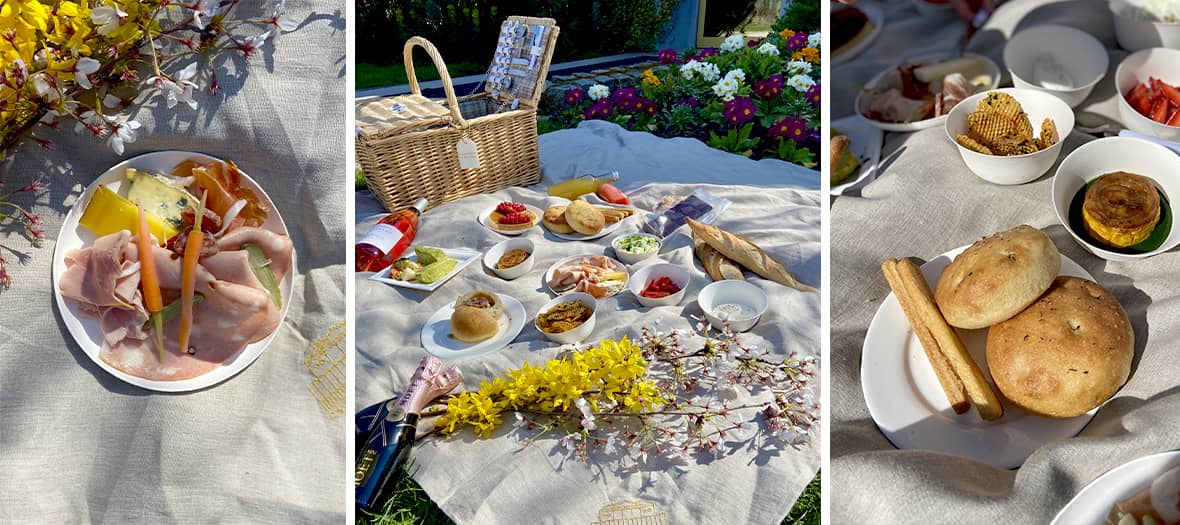 Yannick alleno pic nic that includes house savory wafers with spices, cold chicken breasts in a mayonnaise of herbs, spelled risotto and small vegetables.
A picnic signed by Alléno is obviously the promise of excellent products… Starting with the selection of cold meats and cheeses from artisan suppliers of the 3-star restaurant, accompanied by raw vegetables and pickles. Like the breads served with gastro: brioche breads , Parisian baguettes and good semi-salted butter to spread.
On the tablecloth: starters to share between house savory wafers with spices, canut brain with candied lemon and chive oil and zucchini stuffed with gently candied vegetables, pesto and basil. Before the dish with a divinely garden party spirit: cold chicken breasts in a mayonnaise of herbs, spelled risotto and small vegetables.
Summer invites itself to the dessert table: salad of fresh strawberries and whipped farmer's cream zested with lemon, the inimitable beer pie and fresh raspberry pie , not to mention chouquettes to share , a gourmet square chocolate bar and a bottle of berry smoothie .
Picnic from Thursday to Sunday: 100 € for 2 people, delivery in Île-de-France or click & collect at Ledoyen, Carré des Champs-Elysées 8, avenue Dutuit Paris 8e. Booking and info: 06 53 05 10 00.

Also discover the gluten-free brunch of Nadia Sammut and the best sushis in Paris .