New star in the world of activewear , the yoga jumpsuit is the new stylish piece to absolutely own. As evidenced by influencers and healthy girls who post in wetsuits on their feeds, proof in image of their cool potential.

In short: no wonder young labels like prestigious houses are overflowing with creativity to sign the prettiest specimens ... with a view of course to practicing the most beautiful sun salutations but also social outings and an effortless style to chill in your sofa without doing proof of letting go.
Deciphering a phenomenon
"This is really the sharp phenomenon that is emerging in the world of activewear " , analyzes Caroline Joly , head of style at Bon Marché . " This is both a technical and very fashionable piece that you want to wear and show off during and (especially) after your yoga session. It is the same logic as the sneakers that have gradually infiltrated our daily lives. "
" Its rather glamorous, sexy side and its very fashionable connotation make the yoga suit an almost identity garment. "Conclusion: apart from yoga, we want to keep its almost creative spirit and wear it with" stylish sneakers and accessorize it with a jewel and a noble cashmere or with a message. "
Models born in cutting-edge studios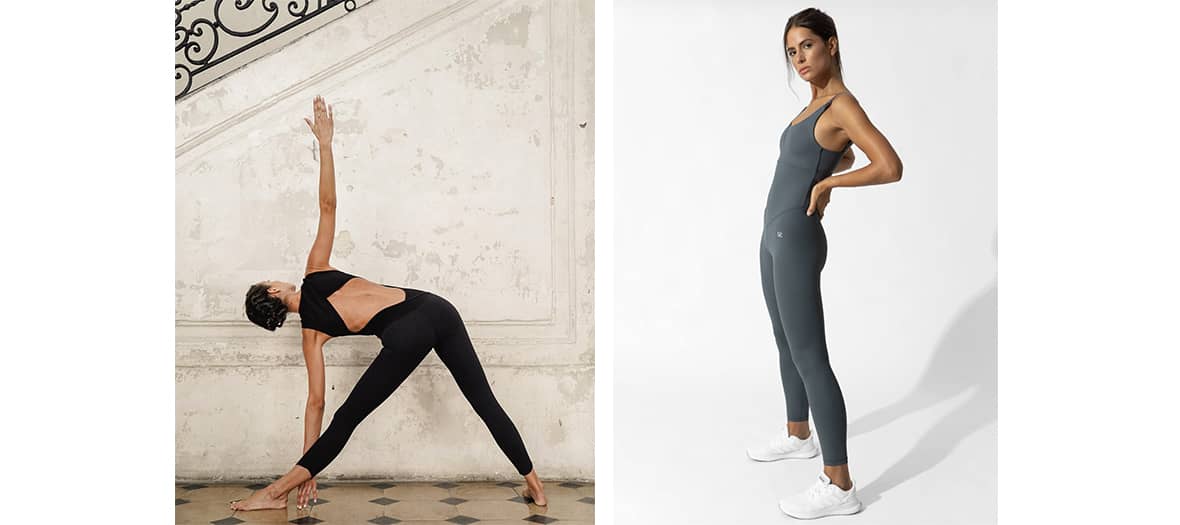 If we know Yuj , Hélène Duval's studio well, we are less aware that the yogi-entrepreneur has imagined a green line of pieces with an extraordinary silky touch, made in Portugal in eco-responsible workshops. Her Savana jumpsuit (103 €) super advantageous appears as the ideal piece to practice in total comfort while remaining super stylish with stunning details: play of transparency on the hips, open back and asymmetrical finish at the ankle ...
This is the nugget from Lisbon ! By training with sublime wetsuits brought back from Brazil, Sonia Garcia creates desire with the other girls in her class who ask her to bring them the same ones. The idea germinates and she creates with her husband Topissima . Their signature? High-tech and sculpting wetsuits (148 €) made in Italy with very light antiperspirant fabrics and maximum breast support which makes this piece compatible with more extreme sports such as Crossfit . Bluffing!
Couture pieces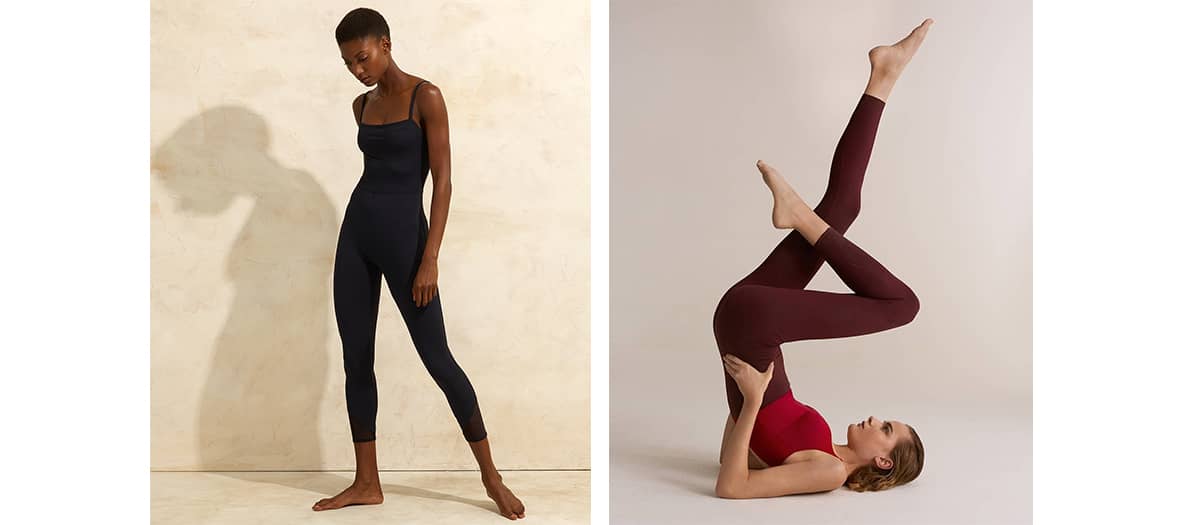 The big French lingerie houses have obviously put their two cents in this yogi business by bringing a couture and 2.0 touch to an area which fits naturally into their new know-how.
This is the master stroke of Ernest Leoty the centenary claw hosiery awakened by Marion Rabate whose pieces are made in the same workshops Hermes and Eres. The brand was able to impose its style potential by organizing the most coveted and instagrammed yoga classes in Paris (especially at the Perrotin Gallery ) where the brand dressed the it-girls invited to their sublime two-tone Ilona jumpsuit (€ 205). Result? This piece is now the ultimate reference of the style that any fashionista who respects herself must have in her wardrobe with a Chanel bag and a Burberry trench coat. Same fight at Erès who reinvents the classics for urban chic with a perfect basic " with a twist ", the Discipline (410 €). In this case: cut of rare refinement, soft and high-tech material and Calais lace inserts. In short: the ideal second skin to put on for a fit ballet or Ashtanga class… And longer if you have an affinity!
When French swimwear labels get involved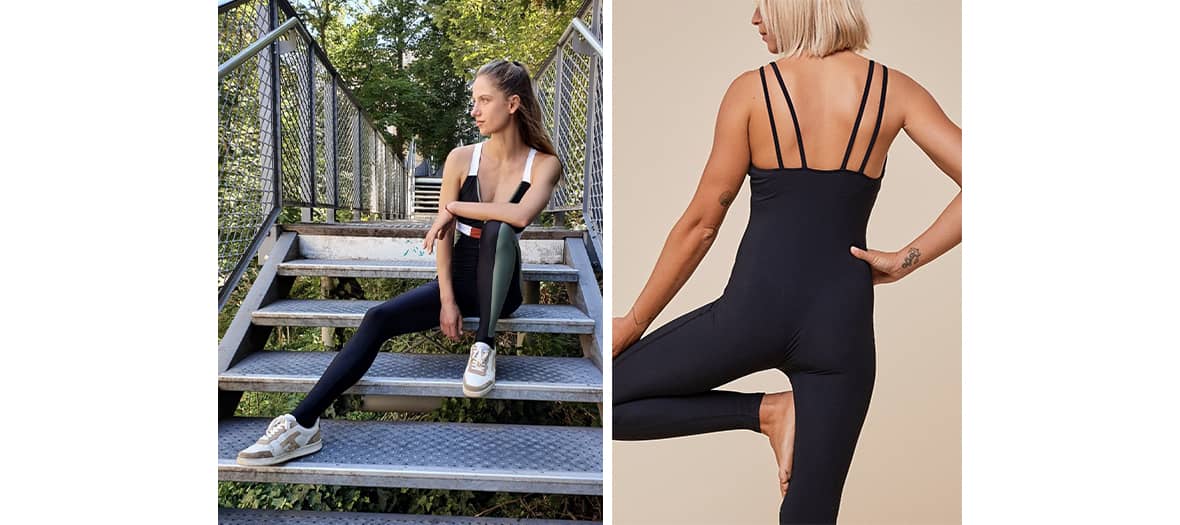 Today the surf lifestyle goes hand in hand with that of yoga! Albertine Swim , the brand of swimsuits made in Biarritz, has obviously just launched Yogi, the Combi (85 €) new dada of Elsa Wolinski and fans of the Basque brand. On the program: a black essential, shaping with integrated bra and pretty neckline in the back. The new basic.
When, like Luz , we know how to make a stylish swimsuit and what is more, sustainable , we certainly also have serious legitimacy in activewear. Especially if it's a black one-piece with white, orange and khaki stripes with a bra and crossed back, both original and too beautiful, the Coppelia jumpsuit (€ 47.50).
Sports collabs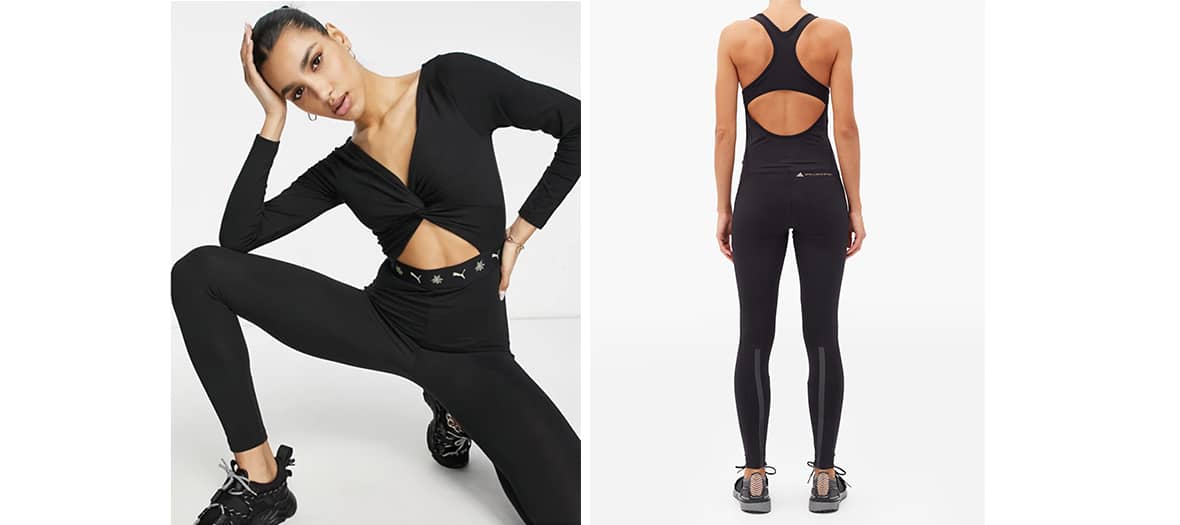 It's in their DNA Obviously, the labels of large-scale sports brands have taken hold of the phenomenon and are ensuring their legitimacy by mixing their high-tech know-how associated with the paw of a creator. It goes without saying that Adidas and Stella McCartney now offer an almost iconic model (€ 102) in technical jersey with racer back.
The other collab that maximizes style and glam 'is the jumpsuit signed Charlotte Olympia for Puma (€ 62.65) which offers a wow neckline and the possibility of having fun without seeing its assets plummet. Long live the salamba sarvangasana !
Small stylish prices to appropriate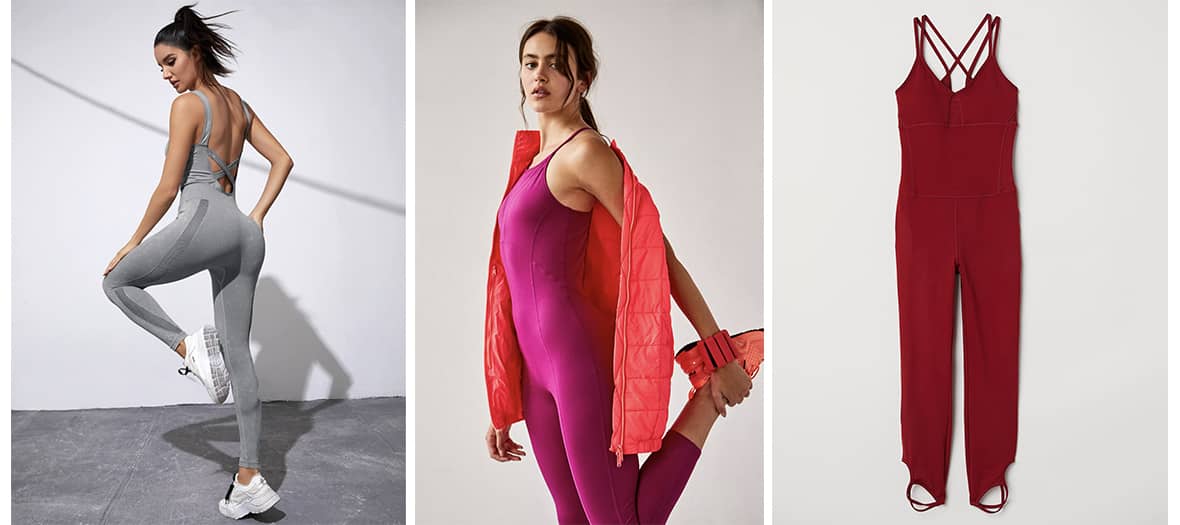 Free People has it all. The bohemian label born in Philadelphia, little brother of Urban Outfitters , is doing strong with this new reference model of " go-to for yoga " (€ 81.34) in polyester, available in all colors (white, midnight blue, raspberry , gray, peach…). Likewise, we are impatiently awaiting the replenishment at H&M Sport (our favorite label) of its rust -colored jumpsuit (€ 29.99) in technical fabric and double straps crossed at the back.
And after all that, you still hesitate? Phew: there is Shein , the Chinese mass market brand, which appropriates the latest trends at a lower cost. We can't guarantee quality, but for € 14.90, you can try and put on this gray nylon playsuit with your eyes closed.
Also discover how to wear jogging in style and the ten golden rules of homewear .