We had already talked about the 365c hair bar's great pop-ups. Well, the team of studio hairdressers has just opened a permanent space in the High-Marais.
This super contemporary loft features comfy sofas, individual customized stations, a room that can be privatized for groups and even a cabin, especially reserved for brides.
In short, a great place to chill and be pampered. The original concept stays the same. You choose your hairdo from a menu inspired by the looks of the latest fashions shows. Braids, buns, twists… in 15 minutes you are all set. And now, you can also have your make-up done or go for a nail polish application, in order to look tops before rushing out!
We adore: one-hour hairdressing courses, to follow on your own or with a gang of girl friends during a cool happy hour or a fun brunch.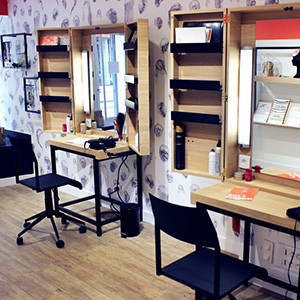 And always the corners (Bon Marché, Monop' Beauty des Abbesses, Marionnaud on the Champs-Elysées) for an express hairdo.
Open Tuesday to Friday from 11am to 8pm, Saturday from 8am to 8pm and Sunday from 9am to 6pm.
15 minute hairdressing, 19-39€. Hairdo + makeup starting at 49€.