Geometric, retro, symbolic… In colour or in black and white… Zoom on the tattoo gurus, where it's trendy to be inked
Jean André chez Bonjour Tattoo Club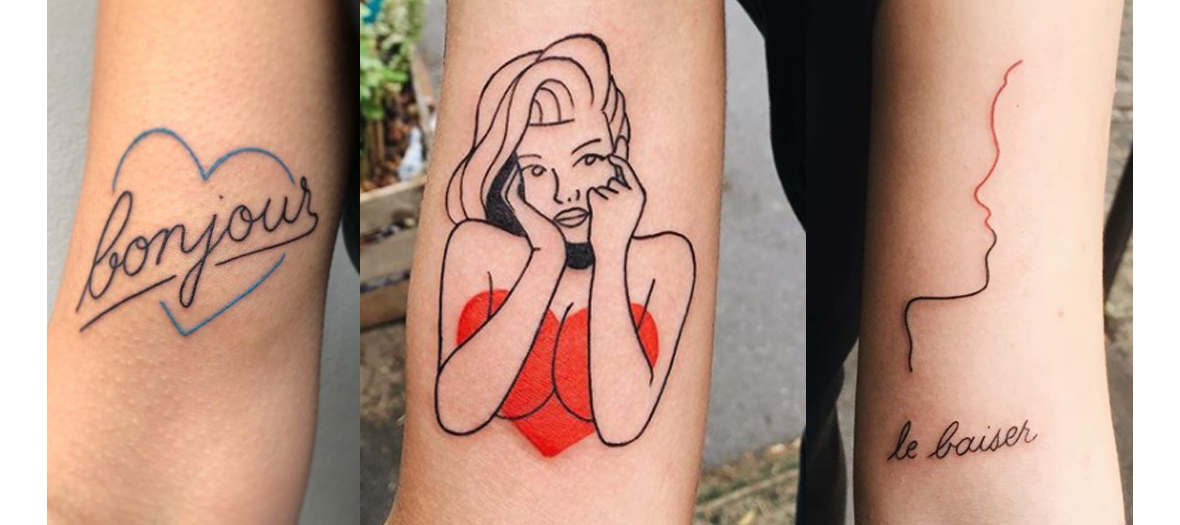 Zoom on : Jean André, the most hype tattoo artist (his collabs with colette are the utmost of chic), creates inspired and inspiring graphics. He will open his Bonjour Tattoo Club en août. (with Terly Tattoo)
For whom? The chic and upscale Parisian clientele is rushing over there, so better plan ahead for an appointment.
His signature: hearts interlaced with words, erotic tattoos, and the contour of silhouettes... Or how to suggest a message and make sure it goes through.
Rate: by estimate only
Bonjour Tattoo Club, 75018 Paris (address held secret, info ASAP)
TinTin Tatouages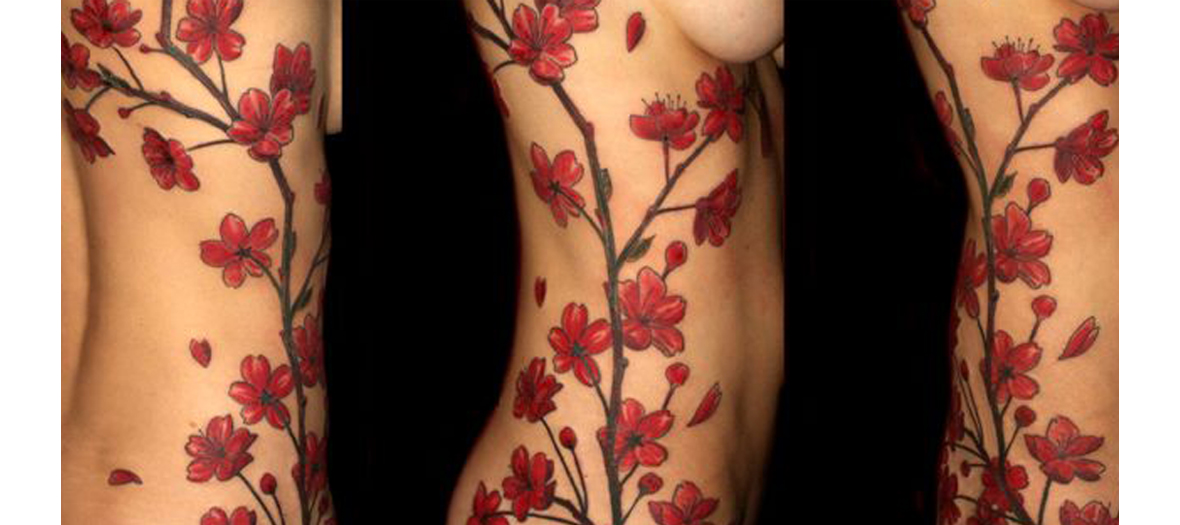 Zoom on: Tin Tin Tatouages. How to make a tattoo selection without mentioning the king? Tin Tin has been tattooing for 30 years, and knows how to surround himself with pros that feature unique know-how in different styles (trash, artwork, blackwork, realism, cartoon, old school...).
For whom? Rockets, all those fascinated by Japanese reality (dragons, koi carps), and the fans of the tattoo star.
Signature: Tin Tin is considered by many as the tattooer of stars. From Johnny Hallyday to Florent Pagny, including Kad Merad, Joey Starr, Jean Paul Gaultier, Pascal Obispo, Yannick Noah, Valérie Damidot, Lio, Alizée…Many have called on his services. Since 2013, Tin-Tin has relaunched the World Cup of tattoos with the Syndicat National des Artistes Tatoueurs (S.N.A.T.), of which he is president.
Rate: The minimum rate for a tattoo is 100 €, each tattoo is created upon estimate.
Tintin tattoo Shop, 37 rue de Douai, 75009 Paris
Loïck Mori chez Unique Horn Tattoo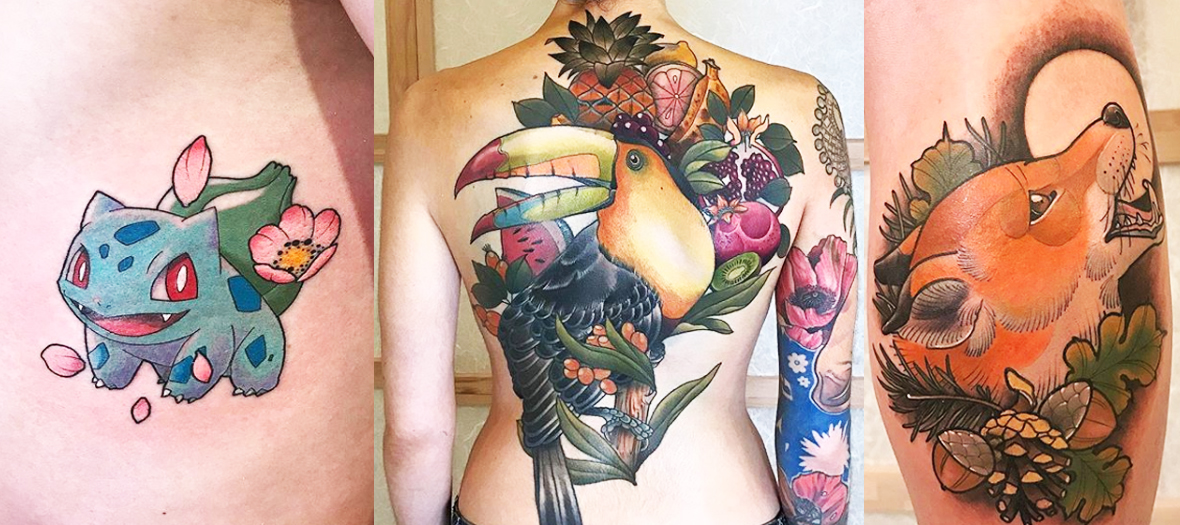 Zoom on: Unique Horn Tattoo, the three musketeers of Japanese style tattooing including pop culture buff Loick Mori.
For whom? Fans of colourful and kawaii tattoos
Signature he really knows how to draw manga tattoos, just like his famous colourful drawings. Such as for example Pokemons or characters inspired by Naruto.
Rate : by estimate only
UniqueHorn Tattoo, 38 rue de la Folie Méricourt, 75011 Paris
Sélune chez Maison Yōso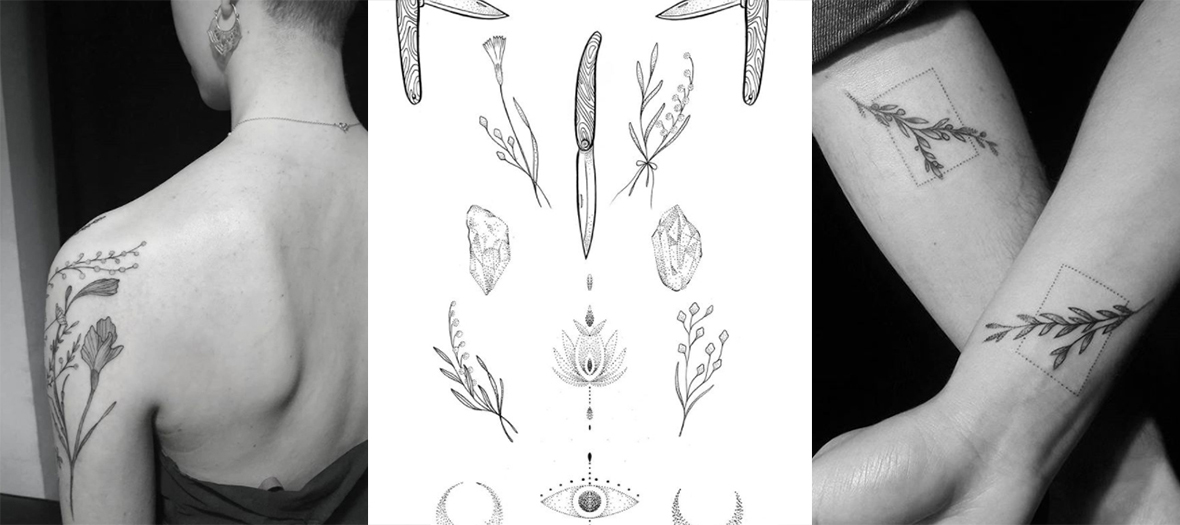 Zoom on: Maison Yōso with six permanent residents filled with talent, including the imaginative Sélune.
For whom? Lovers of fine and delicate tattoos
Signature: Sélune is known for her techniques of black and grey, dotswork (understand point by point), engraving, sado masochistic eroticism, feminine curds and more conventional floral patterns.
Rate: starting at 100 € per hour for large pieces, or per tattoo for smaller ones.
Maison Yoso, 5 Rue Euryale Dehaynin, 75019 Paris
Alastronaute et Professeur Reichert chez Anomaly
A real hot bed of talent, Anomaly offers a selection of super pro tattoo artists, specialized in their fields. Mathias (Professeur Reichert) and Ben (Alastronaute) have both become masters in their respective categories.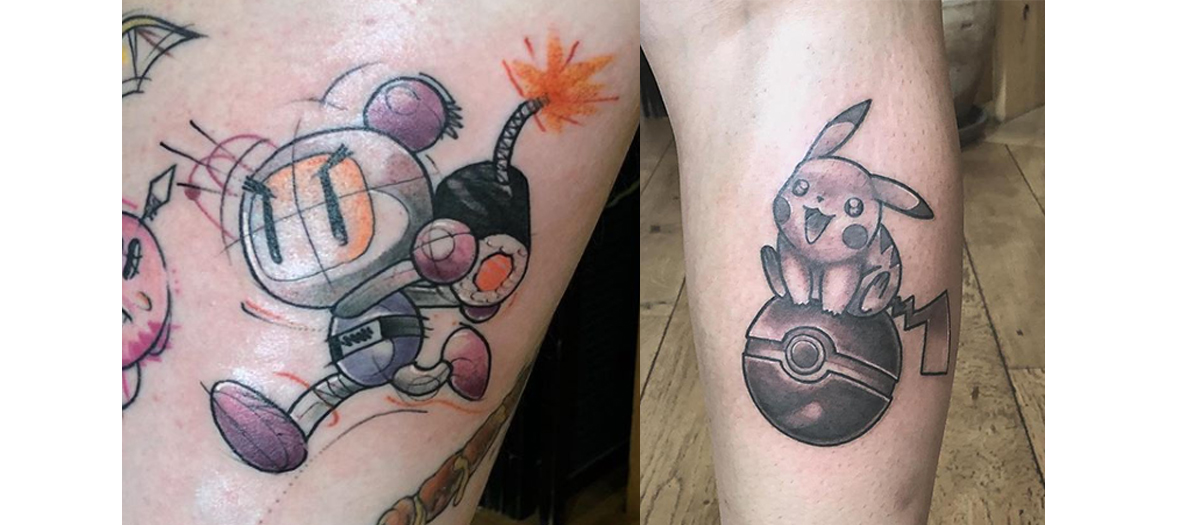 Zoom on : Professeur Reichert.
For whom? Big kids and fans of coloured tattoos.
Signature: Mathias creates personalized tattoos in aquarelle, geek, pop culture and sketch styles. Fun tattoos such as those of Bomberman, Calvin and Hobbes, Qulbutoke (from Pokémon) and others… Directly back to childhood !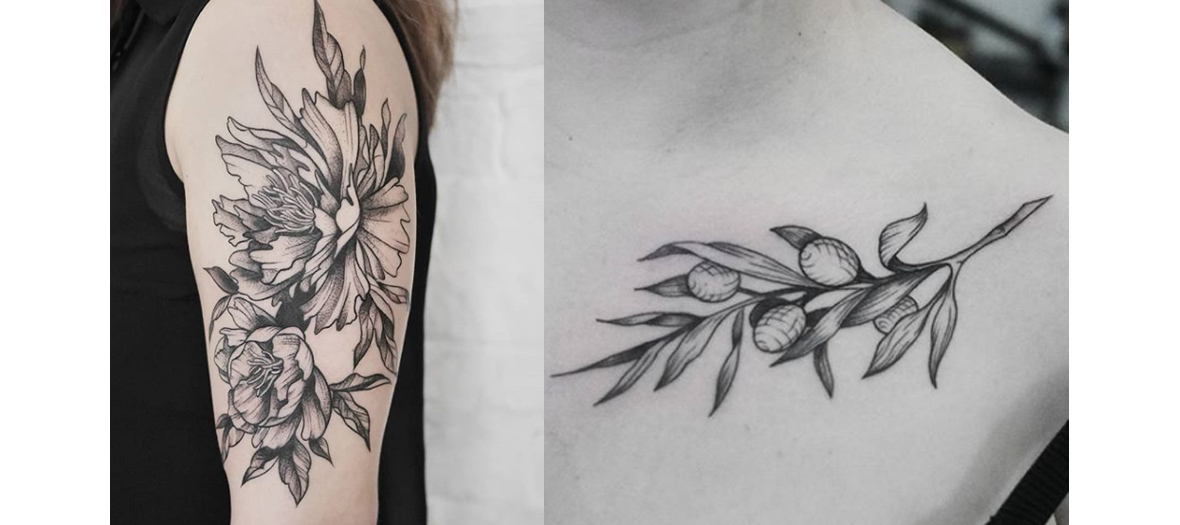 For whom? Fans of hyper realistic tattoos.
Signature: Benjamin Alastra creates his own personalized tattoos in an impressive style of traditional and semi-realistic engravings!
Bewitching snakes, wild medusas, or 3D portraits, more real than nature, fill her book!
Rate: by estimate only
Anomaly tatouage, 20 rue Beaubourg et 7 rue Maître Albert à Paris
Jeykill de Bleu Noir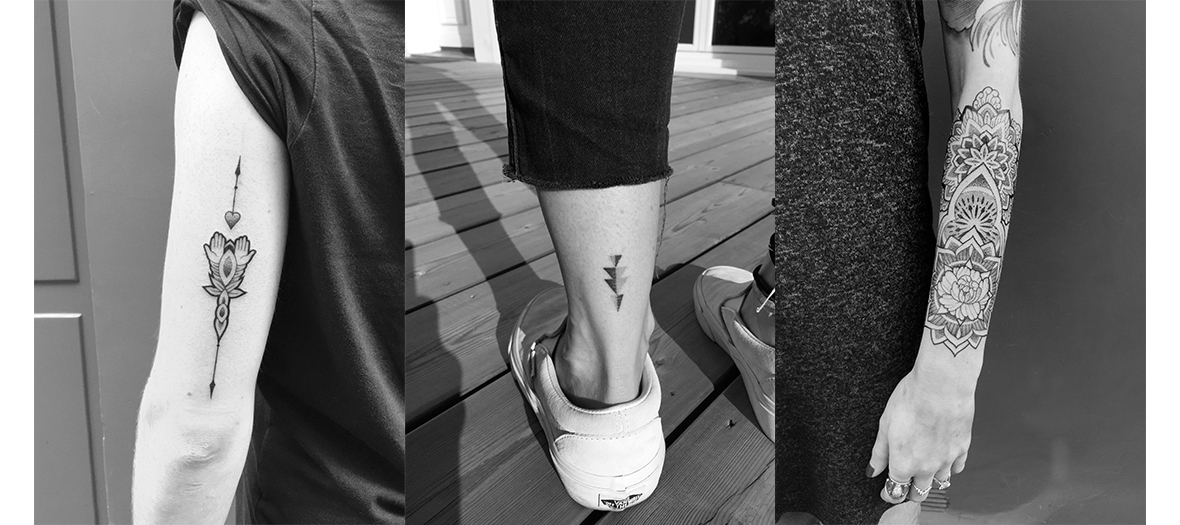 Zoom on : JeyKill, the pro of Black/Grey tattooing in Montmartre inside the most well known tattooing salon of Paris:
Bleu Noir .
For whom? Trendy creative types who admire his art ornamental art.
Signature: Jeykill never offers identical flashes and tattoos. His ornamental sketches are there to enhance the body.
Here one finds  jewellery / mandala and geometric tattoos, but also totems and drawings from the art of Polynesian tattoos.
Rate: starting package for € 180 (sketch, discussion around the tattooing project, exchange...), for big pieces the average price revolves around de € 750 for an afternoon.
Bleu Noir, 25 Rue Durantin, 75018 Paris
Nikos de l'Art ou du cochon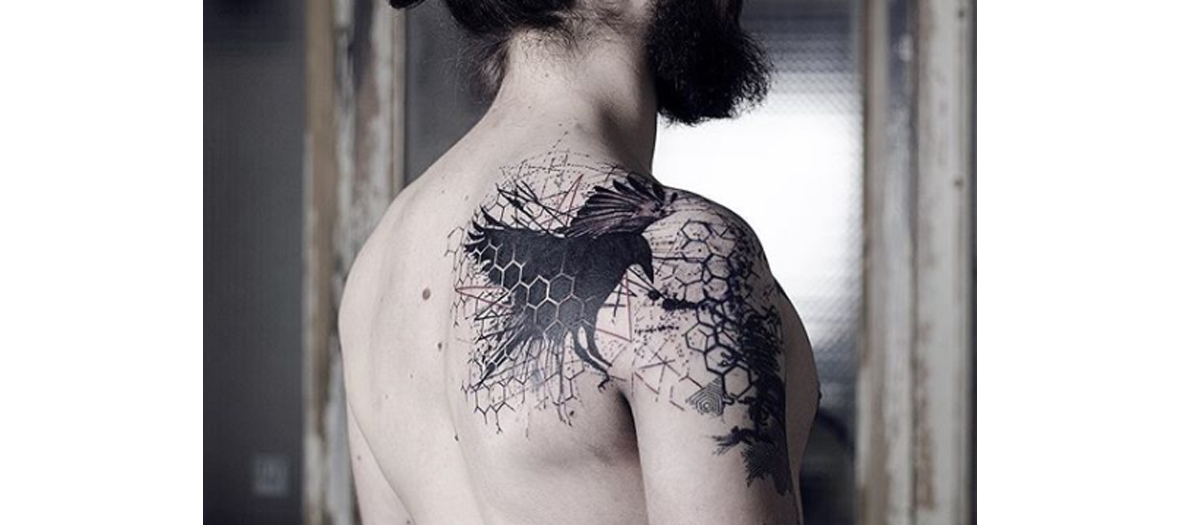 Zoom on : The Tattoo Salon, where Nikos creates tattoos with abstract and geometric types.
For whom? Fans of graphic and minimalist tattooing
Signature: one rediscovers the influence of neo-futurism in each of Nikos' tattoos, who are always large with science-fiction style details in the Matrix vein.
Rate: by the piece depending on the density and the area to be tattooed.
De l'art ou du cochon, rue Lepic, 75018 Paris
Le Gang des Maux Bleus
Les Maux Bleus located at the heart of Paris, under a skylight that is a source or inspiration for its tattoo artists, specialized in different yet complementary disciplines.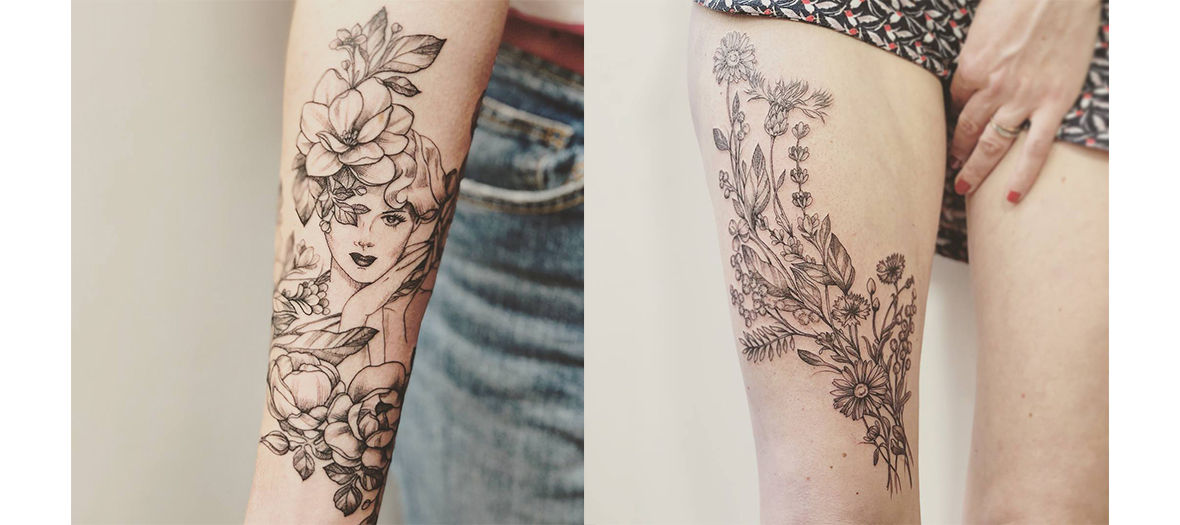 Zoom on : Carin Silver.
For whom? Fashonistas
Signature: Delicate work, floral and botanical inspirations, fine tattoos in black mainly or with touches of watercolours have made Carin Silver the priestess of a herbarium on skin.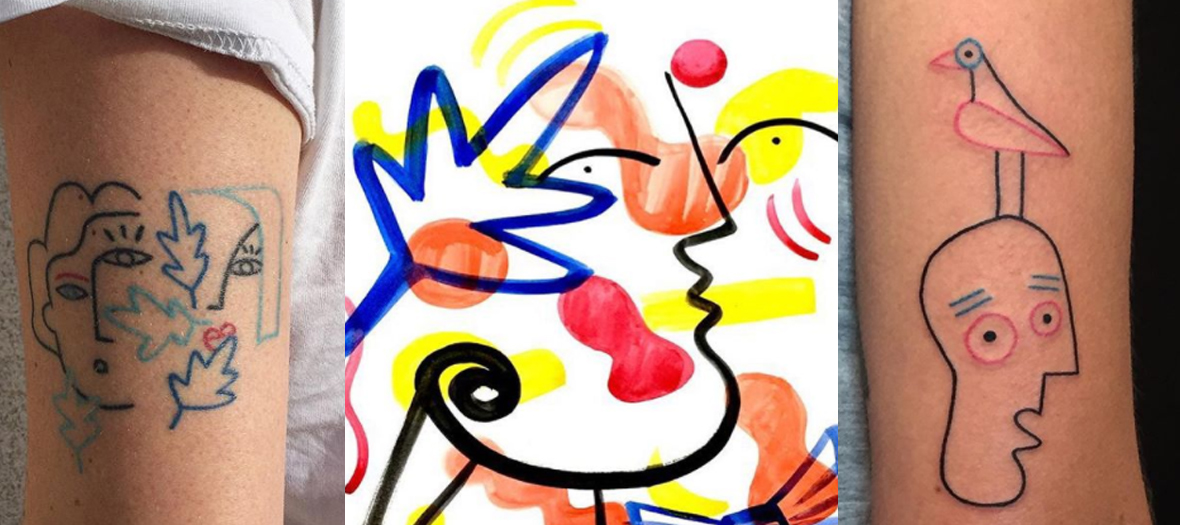 Zoom on : Carlo Amen

For whom? Arty Parisiennes fans of abstract.
Signature: Carlo signs a minimalist work, based on the art of the line, poetry associated to Cubism. All inspired by his travels, but also primative arts such as voodoo and naïve artworks.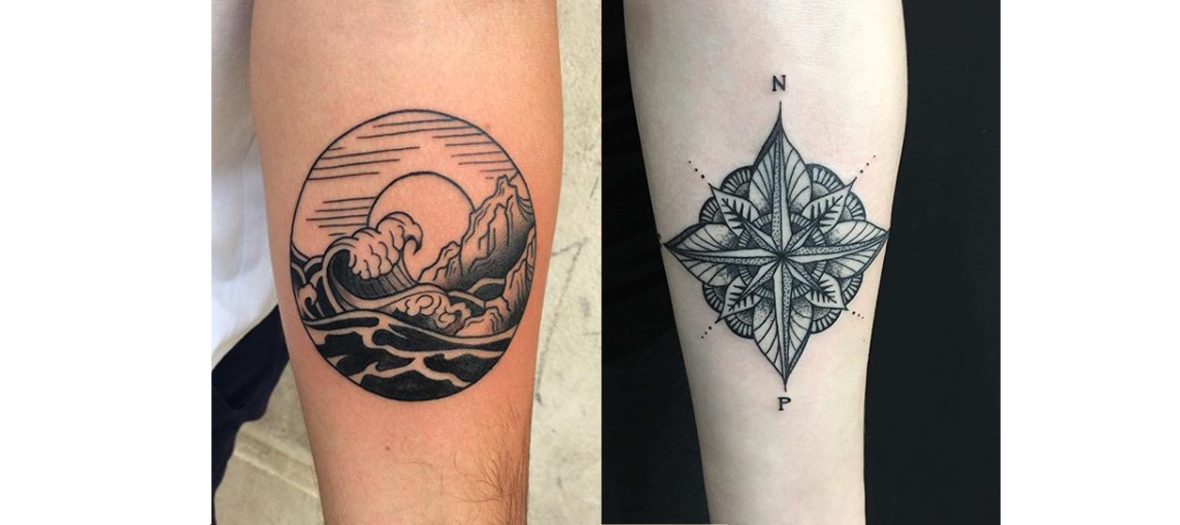 Zoom on : Krvll.
For whom? All those who are Game of Throne and Heroic Fantasy fans.
Signature: Inspired by the fantastic universe of Lovecraft or Howard as well as by historic frescoes by Pierre Naudin or Robert Merle. Krvll defines his style as an encounter between Mike Mignola, German expressionism, and symbolism. His drawings are filled with ghosts, lost ruins and other legends borrowed from literature and legends from the Middle Ages, fantasy, or black romanticism.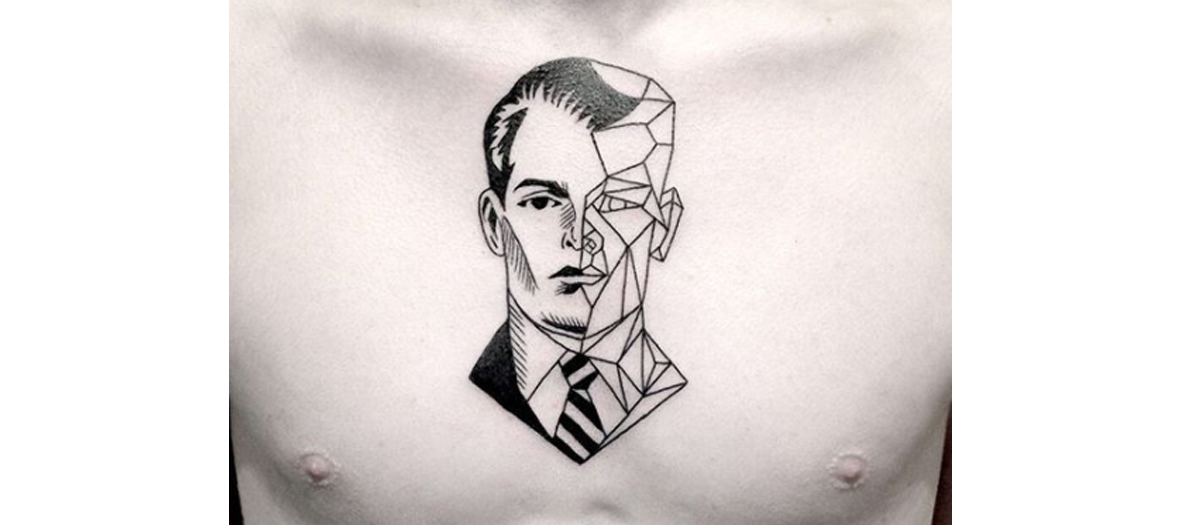 Zoom on : Sixo Santos.
For whom? Fans of the 70s/80s Comics universe
Signature: Originally an illustrator, Sixo is a multi-faceted artist. Jumping from graffiti to billboarding then US underground cartoons from the 80s. The works of Sixo showcase a stunning world filled with strange, grotesque, surrealistic beings, evolving in a retro-off beat world. Here you can encounter a Léon (from Besson), a Terminator, the Addams family...
Rate: upon estimate, to be defined in keeping with the work required
Les Maux Bleus, 20 rue des Gravilliers, 75003 Paris
Lionel Fahy chez Les derniers Trappeurs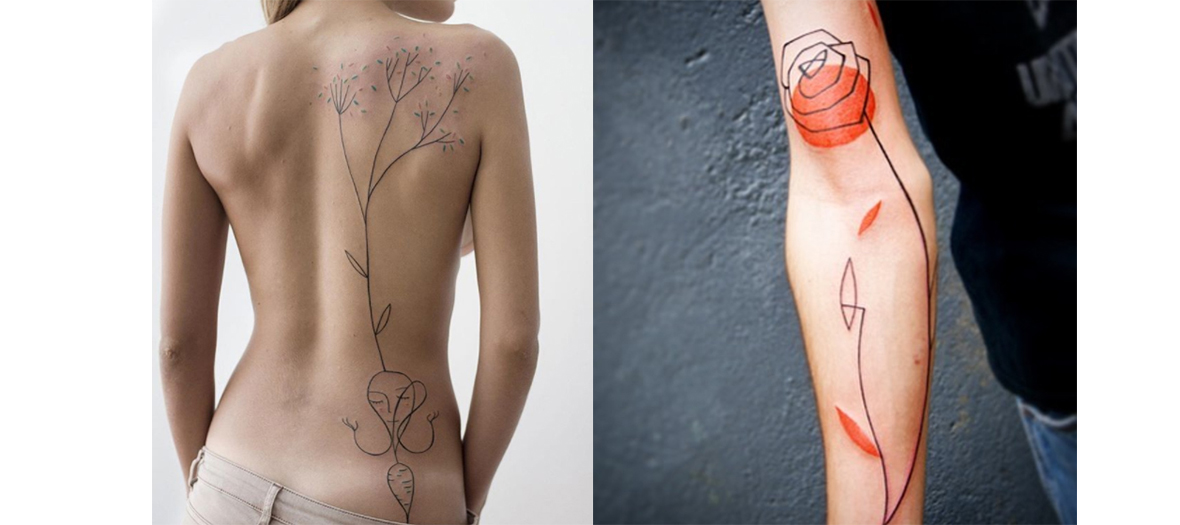 Zoom on : les Derniers Trappeurs and Lionel Fahy, a graduate of the Visual Arts Institute of Orléans, who has developed since more than 20 years a unique style in the tattooing universe.
For whom? His clientele fan of French avant-garde often hangs out at the FIAC and the Palais de Tokyo.
Signature: considered as one of the ring leaders in the tattoo world with an illustrative and minimalist style, he is known around the world as a precursor of this contemporary art style on human skin.
Rate : estimate upon request
Les derniers trappeurs , 6 passage Ménilmontant, 75011 Paris
Léa Lefaucon chez La Menuiserie Tatouage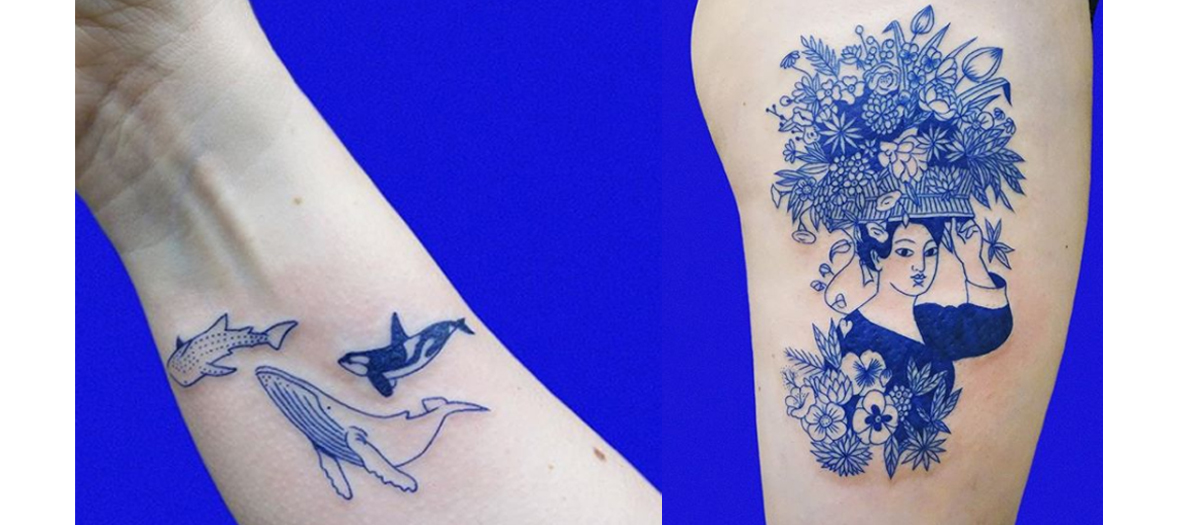 Zoom on: la Menuiserie Tatouage and its prodigal child when it comes to the Léa Lefaucon blue tattoo
For whom? Fans of romantic and poetic tattoos
Signature: the art of showcasing her blue/black tattoos and drawings at the same time pop and discreet with an assumed romanticism.
Rate: estimate upon request
La menuiserie Tatouage, private shop, address by appointment
COB chez Triple Stars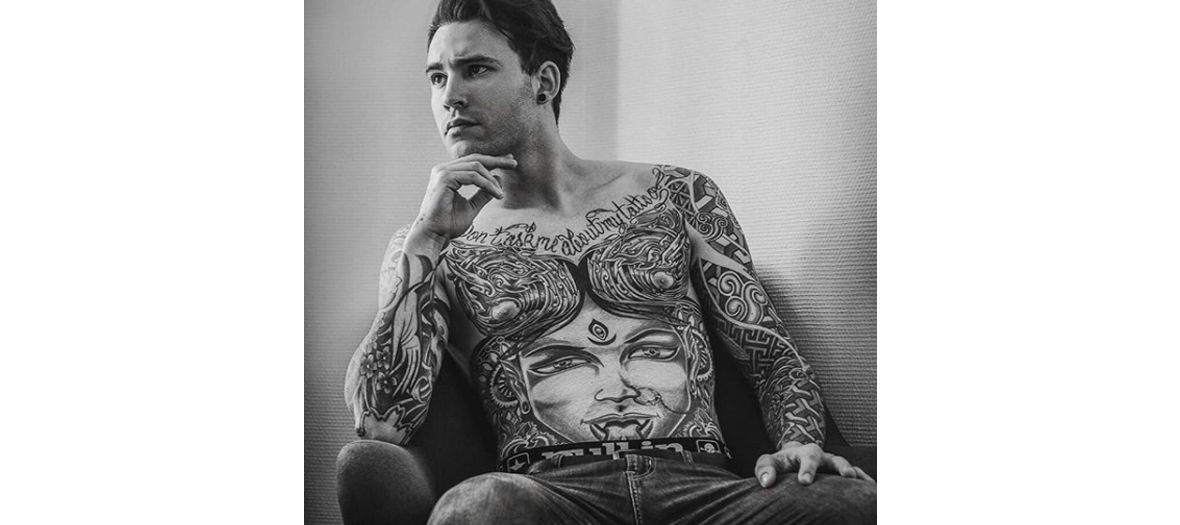 Zoom on : COB the founder/ resident tattoo artist of Triple Stars offers a unique and customized tattoo experience
For whom? Parisian hipsters and street-wear fans.
His COB signature defines his style as "eclectic and very varied". With a preference for South-Eastern Asia and neo traditional styles. Super pro, COB offers a very personalized follow-up of each client, always adapting to their styles.
Rate: Small tattoos starting at € 90, then € 100 /hour.
Tattoo flashes area at € 50 every Friday.
Triple Star Tattoo, 168 rue saint martin 75003 Paris