Vintage, graphic designs, life scenes, line work, color or black & white… Zoom on the tattoo gurus, by whom all chic and trendy Parisians dream of being inked.
Jean André at Bonjour Tattoo Club
Zoom on: Jean André , the most hype of tattoo artists (his collabs with colette remain the pinnacle of chic), creates inspired and inspiring graphics and founder of the Bonjour Tattoo Club salon (with the very talented Terly Tattoo ).
For who ? The chic and trendy All-Paris clientele jostle there, so you have to plan ahead to get an appointment.
His signature: hearts intertwined with words, erotic tattoos, and the outline of silhouettes ... Or how to suggest and get the message across.
Price : on estimate only.
Bonjour Tattoo Club , 6 rue Nobel, Paris 18th.
© Instagram / @jeanandre and @bonjourtattooclub
Sélune at Maison Yōso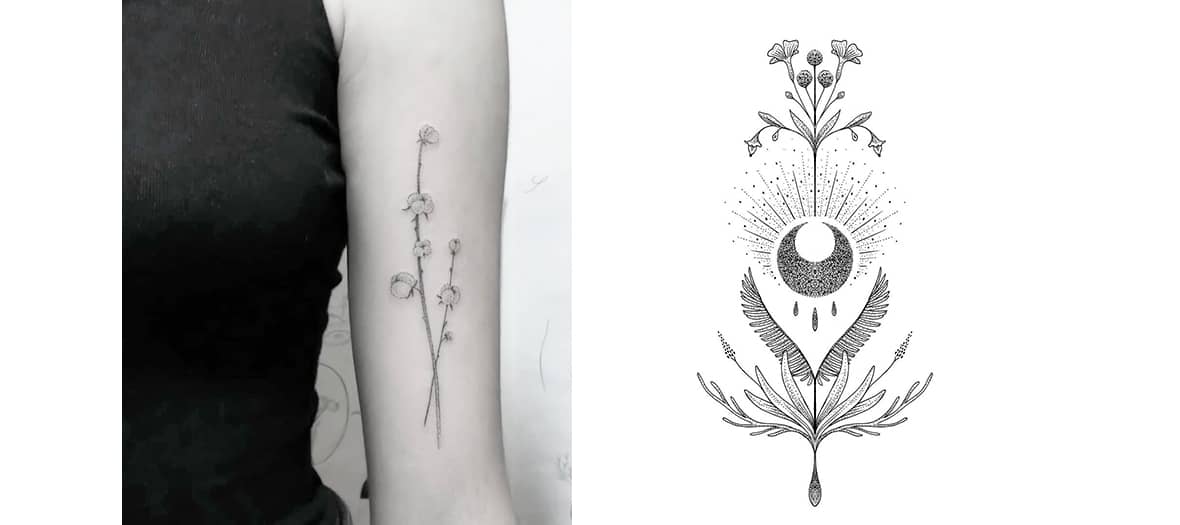 Focus on: Maison Yōso , with six talented permanent residents, including the talented Sélune .
For who ? Lovers of fine and delicate tattoos.
Her signature : Sélune is known for her black and gray techniques , dotswork (understand point by point), engraving, sadomasochistic eroticism, feminine curves and more conventional flowery.
Price: from 100 € per hour for large parts, or tattoo price for smaller ones.
Maison Yoso, 5 Rue Euryale Dehaynin, Paris 19th
© Instagram / @selune_
Jeykill from Blue Black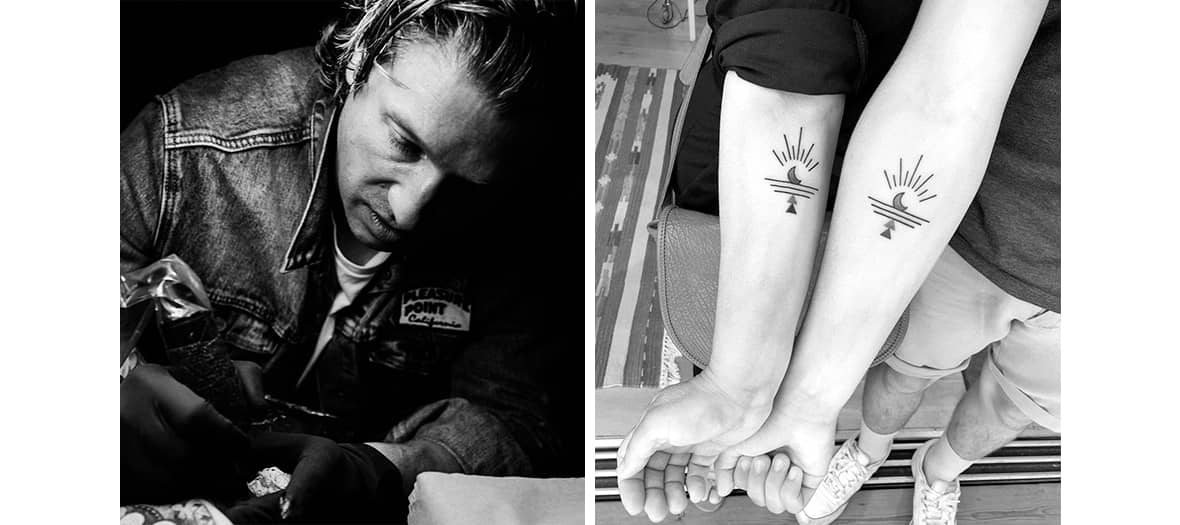 Zoom on: JeyKill , the ace of Black / Gray tattooing in Montmartre in the most popular tattoo parlor in Paris, Bleu Noir.
For who ? The sharp creatives awakened to its ornamental art .
His signature: Jeykill offers flashes and tattoos that are never identical . Its ornamental designs are there to sublimate the body.
We therefore find jewelry / mandala and geometric tattoos, but also totems and designs from the art of Polynesian tattooing.
Price: departure package at 180 € (sketch, discussion around the tattoo project, exchange ...), for large parts, on average around € 750 in the afternoon.
Bleu Noir , 25 Rue Durantin, Paris 18th
© Instagram / @jeykill_bleunoir
The Blue Evil Gang
Focus on: Les Maux Bleus , located in the heart of Paris, under a glass roof " source of light and inspiration " for its tattoo artists specializing in different but complementary disciplines.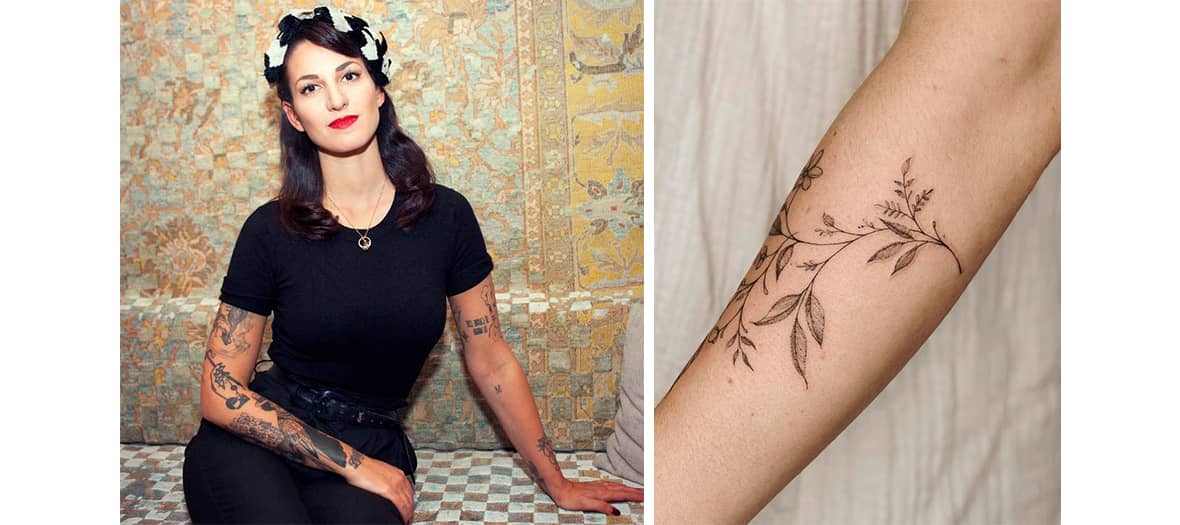 Carin Silver , the pro of floral arrangements.
For who ? The beasts of fashion.
His signature : delicate work, floral and botanical inspirations, fine tattoos mainly in black or with touches of watercolor-style color, make Carin Silver the priestess of the herbarium on skin.
© Facebook / Carin Silver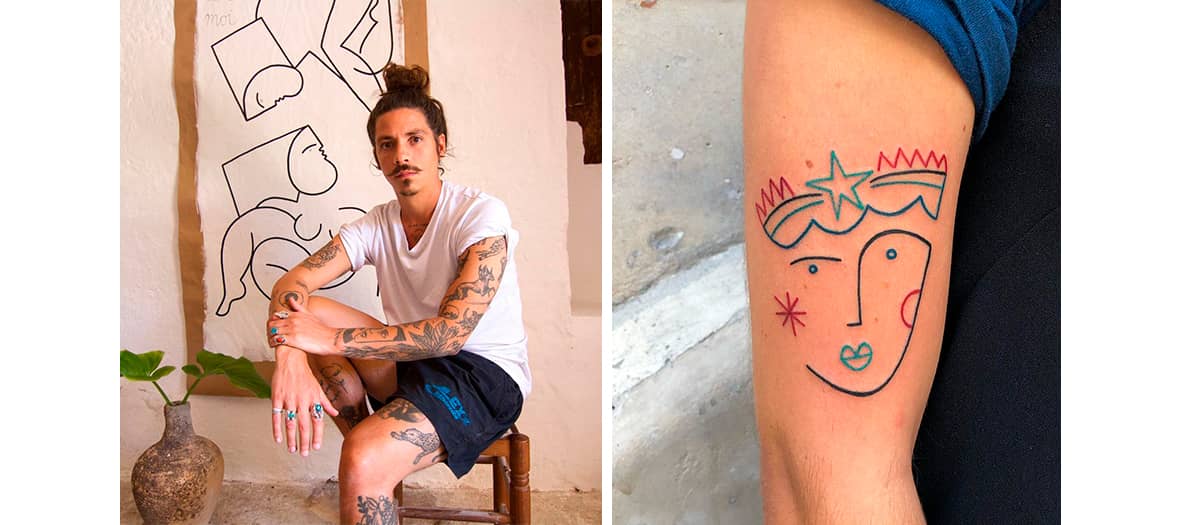 Carlo Amen , the most arty.
For who ? Parisians fans of abstract art.
His signature: Carlo signs a minimalist work based on the art of the line, the poetry associated with cubism. All of his tattoos are inspired by his travels but also by primitive arts such as voodoo art and naive art.
From € 100, at Les Maux Bleus , 20 rue des Gravilliers, Paris 3rd.
© Instagram / carloamen
Léa Lefaucon at La Menuiserie Tattoo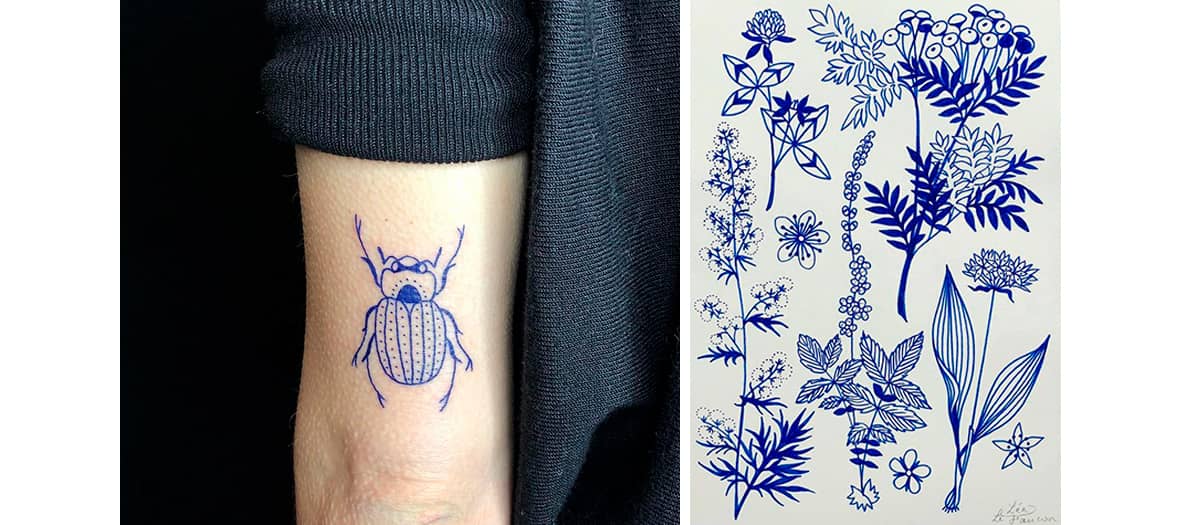 Zoom on: Léa Lefaucon , the wonder of the blue tattoo.
For who ? Romantic and poetic tattoo fans.
His signature : the art of staging his blue / black tattoos and his drawings, both pop and discreet, with assumed romanticism.
Price: quote on request.
La menuiserie Tattoo , private shop, address by appointment.
© Instagram / @lealefaucon
The Encrerie team
Zoom on: L'Encrerie is the most chic tattoo shop in the capital, frequented at the time by the young but now legendary rapper Mac Miller , who died at the age of 26. Three star tattoo artists in residence are doing great things there.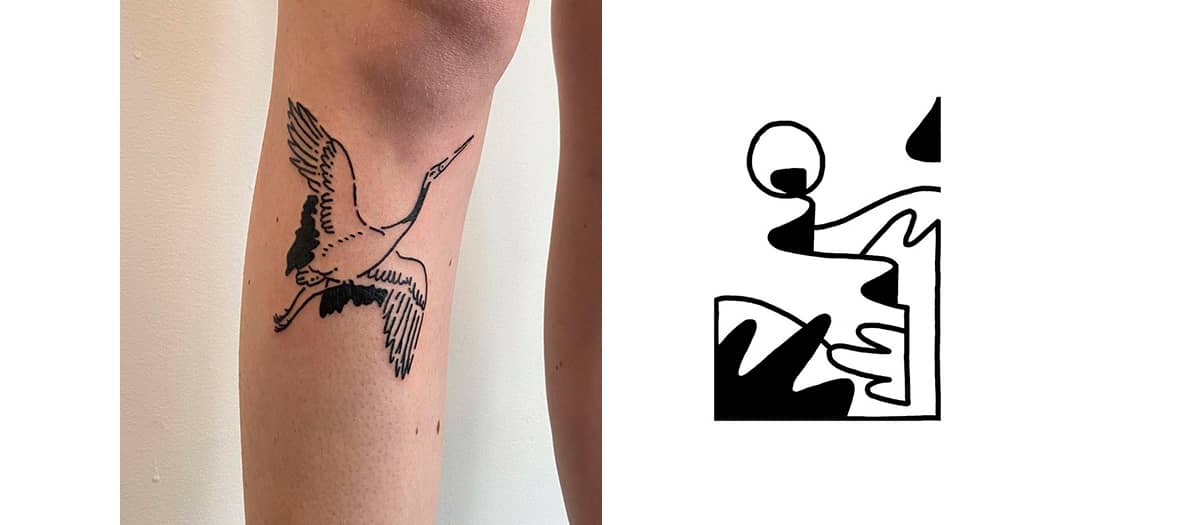 Yves Le Risk , the lover of felines.
For who ? the DA
His signature: black, stylized animals and hyper graphic designs that resemble drawings of comics.
© Instagram / @yveslerisk et @lencrerie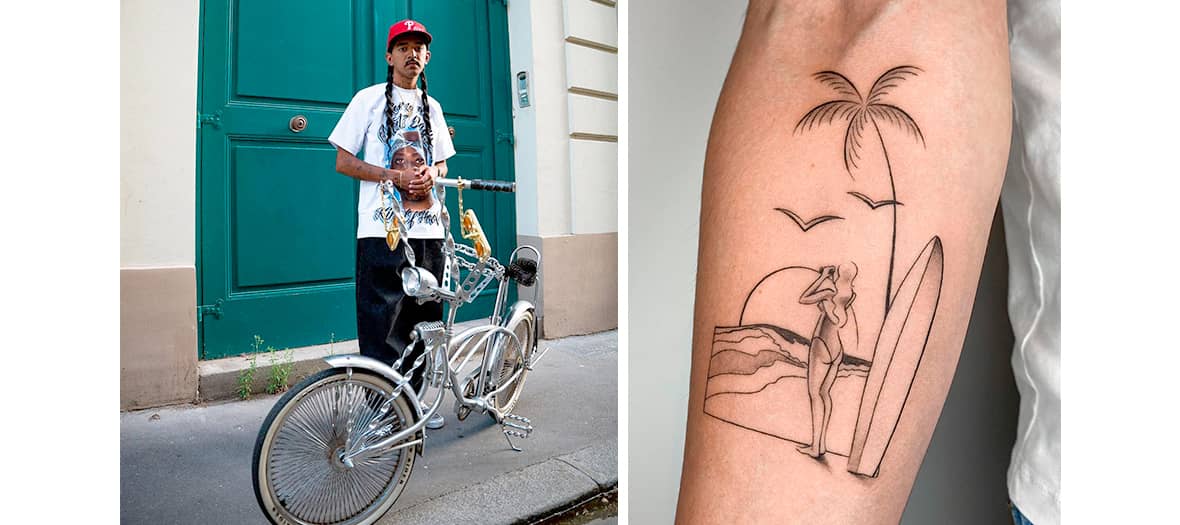 Dylan Long Cho , the most retro of Parisian tattoo artists.
For who ? Los Angeles obsessives .
His signature: the scenes of life in California sunset mode, surf, pretty girl and vintage Cadillac.
© Instagram / @dylanlongcho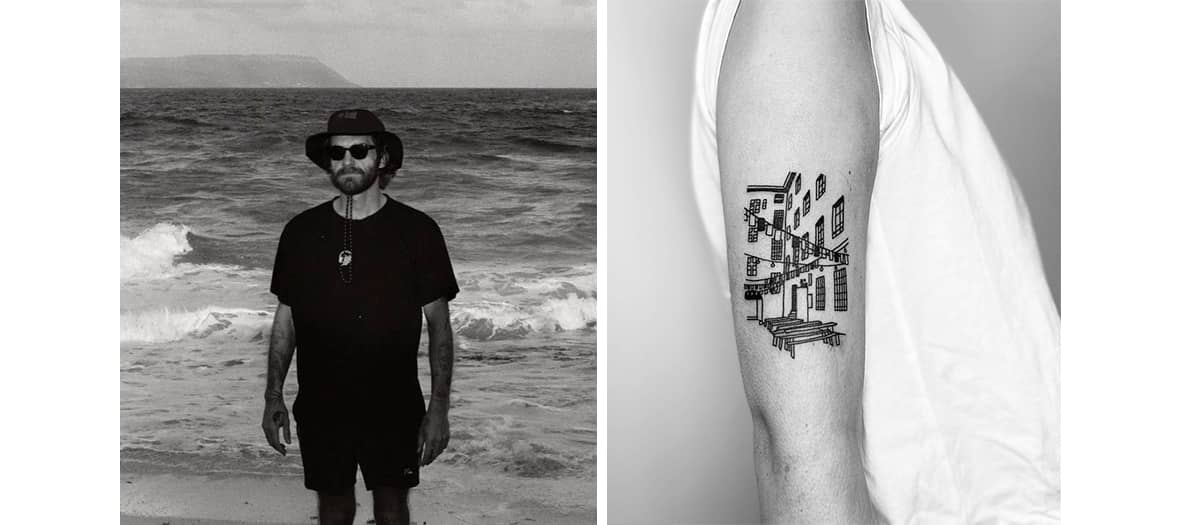 La Guish , the man who tattoos in rectangles.
For who ? Fans of brutalist architecture and travel .
His signature : hyperrealistic representations of landscapes , city views or contemporary villas in a rectangular frame, all completely black ...
© Instagram / la_guish
From € 100 , at L'Encrerie , 2 rue Lacharrière, Paris 11th
Zombie Tears at Baca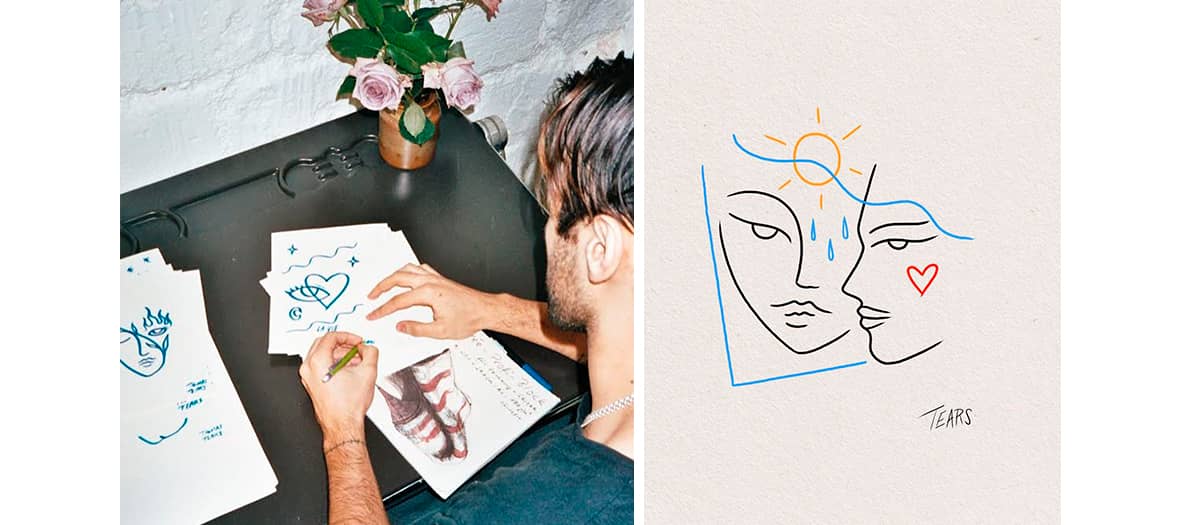 Zoom on: Zombie Tears , the referent tattoo artist of the singer Liv Del Estal and the ex-candidate of Top Chef Alexia Duchêne .
For who ? The romantic dreamers.
His signature: the high-flying line work, stylized faces very poetic, flashes a little provocative.
Prices: from 90 €
Chez Baca , 40 rue Servan, Paris 11th
© Instagram / @zombietears
Steadyse chez The Jungle Tattoo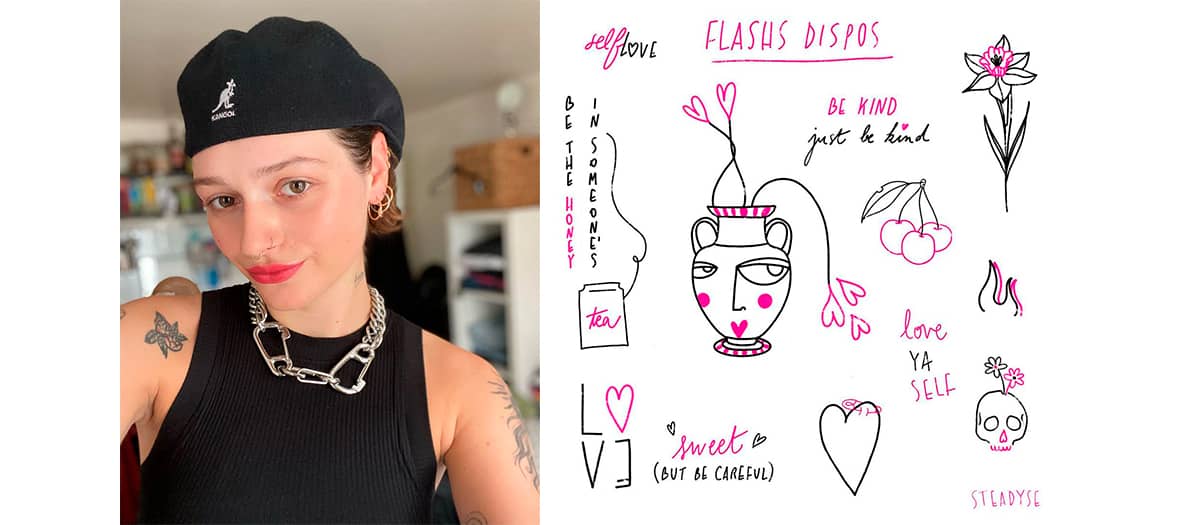 Zoom on : Steadyse , the illustrator turned tattoo artist who rocks at The Jungle Tattoo , the sexiest tattoo parlor in Paris.
For who ? The followers of " innocent tattoos ".
Her signature: flashes that she constantly updates on her Insta, a thin line, a typo all her own and especially the pink touch , because having a black and pink tattoo is even cuter.
Prices: from 80 to 180 € for the largest pieces
At The Jungle Tattoo , 118 rue de Tolbiac, Paris 13th
© Instagram / @steadyse
Point Barre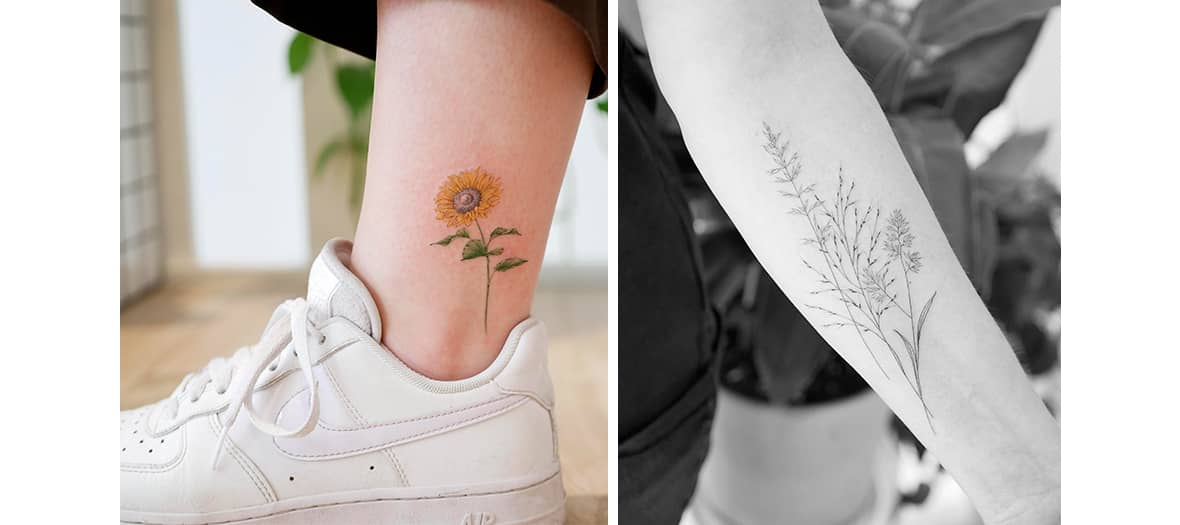 Focus on:Point Barre , the #flowertattoo specialist.
For who ? Lovers of nature and minimalism .
His signature: designs inspired by the plant world , dotwork , a line of unparalleled finesse and hyper subtle colors for even more delicacy.
Prices: from € 100 per hour for large parts, tattoo price for the little ones.
Point Barre , 16 rue Taylor, Paris 10th
Max Lesquatt at Rayon Noir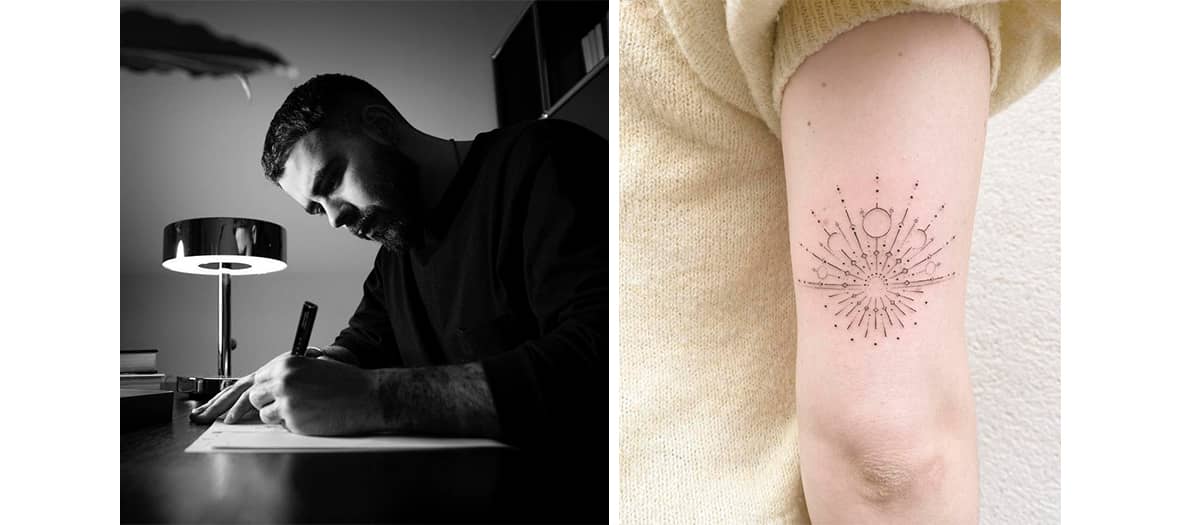 Focus on: Max Lesquatt , jack-of-all- trades artist trained at Boulle School , former resident at L'Encrerie and founder of Rayon Noir , his design and tattoo studio.
For who ? The psychorigides of symmetry.
His signature: the hyper delicate geometric shapes, inspired by the spatial universe, science and astronomy.
Prices: between € 2,00 and € 300 for small projects, from € 700 for large personal projects.
Chez Rayon Noir , 12 rue Crozatier, Paris 12th.
© Instagram / @ maxlesquatt and @ antoine.guilloteau
Also discover the best pain au chocolat in Paris and the best breakfast in Paris.