Like the tattoo , the piercing is no longer the monopoly of rebellious souls. Flaunting multi-pierced ears and hoarding beautiful jewelry around the face is the new snobbery seized by the sexiest cool girls, from Zoë Kravitz to Dua Lipa to Rihanna . And we dream of it too! Where to get your ears pierced in Paris? We take stock of the most advanced addresses to afford a Daith , Helix , Conch , Lobe or Rook .
Mad Lords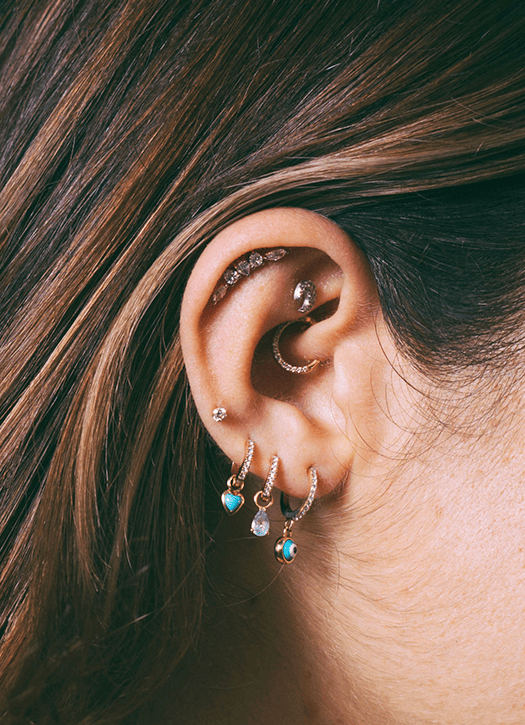 Focus on: Mad Lords , where jewels take on a mystical aura and become precious charms that bring good luck. There are a multitude of 18-carat gold jewelry options from the greatest designers such as Maria Tash , Jacquie Aiche or Céline d'Aoust as well as their own collections.
Jewels: white gold and diamond studs , pendants of all colors and small hoops of all kinds, but also jewels to dress the hollow of the ear to accumulate and mismatch.
Rates: from €40 which may vary depending on the location. Count 60 € per pair of lobes , 55 € for the helix or 65 € for the cartilage excluding the helix. Jewelry from 89 €.
Make an appointment by phone on 01 40 20 90 48 or on madlords.com or come to the store at 316 rue Saint-Honoré, Paris 1er. Monday to Saturday from 10:30 a.m. - 7 p.m. Collection of piercings at madlords.com .
Djula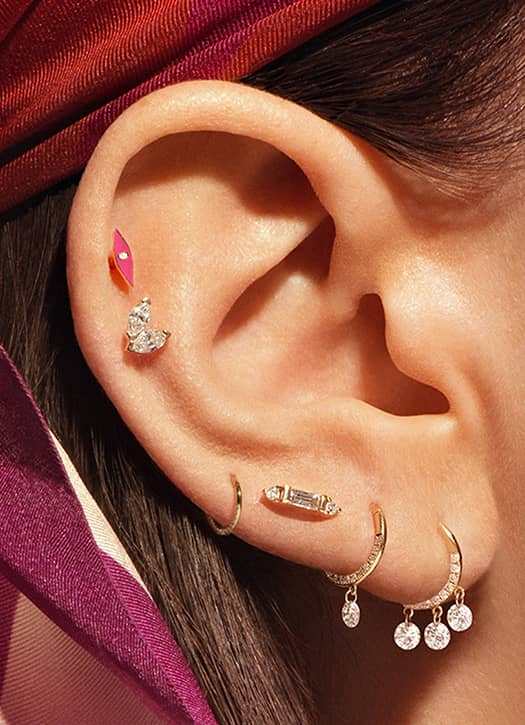 Focus on: Djula , the Parisian house which restores its letters of nobility to piercings with gold and diamond collections prized by icons such as Rihanna , Kylie Jenner , Taylor Swift or even Jlo … In addition to its flagship store at 342 rue Saint-Honoré , Djula has just inaugurated a piercing studio in the new Wellness area of Galeries Lafayette .
The jewelry: in 18-carat gold and white diamond, in pavé or mosaic with suns, barbed wire, snakes, mini hoops, stars, flowers, lightning...
The prices: the installation is free and the price therefore depends on the jewel chosen, from 185 €.
Make an appointment on the wellness.galerieslafayette.com website or at the Wellness Lobby (on site) at Galeries Lafayette 40 blvd Haussmann 75009 Paris (on the lower ground floor). Monday to Sunday from 10 a.m. to 8 p.m. Collection of piercings on djula.fr .
Maria Tash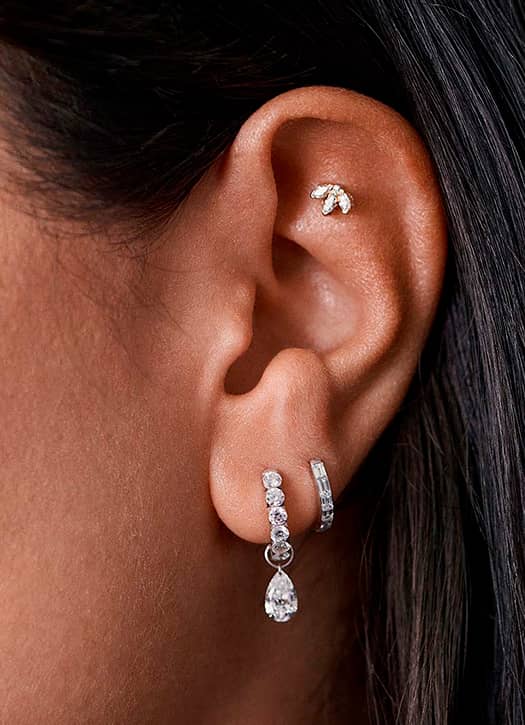 Focus on: the one who revolutionized the high jewelry and luxury piercing industry , being one of the first to promote small holes everywhere! Maria Tash has widely established herself as the expert in fine jewelry with quality full-ear piercings . Her chic corner of the Bon Marché has two separate rooms to get pierced in complete privacy.
Jewellery: in 14 and 18 carat gold, diamonds and ultra-brilliant precious stones of ultimate sophistication.
Prices: between €25 and €80 depending on the location, in addition to the price of the jewel.
Piercing area on the 2nd floor of the Bon Marché, 24 rue de Sèvres, Paris 7th. Make an appointment by phone on 01 71 37 87 37 or on mariatash.com . Monday to Saturday from 10 a.m. to 7.45 p.m. and Sunday from 11 a.m. to 7.45 p.m. Collection of piercings at mariatash.com .
Perseus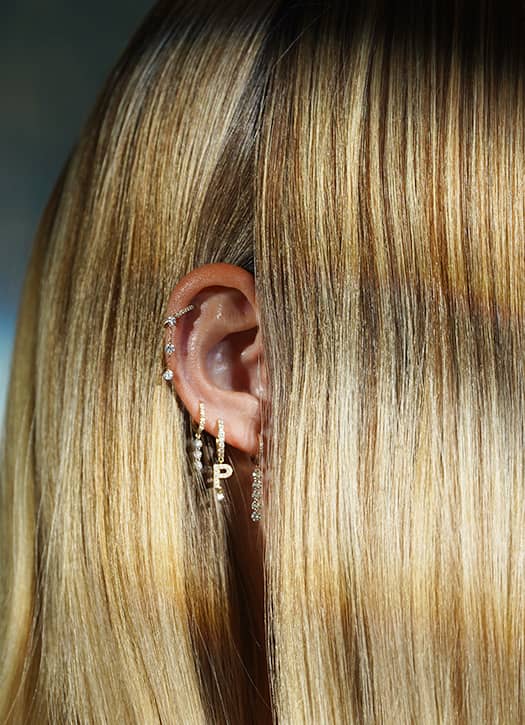 Focus on: Persée , whose delicate jewels stand out with their minimalist lines. always and more offers the brilliance and brilliance of stones and opts for a more contemporary approach. Fine and delicate jewels that are forgotten by their lightness and remembered by their singularity.
Jewellery: in gold, mounted by hand
Rates: from €200 which may vary depending on the location
Make an appointment on perseeparis.com Boutique at Galeries Lafayette des Champs-Élysées (1st floor), 82-88 avenue des Champs-Élysées, Paris 8th. Monday to Thursday from 11 a.m. to 7 p.m. and Friday to Saturday from 10 a.m. to 7 p.m. Collection of piercings on perseeparis.com .
Golden story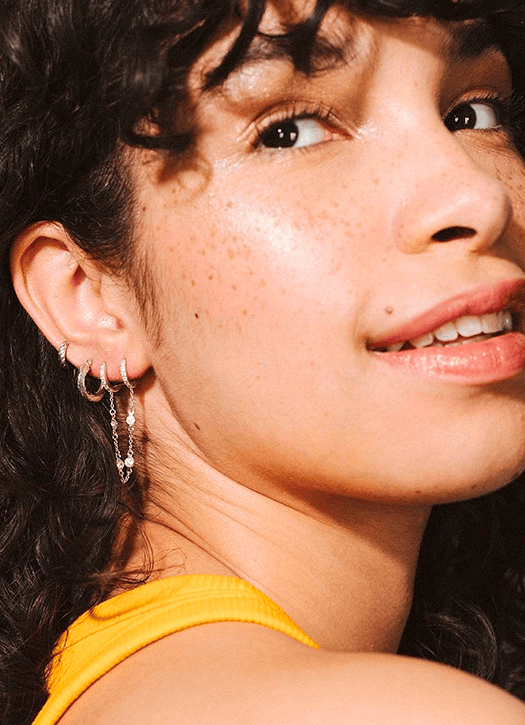 Focus on: the essential network of Histoire d'Or shops , which offers a quality piercing service with a wide range of beautiful jewelery at affordable prices , to keep for after healing to replace prostheses .
The jewelry: creoles of all sizes, chips , mesh effect, with stones or diamonds ... The hardest part will be choosing from the hundreds of references.
Prices: €15 per piercing or free for the purchase of a pair of earrings from €59.
Without appointment, in its 350 jewelry stores . Different hours depending on the shops. Collection of piercings on histoiredor.com .
Saboteur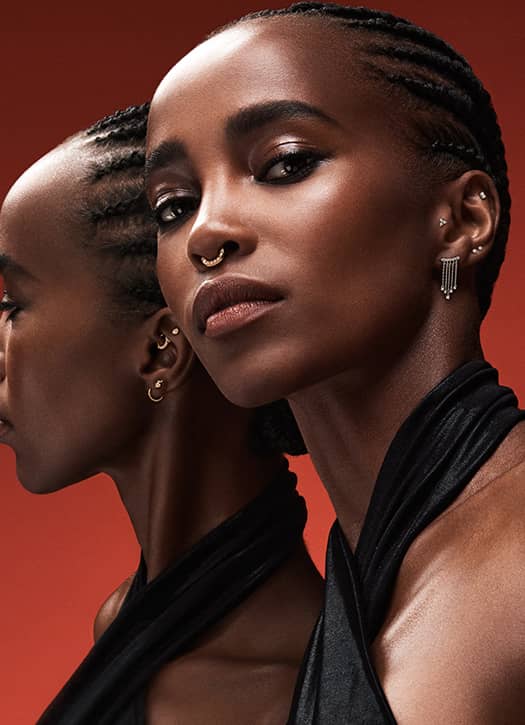 Focus on: Saboteur 's first piercing studio , tucked away in the Thomas Sabo boutique in the Marais since, fun fact, it's a family affair between Thomas + Rita and their son Santiago.
The jewelry: pink, yellow or white gold chips, small snakes, lightning bolts, hoop earrings, pendant jewelry, hearts, stars with minimalist lines adorned with diamonds , freshwater cultured pearls , amethyst , malachite , emerald , ruby or even turquoise .
Prices: you only pay the price of jewelry from €140, up to €1,500 for models in yellow gold and diamonds.
Saboteur at the Thomas Sabo boutique, 33 rue Vieille-du-Temple, Paris 3rd. Make an appointment on saboteur.world or on 06 32 31 69 12. Collection of piercings on saboteur.world .
Whitebird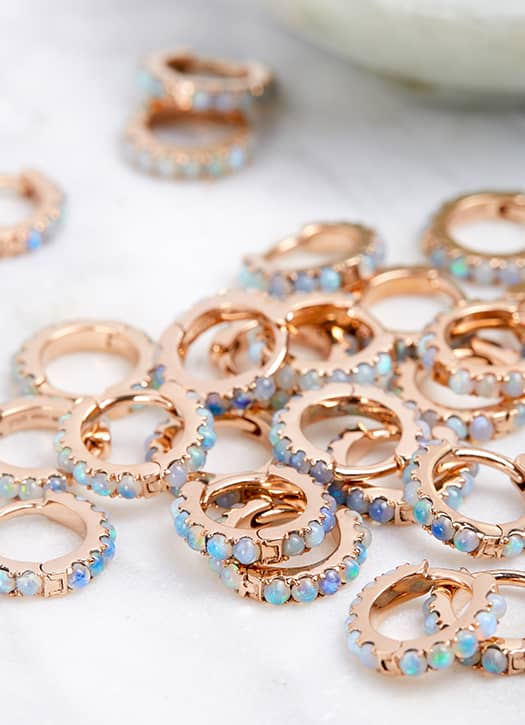 Focus on: the three White Bird Parisian boutiques , in which a wide range of " precious, artisanal, refined and conscientious " jewelry is offered, with even a few unique pieces to stand out. It includes the brand's internal collection but also favorite designers such as Charlotte Chesnais , Pascale Monvoisin and De Jaegher .
Jewels: pretty chips or mini hoops that stand out, in 14 or 18 carat gold
antiallergic, signed White Bird or Maria Tash .
Prices: the piercing is free for any purchase of a gold ear jewel placed the same day (from 110 €).
Make an appointment by directly calling the store where you want to go for your session. All information on whitebirdjewellery.com
Pamela Love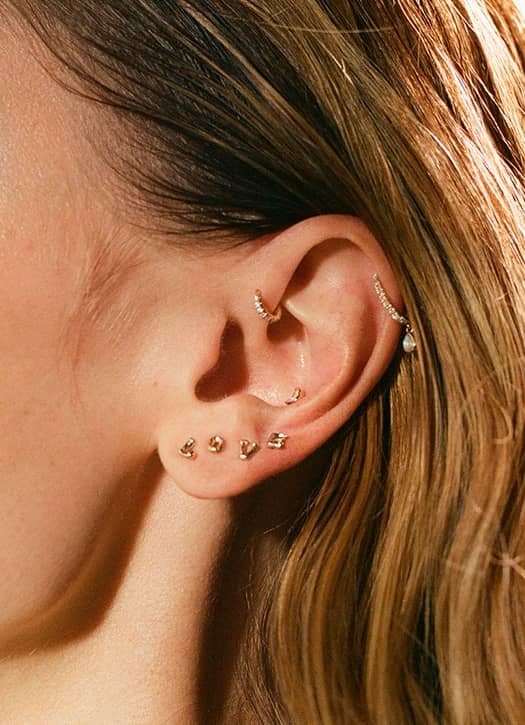 Focus on: the characteristic patterns of Pamela Love , with a Piercing collection in recycled 14-carat gold and natural stones. Talismans symbolizing prosperity, well-being and joy.
Jewellery: gold creole with hand adorned with a ruby , studs , clickers , in the shape of mushrooms , skulls , mouths or hearts … The possibilities are (almost) endless.
Prices: jewelery from €115 which may vary depending on the location, free piercings in store with the purchase of the brand's collection.
In pop-up until November 2 on the ground floor of La Samaritaine, 9 rue de la Monnaie, Paris 1er. Make an appointment on pamelalove.com or in store at 17 rue de Grenelle 75007 Paris, by phone at 01 43 27 48 54 . Jewelry collection at pamelalove.com . Tuesday to Saturday from 11:30 a.m. to 7:30 p.m.
Also discover  and Ho Karan: The hemp temple opens in the swamp and the new radiance treatment to test absolutely