Forget seasonal doldrums, make a bee line for this hot new setting. Vitamin colors, jungle prints, far-flung fragrances… Absolute feel-good sensations.
Quite normal, from stationary bags to soaps and shoes, the slightest little object has a link with Latin America, South Africa or Australia. A really exotic combo.
Whether they come directly from over there or match the carioca style, Michaël Do Nascimento has gathered tropical creations conceived by hot design studios.
On our wish list: silk-screen notebooks from Brazil, superb pouches in tilapia leather (a fish from the Amazon), azulejos as stickers for a bluffing trompe l'œil effect, Brazilian bracelets and an Australian coconut candle—close your eyes and you will be transported.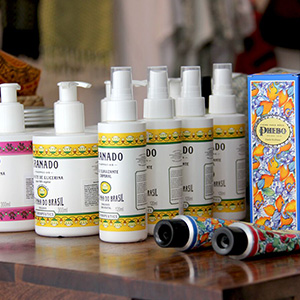 Tops: the e-shop, a 2.0 version of the boutique.
Open Tuesday to Friday from 11am to 7:30pm, on Saturday from 1:30pm to 7:30pm. From 4,50 to 200€.