The weather is beautiful, and all we want is to spend our time outdoors! Having lunch in a stunning garden, basking in the sun, whether it's on the grass or around a fountain, is a quintessential Parisian dream. From Parc Monceau to Luxembourg Gardens, and all the way to Buttes Chaumont, we've listed the best places to grab sandwiches nearby, so you can avoid overpriced tourist traps that are honestly not that great. Psst: Don't forget your sunscreen!
A Bagel at Luxembourg Gardens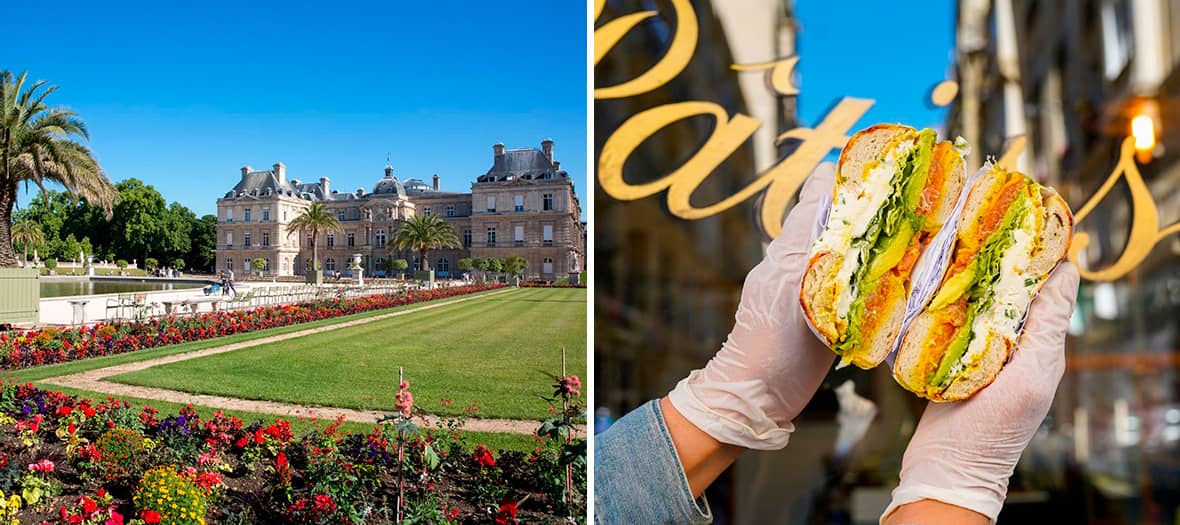 The garden. It's THE meeting point of the chic Left Bank. Tennis players, artists, petanque players, or aspiring sailors—you'll find all sorts of people in Luxembourg Gardens. Take your pick: sit in the shade under the trees or bask in the sun around the central basin. The hidden gem you absolutely shouldn't miss? The romantic Medici Fountain, sheltered from the heat by the coolness of the trees, perfect for a first date or simply to relax.
The good snack. Probably the best bagels in Paris! This small shop with a green façade on rue Notre-Dame des Champs prepares your order right in front of you. At Bagel and Brownies, Sylvie Baruch shares her traditional bagel recipes, like the excellent Baltimore with salmon and cream cheese (€9.20) or the Dallas with cream cheese, two meats (of your choice), two cheeses (of your choice), avocado, and salad (€11.90). For dessert, indulge in a trio of mini donuts filled with chocolate or apple (€2.50), a brownie (€3.50), or the super bagel with Nutella or jam (€3.90). Pro tip: If possible, arrive before 12 p.m. or after 1 p.m. to avoid the crowds!
Luxembourg Gardens, 2 rue Auguste-Comte, Paris 6th, open every day from 7:30 a.m. to 9:15 p.m.
Bagel and Brownies, 12 rue Notre Dame des Champs, Paris 6th, open Monday to Saturday from 8:30 a.m. to 6 p.m.
An XXL Sandwich at Palais-Royal Gardens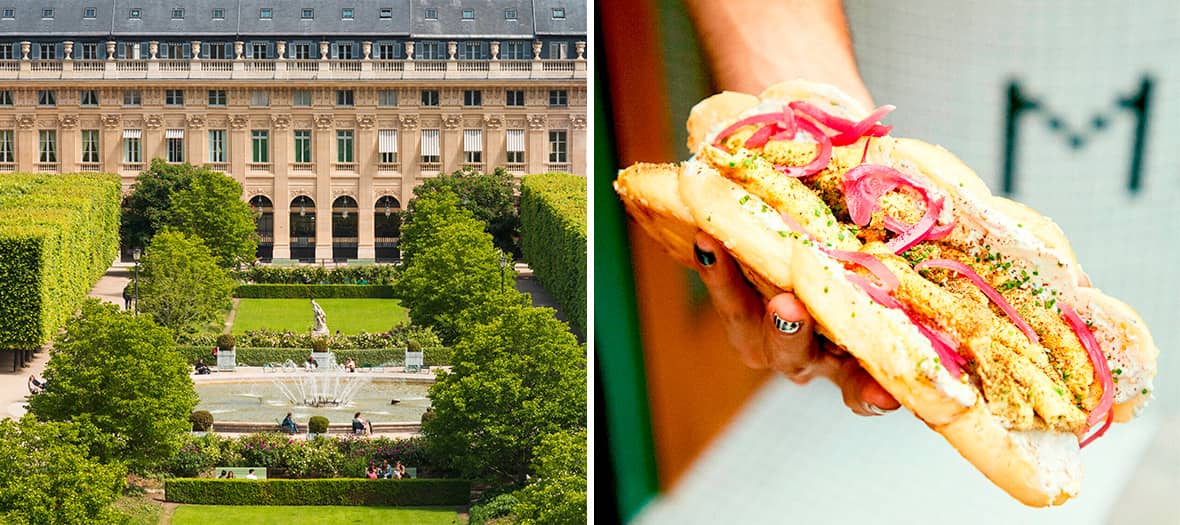 The garden. "To sit on a bench, five minutes with you, and watch the people as long as there are," is one of the lovely quotes you can find on the benches of Palais-Royal Gardens. This timeless square, often visited by Emily in Paris, is the perfect spot for a picturesque lunch. After passing through the columns of Buren, we settle around the fountain, feet up, observing tai chi classes and fashion-forward Parisians walking their equally stylish dogs.
The good snack. Why make a sandwich with regular bread when you can use Mamiche's hallot (delicious Shabbat brioche bread) at Micho? Julien Sebbag has struck again, dealing the best sandwiches in the capital. Pro tip: Arrive before 12 p.m. to avoid the queue. His mind-blowing sandwiches have been delighting foodie Parisians during their lunch breaks for a few months now: the Crash with crushed beef kebab meatballs, mixed herb salad, almonds, mustard and honey thina (€16); the Spring with homemade pesto, stracciatella, poivrade artichoke, and a mix of young shoots (€13); the Havita filled with mushroom omelette, garlic confit labneh, pickled onions, zaatar, and chives (€12). It's absolutely amazing, we tell you.
Palais-Royal Gardens, 2 Place Colette, Paris 1st, open every day from 8:30 a.m. to 8:30 p.m.
Micho, 46 Rue de Richelieu, Paris 1st, open Monday to Friday from 12 p.m. to 3 p.m. and from 7 p.m. to 11 p.m., and Saturday and Sunday from 12 p.m. to 4 p.m. and from 7 p.m. to 11 p.m.
A Lovely Quiche at Tuileries Gardens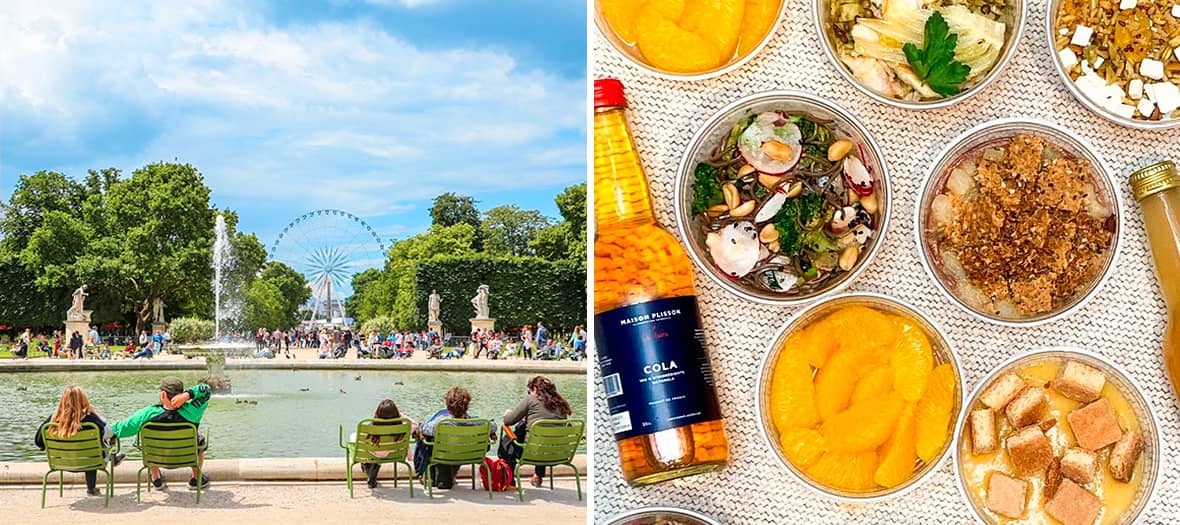 The garden. It's impossible not to mention Tuileries Gardens with its view of the Arc de Triomphe and La Défense in the distance, the Louvre Pyramid, and the Eiffel Tower in the background. Recently renovated, there are now two magnificent fountains that are home to duck families to observe from the chairs around the water.
The good snack. We settle at the tables away from the hustle and bustle at Petit Plisson, the sexiest kiosk in Tuileries Gardens, signed by Maison Plisson and open all day. This little canteen is located on Allée de Diane, on the Rivoli side, from the opening of the gates for a breakfast or a lunch around an incredible salad (€11-€12), a hot dog (€11), delicious quiches (€11-€13), and rillettes, chickpea cream, or eggplant (€12).
Tuileries Gardens, 113 Rue de Rivoli, Paris 1st, open every day from 7 a.m. to 11 p.m.
Petit Plisson, Tuileries Gardens, Paris 1st, open every day from 10 a.m. to 7:30 p.m.
A Gourmet Dish at Parc Monceau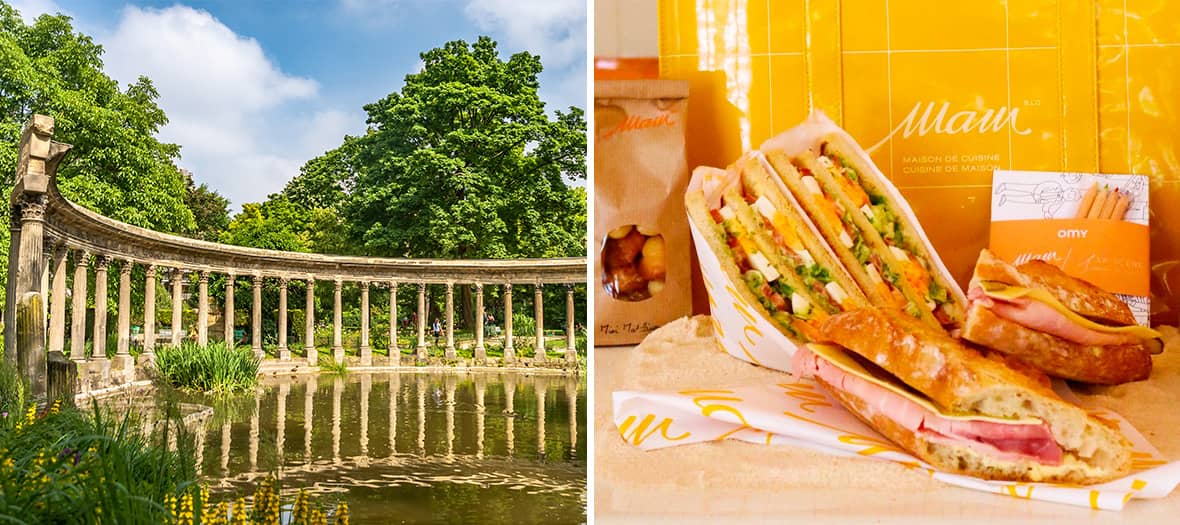 The garden. Its majestic entrance immediately immerses visitors in a truly royal stroll. The beautiful Parc Monceau is the perfect place to wander and settle on a delightfully fluffy lawn to observe the Renaissance Arcade, the Rotunda, or the cascade. Take a moment on the lovers' bridge and watch artists capturing beautiful moments on their white canvases, while future brides and grooms immortalize their love during a photo session.
The good snack. Double Michelin-starred chef Stéphanie le Quellec has opened an all-in-one boutique that combines catering, pastry, fine grocery, and wine cellar. At MAM, mom's dishes are wrapped in beautifully embroidered tea towels bearing the house's name, so you can enjoy good food anywhere, at any time of the day. For lunch, you can grab a truffle and aged Comté croque-monsieur (€16), a pâté en croûte (€15), a slightly minted pea velouté (€7.50), or a salad of new potatoes with tonato vinaigrette (€11). For dessert, Pierre Chirac's pastries are always a safe bet, such as the irresistible fraisier (strawberry cake) (€8), the red fruit and verbena pavlova (€7.90), or the lemon meringue pie (€7).
Parc Monceau, 35 Boulevard de Courcelles, Paris 8th, open every day from 7 a.m. to 10 p.m.
MAM, 22 Rue Fourcroy, 75017 Paris, open every day from 10:30 a.m. to 7:30 p.m.
A Bao in Buttes Chaumont Park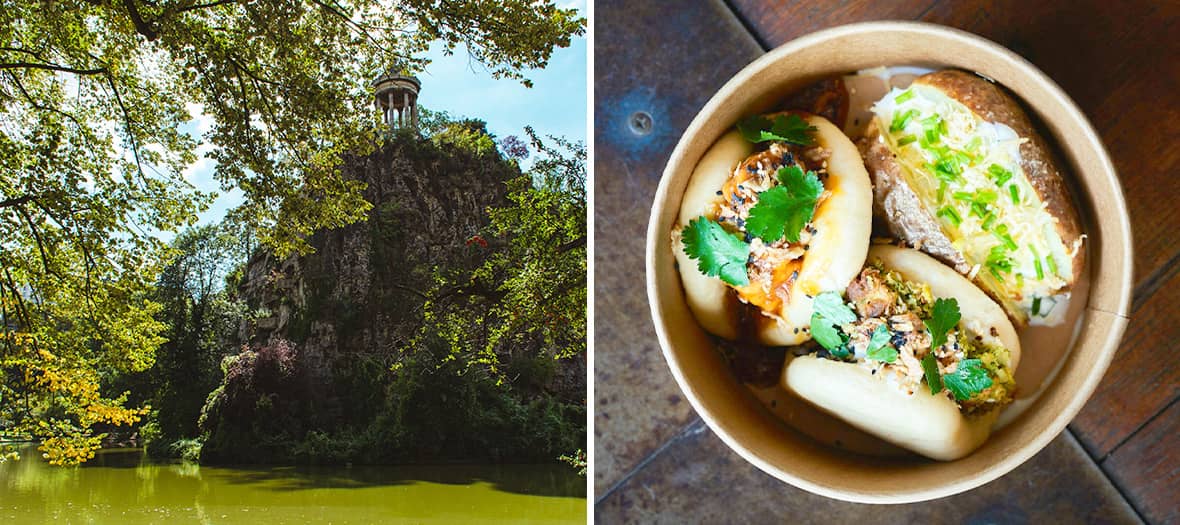 The garden. This large bucolic English-style garden holds many surprises. One can't help but be amazed by the giant hills that overlook Paris. To access them, simply cross the suspension bridge and climb all the way up. Once at the top, you can stop under the sublime Sybille kiosk to admire Montmartre. From below, you feel so small! On the lawns, you'll find the cool fauna of the East Side gathered in groups, chilling to music until nightfall.
The good snack. This lovely light blue coffee shop offers a takeout menu. At TopKnot, you can enjoy delicious brioche or bao buns filled with soy sauce-marinated beef tataki, garlic, ginger, and scallions, or for the vegetarian version, broccoli and mushroom tataki with lemon, soy, chili, and scallions. You can accompany them with fresh herb tabbouleh, tomatoes, cucumber, and red onion, or a delightful mesclun salad with seeds, radishes, and crispy Parmesan. For dessert, you can choose between marbled chocolate vanilla and hazelnut cake, apple sponge cake, banana bread, and peanut sesame cookies. Add a weekly changing juice (apple, carrot, ginger, etc.). Lunch menu available from Tuesday to Friday (13 €).
Parc des Buttes Chaumont, place Armand-Carrel, Paris 19th, open every day from 7 a.m. to 10 p.m.
TopKnot, 6 rue Melingue, Paris 19th, open Tuesday to Friday from 9 a.m. to 5:30 p.m. and saturday and sunday from 10 a.m. to 5:30 p.m.
Discover Four packed lunches for a crazy picnic in Paris ! and 10 addresses that make vegetables sexy