For a lovers' weekend, a non-stop day, a hot date or dinner with your future mother-in-law, we selected for you 10 ideal dresses in goody-goody or sexy styles that always work.
The all-purpose dress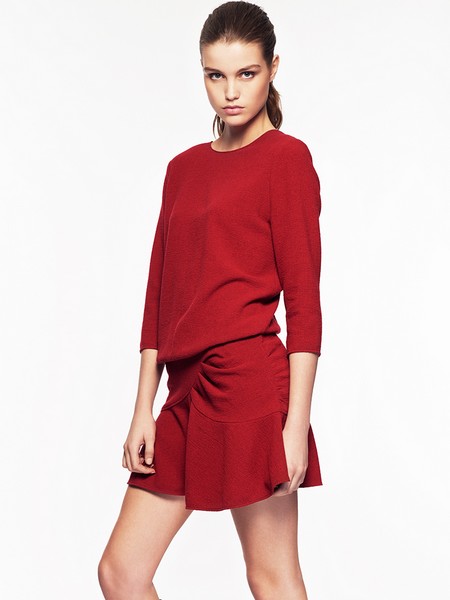 Here is the ideal dress that allows you not to stop at home after the office when you have a dinner party. Just add a pretty pair of earrings and you are all set.
'Isla' dress in polyester and wool, BA&SH, 210€ - Available on www.ba-sh.com
Sensual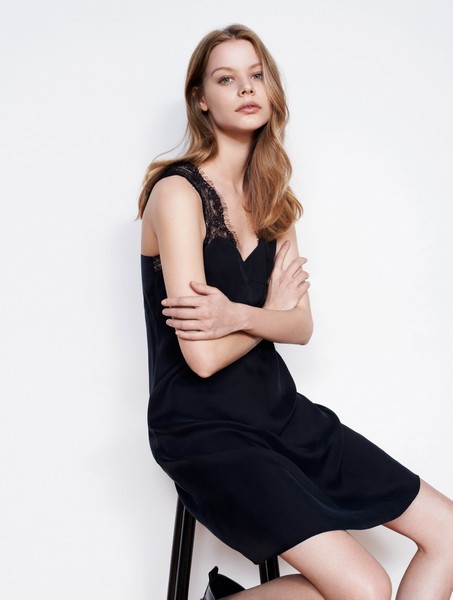 To be sexy until the end of the night, we opt for the fluidity and the lightness of this silk and lace dress warmed up by a nice pullover for a cool spirit.
'BANUIT' strap dress in silk and lace, Comptoir des Cotonniers, 180€ - Available on www.comptoirdescotonniers.com
Devilishly rock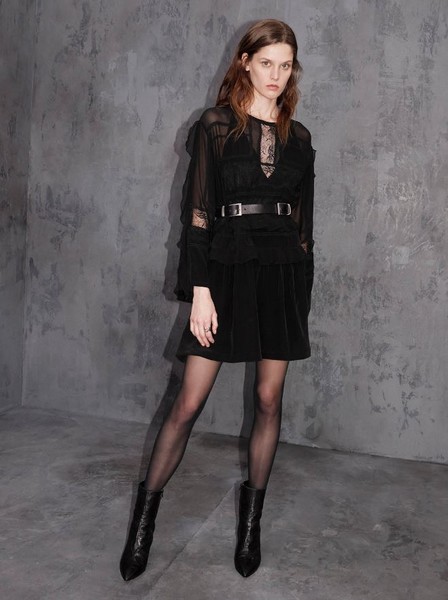 The ideal little black dress with lace and ruffles to be worn with booties and a leather belt for a rock spirit.
Semi-fluid 'KIMBEY ' silk dress, IRO, 305€ - Available on www.iroparis.com
Super chic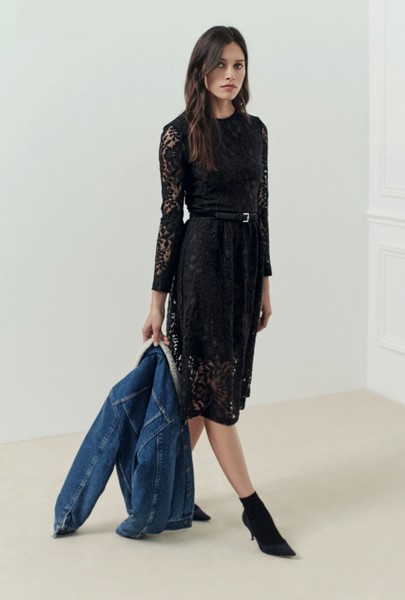 All in lace, it's the ultra easy chic dress. To be worn with a denim blouson to bypass its rather formal allure.
Semi long dress in black lace, KOOKAI, 129€ - Available on www.kookai.fr
Baby doll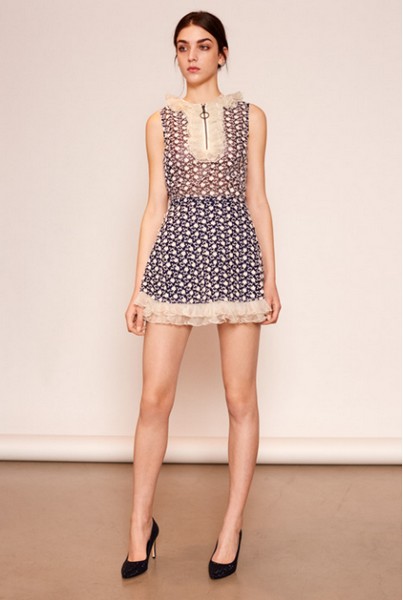 The small ruffled dress that makes look longer and enhances the silhouette. High heels are a must.
Printed 'Navy' dress with ruffle collar in cotton mix, Manoush, 425€ - Available on www.manoush.com
Anti extra flab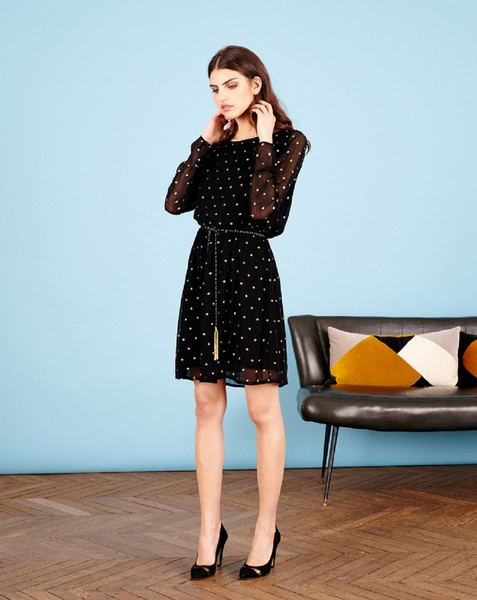 The dress in gold plumetis that quite magically erases all that extra flab.
'Ivana', pleated dress with golden polka dots, in viscose, Petite Mendigote, 155€ -
Demurely sexy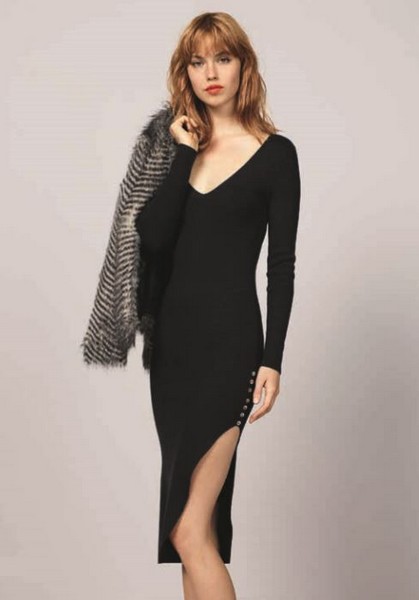 This tight dress in ribbed knit dress shows off your shapes while giving you a bee waist. A dream !
Slit pullover dress in ribbed knit, Morgan, 70€ - Available on www.morgandetoi.fr
Wallflower style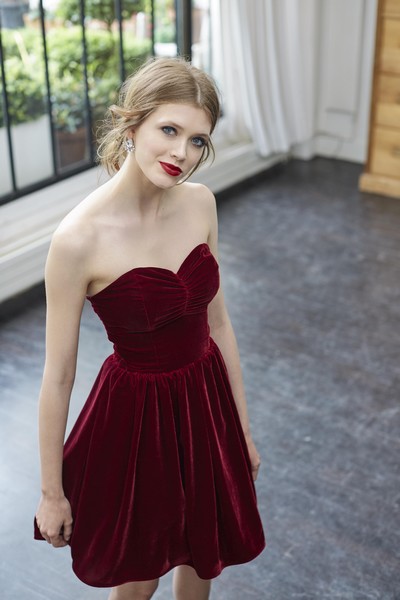 A pretty cleavage for a young goody-good girl going to her first prom. To be worn with very high-heel sandals and very red lipstick to be irresistible.
Velvet bustier dress, Naf Naf, 89,99€ - Available on www.nafnaf.com
The dress to slip in your suitcase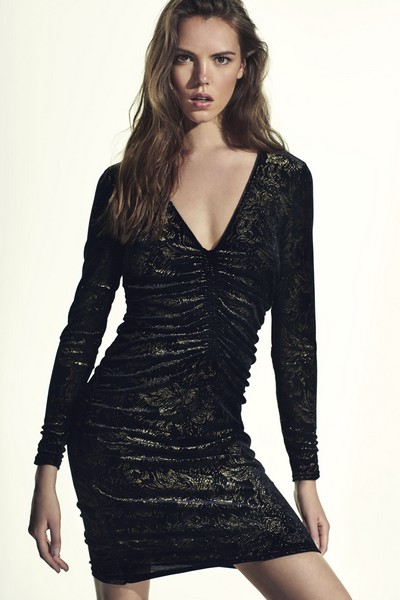 The ideal dress to slip in your carry-on suitcase for a wild weekend. Feather-light and unwrinkable and super sexy.
Pullover dress with lame flowers, in polyester, New Look, 24,99€ - Available on www.newlook.com
Haute Couture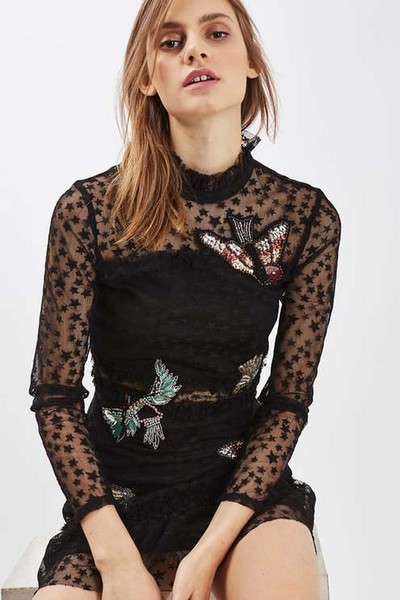 With a fishnet fabric, its delicate lace collar and pretty embroideries, this dress seems to come out of a haute couture workshop. To we worn without any jewelry but with very high-heel pumps !
'Body' dress in fishnet with embroidered stars and birds, Topshop, 103€ - Available on fr.topshop.com