Glitter, romantic, sexy or daring, the accessory is the must-have of Parisiennes who want a twist when it comes to their silhouette. A quick look at the indispensables of the season to show off in the streets of the capital.
The pink bag + the double bracelet Coach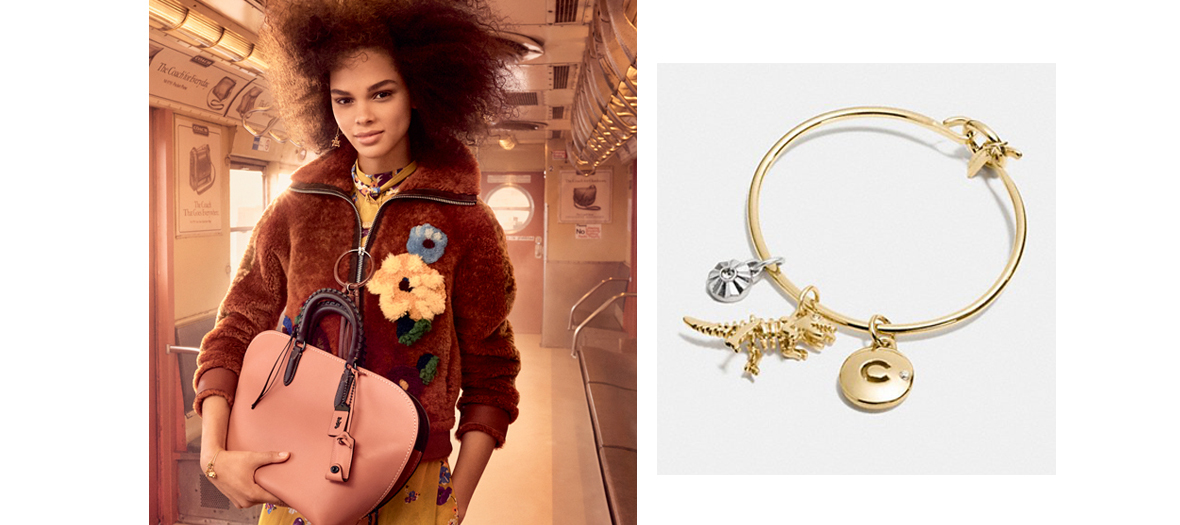 The pink tote bag by Coach is the must-have accessory for a shopping session on rue Saint-Honoré. Elegant with its braided handle and super practical since you can slip inside your twig life essentials— to be matched with a fab Coach bracelet, hopefully given to you by your prince charming.
Dakotah bag in tanned leather, Coach, €895.
Rexy Coach Disc Hoop Bangle Charm Set, Coach, 175 €.
The loafer + the pompom earrings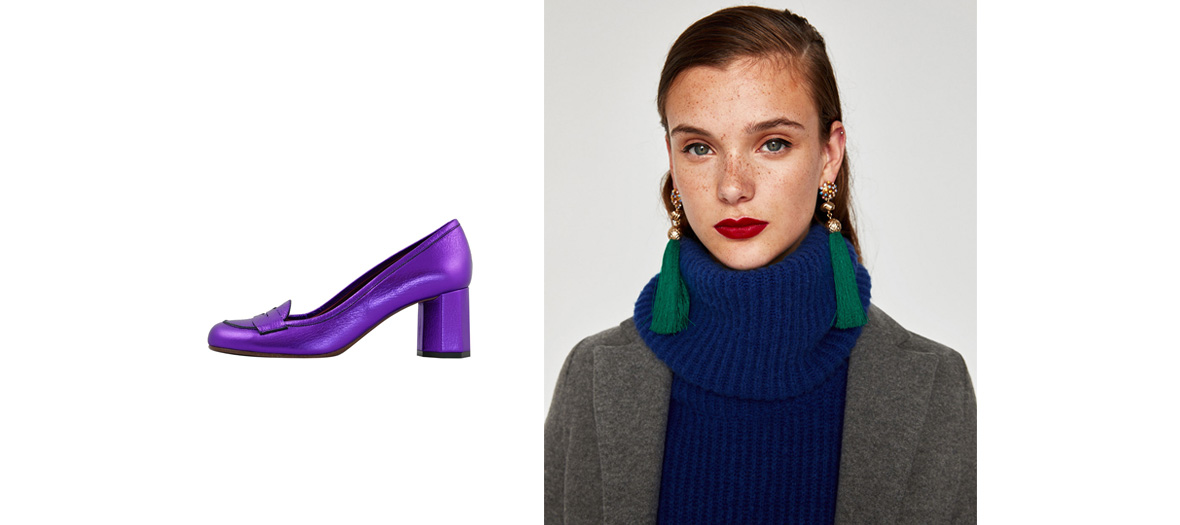 Stop the doldrums and sing in the rain. Trotting around the streets of Paris has never been so joyful since these Avril Gau glitter moccasins, wildly Wizard of Oz. Keep in mind the association of purple and pine green with pompom earrings by Zara to race around the Sentier with panache.
Earrings with stones and fringes, Zara, €12.95.
Violet metallic moccasins, Avril Gau, 315 €. Available in boutiques: 17 rue des Quatre Vents, 75006, and 46 Rue Croix des Petits Champs, 75001.
The bag and its scarf + the colorful bracelets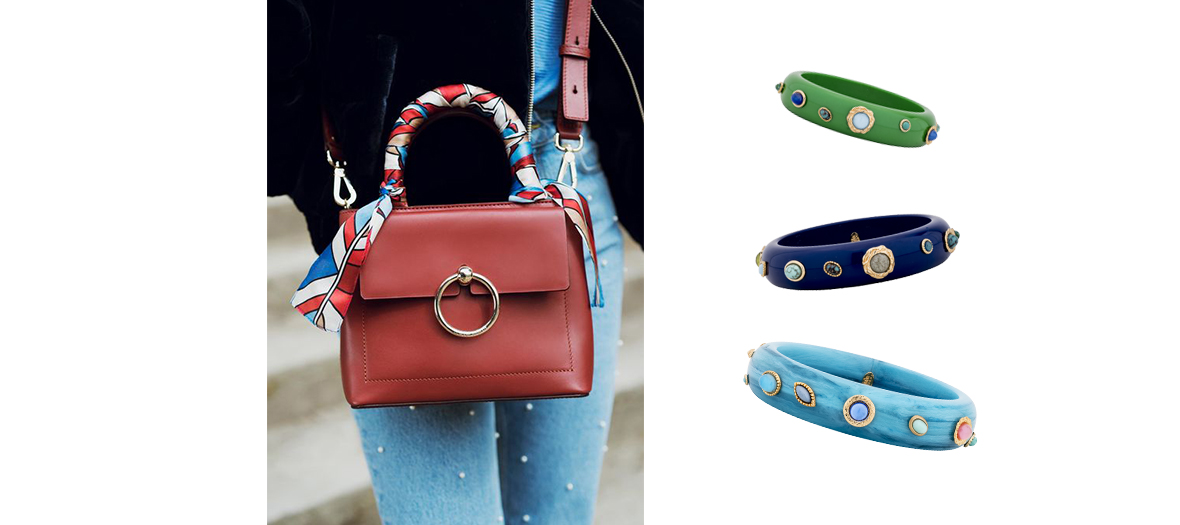 It's THE new kid in town that is making Instagramers go wild. The famous Anouck bag by Claudie Pierlot is the indispensable accessory of the Parisienne this season. Pimped with its cute silk scarf and colourful bracelets by Gas Bijoux, be sure to take it along to a vernissage, a date, a pro rendezvous in the 17th—in short everywhere.
Naé bracelet in acetate, semi precious stones and 24-carat gold plate, Gas Bijoux, €120 each. Available in boutiques.
Anouck leather bag, Claudie Pierlot, €245.
Azeque silk scarf, Claudie Pierlot, €65.
The eighties belt + the pop gloves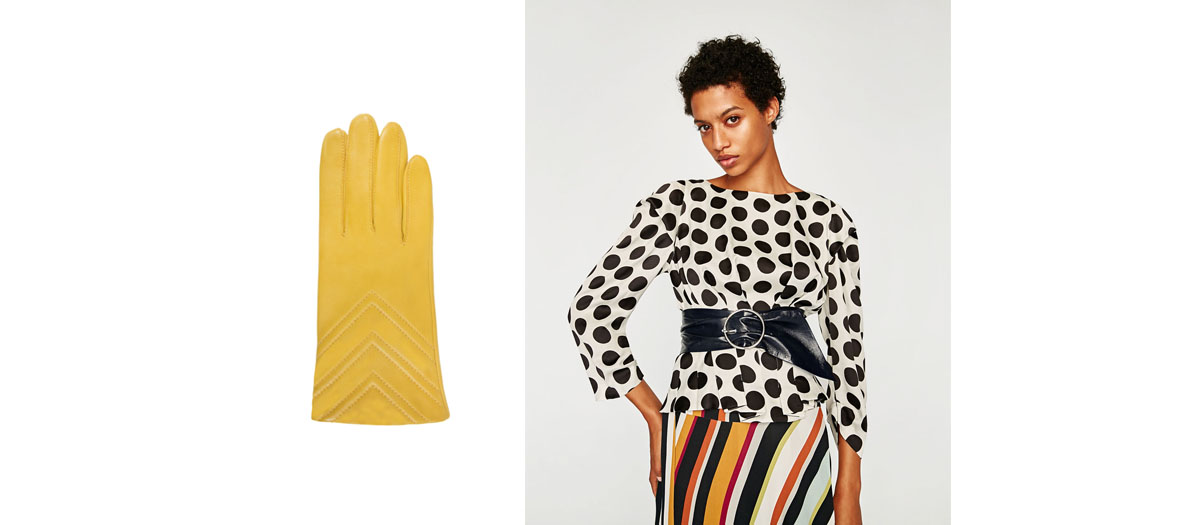 We are constantly saying it: the XXL belt is the accessory that can bring back to life an old oversized shirt. In navy vinyl at Zara and worn with saffron yellow gloves by Isotoner, you suddenly can give your goody two shoes look a pop 80's style at very little cost. And... you are all set to go party in the naughty bars of Belleville.
Wide navy blue belt, Zara, €29.95.
Lambskin leather glove lined in silk, €79.90, Isotoner. Available at Galeries Lafayette.
The retro boots + the pearls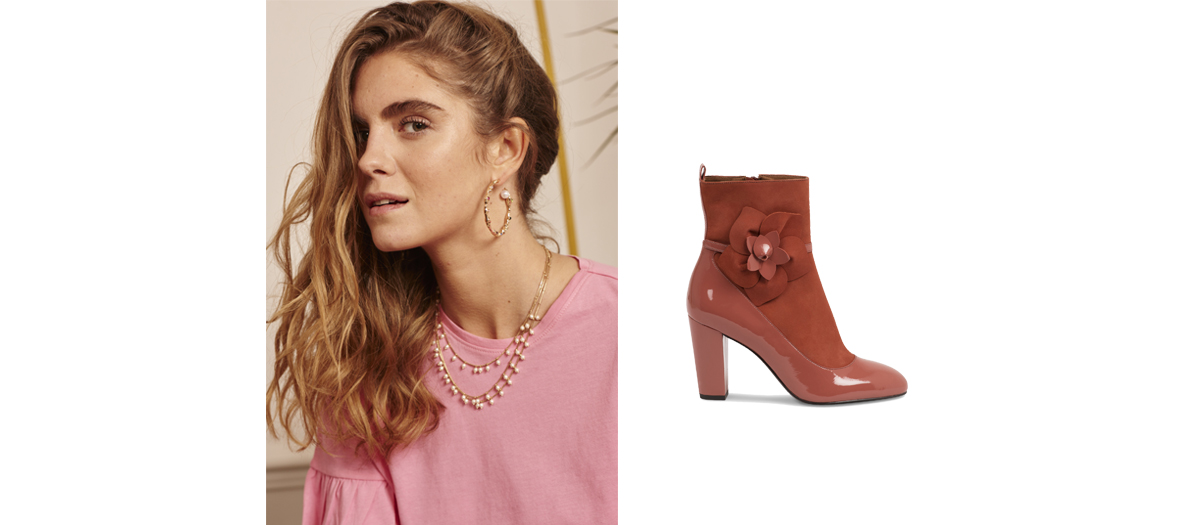 Think pink. Take advantage of the fact 2017 is the year of this soft pink hue to lay it on thick, right down to your feet, with these romantic boots by André. To be matched up with a modernized pearl necklace and hoop earrings by Bala Boosté—it's the perfect ensemble for a hot date on a rue Mouffetard terrace.
Pink Magdalena boots by André, €139.
Earrings and necklace, Bala Boosté, €19.90 € and €17.90. Available in the boutique on 132 rue de Rivoli, 75001.
The satchel + the tweed watch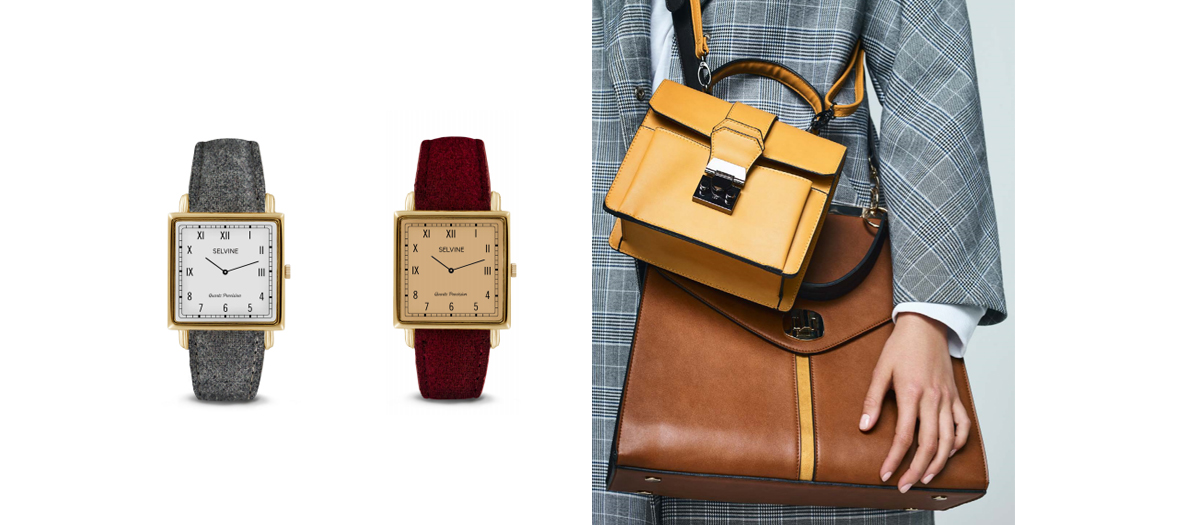 Mini price for maxi effect, New Look bags with a British satchel ambiance are back this season to confirm the powerful working girl who is sleeping (or not) inside us. With a large Prince of Wales pattern coat, and sleeves rolled up to show a tweed by Selvine, you will immediately be taken for a big shot lawyer.
Yellow bag with handle on top, New Look, €19.99
Large ochre structured bag with yellow stripe, New Look, €34.99 .
Chelsea watches with tweed bracelet, Selvine, €99 each.
The leopard purse + the pink babies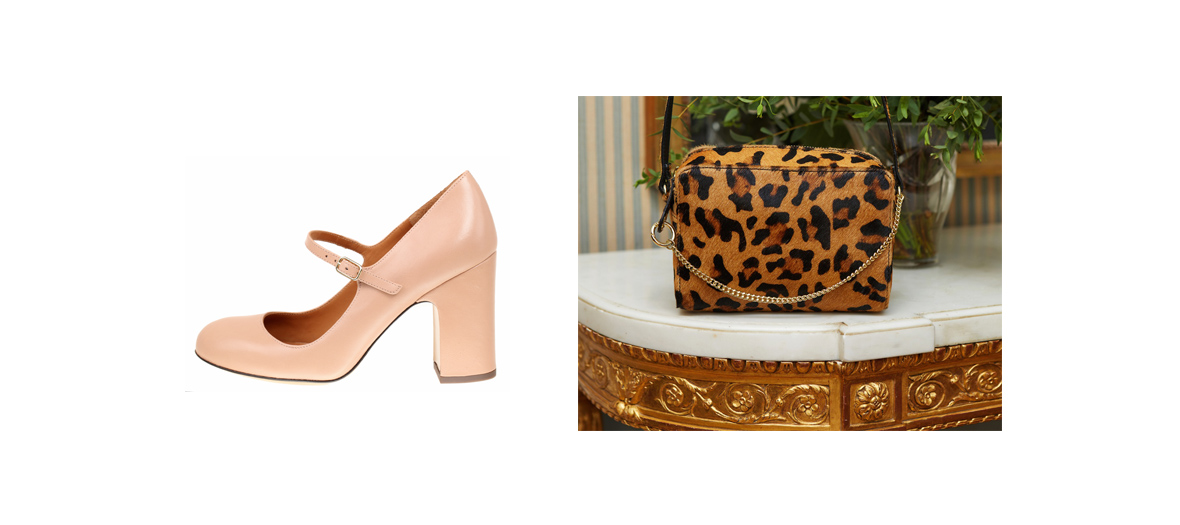 Creating a combo between a super sexy Petite Mendigote bag, high perched pastel pink babies by Chie Mihara, it's the winning combo of the season that really works. The added value for a real Montmartre gal allure? Slipping a pair of fine white or pearl grey socks in your pumps.
Pony style bag with leopard motif, Petite Mendigote, €165.
Babies in powder pink leather, Chie Mihara, €265.20.
The fancy socks + the fur handbag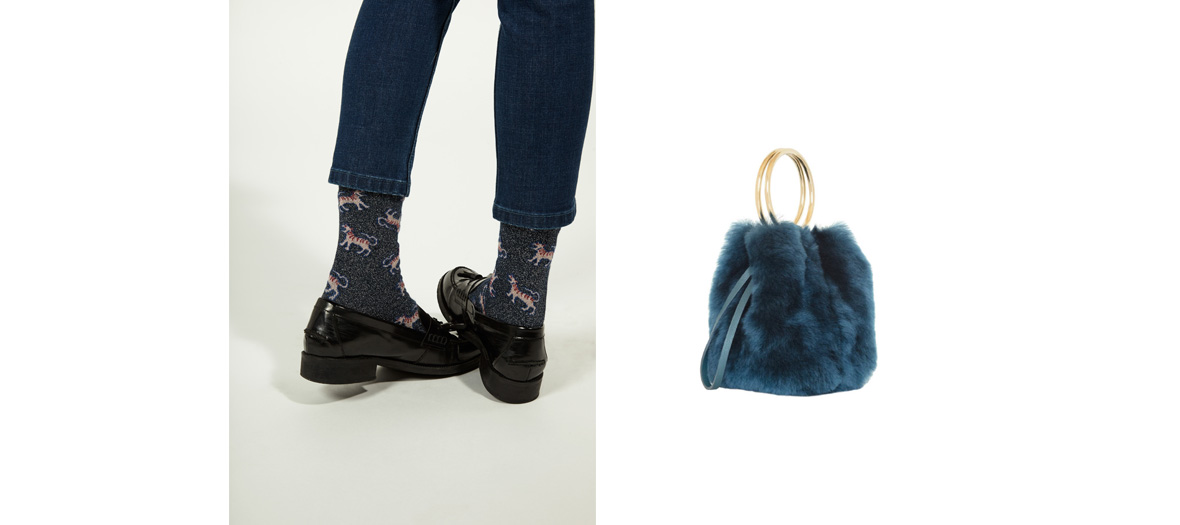 Never neglect the cool potential of socks if you want to continue wearing moccasins in Winter. No doubt about it. Adorable in a glitter version and a rrrrroaring motif at Marie Sixtine, they hold their own next to the sheepskin bag by Maison Boinet for an arty Ecole du Louvre student look.
Bucket bag in sheepskin, Maison Boinet, €320 . Available at Bon Marché.
Socks in cotton and lurex, Marie Sixtine, €20. Available in boutiques, 77 bis rue Legendre, 75017.
The belt and its pearls + the red babies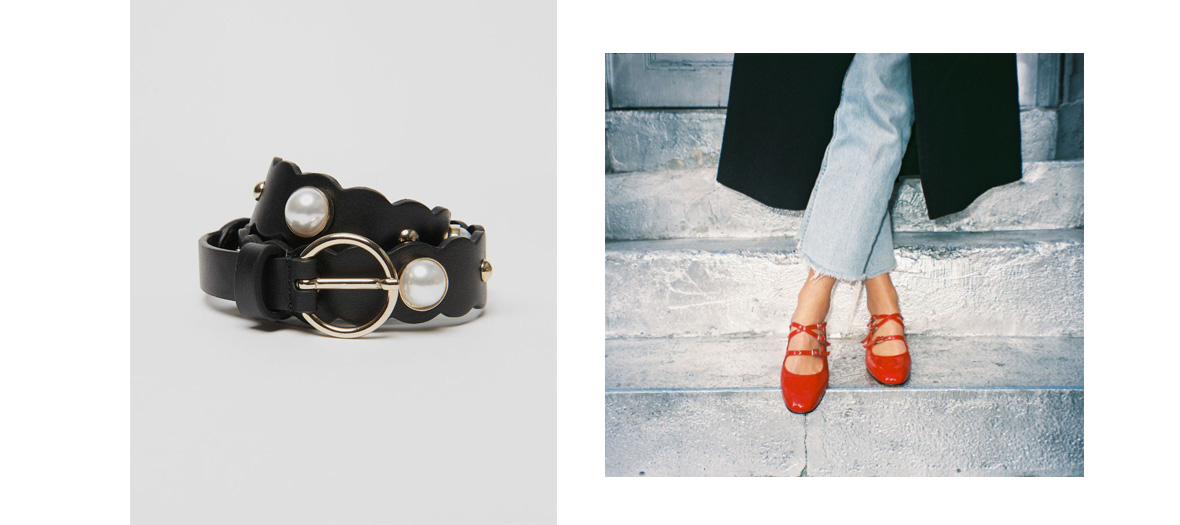 It does not get much more Parisian than this, with these accessories with a Left Bank branding. The classic Sandro belt in black leather, twisted with pearls and that enhances the young girl charm when she wears red patent leather babies by Carel. Just the kind of duo we enjoy.
Kina patent leather babies, Carel, €315.
Leather belt with pearls, Sandro, €115 .
The designer socks + the made in Paris hat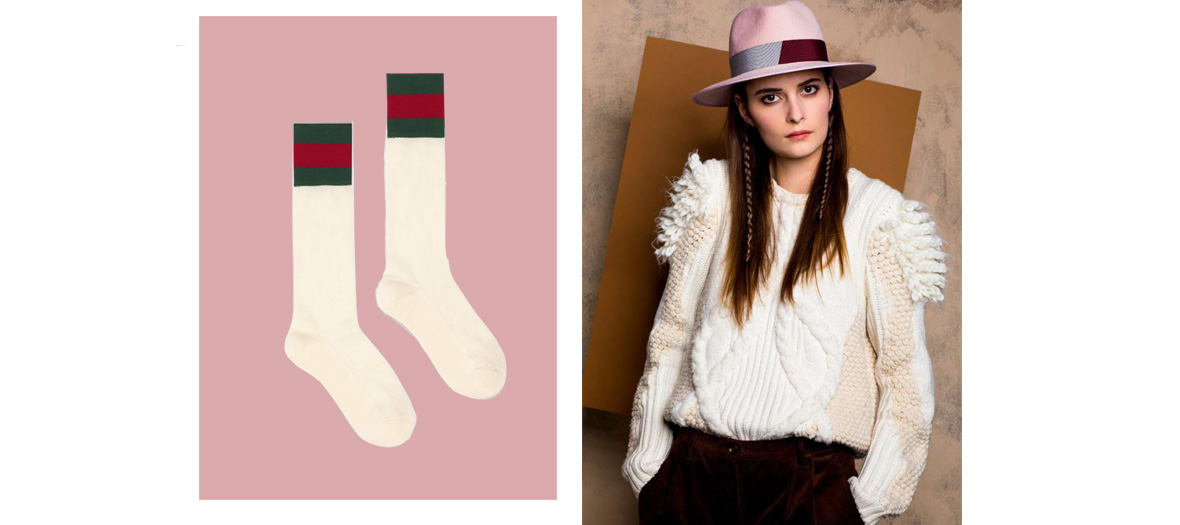 While the felt hat is deffo a must-have accessory this season, the pale pink version by D'Estrëe is a pleasure to treat yourself to and you will be sure to look cool in front of the skater lovers of quais de Jemmapes. With a pullover in heavy knit, sneakers and knee socks by Gucci, lots of people will try to copy you. So there.
Christopher pale pink fedora felt hat, D'Estrëe, €375.
Web cotton socks with ribbon detail, Gucci, €90.
The tigh-high boots + the metallic earrings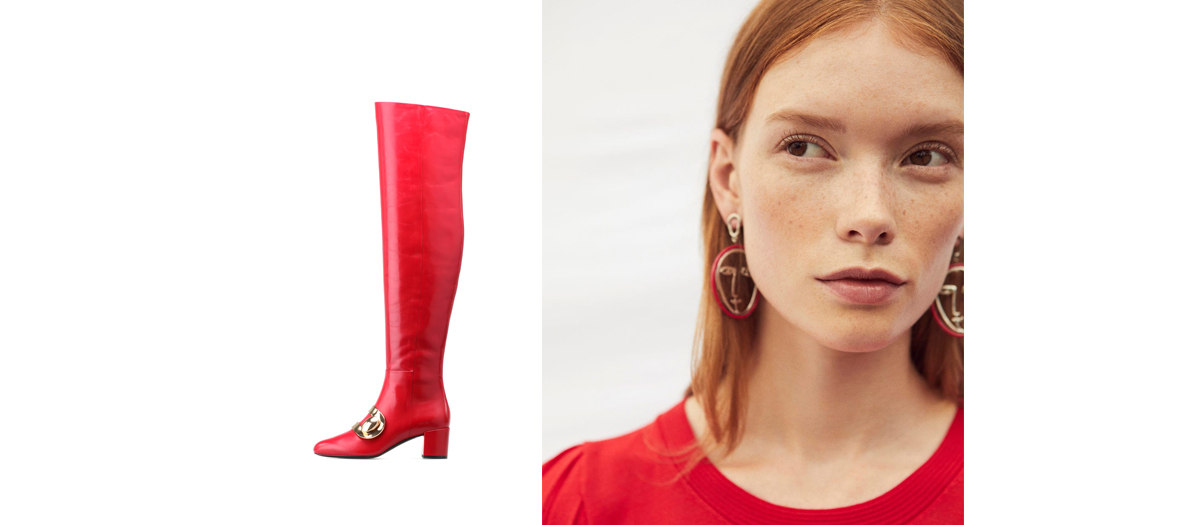 We already mentioned it before, the thigh high boot is the erotic ally of the Parisienne. So you might as well be daring and go for this very chic red patent leather version by Stella Luna, whose sexy myth is tone down when you wear them with a pair of arty earrings by Mango. On top, a long charcoal coat, and you are all set for a cocktail when you mingle with all the socialites at Faust.
Face earrings, Mango, €9.99.
Red leather Stella XXL OTK thigh high boots, Stella Luna, €895.
The brown boots + the oversize belt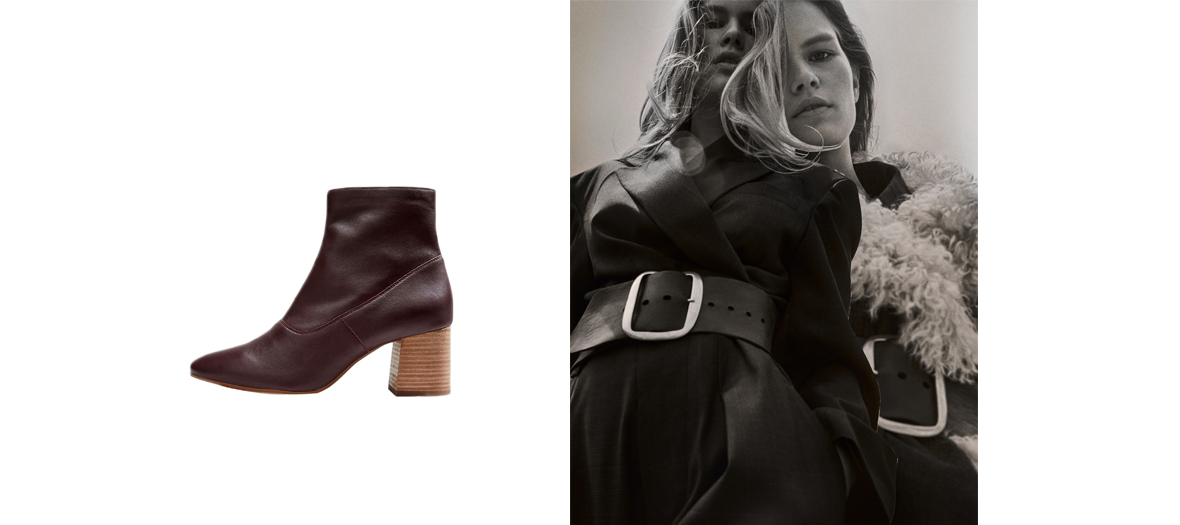 You will epitomize Parisian elegance when wearing a large belted coat by Isabel Marant, and couture-effect boots at a tiny price by Les 3 Suisses. The perfect balance for an allure worthy of Inès de la Fressange and Caroline de Maigret. Empowerment to the max in front of a glass of red wine at La Palette.
Boots in supple burgundy leather, Next on 3Suisses.fr, €75.
Large Tikky belt in vegetal leather, Isabel Marant, €280.
The couture scarf + the big earrings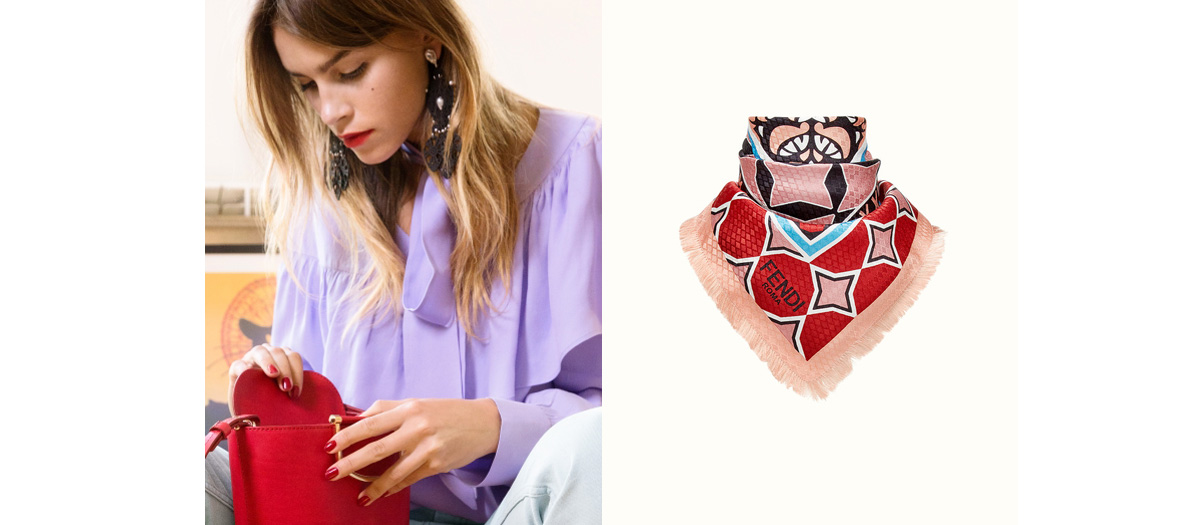 No risk with the hot trend featuring XXL earrings, capable of giving style in a jiffy to a rumpled mane. A life saving accessory, to be hidden in your flame red & Other Stories bag. For the evening, add a Fendi silk scarf, to be über chic when you go to have drinks near Parmentier.
Red leather bag, & Other Stories, €110.
XXL black earrings, & Other Stories, €39.
Multicolored silk scarf, Fendi, €290.