It is the most beautiful and exclusive gym in Paris. HEIMAT by Waris Dirie (named after its ambassador, the top model and activist ) has just opened its doors in the Étoile district with the idea of a sports club 100% reserved for women focused on physical fitness , empowerment and well- being . In the program ? Group or solo classes , a jacuzzi , a sauna , a healthy coffee shop and even arty exhibitions . To your leggings !
A feminine place where you feel good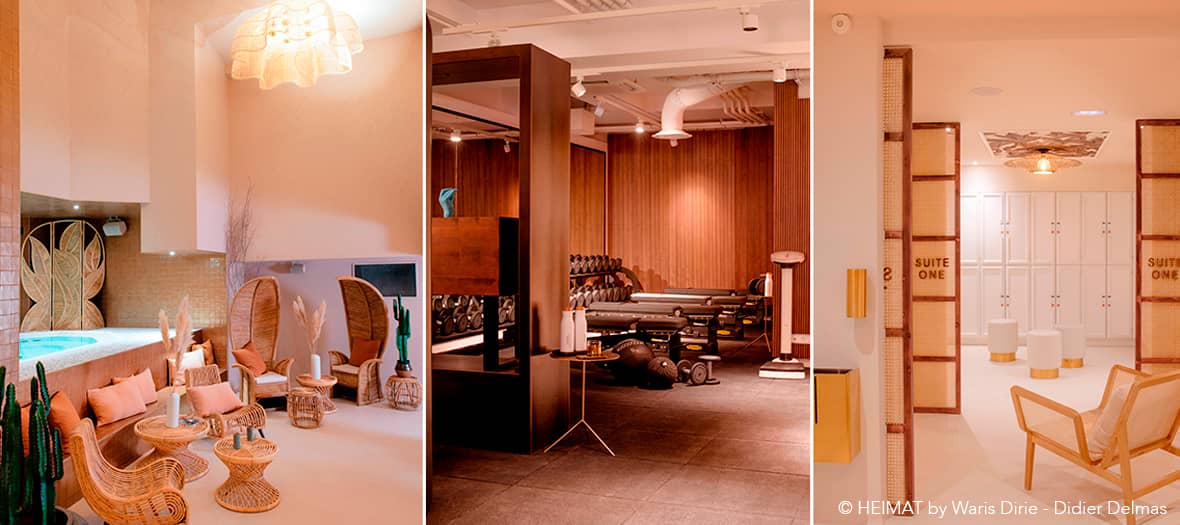 You only have to settle down in the relaxation area to realize how much the name " Heimat " takes on its full meaning: this German word, equivalent to the Danish " hygge ", describes the feeling of feeling good at yourself, in your cocoon, with your family. This new generation gym is truly akin to a club where you can meet to maintain your body, relax and network directly from the jacuzzi , sauna or juice bar with smoothies, snacks and hot drinks at discretion.
And what could be more enjoyable than a caring service to make you feel at home? In a dream setting like in Bali with games of rattan, wood and plants, we meet to talk business and bikini body before admiring the works of art of Waris Dirie herself as well as other female artists from from Africa and the Diaspora . Psst: the " exhibition " side is the logical continuation in this place which previously hosted Dapper , a museum of African art . CQFD.
What about lessons?
With a personal trainer or with new partners, we take advantage of classes led by the cream of teachers: yoga , Pilates , running , floor bar , cardio , fitness , boxing , bootcamp , dance , shaping ... everything exercised in comfortable XXL rooms where no one steps on each other, private club required!

And since good news never comes alone, pretty girls will appreciate the chic boudoir-style locker rooms with fluffy white towels and a hair dryer available, just to be able to continue with work or a drink. Tempted? All you have to do is make an appointment online to visit the places before you decide.
Open Monday to Friday from 7 a.m. to 11 p.m., Saturday and Sunday from 8 a.m. to 9 p.m. Early membership 250 € / month + 300 € entrance fees. More info on heimatbywarisdirie.fr .
© HEIMAT by Waris Dirie - Didier Delmas