Remember the name: La Mutinerie. Recently installed in the 9th, the winning duo of Luc Baudin, chocolatier, and Léa Veves, pastry chef, breaks away from the usual codes of traditional chocolate making, in a good way. And are seriously beginning to be talked about… Such as for example their incredible collab' with La Grande Epicerie for Easter!
Sugar-free chocolate
Fully aware that refined sugar is the new public enemy n°1 in terms of health, adamant to eat well and professionally trained looked into the question. And one no longer needs to choose between having a sweet tooth and a healthy lifestyle.
How does one produce high-end chocolate by zapping glucose syrup and white sugar? That is the question!
By using coconut sugar and wagering on only 100% natural ingredients, without preservatives, nor artificial aromas, with leading chocolates and exceptional suppliers.
Zero guilt
Result? Truly less caloric bars and treats, one thousand times more healthy, with enhanced taste and super worked on textures … Wild!
Their secret? Concentrating full blast on super-foods such as matcha, dried fruit, goji berries, sunflower seeds, quinoa and  buckwheat.
Their special bars (7,90€) make us salivate ahead of time: traditional chocolate, including caramel-quinoa or matcha. Special kudos for the chocolate-guimauve.
"La Mutine", their signature treats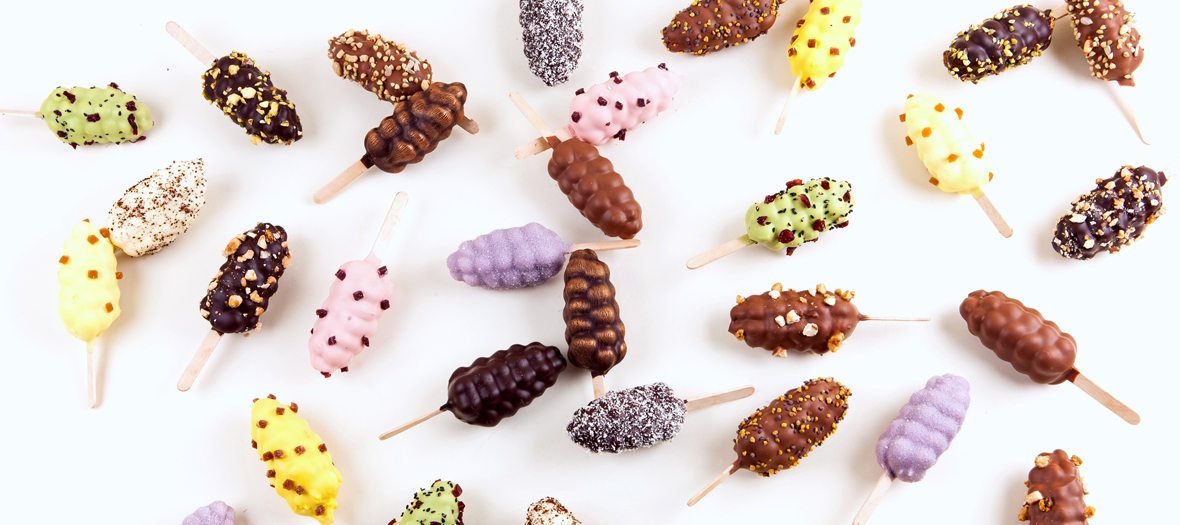 It's the highly foodporn snack of foodies: 'les mutines' (4,50€),  lollypop meringues, made with coconut sugar & cane sugar, infused 24h with fruit juices and spices.
Will you be able to resist the 'mutine' with wild blackberry and badian? Or the one with matcha-white chocolate and black sesame as well as the Gianduja version?
Amazing no lactose spreads
Super avant-garde, the couple really worked on its spreads (6,90€) made with squash and lentils, without milk. Bref : Nutella can move over.
Our favourite? The praliné spread concocted with almonds, squash seeds, coco sugar, peanut butter and fleur de sel or hazelnut from the Piedmont, green Puy lentils, cane sugar, coconut sugar, cocoa butter, 4 spice mix, badian and fleur de sel.
Open Wednesday to Saturday from 11:30am to 7:30pm and on Sunday from 11:30am to 5:30pm. All info on www.chocolaterielamutinerie.com


Also discover A gluten-free waffles salon