© H&M
Statement of the day : you don't choose your family. And this year for Xmas, you are going to have to deal with it. The stylistic brain-teaser for New Year's? Neither too short, nor too glitter, perched without exaggeration, to preserve your traditional grandmother or critical in-laws, reassure your control-freak mother and other rejoicings.
In order to avoid a family-fashion-faux-pas, follow the guide for 10 really stylish outfits for each type of family. Preppy, rock, arty? Your turn to play.
In a couture family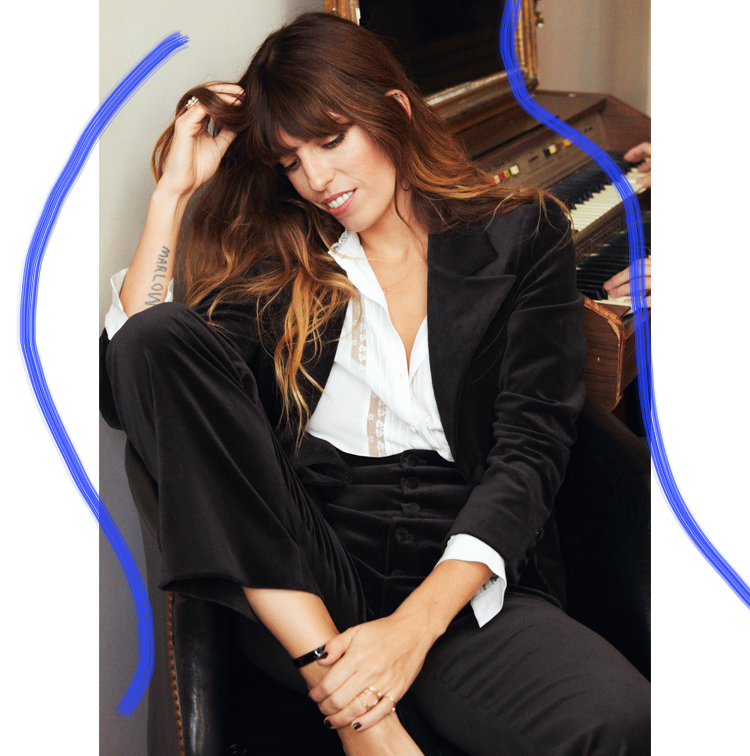 Under the tree, only packages with famous labels. Your mother is an Inès de la Fressange wannabe and the coat rack of the entrance is filled with furs. Now is the moment to whip out the wildly couture highwaist velvet pantsuit. Now just raise your glass filled with Ruinart bubbles and click together those party sandals on the handsome wood parquet floors.
Jacket in black velvet, & Other Stories, €99.
High-waist pants in black velvet, & Other Stories, €89.
White shirt, & Other Stories, €69.
Leather sandals, & Other Stories, €89.
In a preppy family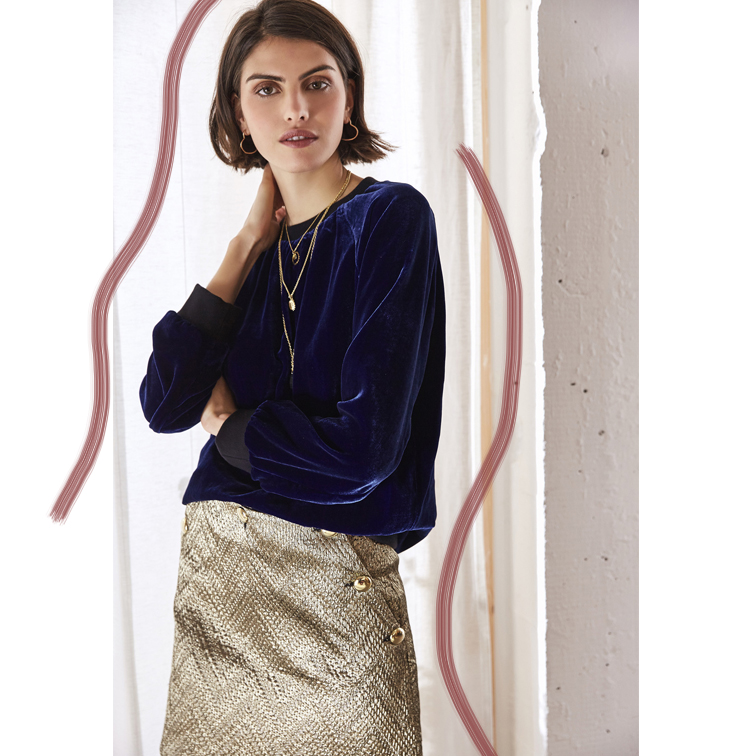 You would not want to upset your very preppy granny with the combo mid skirt/ flesh hosiery / cardigan / pearls (ouch). Just play the security card BUT ultimately fashion with a combo pullover in velvet and gold skirt, to pimp with nice a necklace. Ultimate chic.
Navy Moonlight sweatshirt, Balzac Paris, €155.
Mademoiselle Fifi skirt in gold jacquard, Balzac Paris, €115.
Holly (€80), Amédéo (€80) necklaces and Beauté Marceline x Balzac Paris (€110) , Balzac Paris.
In a rock family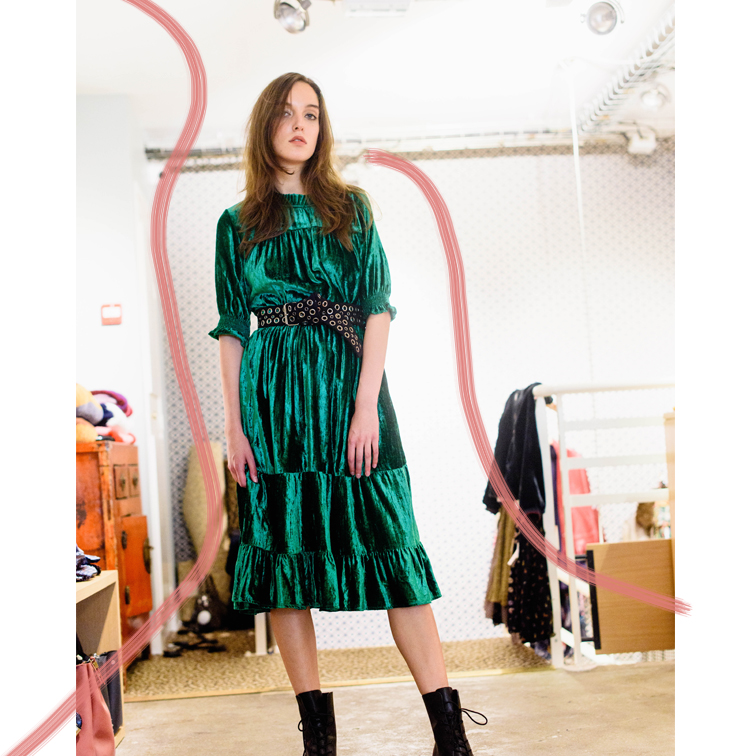 Yes to the velvet dress, green to boot, in order to be in the nuance of the day. And in order not to clash with the tree and garlands, offshoot it with a big studded belt and couture biker boots. Last mission: choosing the playlist with the dad, fan of Jimmy Hendrix and Johnny (#RIP).
Dress in green velvet, V de Vinster, €285.
Leather boots, Kendall x Kylie, €228.
Laurence Bras belt (out of stock).
Brand Bazar, 33 rue de Sèvres, 75006 Paris.
In a bling family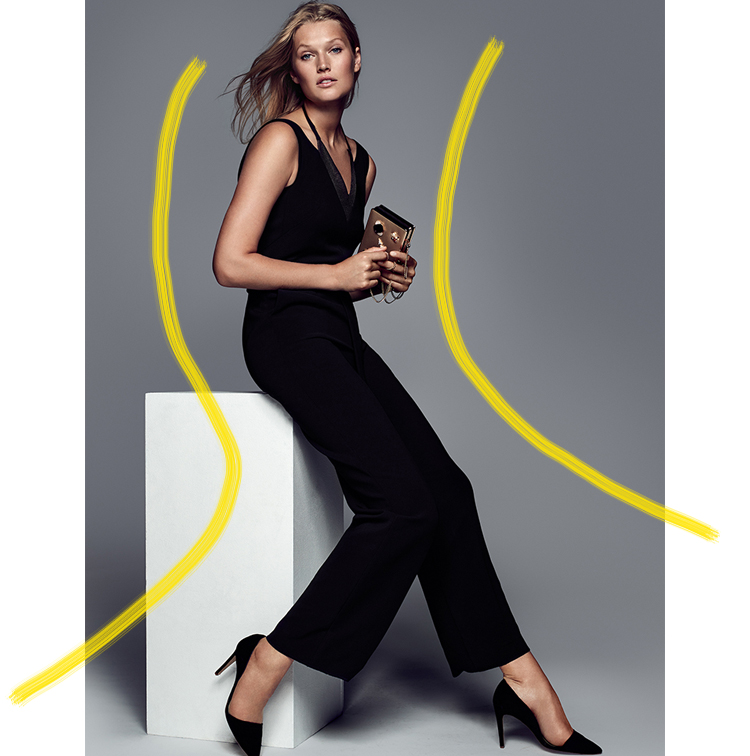 Yours has a party sense. Maybe even an apartment in Saint-Tropez. Ultimate must-have of the party girl, you will be like a fish in water with the one-piece black vamp. And for your cigs and phone, a golden evening pouch.
Black one-piece pant suit Ginger, 1.2.3., €169.
Ruthy golden pouch, 1.2.3., 69 €. Available in shop.
A lovers' one-on-one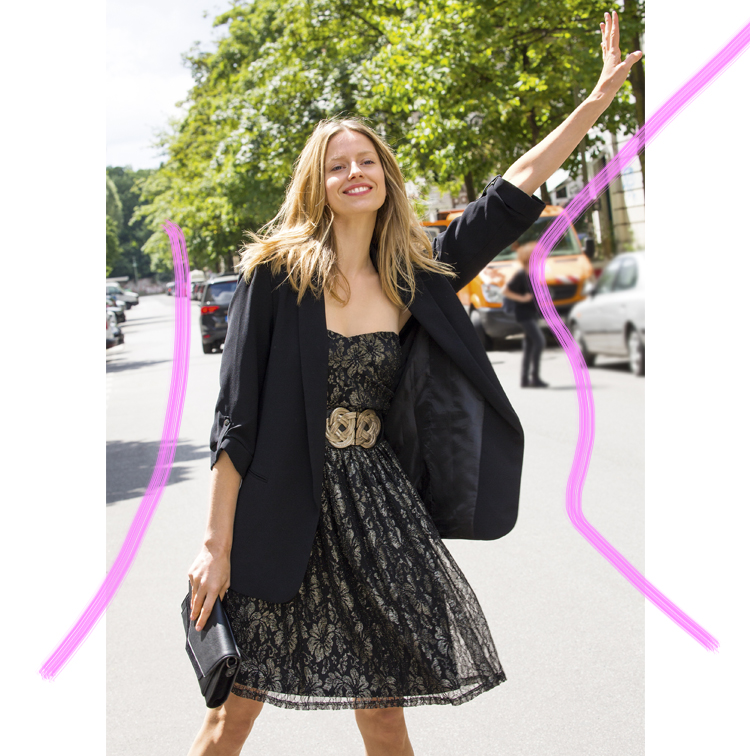 Because family is not the only thing in life, there is also love.
A bustier dress that calls for a kiss, a stylish belt to show off your waist­—now you need to choose the restaurant.
Lace bustier dress, Camaïeu, €45.99.
Black pouch, Camaïeu, €25.99.
Blazer with ¾ sleeves, Camaïeu, €49.99.
Large golden and braided belt, Camaïeu, €29.99. Available in the boutiques.
In an arty family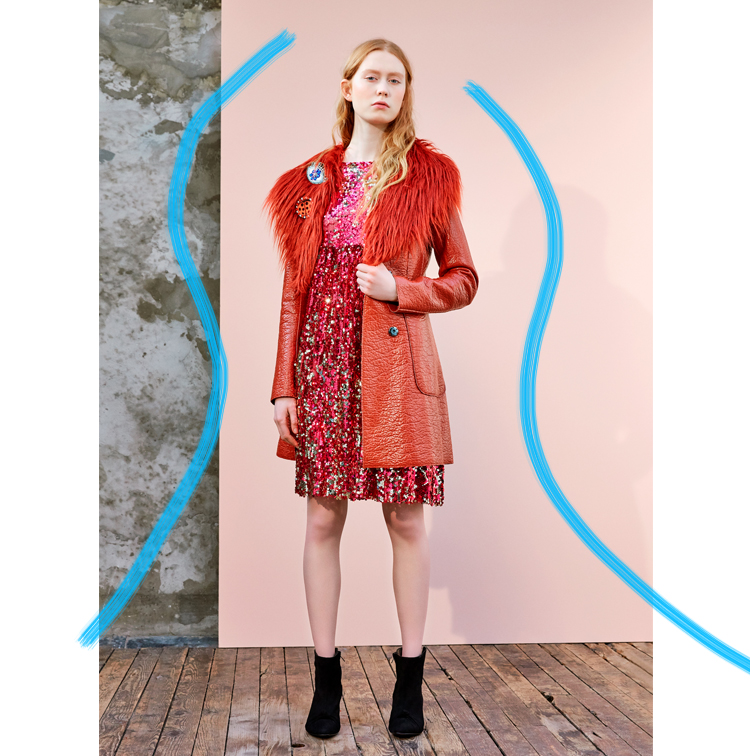 No need to feel pressure. Go all out with a sequin dress, pink if you please. For the streamlined effect, high-heel boots. On top, the coat your mother is going to try and nab from you (« It's exactly my style ! »). Dare everything— it's Xmas !
Trash Bordeaux dress, Manoush, 495 €.
Coat in leather and faux-fur, Manoush, 555 €. Available in boutiques.
In a country family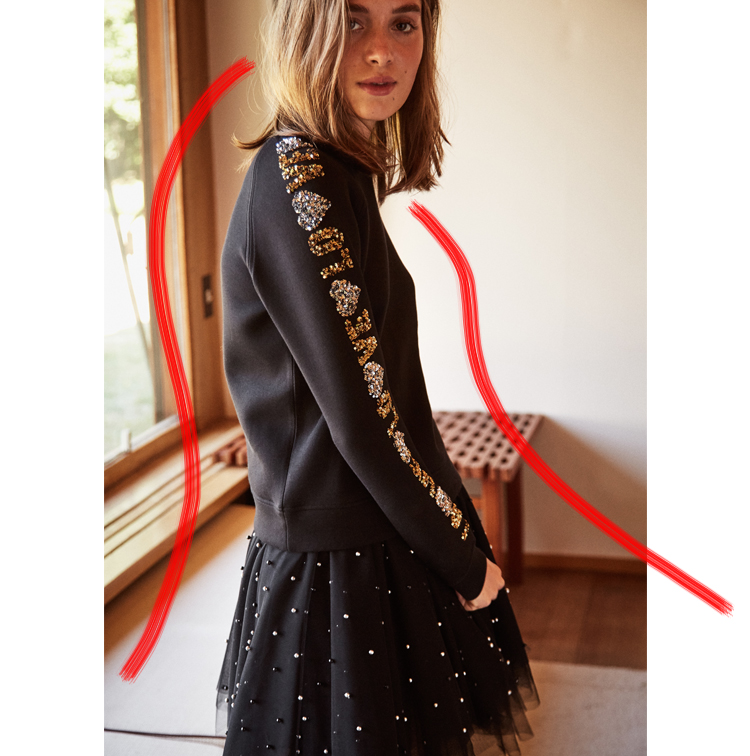 Ok, we like the country, but it's freezing cold and the fireplace is always slow to start. The good option ? A very festive and fashionable embroidered petticoat to be associated to a sweat shirt with sequins in order not to catch cold.
Short cotton skirt with pearls, Maje, €215.
Sweat-shirt avec sequins, Maje, €150.
In a baba cool family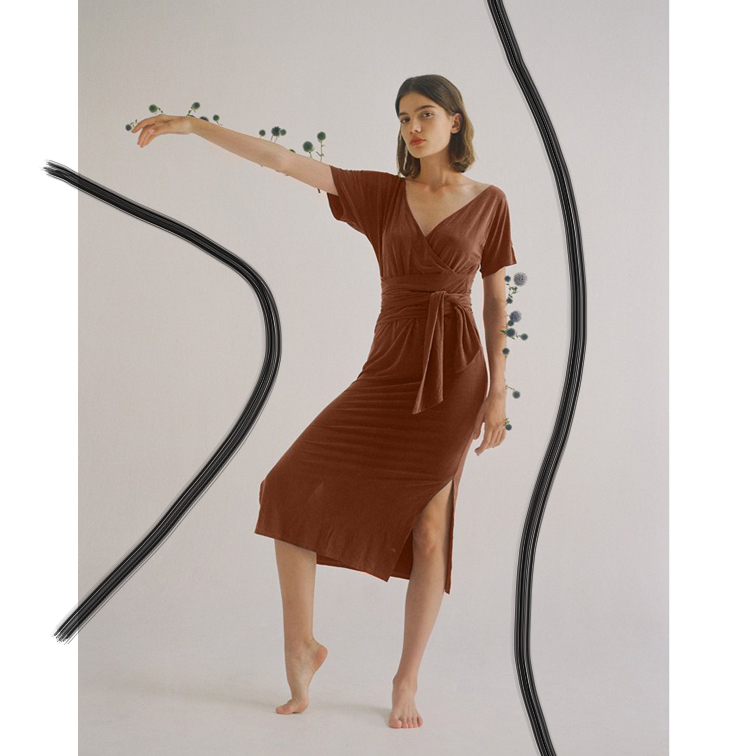 Your very laid back family really does not care about appearances ? Too bad for the bling, as long as there is swag. And such is the case with this fluid and very well-cut criss-cross dress, ideal to show off a generous cleavage. To be accessorized of course with a heavy gold necklace, high boots and a graphic cuff.
Criss-cross dress, Paloma Wool, 135 €.
In a… normal family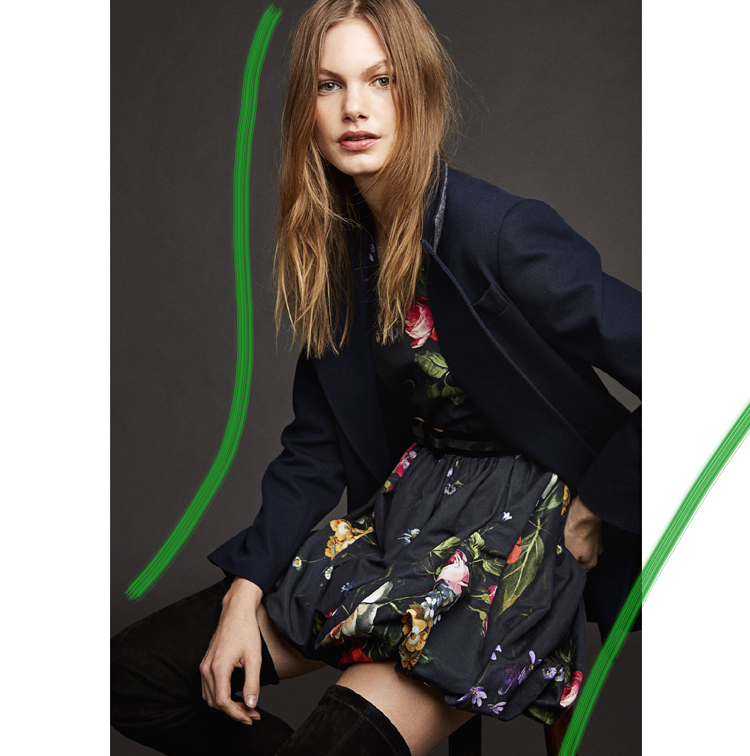 Around the table there is quite a number of styles and everything works. Your family is of the « normal » type, « low on the radar ». You know ahead of time you are going to have fun, lucky you. Result, you can easily combine the three must-haves of the season in handsome cuts and noble materials: the floral print dress, the straight wool coat, and of course suede thigh-high boots.
Black dress printed with Flemish flowers, Tara Jarmon, €340 on sale at €238.
Long coat in virgin broadcloth, Tara Jarmon, €390 on sale at 273 €.
In a business oriented family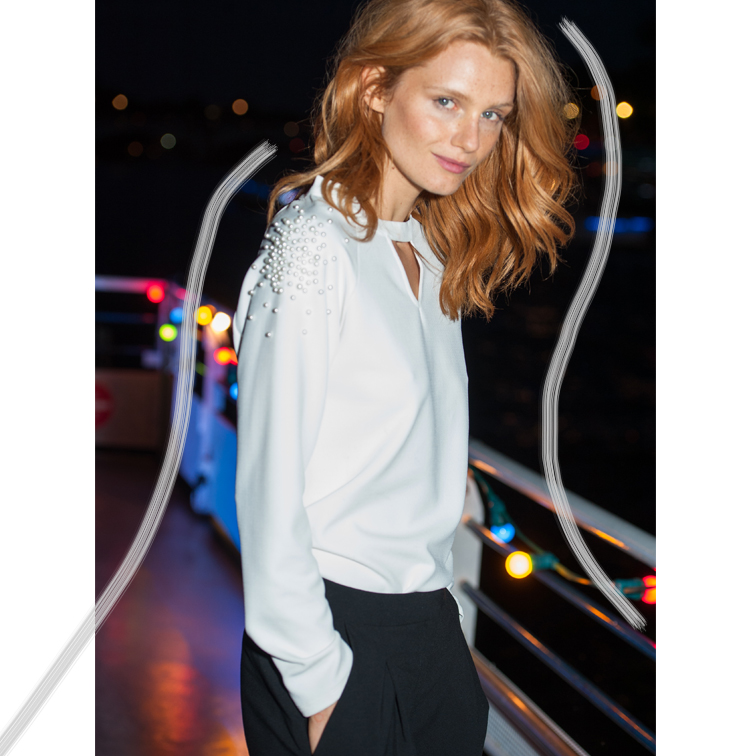 Being a business woman runs in your blood. Success and the winning spirit are passed down from generation to generation. Who accomplished the most exploits this year? Treat yourself to a direct powerful credibility with this very wide and trendy pair of pants, to be worn with a pearly white top smack in the trend. You are the big boss of the family.
Wide trousers, La Redoute Collections, 29,99 €.
Tee-shirt with jeweller, La Redoute Collections blanc, €29.99.