Polka dot, snake, scarf, floral or graphic, spring 2019 marks the happy return of prints . You still have to know how to tame it! For the most reckless and knowledgeable fashionistas who dream of mixing them up, one watchword: respect co-lo-ri-métrye .
We explain to you. A good mix and match works if and only if the prints, no matter how different, are of the same tone. Hot and cold colors to be separated at all costs to avoid cacophony and the Harlequin effect. This commandment fashion well… printed, it is up to you to let your imagination run free. From the big catwalks to our wardrobe, zoom in on these pretty designs.
After the strawberry print from Gucci , we literally fall for the red or yellow tomatoes from Kenzo . The Memento n ° 4 collection revisits this #LOL print from a 1992 men's collection. And to stage them, a very noticed choreography atmosphere The Walking Dead .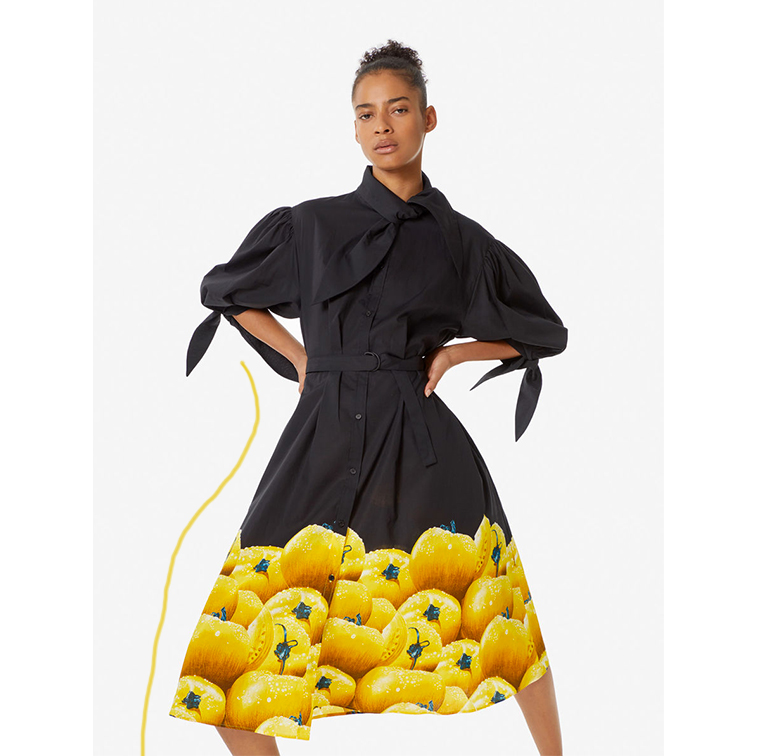 How to wear it? Self-sufficient, the tutti frutti print does not stand up to competition. We also calm the game with accessories of a color already present in the pattern.
'Tomato' shirt dress, Kenzo , € 490
Spotted at Chloé , Loewe , Etro or Gucci , the scarf print gentrifies the silhouette of daring Parisiennes. Now is the time to get started.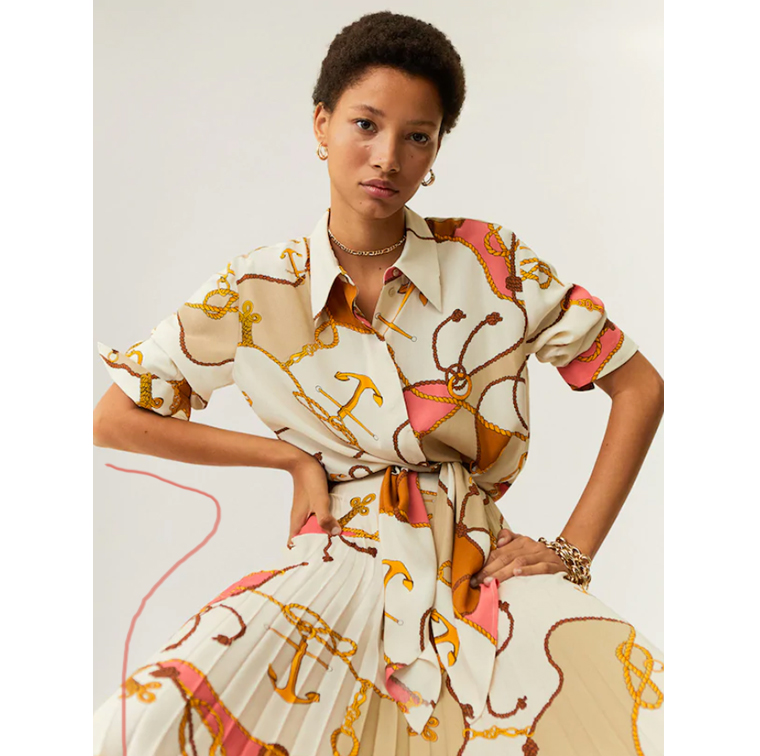 How to wear it? In a silky material, always, to keep its precious aspect. Either all-over for a wedding or an elegant evening, or on a shirt to aristocratize jeans , runnings and a banana belt .
Chain print shirt, Mango , € 49.99
Pleated chain skirt, Mango , € 49.99
Pull & Bear graphic print
Between the graphic shapes of Louis Vuitton and the perched patterns of Balenciaga , the hypnotizing print is popular and adorns our dresses and blouses with abstract.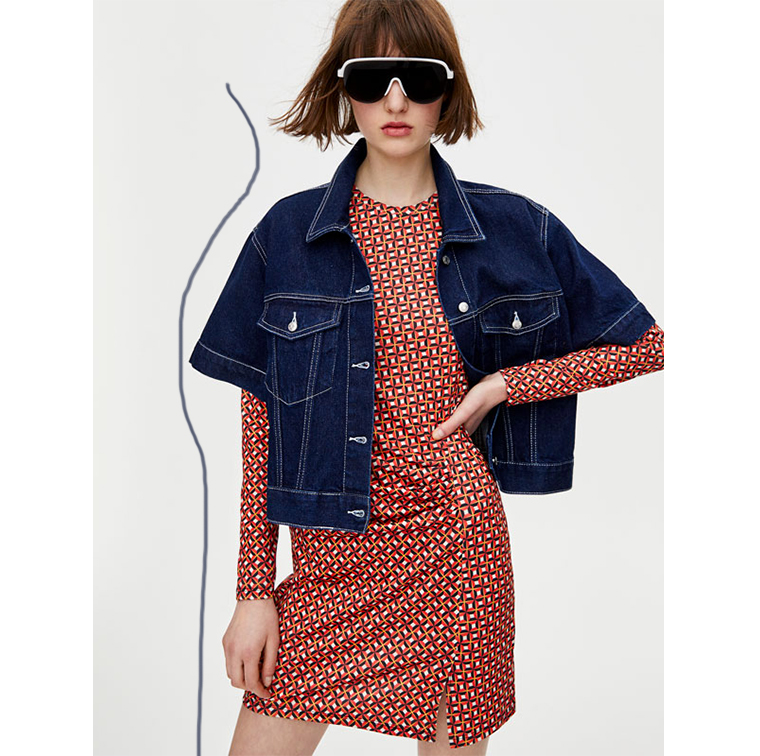 How to wear it? Over a short dress with white Doc Martens , a raw denim jacket and futuristic maxi glasses.
Short tie print dress, Pull & Bear , € 17.99
Between the jacquards , the big eyeglasses, the little vintage Robert Clergerie heels that you wear with your 7/8 jeans and the frilled blouses, you get back to the codes of yesteryear ... in small touches.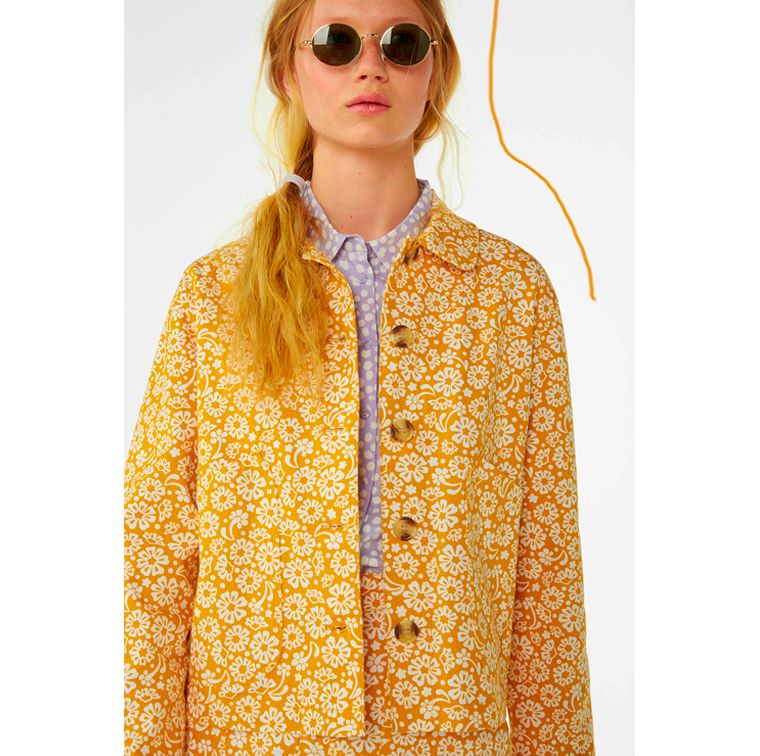 How to wear it? Granny's tablecloth and lavender bags for the laundry, it smells like holidays in Provence, right? Banco for this set with floral print and white spots, which match wonderfully thanks to the pastel tones (and therefore compatible) of the skirt - small jacket and blouse combo.
Boxy utility jacket, Monki , 50 €
A-line floral mini skirt, Monki, 20 €
Classic button-up shirt, Monki , € 20
Of all the materials, it is the wax that we prefer. What could be more feel good and solar than this African fabric passed from the traditional boubou to the essentials of the wardrobe. Good mood guaranteed for the whole day.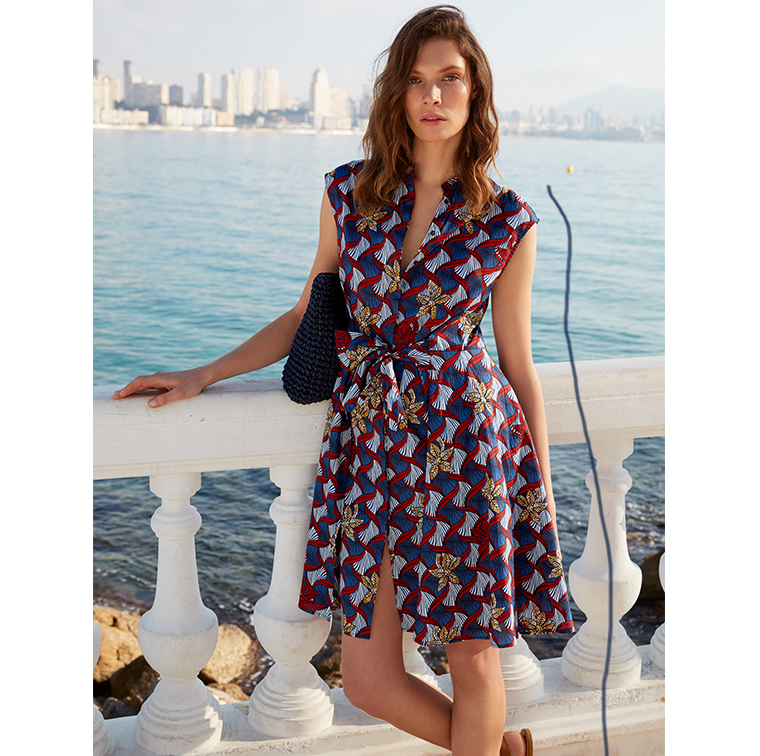 How to wear it? On a dress, we avoid tarnishing the whole with black, and we favor a pair of white Converse , a light denim jacket and why not a small raffia bag . Very pretty also on a mid-season bomber, notably at Maison Château Rouge - the masters in the field.
Wax print dress, Caroll , € 120. D vailable from April 1 online shop
He eroticized the Saint Laurent , Miu Miu and Kenzo fashion shows . The snake print gives our skirts a ruggedly sexy wild side. It would be a shame to do without.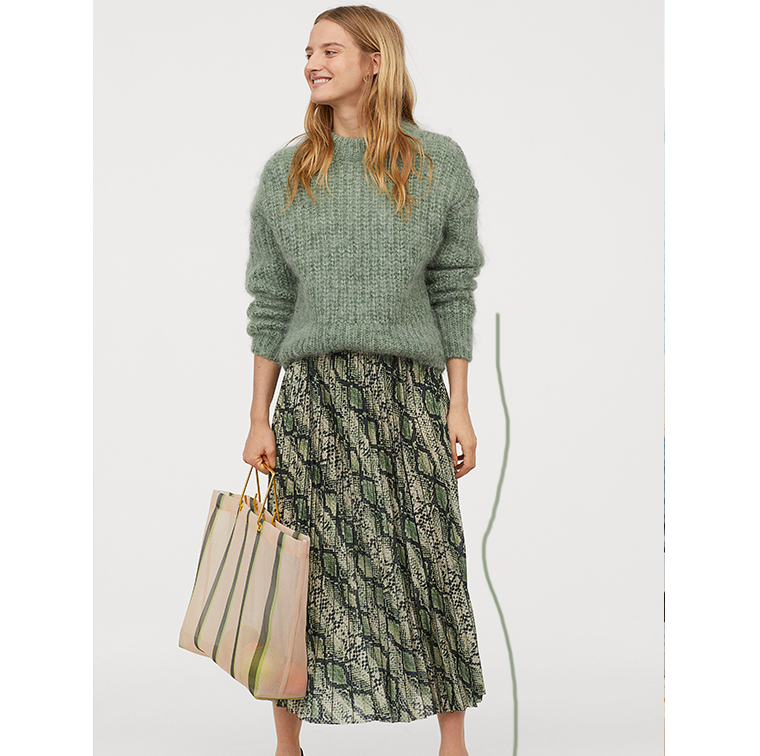 How to wear it? So as not to fall into vulgarity, choose a midi-length A-line skirt , take height with thin sandals or heeled ankle boots , and finish the job with a chunky knit sweater and a perfecto .
Pleated skirt, H&M , € 49.99
The wallpaper print of MAISON Père x Ananbô
It goes without saying that with its prints and the staging of its fashion shoots, the Parisian label Maison Père maintains a close relationship with decoration. Suddenly, the beautiful capsule imagined with the panoramic wallpaper guru Ananbô sounds obvious. Kimono , dress , skirt , blouse and pants are adorned for the occasion with a tropicool landscape very jungle spirit with bamboo and animals. Furiously chic.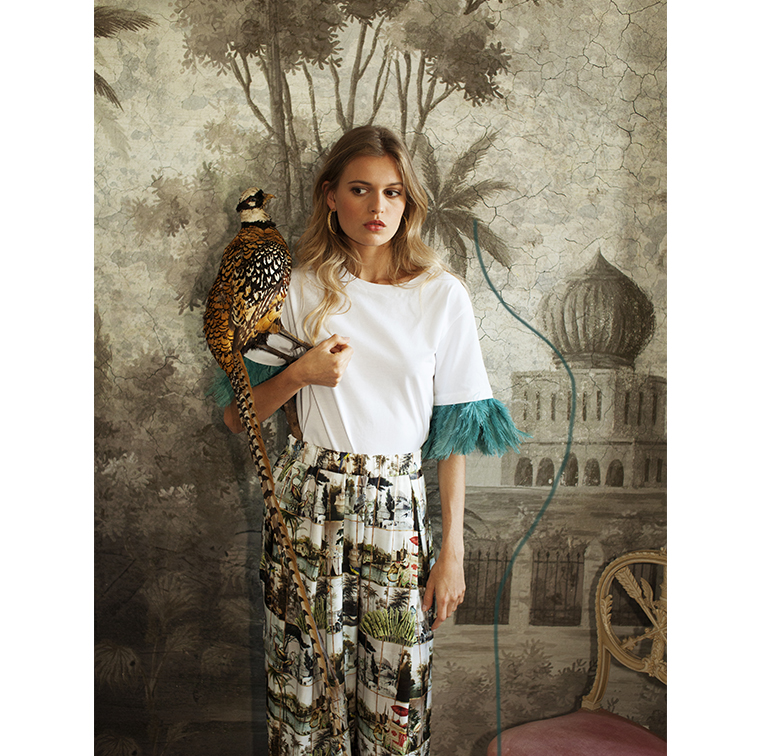 How to wear it? You match your already very strong piece with a plain garment, in a color that makes up the print. White, green, black or all three, your choice!
Printed trousers, Maison Père x Ananbo , € 285
Feathered T-shirt, Maison Père , 225 €
Flower, do you want it on the runways of Paco Rabanne , Dries Van Noten and Dolce & Gabbana . " Flowers for spring? How original ", quipped a certain Miranda Priestly . You never have enough, you have to believe ...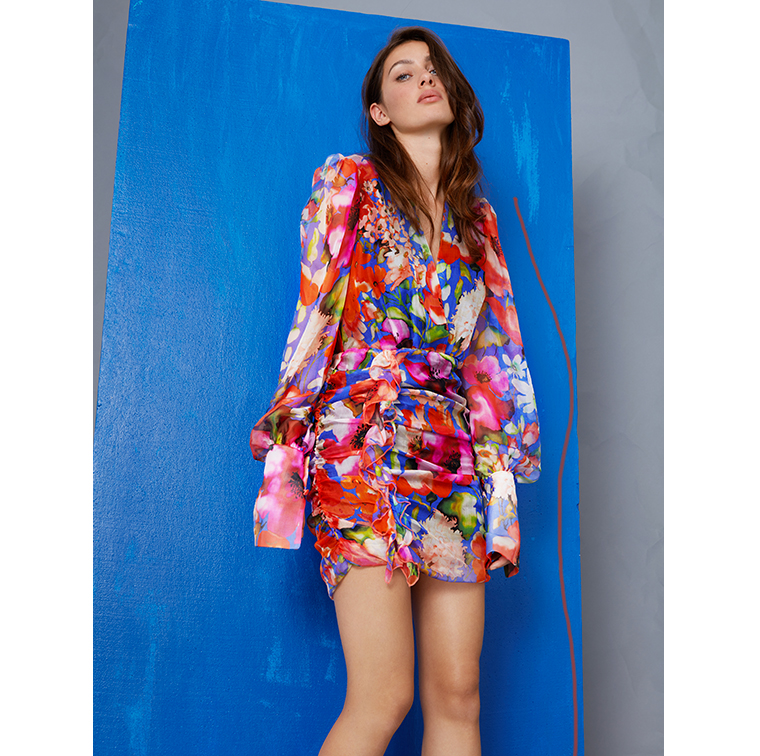 How to wear it? Either in a unique pattern on a dress with biker boots and a denim jacket, or in a more daring version with two different floral prints on a top and palazzo pants for example.
Floral print dress, Oud , € 595. Available at Bon Marché.
Rather than the leopard fur print very noticed at Balenciaga and Gucci , why not wear THE leopard himself, all in all? You can say that this is your interpretation 2.0. Specializing in porcelain jewelry in the shape of animals, Nach is launching its ready-to-wear collection with the effigy of exotic beasts: toucan, giraffe, zebra, and therefore leopard. Grrrr ...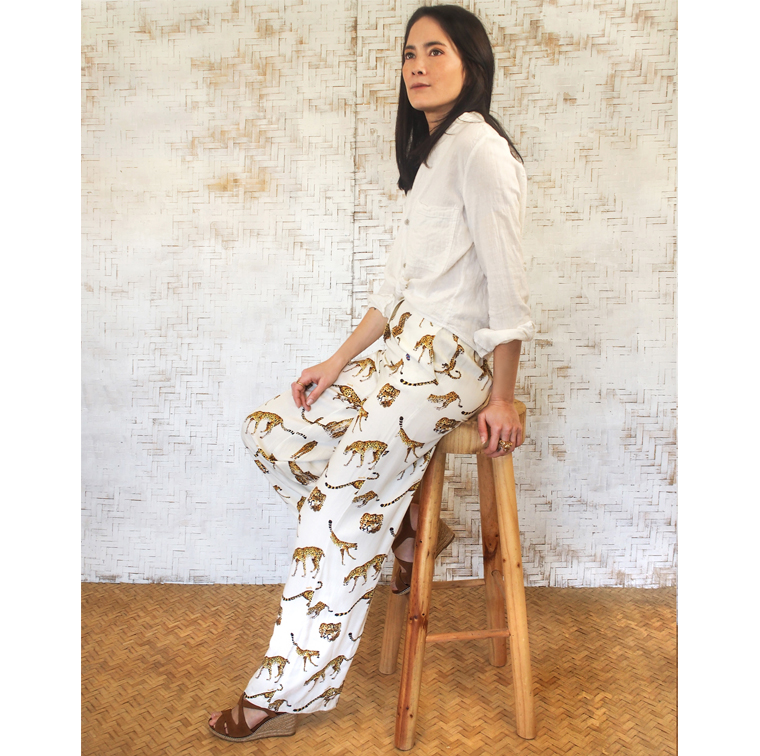 How to wear it? On a large piece such as a shirt or pants, with white, black and orange to enhance the ensemble.
Leopard print pants, Nach , € 95
Mes Demoiselles gingham print
Pastel gingham brought freshness to Altuzarra's last summer fashion show. We love this resolutely sixties print which immediately gives the look of a baby doll to the Bardot.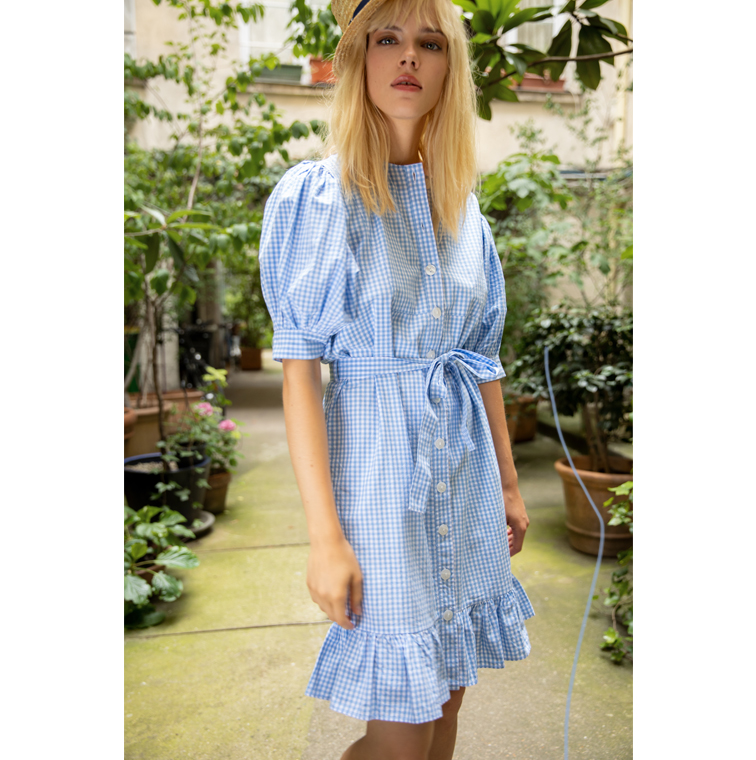 How to wear it? We advise to avoid the first degree cucul with ballerinas, basket and boater. Opt instead for a leather jacket, stylish white sneakers and rock sunglasses.
Blue gingham dress, Mes Demoiselles , € 180. Available in March.
The seventies print by Derhy
Janis Joplin would have validated this Woodstockian wind which blows on fashion. The seventies swept over the feminine wardrobe with large reinforcements of psyche prints, flare cuts and turbans in the hair. We dream of it.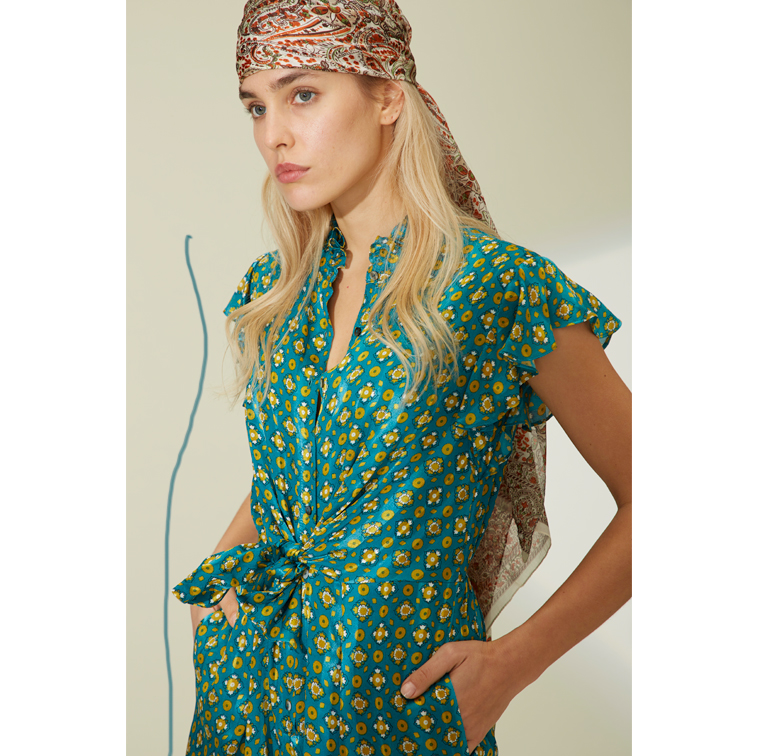 How to wear it? Honestly, the 70's print is very easy to wear, even in a total look with a pleated jumpsuit , round sunglasses and platform heels . As long as the jacket and the bag remain modern, we validate.
Printed dress, Derhy , € 115. Available in store
Star of the season, the pea is found as a guest on the catwalks of Celine , Burberry , Dolce & Gabbana on Monica Bellucci , or at Jacquemus and Prada . Pfiou! In fact, reasons to get started ...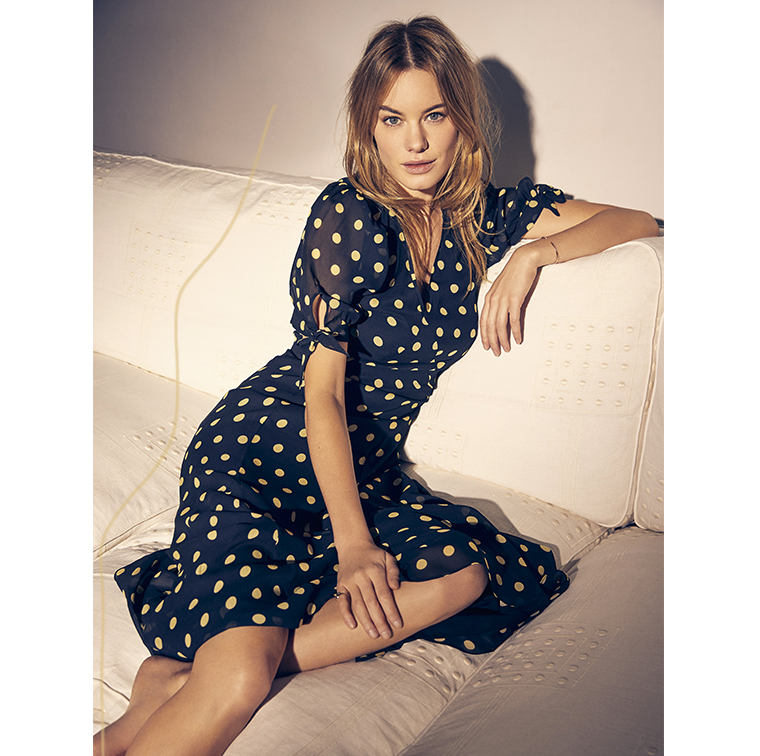 How to wear it? We avoid cuts that are too wise with Minnie Mouse effect , to favor more pretty low-necked and vaporous wrap dresses, almost flamenco. During the day, we wear it with small tennis shoes or pretty sandals with a
Polka dot dress, Pablo , € 275. Available mid-March.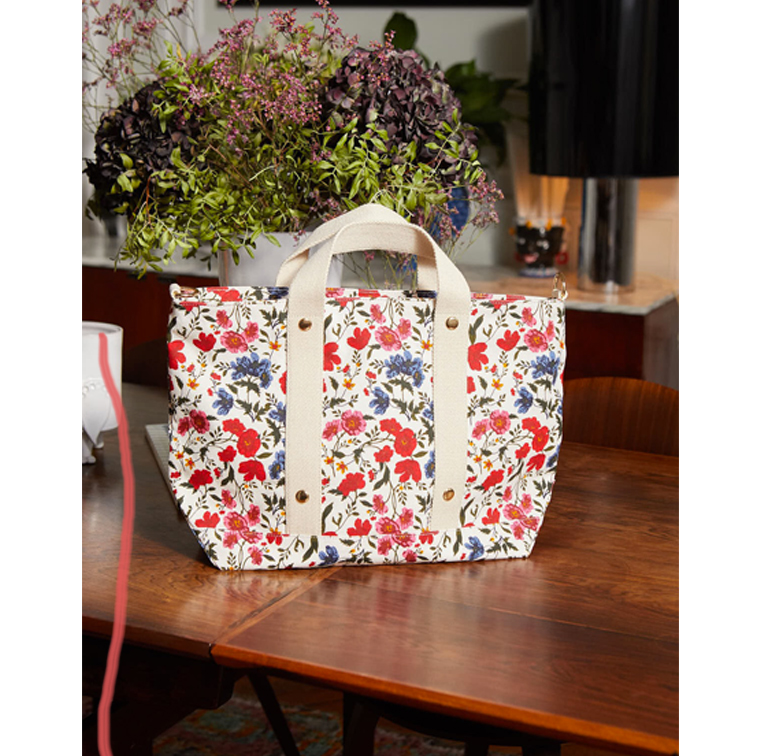 For the more cautious, we go step by step to meet the patterns by playing on safety, by touches thanks to pretty accessories. Scarf , big darling , sandals , tote bags or little babies , the cracking is open.
Minimalist sandals with blue geometric print, River Island , € 55
Mary Jane printed babies, Charles & Keith , € 69
Lana silk scarf scrunchie, Urban Outfitters , € 12
Printed scarf , Uterqüe , € 59
Printed bag, Petite Mendigote , € 75. Available in store.


Also discover the fashion obsessions of spring and10 pieces to invigorate your wardrobe .