In addition to the organisation of the ceremony, the future newlyweds are obsessed with one main issue, finding THE perfect dress that will make the bride look fabulous on the big day. Pinterest in hand, strolling with energy on hundreds of dedicated Instagram accounts—their heads are spinning.
One single goal : incarnate a winning combo of glamour, modernity and chic, in the image of the unforgettable Alexander McQueen dress worn with amazing grace by Kate Middleton. We sorted, compared, placed in context and scouted the new iconic designers of made in France (and not only !). Short, or long or in between... including a plumetis petticoat and a suit version, for the religious ceremony or City Hall, here are the top 10 of the most beautiful wedding styles of the season.
Laure de Sagazan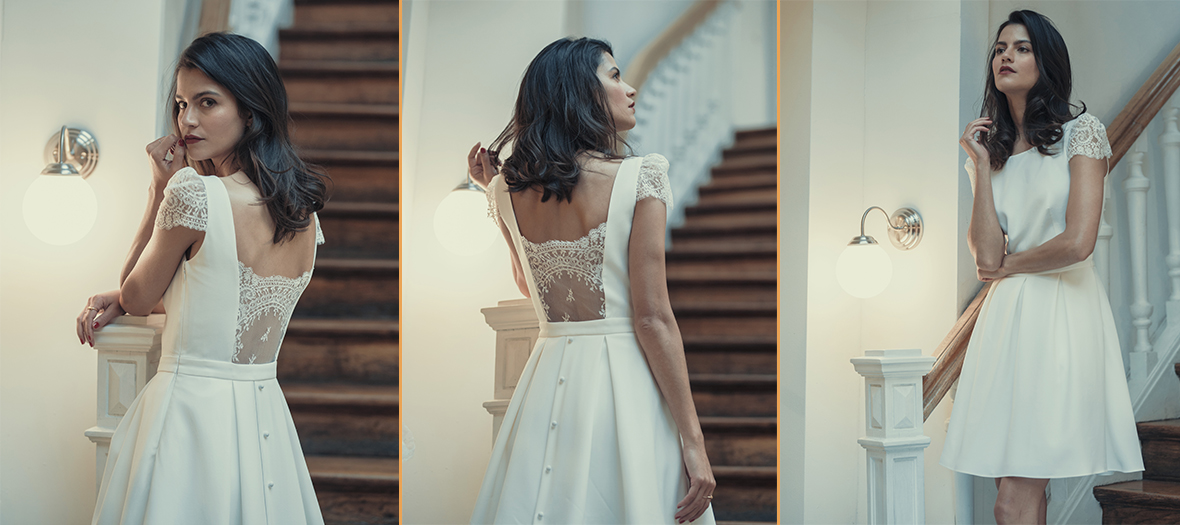 The former stylist of Bash that attracts the Paris in-crowd continues to make dreams come true. The one who studied fashion embroidery in her fashion school of Roubaix, the world capital of embroidery in the North of France, has made it her signature style. Light and short, without being vulgar, the Boissy dress features an amazing embroidery in the back that is so fine and delicate that it literally seems to have been tattooed on the skin.
Laure de Sagazan dress €1150 on the eshop (fittings at the showrooms)
Showroom at 102, rue du Faubourg Poissonnière 75010 Paris
Open Monday to Friday from de 9:30am to 6:30pm
01 53 16 46 31 ou sur contact@lauredesagazan.fr
Admise x Camille Marguet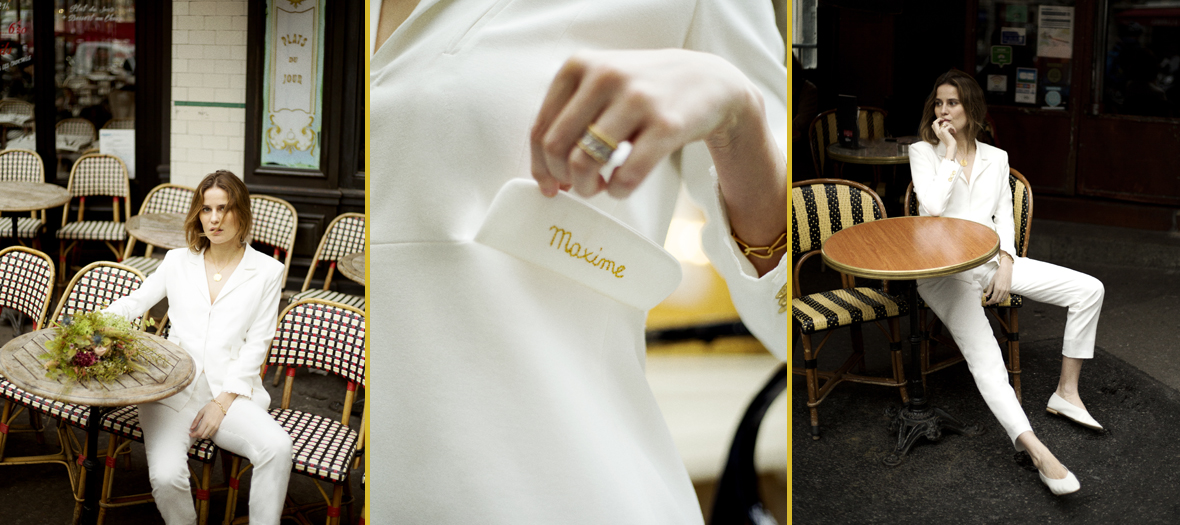 The wedding suit is the latest chic of the Parisienne that gives it a free and chic allure!
The one by the Admise (with Camille Marguet ) brand is more than perfect, both minimalist with all the winner details: embroideries, pretty golden buttons and the embroidered personnalisation with initials in the collar of the jacket...
Rosa pants € 250, Marie jacket €400
Admise, 43 rue de la Folie Méricourt 75011
Wednesday to Saturday from 12:30pm to 7:30pm
Otaduy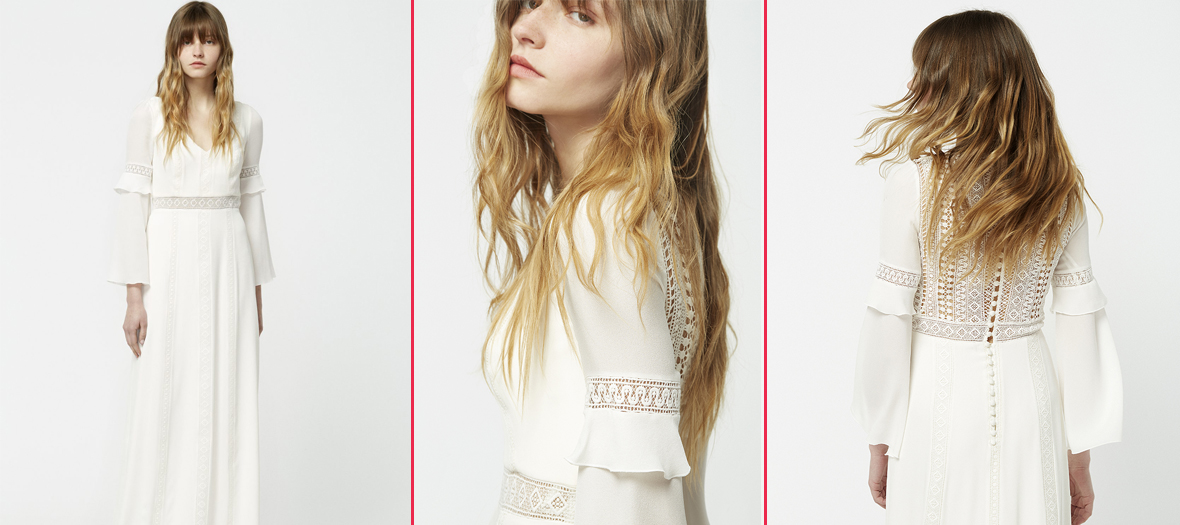 This new Spanish brand of wedding dresses turns out to be divinely Bohemian and signs sylphid silhouettes.… The Elara model streamlines the silhouette, plays with the opacity of its fabrics, cinches the waist and transforms the person wearing it into a Greek goddess.
Of note: the quality of the embroideries on the back and the light sleeves: perfect.
Otaduy 17, rue Commines 75003 PARIS - M° Filles du Calvaire
Donatelle Godart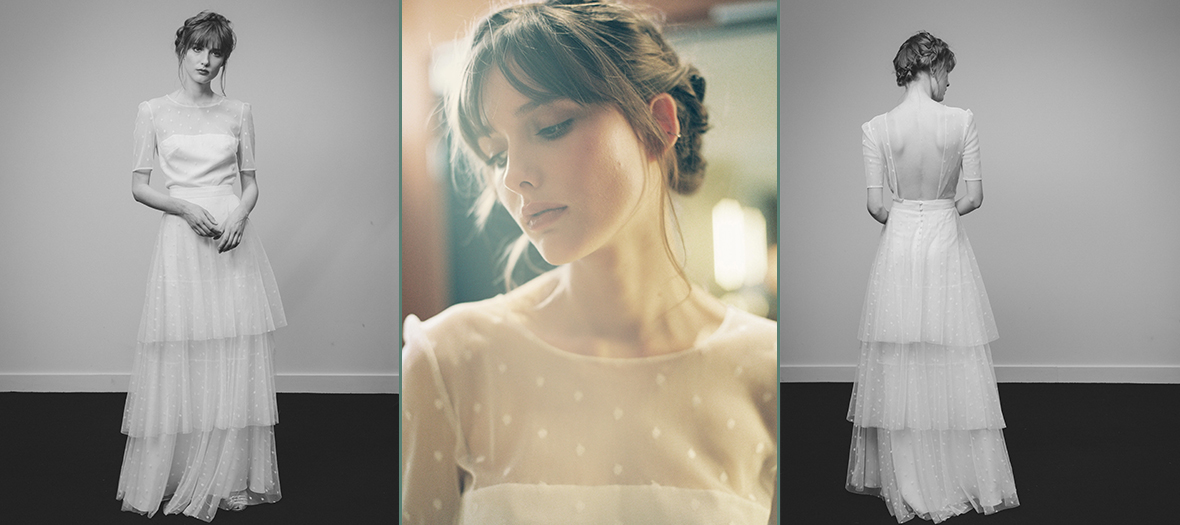 Donatelle Godart, the trendy designer known for her fluid dresses, inspired by the universe of Jane Birkin and David Hamilton, signs a dress called Romance in a cascade of tulle plumetis / silk crepe— as rock 'n roll as it is poetic.
Donatelle Godart Paris, price by RDV
30 rue du Château d'Eau, 75010 Paris 1st floor to the right, Code 2568A
Gémo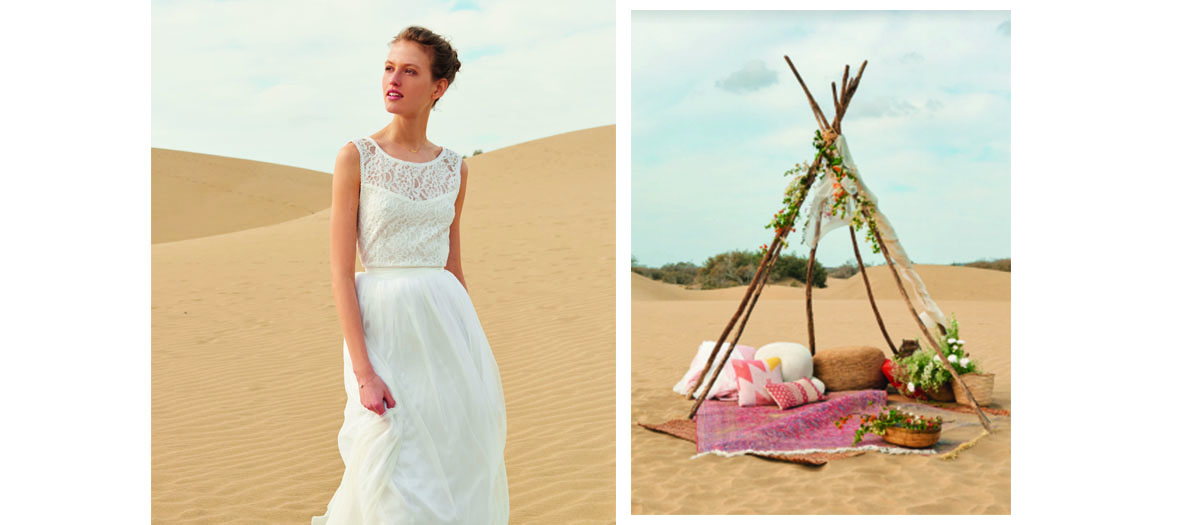 Far from outlandishly priced models, the affordable Gemo label has made the wager to created a pretty dress for less than €100. A round collar in front, backless and a skirt in tulle: the winning trio to look fab at a very reasonable price.
Gemo, €59.95 e-shop or boutiques
Rime Arodaky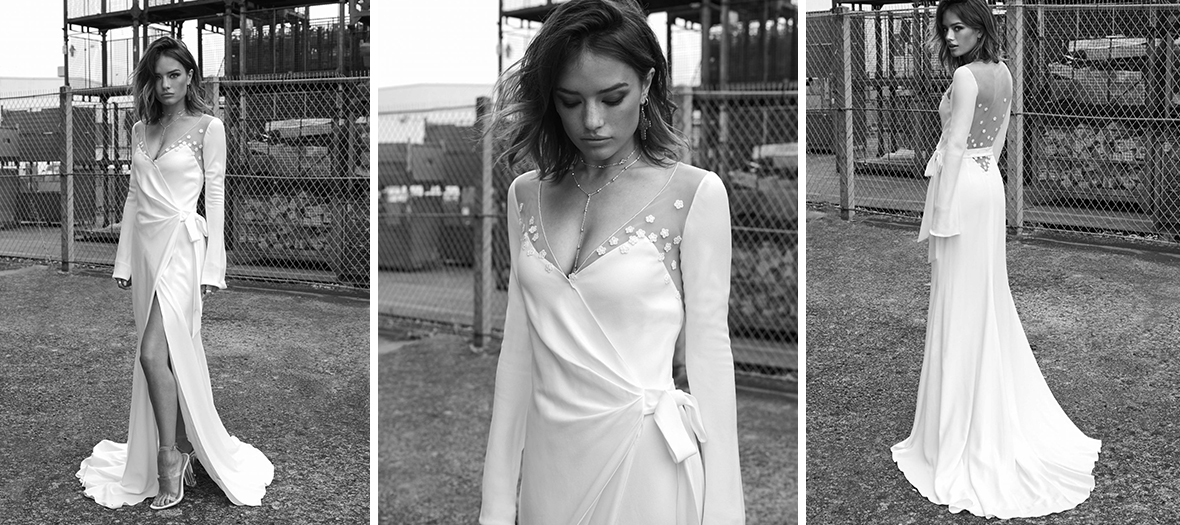 The signature of Rime Arokad: a wrap-around dress. The winning detail: pagoda sleeves and an embroidered naked back. The ideal dress for a chic and sexy bride !
Rime Arodaky, Joss dress
28, rue d'Aboukir 75002, Paris
Rdv au +33( 0)1 75 42 99 95 ou showroom@rime-arodaky.com
Maison Floret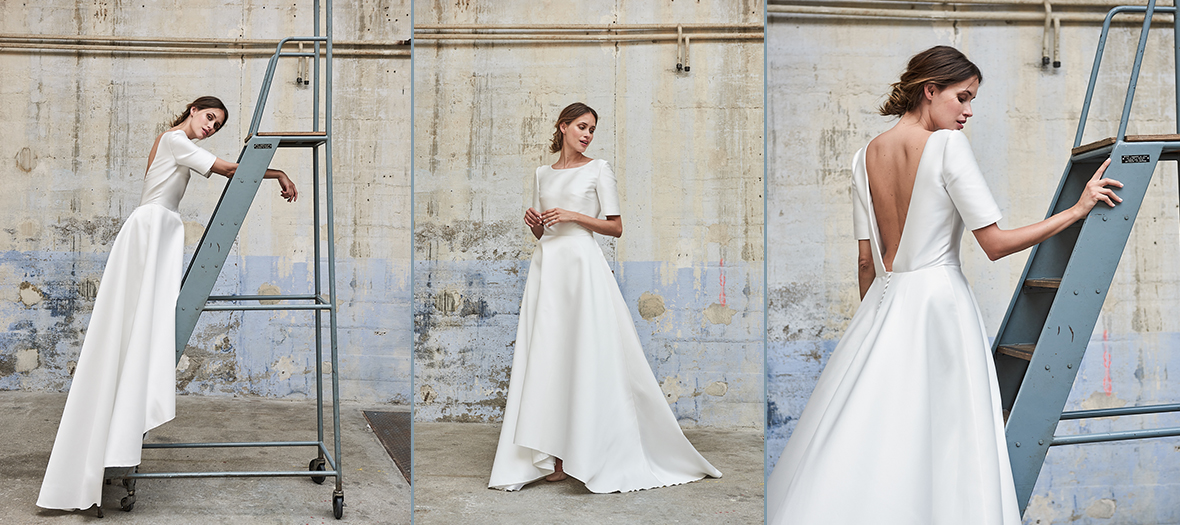 Sidonie Floret, the guru of the silk wedding dress, continues to make stylish brides to be dream with a new collection inspired from the 50-60s, in homage to leading couturiers and elegant socialites with a Grace Kelly spirit… Her dress in silk mikado with a long back cleavage turns out to be of immense modernity.
Studio Maison Floret, 1, Cité Riverin – 75010 Paris
The studio is open for fittings Tuesday to Friday from 10am to 7pm, Saturdays from 10am to 7:30pm. I f no RDV suits you, don't hesitate to call on+33(0) 1 71 26 79 09 or by email contact@maisonfloret.com
Harpe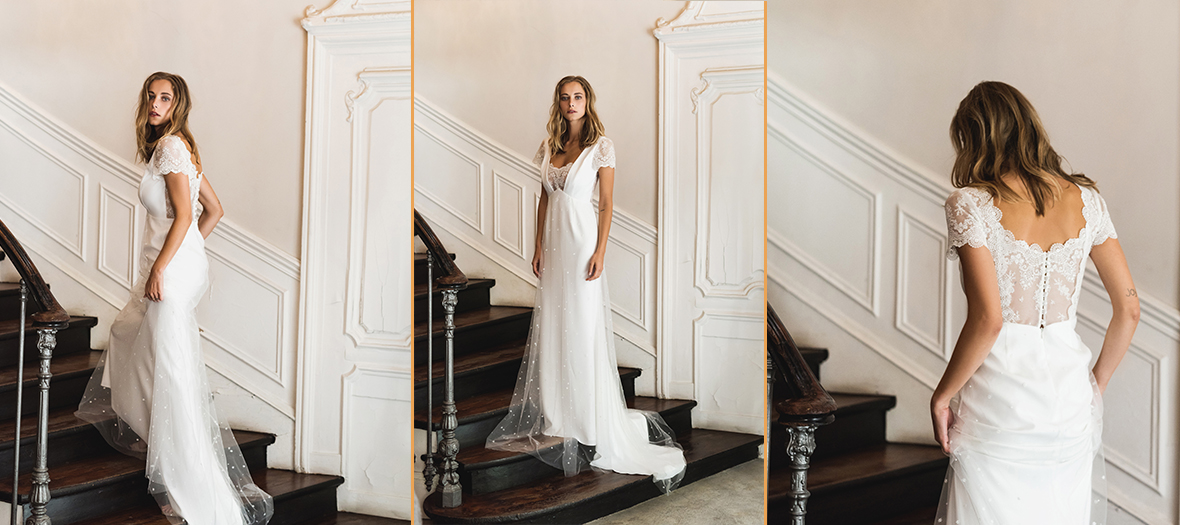 The dresses of Angélique de Harpe are a combo of a classic sheath dress, traditional codes with transparent embroideries and a princess touch with embroidered tulle that perfectly fits the contours of this skirt.
Harpe, € 2200 Semi-customized or totally customized, available upon request at the ou sur-mesure showroom/workshop and with an additional estimate.Showroom Mariage Harpe, 32 rue de Cléry 75002 Paris or atPrintemps Haussmann.
Fittings Monday to Friday by appointment: contact@harpe-paris.com / 01 40 15 64 88
Violette Tannenbaum
"After having worked in the ready-to-wear universe, newcomer Violette Tannenbaum, pro of the croptop + high waist skirt combo, has chosen to quickly rely on customization to accompany future brides. Her trademark: to re-embroider the cotton of her wedding outfits
Violette Tannenbaum, ensemble €2400
18 rue Beaunier, 75014 Paris
By appointment only, email: violettetannenbaum@gmail.com
Anne de la Lafforest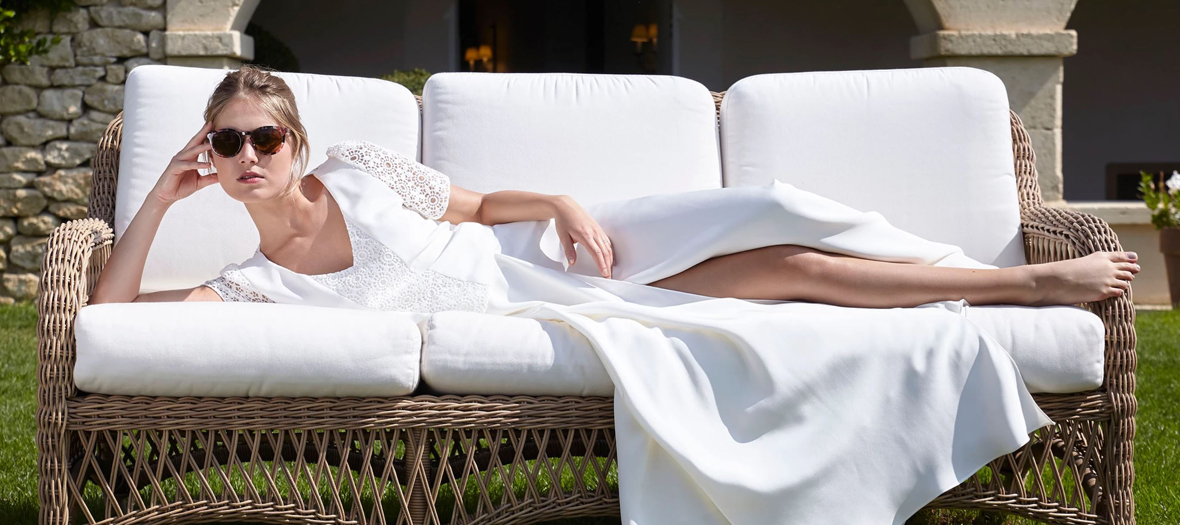 The novelty is matching a pretty classic top with a long skirt, to enhance an ideal silhouette. Stylist Anne de Lafforest has understood and signs (in addition to her superb dresses) lace tops embroidered in a cropped couture style to be associated with skirt models. The possibility of an absolutely perfect mix and match, to be reworn separately later on.
Price and fittings by RDV (first fitting on the house)
01 73 73 25 15
Anne de Lafforest 16, rue Jacquemont, Paris 75017
Also discover really stunning wedding dresses.