Long live cinema under the stars! From the most luxurious palaces to expansive lawns and the courtyard of the world's most famous museum, let's take a closer look at the most beautiful outdoor cinemas to book quickly.
On the tracks of La REcyclerie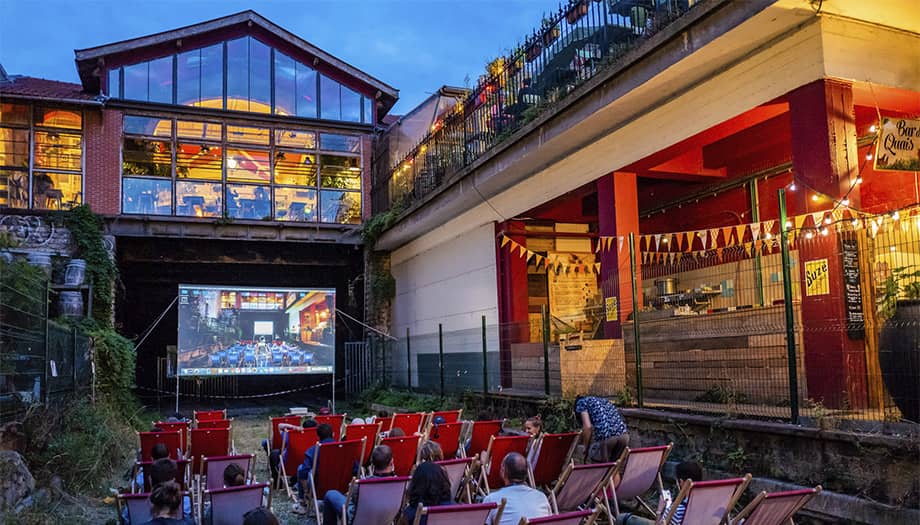 Venue: La REcyclerie, a bio canteen and urban permaculture farm located in a former train station in the 18th arrondissement, returns this summer with sun loungers and popcorn for movie nights starting at 9:30 PM. As part of the 6th edition of the Gare aux Docs festival, La REcyclerie takes over the tracks with the screening of 9 documentaries and fiction films focused on highly engaged subjects such as deforestation and feminism.
On the bill: documentaries from INA, including "Là où l'herbe est plus verte" on August 18th and "Décolonisons l'écologie" on August 20th. There will also be special screenings from Arte, such as "Taming the Garden" on August 19th, and Madelen sessions, including "Les Nouveaux Robinson" on August 23rd. The program runs from August 16th to 27th, aiming to question our will to act and bring about change.
La REcyclerie, 83 Boulevard Ornano. From August 16th to 27th, 2023. Free and mandatory online reservations, ticketing opens one week before the screening. Please arrive before 9:15 PM, as your spot may be forfeited.
© Adrien Roux
On the rooftop of Hôtel Paradiso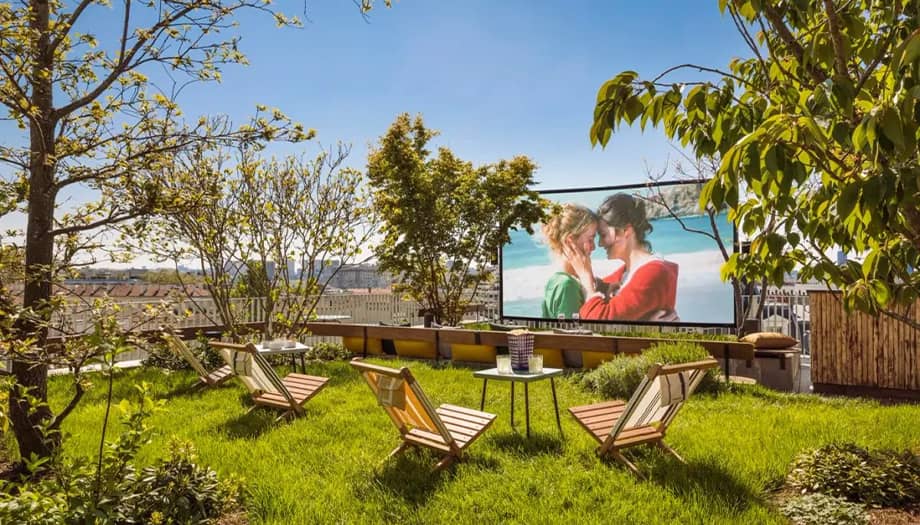 Venue: Hôtel Paradiso, opened in the 12th arrondissement by the Karmitz brothers, offers a unique cinema experience in Paris. Starting with the rooftop, which transforms its lawn into a rooftop cinema club under the stars every Sunday evening during the summer, complete with hot popcorn and cocktails.
On the bill: A surprise film from the MK2 Curiosity catalog is screened every Sunday at 9:30 PM, featuring a curated selection of iconic films and hidden gems of auteur cinema. On July 3rd, discover Jerzy Skolimowski's "Deep End," on July 31st, "The Endless Summer" by Bruce Brown, and the animated film "De l'autre côté du ciel" by Yusuke Hirota, in advance premiere on August 12th, in this cine-hotel that has made cinema a lifestyle.
Hôtel Paradiso, 13 Boulevard Diderot, Paris 12th. All information available on mk2hotelparadiso.com. Film and a drink for €18, online reservations.
At Plaza Athénée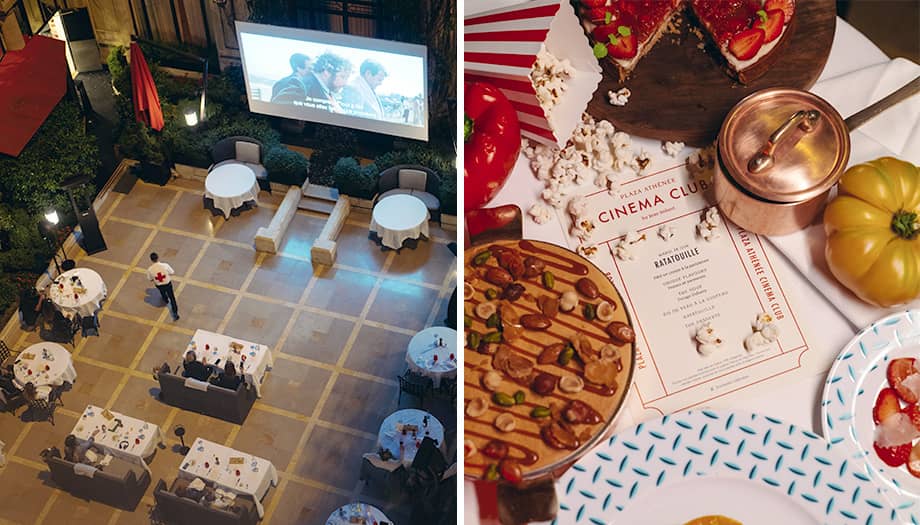 Venue: At the legendary Plaza Athénée, an unforgettable evening awaits you. For this second edition in collaboration with MK2, the courtyard of the hotel's restaurant is transformed into an open-air cinema, providing a truly magical setting. The program includes 5 cult films and 5 thematic menus chosen according to the day's theme, curated by Chef Jean Imbert himself.
On the bill: On June 27, 2023, we savor "James Bond 007 vs. Dr. No" accompanied by a meal composed of Jamaican recipes and iconic dishes from the James Bond saga. We continue on Wednesday with "Le Dîner de Cons" and its typical Parisian dinner. On the 29th, before "Interstellar," Jean Imbert will offer immersive recipes that will plunge guests into the film's different space-time dimensions. To end the week, we watch "Le Grand Restaurant" while tasting various dishes paying homage to French culinary classics.
Plaza Athénée, 25 Avenue Montaigne, Paris 8th. Online reservations, €250 per seat. From June 25th to June 30th. James Bond, Dîner de Cons, Interstellar, Le Grand Restaurant.
In the Cour Carrée of the Louvre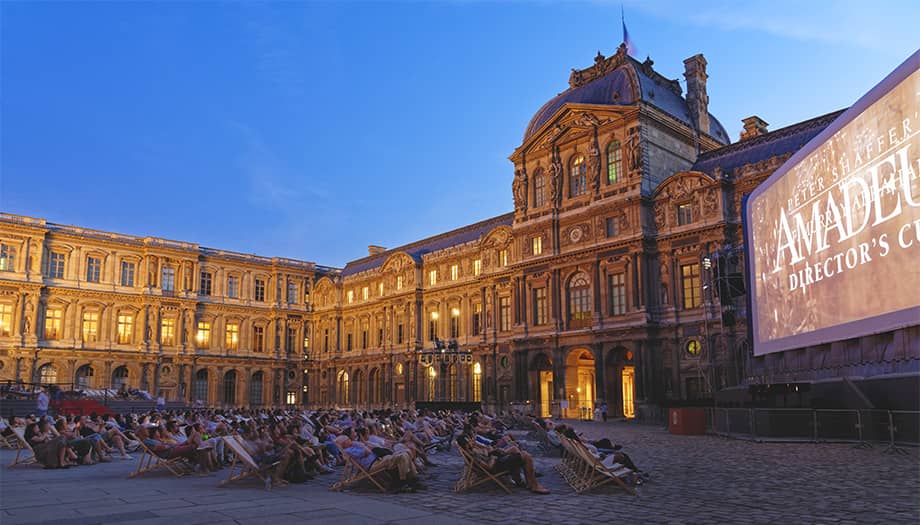 Venue: From July 6th to 9th, for its fourth edition, the MK2 Cinema Paradiso Louvre festival sets up a temporary cinema in the Cour Carrée of the world's most famous museum, offering free and festive evenings with private concerts and food trucks before the screening of cinematic masterpieces.
On the bill: Each evening before the screening, attendees have the option to participate in a dance class orchestrated by the Paris Université Club, followed by exciting shows and DJ sets. On July 6th, we kick off with the DJ Busy P + "Goodfellas" combo by Martin Scorsese. The next day, the hilarious team from Madame Arthur will introduce Federico Fellini's "Huit et demi." On Saturday, the singer Corine will entertain the audience before the cult western "Once Upon a Time in the West" by Sergio Leone. And to end on a high note, Romain Giorgio Poi will be the opening act for René Clément's "Plein soleil." It's also an opportunity to indulge in snacks from our favorite Italian restaurants (Eataly, Popolo, Novettino, and Il camioncino), a burger from Blend, or fish & chips from Malin's, not to mention the sweet delights from Cookidiction and Amorino.
The Cour Carrée of the Louvre, Paris 1st. Registration at mk2festivalparadiso.com, tickets through a lottery system. Participate online before July 4th. © Nicolas Guiraud / Amazon Prime Video
On the lawns of La Villette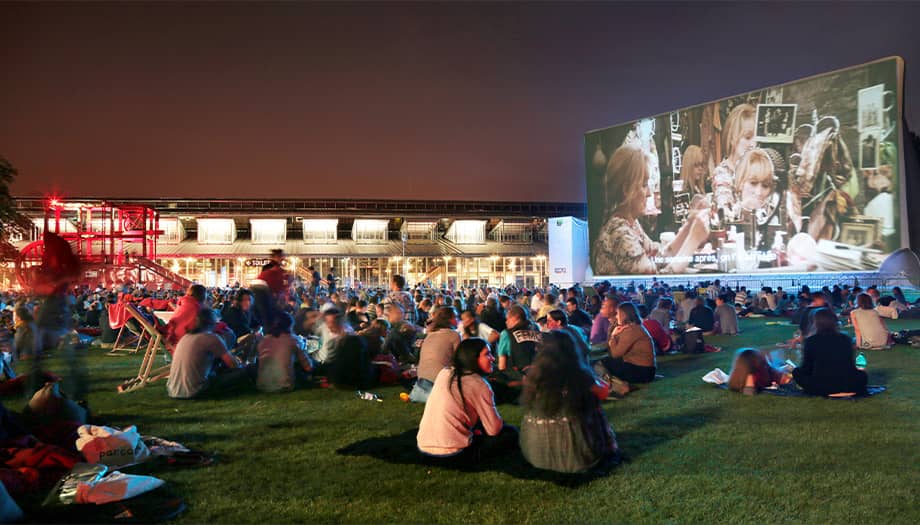 Venue: The annual gathering takes place at La Villette, on the lawns of the vast clearing on the East Side, where masterpieces are projected for 25 evenings at nightfall.
On the bill: Incredible films such as Tim Burton's "Miss Peregrine's Home for Peculiar Children" on July 19th, the iconic Billy Wilder's "Some Like It Hot" starring the fabulous Marilyn Monroe on July 23rd, Ladj Ly's "Les Misérables" on July 29th, Christopher Nolan's "Dunkirk" on August 4th, and last but not least, Steven Spielberg's "West Side Story" on August 20th, which will dazzle you.
La Villette, 211 Avenue Jean Jaurès, Paris 19th. From July 19th to 23rd at 10:30 PM, from July 26th to 30th at 10:15 PM, from August 2nd to 6th at 10 PM, from August 9th to 13th at 9:45 PM, and from August 16th to 20th at 9:30 PM. Free screenings, full program available on lavillette.com. © Bertrand Desprez
On the esplanade of La Seine Musicale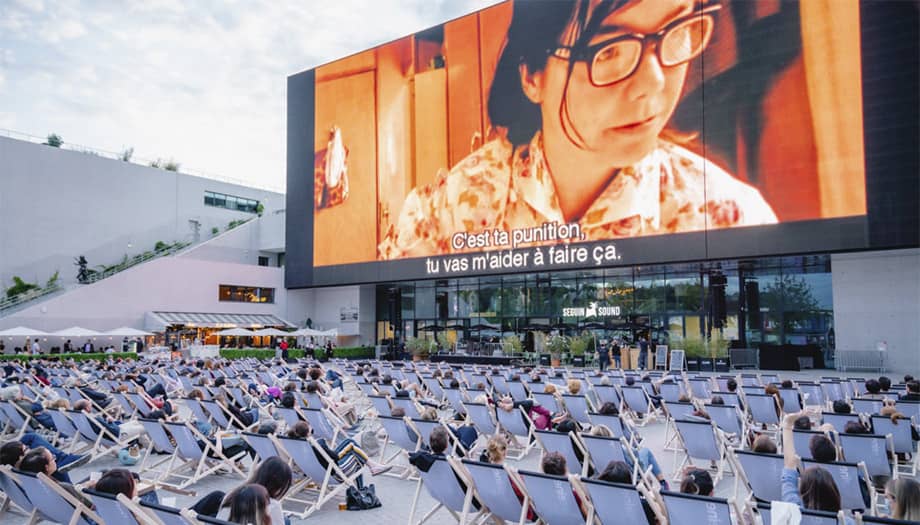 Venue: After the Louvre, the Cinéclub Paradiso sets up on the esplanade of La Seine Musicale, an extraordinary contemporary vessel located on Île Seguin and surrounded by the Seine, dedicated to music in all its forms, for a weekend.
On the bill: Starting at 7 PM, attendees can enjoy a concert related to the musical universe of the film presented at 8 PM, a film that has made its mark in musical history. The festivities kick off on Friday, July 21st, with the timeless "Singin' in the Rain" by Stanley Donen and Gene Kelly. On the evening of Saturday, July 22nd, immerse yourself in Jacques Demy's "The Umbrellas of Cherbourg" starring Catherine Deneuve, Nino Castelnuovo, and Anne Vernon. Lastly, on Sunday, July 23rd, put on your prettiest yellow dress and have a great time watching Damien Chazelle's "La La Land."
La Seine Musicale, Île Seguin in Boulogne-Billancourt. Free screenings with online reservation on July 12th and 19th. © Julia Brechler and Sony Pictures Releasing GmbH
Also see our preferred addresses at La Butte aux Cailles and The best waterside aperitifs