Parisian gardens have reopened their gates. Hurray! Picnic season is officially open. So, if you are looking for a little greenery and a quiet venue? Here is a quick tour of secluded squares, secret parks and hidden garden to go for a picnic and read a book on the grass.
JARDINS CATHERINE LABOURÉ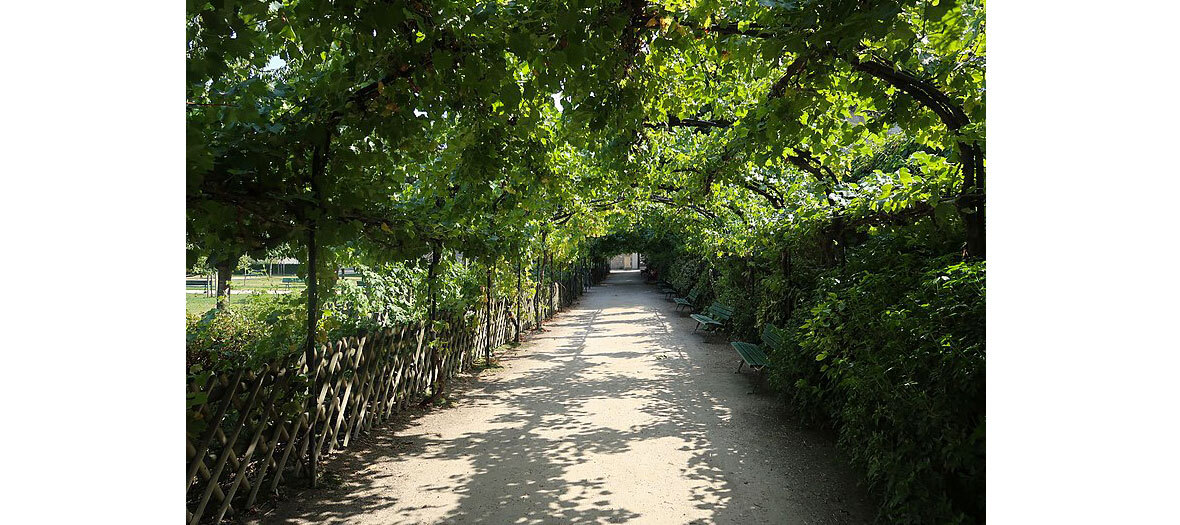 The promise: napping under an apple tree.
Nestled behind a high stone wall, this former vegetable garden belonged to the sisters of the nearby convent. Check it out: a skip and a hop from Bon Marché, the Jardins Catherine Labouré spread out on 7,000m² of lawns and orchards, right in the middle of Paris, where one can come to lie down under the apple trees, cherry trees, vines and pear trees. Here is the ideal venue for a charming picnic in Paris.
Where to pick up some great eats nearby? Two options: a terrific burger take away menu, concocted with the best French ingredients, at L'Atelier du Pied de Fouet (45 rue de Babylone, Paris 7th). Or obviously at the Grande Ep'.
Free entrance
29 rue de Babylone, Paris – 7th
Crédit Celette / Creative Commons
SQUARE SAINT-GILLES DU GRAND VENEUR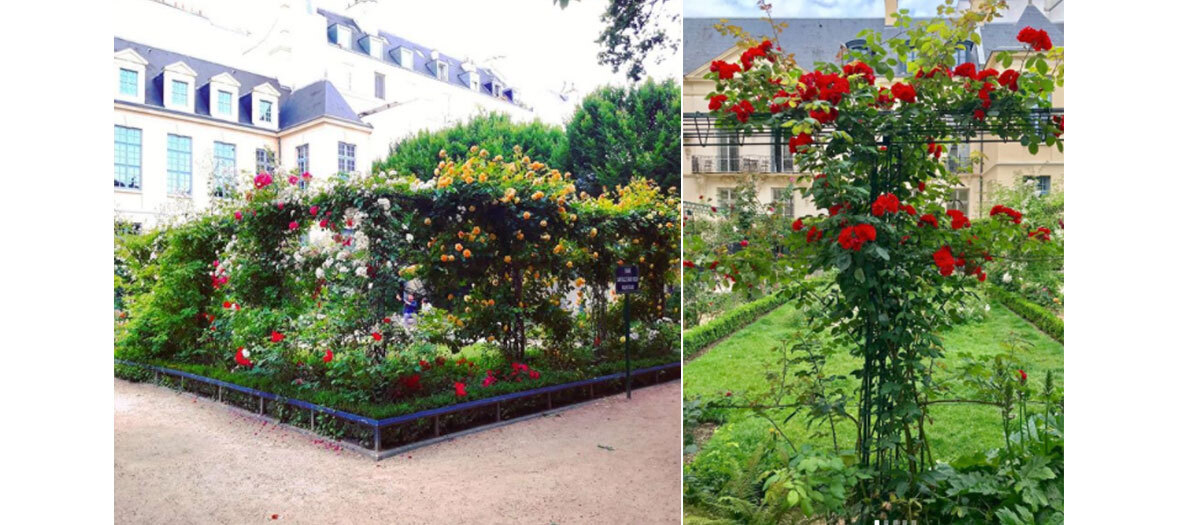 The promise: reading amidst roses.
The 17th century private mansion surrounding the Square Saint-Gilles du Grand Veneur had several owners before being divided in private apartments. While visits are no longer possible, natural lovers can enjoy its dream garden in the middle of the Marais with clinging roses, stone benches and lush lawns. Invisible from the street, access is gained through a discreet porch—a good novel in hand and a sandwich. Please keep the secret.
Where to pick up some great eats nearby? Without a doubt, make a bee line for Maison Plisson (93 boulevard Beaumarchais, Paris 3rd) where you can stock up on a simple sandwich as well as strawberries, cheese and charcuteries, good breads, crunchy veggies or pastries. Joy.
Entrance through n° 9 rue du Grand Veneur, Paris – 3rd
SQUARE COLBERT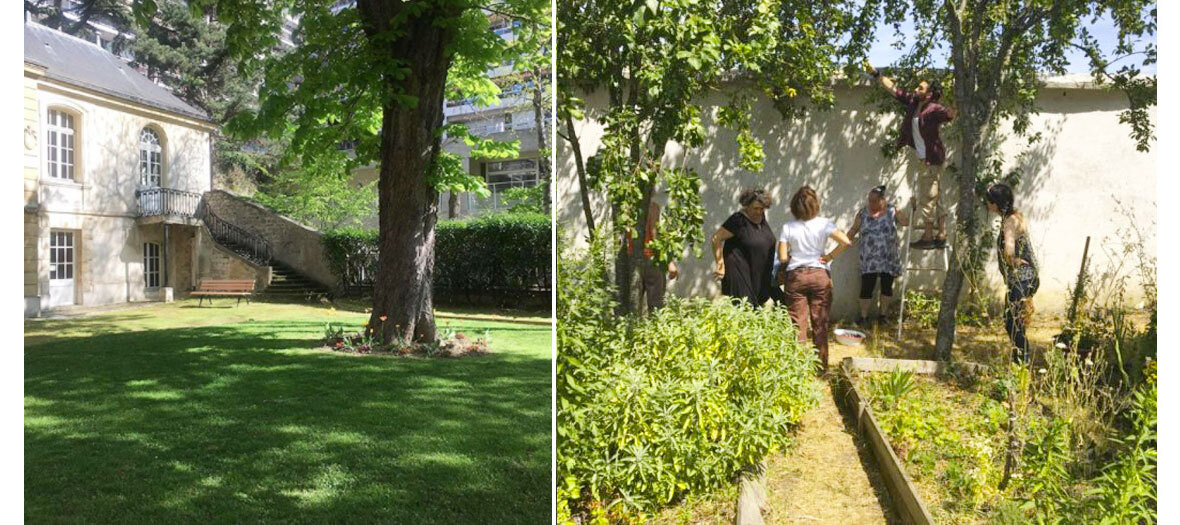 The promise: cultivating your garden.
This sad residence might lead you to believe it's the wrong address... Yet behind the unfriendly blue gate one discovers the majestic Square Colbert, next to an elegant 18th century pavilion with lawns, a pétanque area and flowery spaces. A great surprise for all the regulars of the Charonne district. To be noted: vegetable gardening workshops, aromatics and flowers, animated by the association Cultures en Herbes will be back on deck starting the 9th of June. Book quickly!
Where to pick up some great eats nearby? The restaurant Fulgurances (10 rue Alexandre Dumas, Paris 11th) sells a picnic box to be picked up on Thursday, Friday and Saturday, starting at noon with rillettes of salmon, leg of lamb, duck terrine, salad of courgettes and braised pineapple (€30 for two).
Entrance by n° 159 rue de Charonne, Paris – 11th
JARDIN DES ROSIERS – JOSEPH-MIGNERET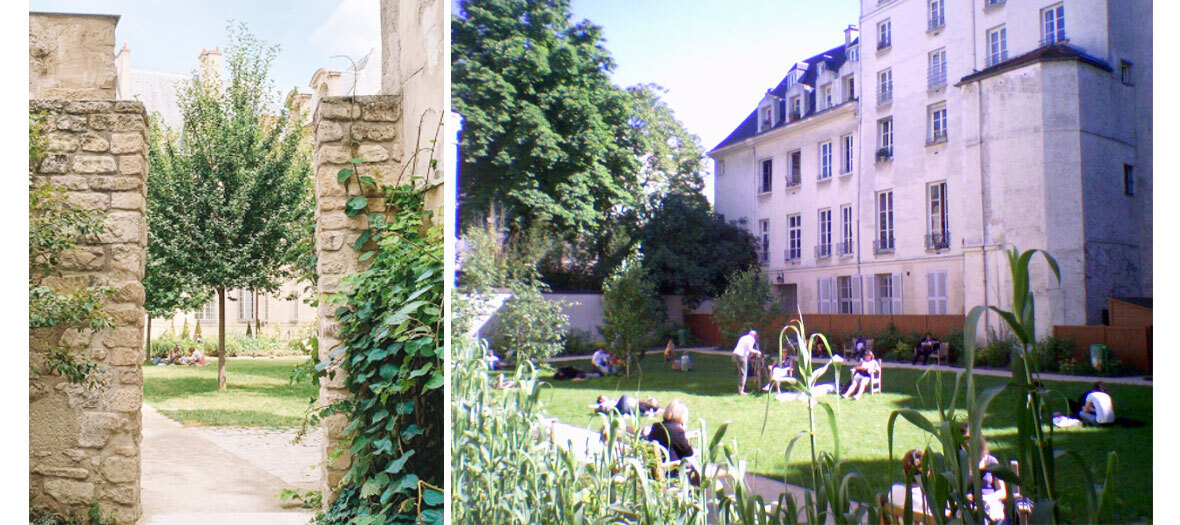 The promise: a hideaway in the Marais.
You deffo need to be in the know! Accessible only through a small covered passageway, this paradise of more than 2, 000m² comprises the three gardens of 17th century private mansions, gathered under the name Jardin des Rosiers – Joseph-Migneret. A shared garden, space for the kids and lawns to read quietly make it one of the most appreciated green spaces in the Marais. The must? Sitting next to the tall fig or orange trees and enjoying their delicate fragrances.
Where to pick up some great eats nearby? In the area, digging into a pita bread sandwich is a religion. Just choose your cathedral: L'As du Fallafel (34 rue des Rosiers, Paris 4th) or Miznon (22 rue des Ecouffes, Paris 4 th).
Free entrance through n° 10 rue des Rosiers, Paris - 4th
Also discover 3 outings in the forest near Paris and the new trendy hotels in France.