This is the ultimate puzzle. If you want to wake up outside, here is a small list of really stylish parties at cool prices. Lap.

Have a festive feast at Fitzgerald or Abstinence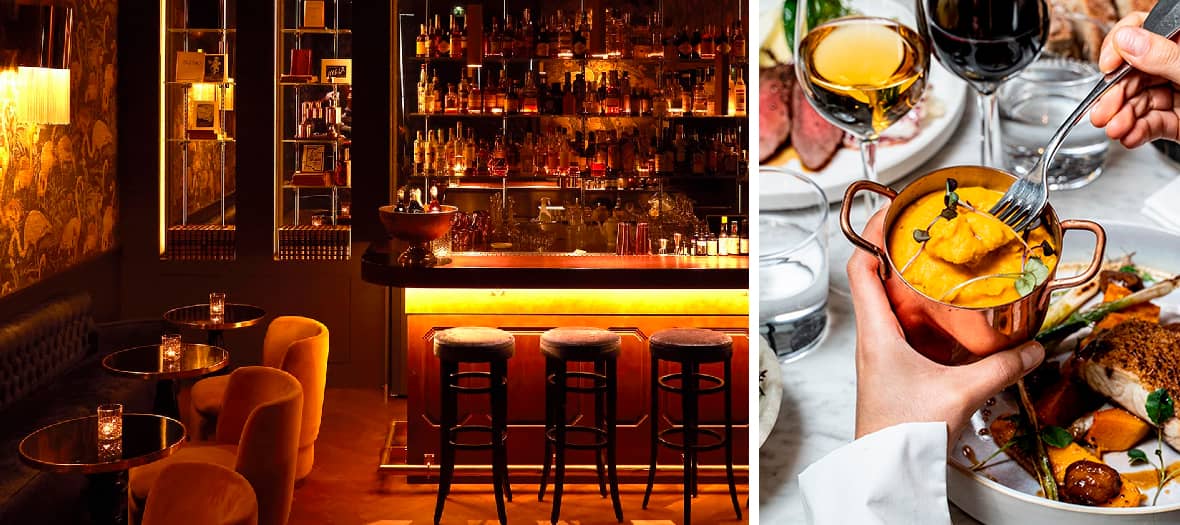 With its wildly festive decor and muffled prohibition-style atmosphere , this ultra-trendy address in the 7th arrondissement , opened by Guillaume Bénard , has everything from the glamorous Gatsby-style haunt we like to celebrate the 31st. The trendy tribes of the West Parisians are there to sip cocktails while jiggling on a frenzied playlist. On the program: a DJ set and a very good author's menu at 165 €. The opportunity to test Lucas Felzine's signature cuisine (formerly Ze Kitchen Galerie , L'Arpège , Uma ).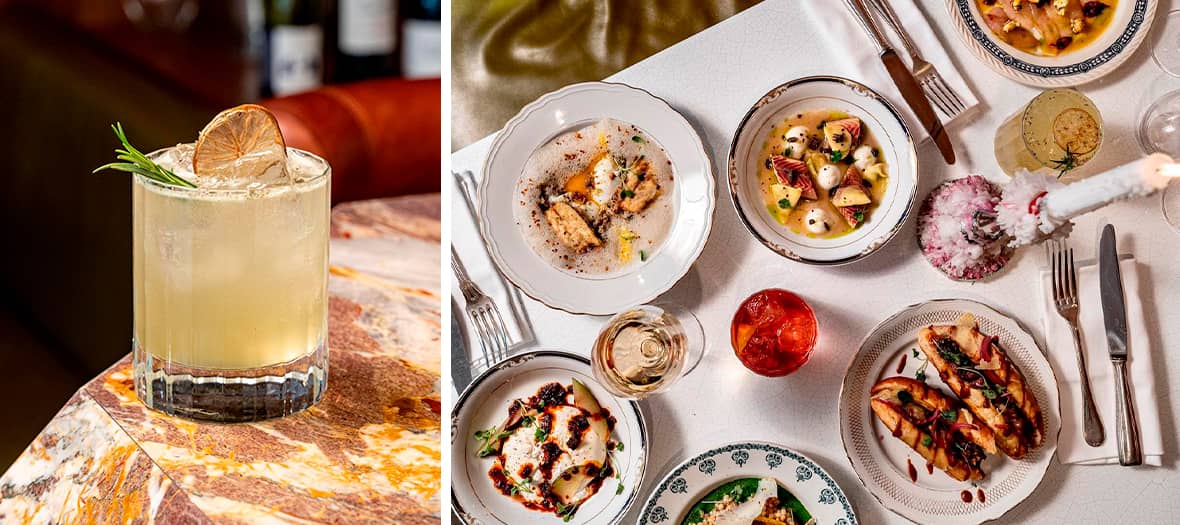 The same big atmosphere at Abstinence , the glam 'dining cellar from the same owner in velvet curtains, candles, cocktail bar and good sound of balloons, ideal for smashing your New Year's Eve. The chef deploys the same exquisite feast with high quality gourmet comfort food dishes: roasted scallops with chestnut cream, foie gras millefeuille, lobster ravioli with citrus fruits, capon with truffle butter, citrus opera and matcha, Ferrero Rocher with truffle. Good year !
2 services: 7 p.m. to 10:30 p.m. or 10 p.m. to 1:30 a.m.
Reservation required at Fitzgerald 54 boulevard de la tour Maubourg, Paris 7th
Reservation required at Abstinence 47, Avenue de la Motte-Picquet 75015 paris 01 42 77 80 09
Have fun in front of Camille Chamoux and a feast at Bouillon République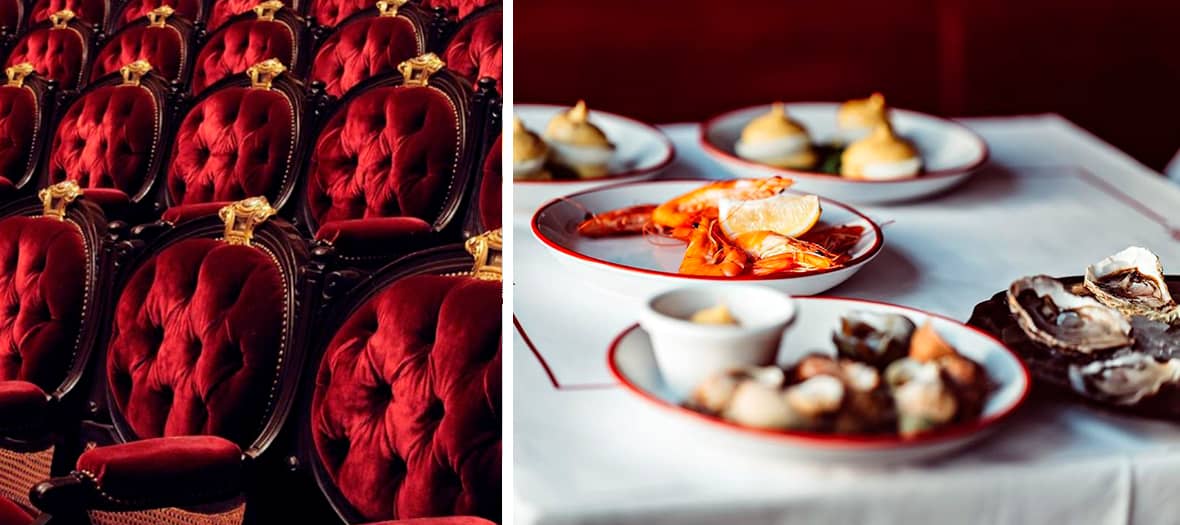 What if we had a real Parisian outing by curling up in the armchairs of the Théâtre de la Porte Saint-Martin, before sitting down to a table in a titi-canaille broth?
Directed by Vincent Dedienne with the help of Camille Cottin , Camille Chamoux's show is the promise of 1 hour 10 minutes of pure fun. Warning: you will inevitably recognize yourself in the tics of the city dweller: existential problems of the urban couple among the bobos, the art of wasted time while waiting for his bobun ordered on Deliveroo ... In addition to the good jokes on hangovers and parties of girlfriends, the peaks of humor also give way to some pretty literary references (Vian, Proust…) and the difficulty of existing of this generation Y of eternal teenagers.
And to finish in style: we rush 200 meters to Bouillon République , a real house of hype that does not change its magic formula. To make the party, go so far as to order Bouillon bubbles (32 € per bottle), in this case a sparkling author's wine that kills, followed by a holiday menu: lobster bisque, stuffed poultry and chestnuts (€ 13.80) and traditional chocolate log (€ 3.80). Always with extra-light prices, and without reservation for less than 20 people.
Le Temps de vivre with Camille Chamoux at the Théâtre de la Porte Saint-Martin . € 35 per seat by reservation . 18 bd Saint-Martin Paris 10th
Bouillon République , 39 boulevard du Temple, Paris 3rd
© The Travel Buds © Benoit Linero
Play the party girls in a big fiesta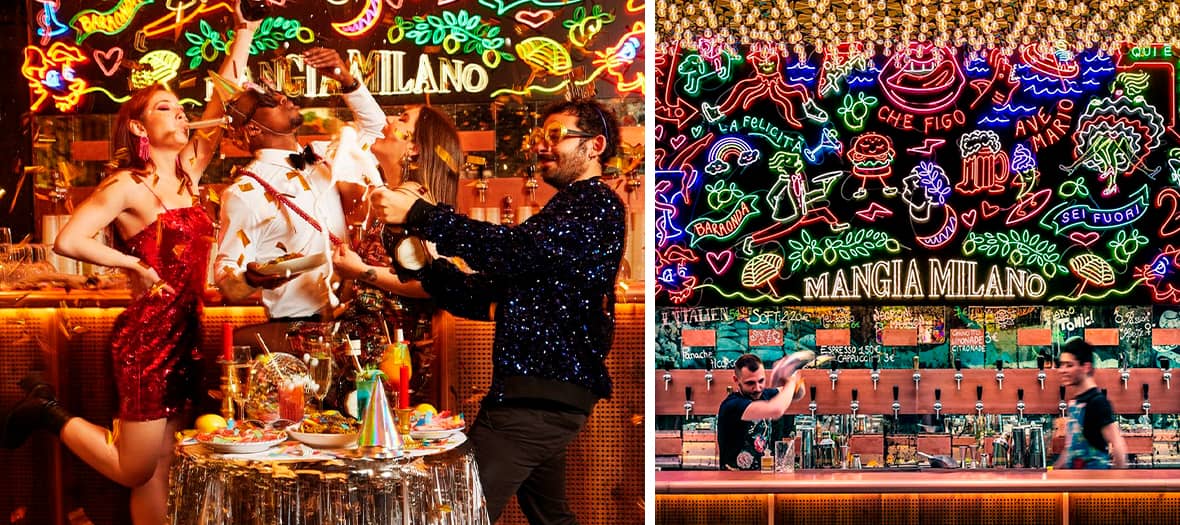 Have a big party and get involved in joy and good humor. Deal. For the occasion, La Felicità turns into a furiously stylish HQ from 5pm to 2am, with Team House of Flowers drag shows, a giant karaoke, a glitter stand, a photocall and blind tests. To really enjoy: the squadra Big Mamma draws too good: big blini, risotto with Saint-Jacques, lobster pasta and Salvatore Roberto to finish on a rum baba XXL to share.
€ 30 entry with 1 cocktail. Reservation on www.billetweb.fr . La Felicità , 5 parvis Alain Turing, Paris 13th. Please note, evening limited to 1,000 seats. Health pass and mask compulsory.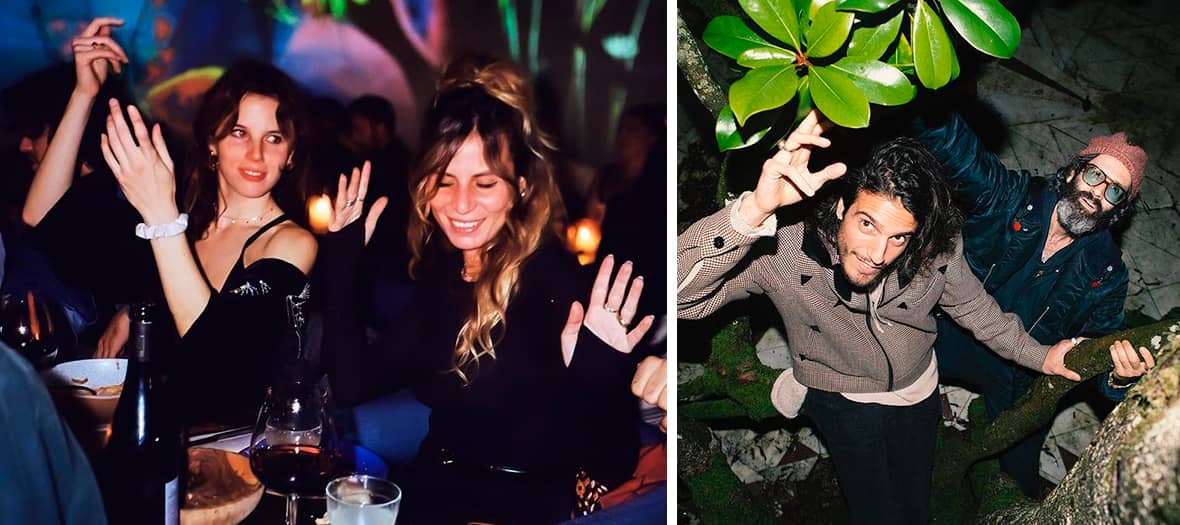 They know how to create festive atmospheres like no one else in a post-modern setting in the midst of the happys few who make up their crew of VIP friends. Julien Sebbag and Dorion , the DA, set Forest on fire in order to pass the 2022 milestone with arms in the air, feeling very privileged.
180 € the menu. Reservations recommended. Forest Paris , 11 avenue du président Wilson, Paris 16th
© Octave de Bascher and Marilyn Clark

Also discover 20 stylish ideas for vacations in Paris