It is the law of the college and high school years: each generation has its unofficial uniform like its batch of popular and stylish boys and girls. But teenage dress codes are governed by particularly precise and arbitrary rules, which the adult world often doesn't understand much about. With a color or a model, you can make them the happiest beings in the world... or make a huge flop.
From La Rochefoucauld to Fénelon via Condorcet , Charlemagne , Jeanson or L'Alsacienne , what are the new brands and clothing obsessions of stylish teenagers? The Do It Team investigated.
Urban Outfitters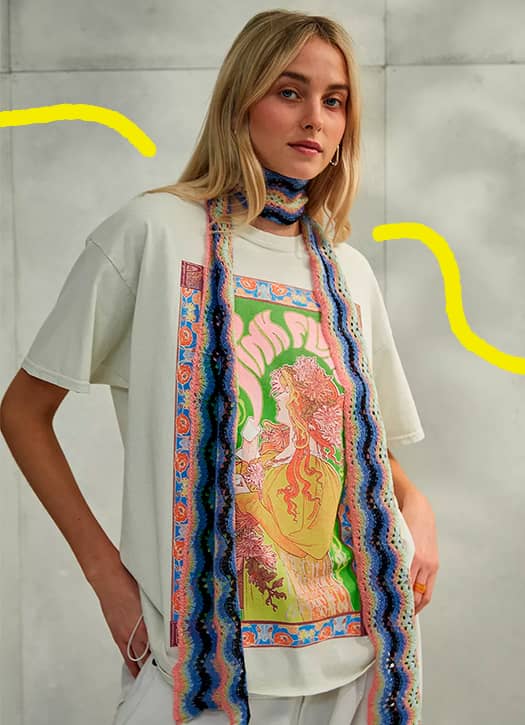 The pieces they all want: the ultimate desirable labels according to 13-17 year olds, namely the psychedelic knit jackets from House of Sunny (€129), Fjallraven backpacks (€99), jeans Levi's (€115), a Tommy Hilfiger university varsity jacket (€269), a legendary Juicy Couture velvet tracksuit (€75) and a nice selection of comfortable lingerie.
Normal, therefore, that the concept store in the rue de Rivoli is always full of these squads of teenagers who have come to unearth THE piece that will make them cool in the schoolyard. A temple of the avant-garde version of teenagers straight from the USA and which, after a success in London, settled down in Paris in 2018 to create the event.
jacquemus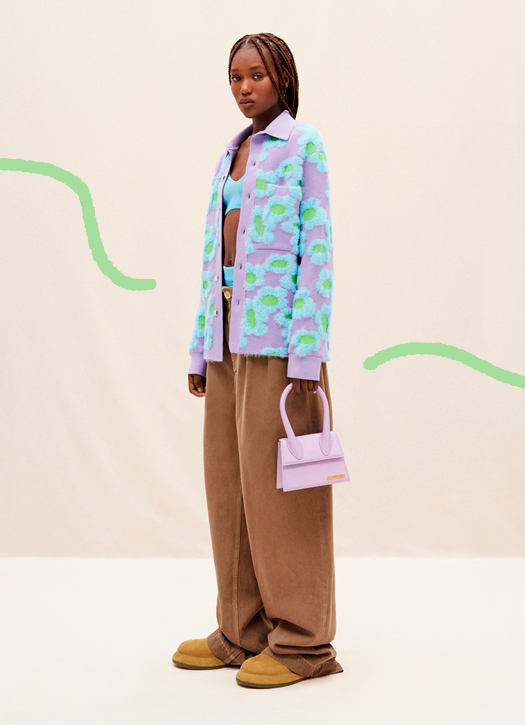 The item they all want : the Chiquito (€575). Whether as a key ring, small format, large or long, our young fashionistas all dream of it to be part of the fashion gang.
The Jacquemus phenomenon continues to grow on our Insta feeds as well as in the streets of Paris . The favorite brand of millennials and Z owes its success to its Insta-friendly designer, its oversized cuts , its crossed halter tops and its sunny collections. Easy-to-wear pieces that certainly make the purse squeak but turn out to be the obsession of teenagers, girls and boys.
Nike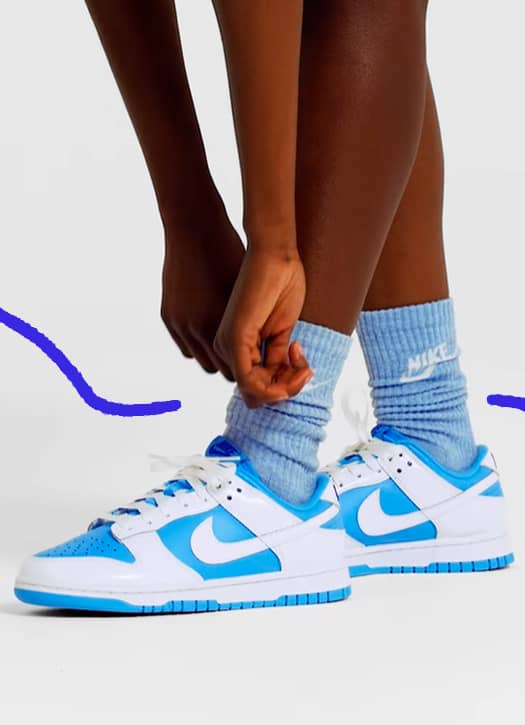 The piece they all want: the cult Dunk Low from Nike . Not found at official addresses? It's normal: inflation is such that it is now a question of catching them at exorbitant prices from resellers (these clever little guys who grab all the stocks like Wethenew or Restocks ), online or directly in the shops. that abound in Paris.
Sweeping away years of addiction to the immaculate white Air Force 1 , this flagship model of the 80's appeared on the floors of the NBA and was then taken over by the world of hip hop. Why him ? Hailey 's fault , of course. Since Justin Bieber 's wife wears it in all the colors, it's the jackpot: she has become THE new fashion icon, whom all teenagers dream of looking like. CQFD.
NA-KD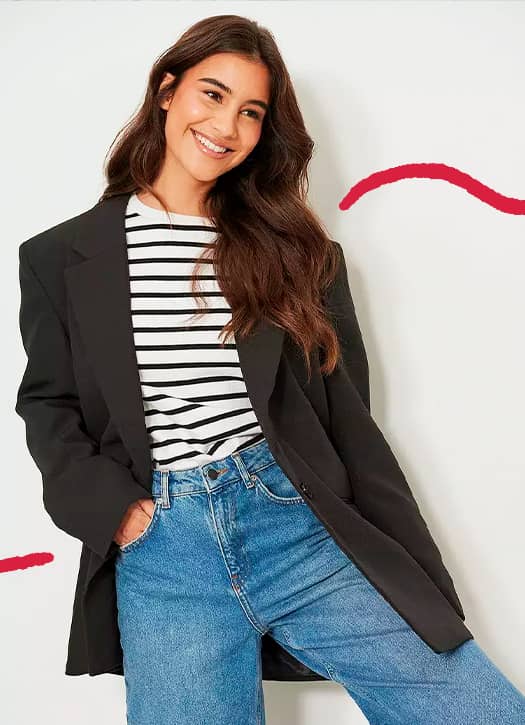 The piece they all want : the tall oversized blazer .
Are they young entrepreneurs, flanked by a large blazer worthy of the most glam' fashion editors in Paris? Worn over a (very) short dress or loose over boyfriend jeans, teens are grabbing this must-have before their time. Popular with young people, especially since a collaboration with their beloved influencer Paola Locatelli , NA-KD has become a reference for stylish young girls on a budget.
Zadig & Voltaire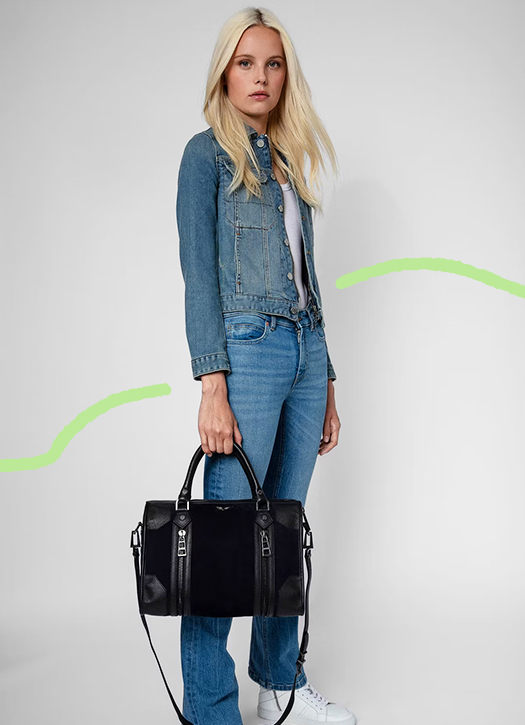 The piece they all want: leather bags with a very rock spirit to stuff their loose courses and look cool.
The brand's it-bags are on the way to dethroning the Vanessa Bruno shopping bag as a school bag for little Parisians in high school or in prep... The Grail? Getting a Sunny as a gift for your birthday or stealing the Candide model from your mum and showing off your binders.
Tommy Hilfiger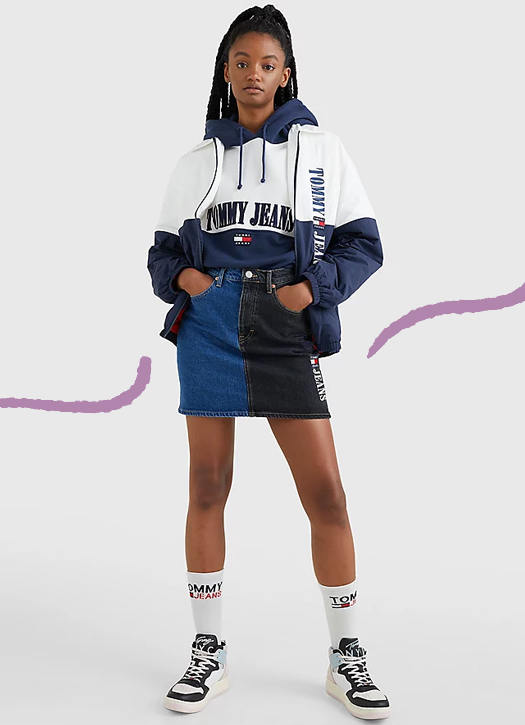 The piece they all want: vintage-looking faded denim pieces, especially the buttoned skirt.
She wears a trucker sweatshirt and a pair of dad shoes to go to school, and wears 90s accessories for a shopping spree with friends. In short, the denim skirt that they take pleasure in skating, from the ultra-popular Tommy Jeans range for those who bet on a total American look.
Bonton x Sonia Rykiel
The piece they all want: the two-tone teddy, 70's t-shirts, bucket hats, scarves, hats and jeans, in short, the whole collection!
When two iconic houses from Saint-Germain-des-Prés unite their vibes to create a colorful collection for teenagers, it's parents as much as children who are scrambling to buy everything. The Sonia Rykiel and Bonton collaboration is a bit of a fashion event this fall for teenagers on the left bank… but not only!
Brandy Melville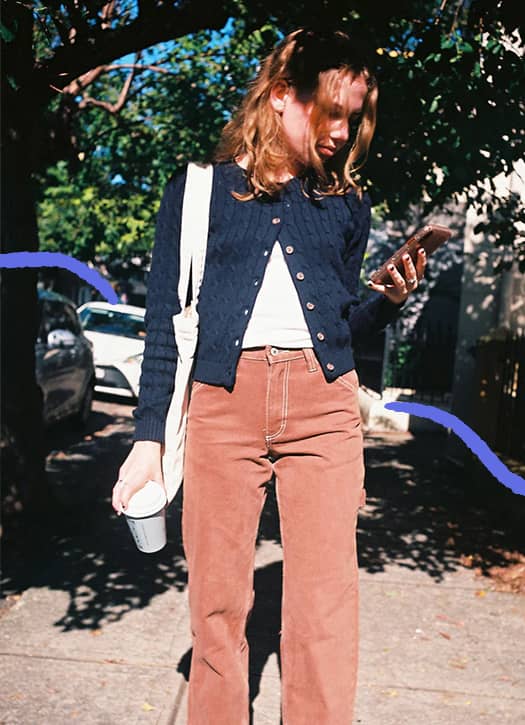 The piece they all want: cargos inspired by the workwear wardrobe, worn with a crop top and a baguette bag.
The favorite Italian label of teenagers dresses budding fashionistas. The Brandy singularity? One-size-fits-all pieces that make up a romantic-grunge uniform and celebrate 2000s looks with " baggy " bags with large pockets, bare navels (parents will have to get used to it…), oversized hoodies and the tricolor stripe .
subdued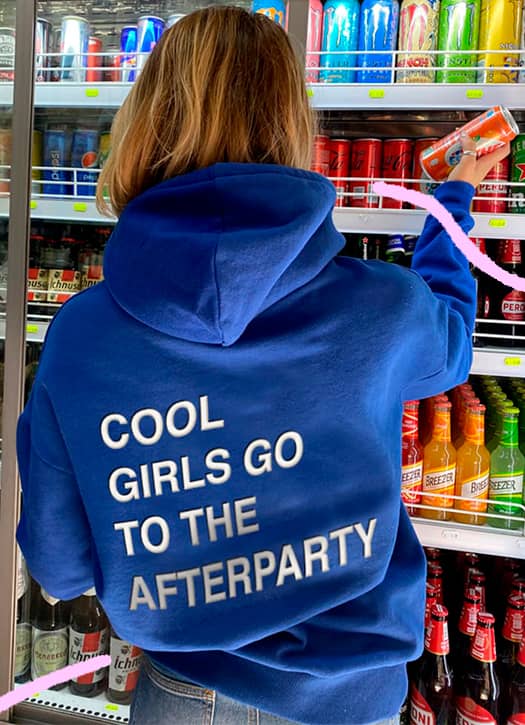 The piece they all want: the XXL sweatshirts and hoodies with messages, which they put on a cyclist for a sportswear but stylish look.
Designed for 12-20 year olds, the silhouettes of the Italian brand Subdued stand out for their effortless and colorful outfits , with large reinforcements of flowery dresses, ripped jeans, trellis prints, stripes or gingham. The result ? A clever mix halfway between baby doll and badass rebel.
ATNT Paris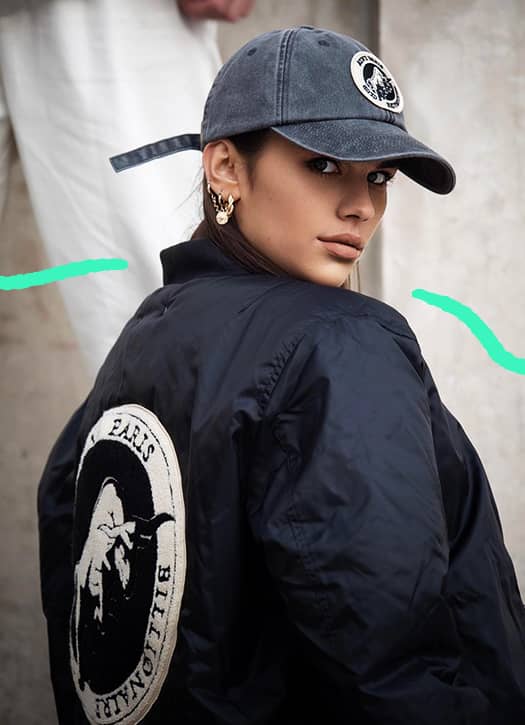 The piece they all want : bomber jackets and t-shirts inspired by the skate world to show off their street cred even when you come from the upscale neighborhoods.
The three buddies Mendel, Zachary and Esther never imagined that their unique customized sweatshirts would take on so much importance. The " Addicted To Nice Things " brand has made a name for itself in the fashion of teenage riders and skaters and now in high school classes BCBG Motorcycles: a certain need for freedom and to lead their lives as they see fit.
Also note: fond of slow fashion (we applaud the young people!) and often having a micro budget to indulge themselves, teenagers are increasingly turning to vintage shops and second-hand platforms such as Vinted . An effort to highlight and encourage, to save the planet and the wallet.
Also discover Brownie, the shop that teens are obsessed with and gifts to please them for sure .