Having replaced a former Asian counter, A mere decided to keep the old decor and not to take down the flashy neon outdoor Bobun Kitchen sign. And yet, « this is not a bobun », says the piece of paper scotch taped to the door.
So what's the story? You will discover it after your first mouthful. Having worked at the Meurice, Bocuse, in Dubai and Milan, Brazilian chef Mauricio Zillo really knows his stuff.
His stunning secret plates, such as a tuna and brocciu combo (Corsican cheese) embedded in an addictive yellow gazpacho (tomato, melon, pineapple, apricot, pepper, peach); braised cheek of beef with eggplant and grilled cucumber. Even better, the bavarois cake with white chocolate, spiked with fennel and smoked eel, as surprising as it may seem, it works very well. Allow yourself to be carried away.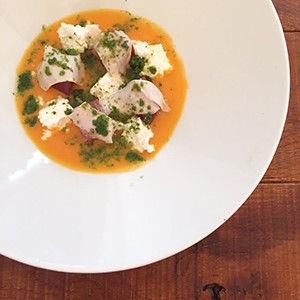 A unique experience, all the more so since you balance yourself on stools in this graphic and colorful hole in the wall.
The added plus: Mikaël Gou, ex sommelier at the George V, will pick for you the perfect price at cellar prices.
Open Monday to Friday, lunch and dinner. Tasting menu 65€, lunch menu 28€.