LV Dream is the exhibition that all fashion addicts have been waiting for. Louis Vuitton , aka the most desirable fashion house in the world, has recovered the building next to its headquarters facing the Pont Neuf to make it an exhibition space, a gift shop and a café signed Maxime Frédéric , open from December 12. We obviously snuck in to tell you everything…
A complete and inspiring exhibition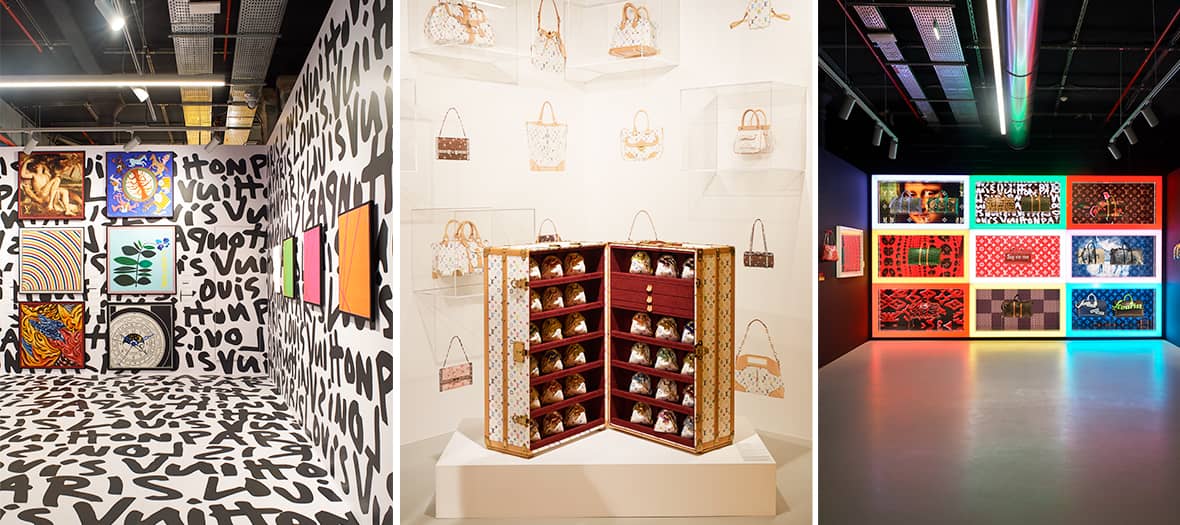 Vuitton and travel , Vuitton and collabs , Vuitton and silk , Vuitton and art … Across ten rooms unfolds the almost infinite expanse of creativity that has motivated the luxury house since its creation in 1854 by the trunk maker with an incredible destiny who will give it its name. For LV Dream , the curation set out to bring out precious archives that trace the history of the brand.
Here we admire a wardrobe trunk from 1936 to be placed vertically, old perfume bottles, a 1935 crocodile toiletry bag, a picnic trunk from 1913 with a superb full service, another amazing one that turns into a bed de camp , a mail trunk designed by the late DA man Virgil Abloh for the NBA … Not to mention the wonderful pieces from collaborations with Christian Louboutin , Comme des Garçons , Karl Lagerfeld , Frank Gehry and Vivienne Westwood .
The ultimate Instagrammable space: Art sur Soie, bringing together the most colorful scarves from Louis Vuitton designers , exhibited like subtle works of art in a decor that looks tagged from floor to ceiling. And, to end the journey, a walk among the most iconic clothes of the House by the artistic directors who have succeeded, from Marc Jacobs to Nicolas Ghesquières via Virgil Abloh and Kim Jones for men, between monogrammed pajamas , nurses' blouses and checkered dresses.
Maxime Frédéric's couture café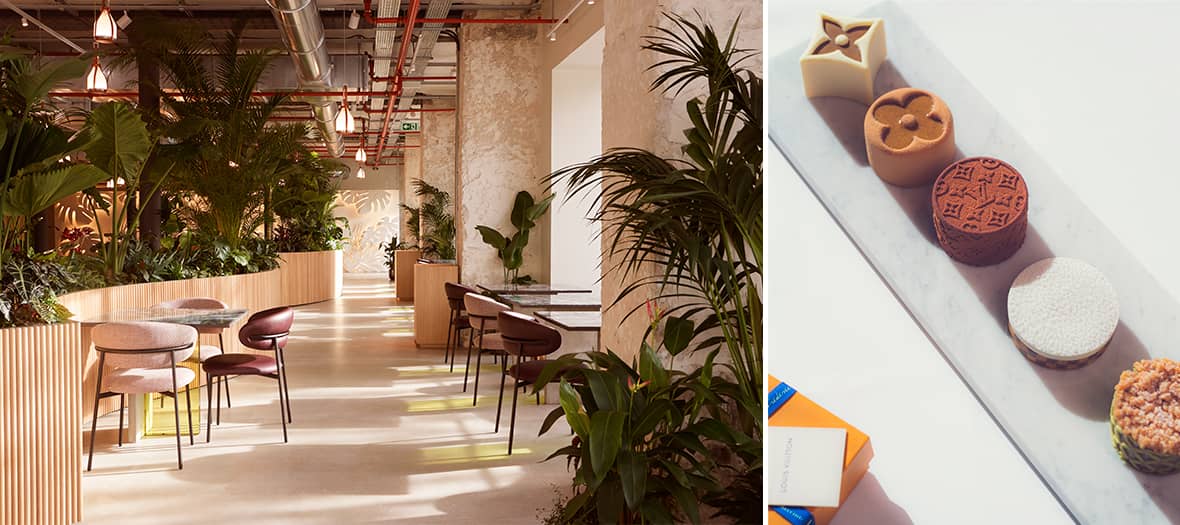 From the Cheval Blanc hotel , where he is the official pastry chef, Maxime Frédéric only had to cross the street to offer his sweet delicacies stamped LV. upstairs, there is a very luxurious café with a view of the Seine to treat yourself to a designer snack: chocolate éclair , steaming tea, vanilla-hazelnut-chocolate cake, matcha latte ... But also delicious creation chocolates to find side of the chocolate factory , where cocoa candies are arranged in mini versions of the iconic blue ribbon box. Classy!
gift shop
As Christmas approaches , the gift shop opposite the café turns out to be a mine of treasures: mythical Vuitton city guides , beautiful books to display in the living room, limited editions, pretty objects, fashion accessories, skateboards, snowshoes, dishes… at all costs.
Opening date: December 12, 2022. Open Monday to Sunday, 11 a.m. to 8 p.m. Free admission upon reservation for the exhibition via Louisvuitton.com . Free entry without reservation for "Maxime Frédéric at Louis Vuitton" and the gift shop.
© Adrien Dirand / Louis Vuitton

Also discover the art deco exhibition that is making the buzz and Photo Saint-Germain, follow our arty journey.