At first, we knew Géraldine Guyot 's brand under the name D'Estrëe , which produced chic hats and then jewelry , bags and belts . Now renamed Destree and also presenting ultra-sophisticated ready-to-wear, the label of the wife of Alexandre Arnault counts Rihanna and Beyoncé among its investors. Did you say stylish? His very first shop has just opened near the Tuileries , glued to Ganni . Visit.
An architect's case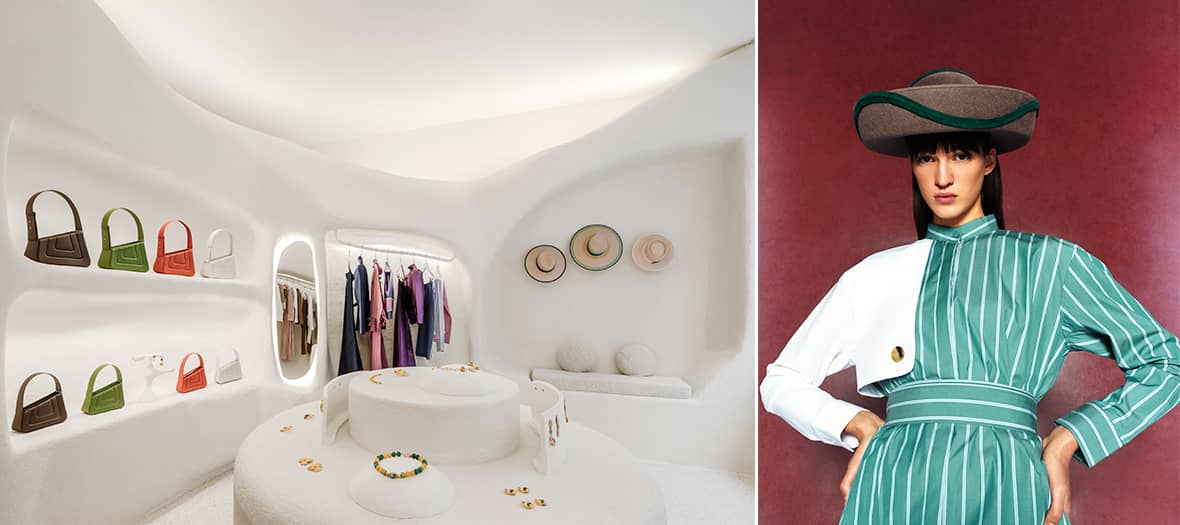 Is it an art gallery? An architectural firm? Nay. To attract the attention of tourists and capture Parisiennes, Géraldine Guyot plays the card of the arty and mineral atmosphere conceived between Paris and New York (where she has lived for two years) with the rounded lines of the sculptor Simone Bodmer-Turner who signs an immaculate decor worthy of a dreamlike little white cave, in which the artist has even installed a work and a lamp specially designed for the space.
The BCBG wardrobe by Destree
With her co-founder Laetitia Lumbroso , Géraldine started with elegant hats , 100% wedding-compatible and popular with chic bourgeoises from wedding to wedding from April to September. Headgear is still present, replaced for more coolness by a faux leather checkerboard bucket hat (€220) or a two-tone wool cap (€390).
On the ready-to-wear side, the striped shirts are perfectly sophisticated (€265), the trousers are reminiscent of Japanese lines (€240) and the wool and cashmere dresses are structured (€380). Accessorize everything with an ultra-graphic bag (from €470) and absolutely superb jewelry / works of art , to keep for yourself or to offer to a woman of taste (from €160).
Open Monday to Sunday, 10 a.m. to 8 p.m.
Also discover the dream shop for jewelery collectors and the new green and stylish concept store in the Marais .