See the jewels, try them on and crack among the thousands of nuggets without having to sell a kidney. Isabelle Toledano , creator of her eponymous brand and true romantic personality, recently set up her shop on rue Dauphine , in the heart of Saint-Germain-des-Prés . Owner's turn.
Try and chat
Barefoot under her long dress (it's hot this afternoon), Isabelle Toledano welcomes us as if at home in her domain all of stones and wood, decorated with large antique furniture and a huge table to present a part of the collection. The rest is under glass. There are left, right, everywhere. It's hard not to make the visit last when you're spoiled for choice… Never mind, the landlady is a conversationalist and tells you the latest gossip in the neighborhood while you rummage around.
Unique pieces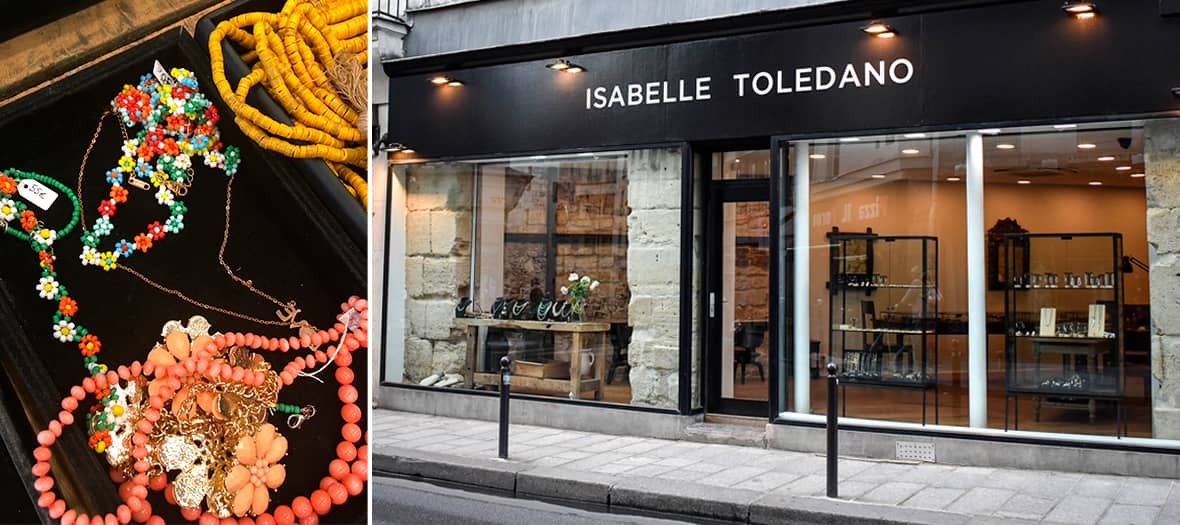 A jack-of-all-trades, the designer is not confined to one style of jewelry and loves to try her hand at everything. Bohemian buckles, large silver pieces, necklaces in colored pearls, small ear rings and even rhinestone pendants, eclectic fashionistas who love to change their style no longer know where to turn. Among our favourites: the daisy pendants from her new collection (€120), the turquoise and brilliant earrings (€90), the brooches with large pearls (€120), the hoop earrings worked in silver (€60 ) and the big golden chains to accumulate (€90).
An all-in-one address
Note that as with real jewellers, (almost) everything is possible at Isabelle Toledano, who pierces your ear (€30 with an ear stud, €90 with a more elaborate jewel), transforms your jewelery (on estimate and by appointment), repairs them thanks to its small workshop on site and also takes orders to reproduce (at a lower price) a jewel spotted somewhere.
Open Tuesday to Friday from 1 p.m. to 7:30 p.m., Saturday from 11 a.m. to 7:30 p.m. Collection also available on 24s.com .
Also discover the first Parisian boutique of Free People in the Marais and 3 addresses to unearth princess jewellery .
Isabelle Toledano 60 rue Dauphine 75006 Paris