There's a sense of déjà vu in the air! After setting the scene on the right bank with Brasserie Bellanger, Dubillot, and Martin, the La Nouvelle Garde group is now taking on the left bank, unveiling its fourth establishment in the heart of Saint-Germain-des-Prés. Here, you'll find everything that made the other spots successful, but with the change of location comes an added touch of elegance in the decor and an expanded menu featuring fresh seafood, and a surprising twist on the third floor...
A New Playground of Significant Proportions!
When tackling a building that is over a hundred years old, housing, among other things, the tower of King Philip Augustus, a relic dating back to the early 1200s, one must proceed with caution! The team at La Nouvelle Garde has joined forces with the Architects of France to delve into the archives. B3 Designer and Dorénavant Studio, already involved in the previous three locations, have been summoned to transform this structure into a trendy brasserie. And here it is, the 2023 version, adorned with large glass windows capable of accommodating both small and large groups, and featuring a delightful terrace. The ground floor is a "wow" experience, offering a captivating view of the kitchens from beautifully set tables. The first floor is more intimate yet vibrant, housing a second bar and the pastry workshop, where one can't resist making a stop. Ascending a few steps higher to the third level, walking on thick rose and mustard carpeting, is the highlight of the show: a "dancing place"! Everything is there—disco balls, mirrored ceilings, and velvety banquettes. Now, we eagerly await September for the speakers to come alive, inviting us to dance and groove—we can hardly contain our excitement!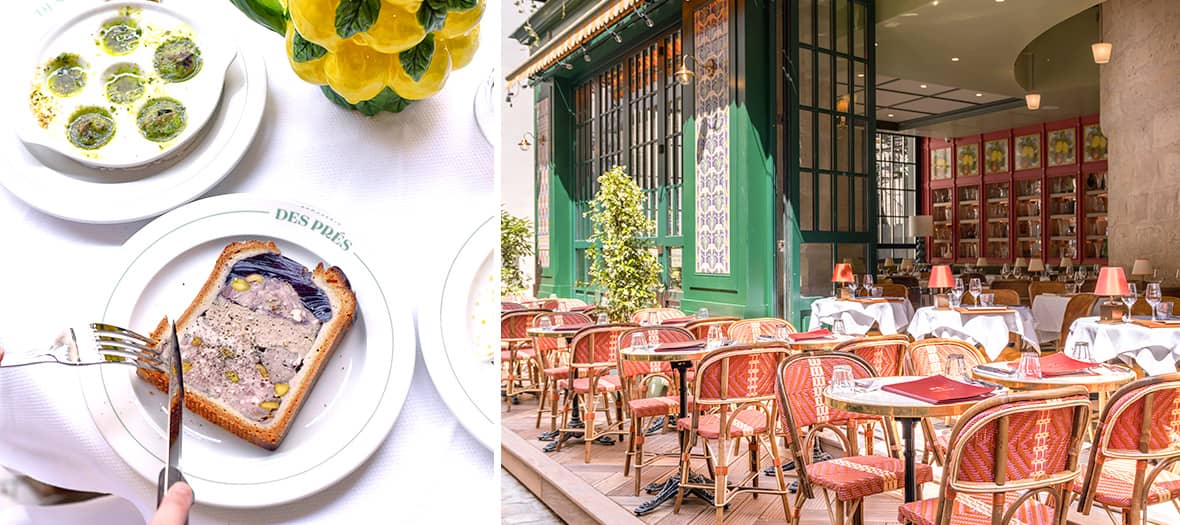 Taking the helm are a dynamic duo of chefs, Théophile Hauser-Peretti and Thibault Darteyre, the executive chef of La Nouvelle Garde group, determined to impress you. Rest assured, the classic dishes are still partying, such as mimosa eggs (€4), pâté en croûte (€14), sausage with mashed potatoes (€13), and beef flank steak with fries (€19). The amusing carafes with animal motifs are also present! As for the new additions, expect luxurious treats from the sea, including a selection of caviar from Maison Sturia (ranging from €80 to €100). There are also incredibly fresh langoustines (€15), sole meunière straight from small boats served with steamed potatoes (€50), and grilled sea bass (€60 for two). Before dessert, indulge in a cheese cart featuring a selection of locally sourced varieties from Cow, a direct producer. And finally, for the sweet touch, regulars will delight in the iconic Paris-Brest, which remains as mischievous as ever (€8). They can also enjoy the summer strawberry-pistachio tart (€10) or share the irresistible cherry clafoutis flambéed with Kirsch (€20 for two).
What's to drink? Natural wines and well-sourced vintner's selections, as well as cocktails with fun names like "Drôle d'Oiseau" mixing Charentais gin infused with tarragon, fennel, lemon, white apricot syrup, egg white, and poppy seeds (€12). There are also impressive selections of digestifs, including cognacs from Merlet Distillery and Bourgeois Absinthe.
Coming soon: Glacier des Prés Adjacent to Brasserie des Prés, this icy spot will open its doors on July 1st to delight guests with homemade churned ice creams and sorbets. The concise menu of flavors will cater to everyone's taste, including vanilla, yogurt, Corsican mandarin, and Sicilian lemon. The sorbets will be crafted to complement the seasonal fruits, such as vineyard peaches. And for those addicted to the Paris-Brest, the establishment promises an icy variation of its beloved dessert mascot: yum!
Discover the New Rooftops to Hang Out at This Summer and After the success of Bellanger and Dubillot, it's now time for Brasserie Martin to take the stage!