© Joséphine Brueder / Ville de Paris
Q.G. for the trendsetters in search of a village spirit, Butte aux Cailles has some hidden gems and is home to multiple street art spots, perfect for an artsy stroll. Our editorial team reveals their favorite addresses.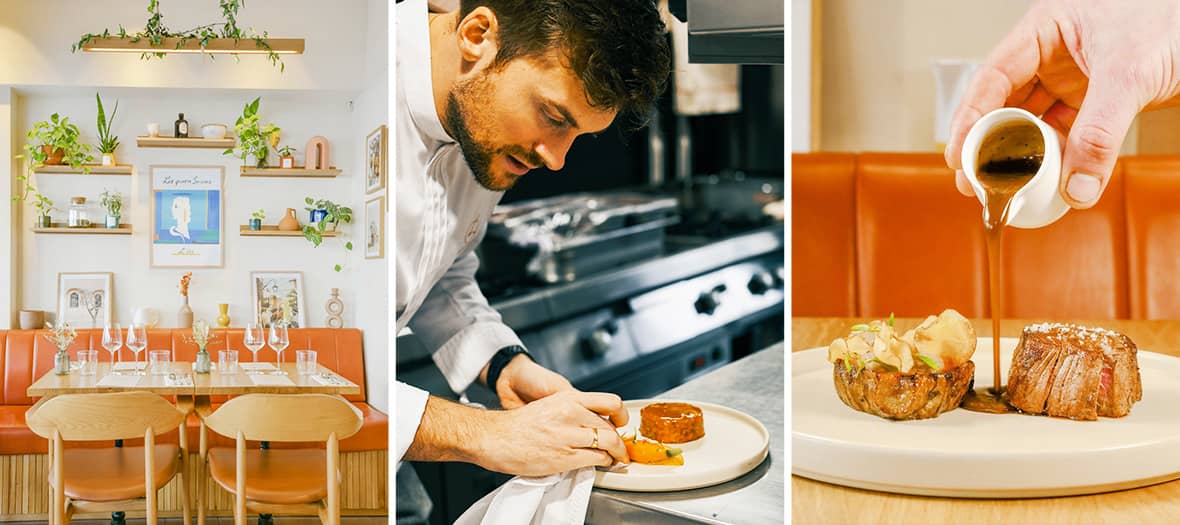 Location: Welcome to the neighborhood's gourmet destination, opened just a year ago by Top Chef Lilian Douchet (Season 13). Since then, it has become a true haven for gourmets with its delightfully summery floral decor and a menu that focuses on fresh, seasonal ingredients. With a progression of dishes increasing in intensity, Dame Augustine offers a sensory journey in its menus.
Why we love it: Indulgence and conviviality are the keywords here. According to Guillaume Pottier, former pastry chef and now Lilian's right-hand man in the kitchen, "the restaurant is above all a space of memories." The menu features generous soft-boiled eggs with smoked trout and zucchini cream (€14), tender and flavorful monkfish with Granny Smith sauce and fresh peas (€32), or a robust roasted poultry with a fermented sauce (€30). A top choice during weekdays is the lunch menu starting from €28.
Dame Augustine, 32 avenue des gobelins, Paris 13th. Open Wednesday to Sunday from 12pm to 2pm and 7pm to 10pm. Online reservations or call 01 83 92 85 98.
Swimming Pool of la Butte aux Cailles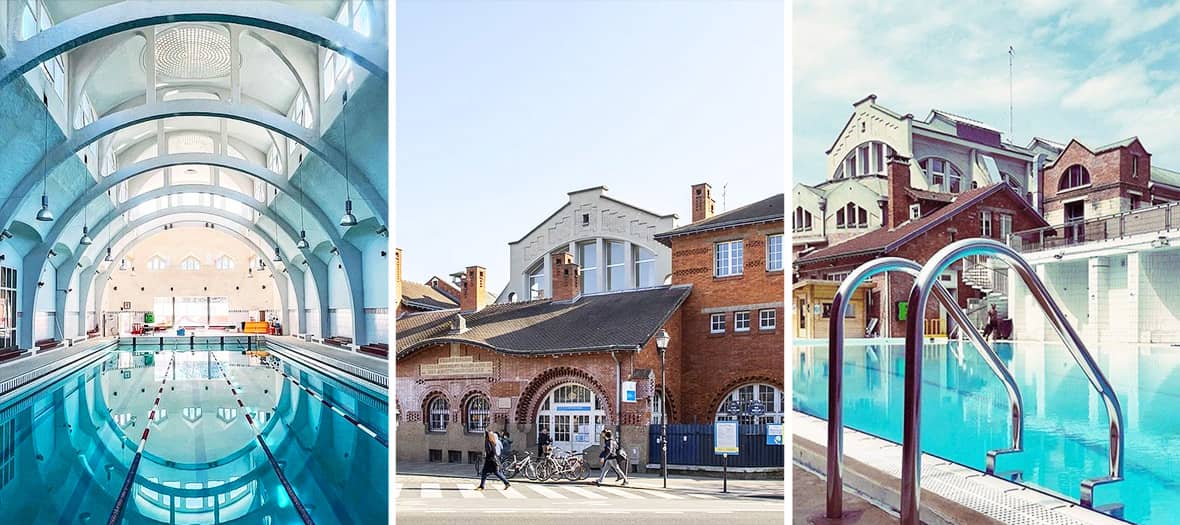 Location: A historic monument since 1990, the Butte aux Cailles swimming pool is the iconic building on Place Paul Verlaine. This establishment from the 1920s is a must-try with its superb solarium, perfect for sunbathing as if on vacation, and its two pools, including an outdoor one heated to 28°C, offering a unique sports experience that will give you a siren-like figure.
Why we love it: The pool has recently added a Nordic bath, offering a quick trip to Iceland for the cost of a Navigo card. Nestled in its heated pool, you'll feel like you're living a dream. Open until late in the summer, it's the perfect place to perfect your breaststroke under the stars and enjoy a refreshing break before heading home. For movie lovers, you should know that the location was used for the meeting between the characters Paul (Mathieu Amalric) and Sylvia (Marianne Denicourt) in the film "My Sex Life... or How I Got into an Argument" by Arnaud Desplechin. A true pool of stars!
Piscine de la Butte aux Cailles, 5 place Paul Verlaine, Paris 13th. Tuesday to Friday from 7am onwards. Saturday from 10:30am to 8:30pm, Sunday from 8am to 6pm. Entrance: €3.50. © justinem_d and © pixorol / Instagram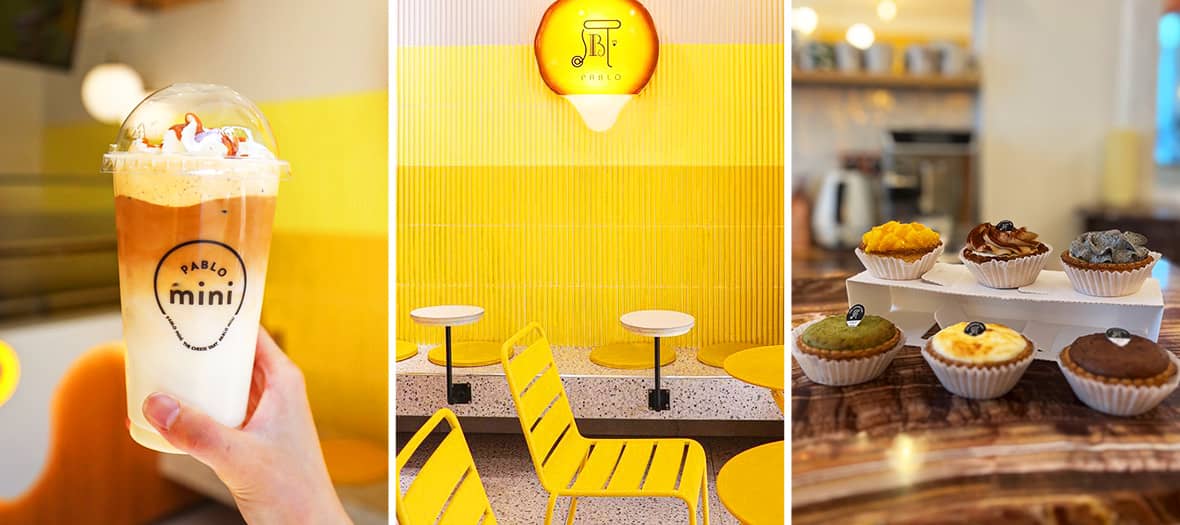 Location: A sunny spot just 10 minutes from Butte aux Cailles, Pablo Cheese Tart exudes the aroma of sugar on Rue Tolbiac. This famous Japanese brand presents itself as the perfect place to find a fresh, homemade Japanese dessert. Their specialty? Mini cheese tarts, bite-sized Japanese cheesecakes with various flavors that you can devour in one go. Yum!
Why we go there: opt for a combination of mini cheese tarts (€3.50 each) with flavors like tiramisu, matcha, sesame, mango... or take a seat at the table to try their latest fluffy pancakes. Straight from Japanese culture, these airy pancakes are taking over our Instagram feeds (and now our plates) with their tempting and indulgent sides. To complement it all, why not order a crème brûlée bubble tea or a grapefruit lemonade? A guaranteed sugar rush!
Pablo Cheese Tart, 128 rue de Tolbiac, Paris 13th. Open Monday to Sunday from 11:30 am to 8 pm. Phone: 01 53 82 42 59. © Pablo Cheese Tart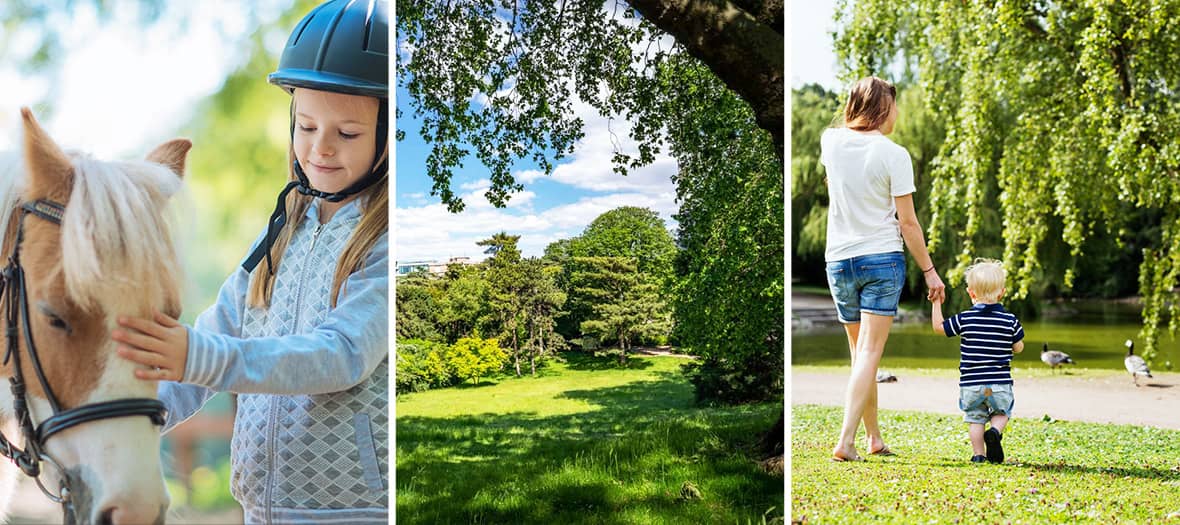 The Place: descend from the Butte and position yourself just in front of the Cité Universitaire to discover a 15-hectare English-style garden spread across various terrains. Inspired by the London parks recognized for their vast lawns, Napoleon III created this lush green space, ideal for a picnic. For centuries, Parc Montsouris has been a green corner of Paris, dog-friendly, and perfect for our four-legged companions. Pure bliss!
Why we go there: to visit La Bonbonnière (€3.50), a renowned pancake spot in the park for over 30 years, and enjoy a spontaneous picnic. Grab a delicious meter-long pizza slice from Di Loretta (32 avenue Reille) just across the street from the park. With Guignol puppet shows, pony rides, and a lake, the park is a children's paradise but also delights couples with its statues and romantic spots. Feeling tired? Take a break at Pavillon Montsouris, grab a glass of wine (€4.50), and enjoy the view by the lake. Simply adorable!
Parc Montsouris, 2 rue Gazan, Paris 14th. Open every day from 7 am to 9:30 pm. Dogs allowed on a leash. © Clément Dorval / Ville de Paris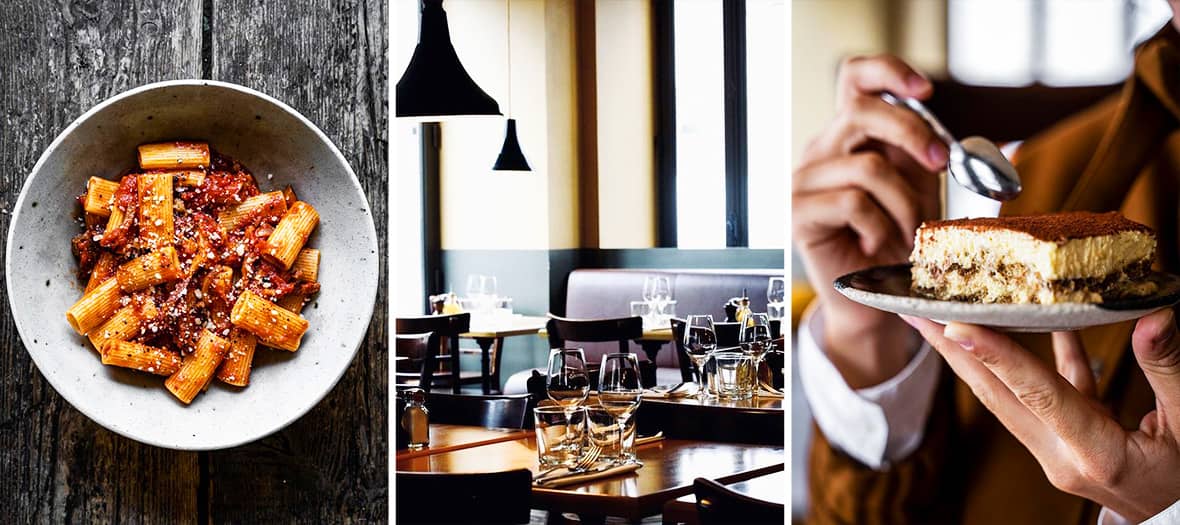 The Place: Les Cailloux is the most Italian address in the 13th, run by true Italians who bring the flavors of the "boot-shaped" country. Settle into this minimalist Italian trattoria on the Butte aux Cailles street to discover a warm and family-friendly atmosphere offering classic seasonal dishes. It's a dolce vita ambiance perfect for those impatient souls longing for their next vacation in Sicily...
Why we go there: take advantage of the sunny days to linger on the terrace, extending the aperitivo until dusk. It's as simple as ordering a lemon burrata (€14), a roasted vegetable platter (€20), and one (or more) Spritz. For a romantic date, indulge in their creamy prawn pasta (€19) or linguine cacio e pepe (€17), which will tantalize your taste buds. And don't miss the decadent tiramisu (€9), a delightful treat to savor alone or share.
Les Cailloux, 58 rue des cinq Diamants, Paris 13th. Open Monday to Thursday from 12 pm to 2:30 pm and from 7 pm to 11 pm, Friday from 12 pm to 3 pm, Saturday from 12 pm to 3 pm and from 7 pm to 11:30 pm, Sunday from 12 pm to 3 pm and from 7 pm to 11 pm. Phone: 01 45 80 15 08. © les cailloux paris / Instagram.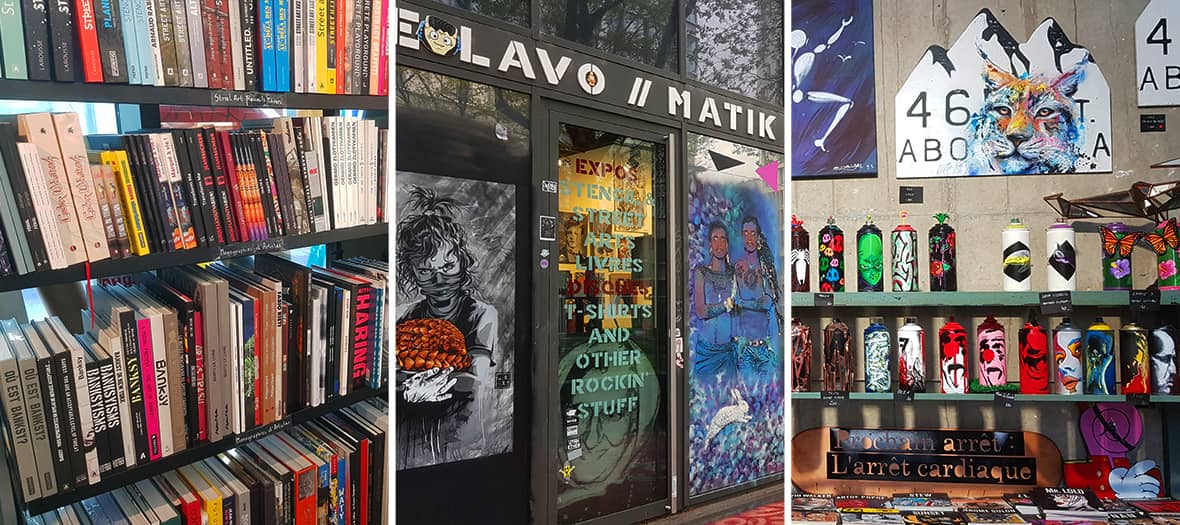 The Place: Urban art enthusiasts flock to this avant-garde gallery-bookstore, whose immense collection of books has made it a reference point. It's an underground venue that offers new exhibitions every month, blending emerging street art talent with graffiti, paintings, and sculptures from the global scene. A temple of hype, this establishment, run by Benoit Maître for years, offers vinyl records, posters, t-shirts, and even tote bags inspired by urban art. Wow!
Why we go there: It's a super arty spot where you can discover a new storefront created by a guest artist each month. Adjacent to it is an adjacent staircase that takes the form of a true artistic cave. Walk a dozen steps to discover the Galerie Itinerrance, a hub of contemporary urban creation. Descend the staircase in front and explore Spot 13, a bewildering place that serves as a real street art headquarters. Roam freely through this space (under the ring road!) adorned with graffiti and original sculptures. Then, grab an IPA and enjoy a game of pétanque at La Bretelle, a shelter nestled in this alternative corner. Cool!
Le Lavo//matik, 20 boulevard du Général d'Armée Jean Simon, Paris 13e, open Thursday from 12pm to 4 pm, and Wednesday to Saturday from 12pm to 7pm.
Spot 13, 47 allée de Paris-Ivry, Paris 13th.
La Bretelle, 9 rue Jean Baptiste Berlier, 75013. Open Monday and Tuesday from 12 pm to 3 pm, Wednesday to Saturday from 12 pm to 2 am.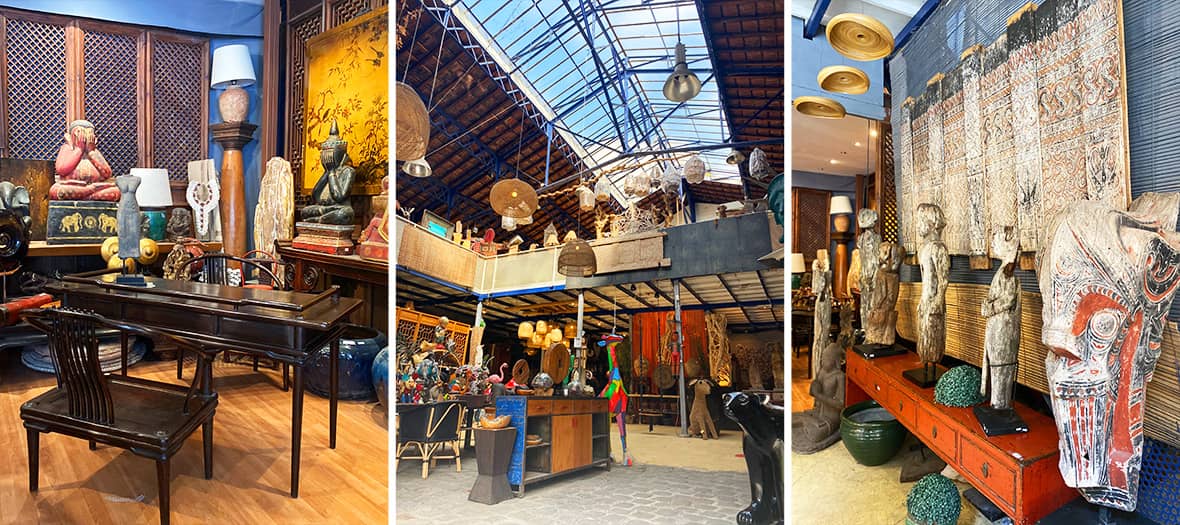 The Place: Welcome to this urban jungle filled with unique and hard-to-find decorative gems, where you'll be greeted by faux animals, parrots, and flamingos as part of the decor. This art gallery, filled with beautiful objects, has a travel-inspired atmosphere and is housed in a large two-story warehouse. Visitors come to admire exclusive African and Balinese treasures freshly imported by the venue's managers, as well as a multitude of jewelry inspired by non-European art. Globetrotters already love it for finding the perfect centerpiece to proudly display in their living rooms.
Why we go there: To take a wonderful stroll and uncover the secrets of the place while discovering objects from all over the world. Statues, masks, decorations, wooden carvings, and even jewelry can be found in this gallery that blurs the boundaries between craftsmanship and artwork. A dedicated section for Indonesian items is an essential stop for giving your living room a Asian touch, with rugs, cushions, and figurines that add a kawaii touch to our interiors...
Gallery Pourquoi pas?, 31 rue Vergniaud, Paris 13th. Open Thursday to Saturday from 1 pm to 7 pm. Free entry.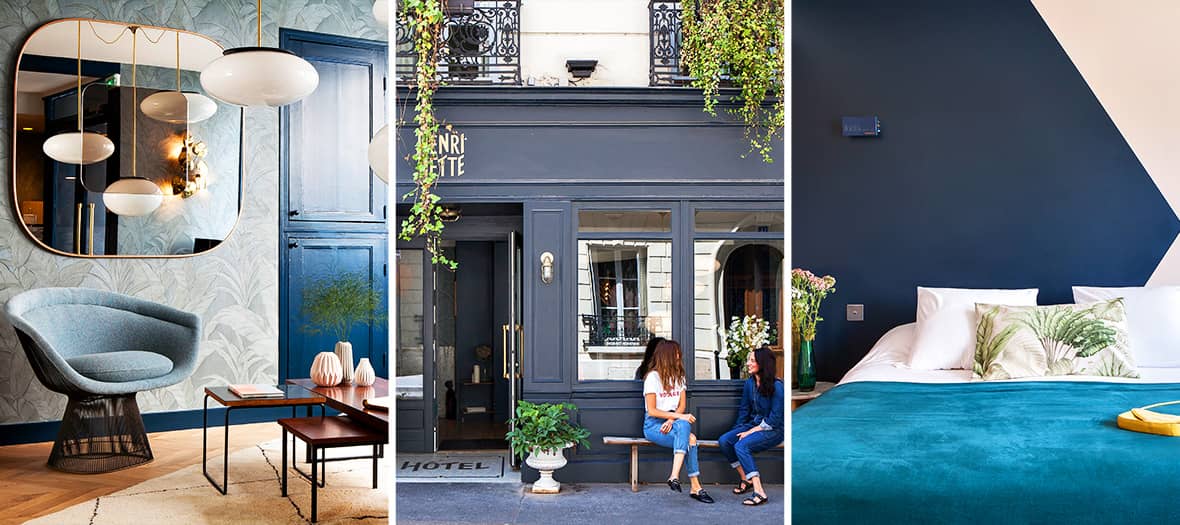 The Place: This hotel, focused on design and ecology, has been decorated by Vanessa Scoffier, a former Marie-Claire magazine fashion editor, which guarantees good taste. The motto? A "home-like" decor, comfortable and welcoming, attracting both tourists and locals alike. With its cozy and family-friendly atmosphere, this address is spread through word of mouth and owes much of its success to its regulars. A little piece of paradise in the heart of Paris!
Why we go there: We check-in for a romantic evening in one of the 32 uniquely decorated rooms, each capturing the same bohemian romantic spirit. In the morning, a farm-style breakfast awaits, with fresh and raw products served in the charming little winter garden. Joyfully, the restaurant also offers fantastic tapas (between €5 and €12) during aperitif time, accessible until 7 pm for passersby who are not staying at Henriette but still want to enjoy their delicious cuisine.
Hôtel Henriette, 9 rue des Gobelins, Paris 13th. Open every day, weekdays only until 7 pm for passersby. Reservation online or by phone at 01 47 07 26 90. Room rates range from €89 to €259.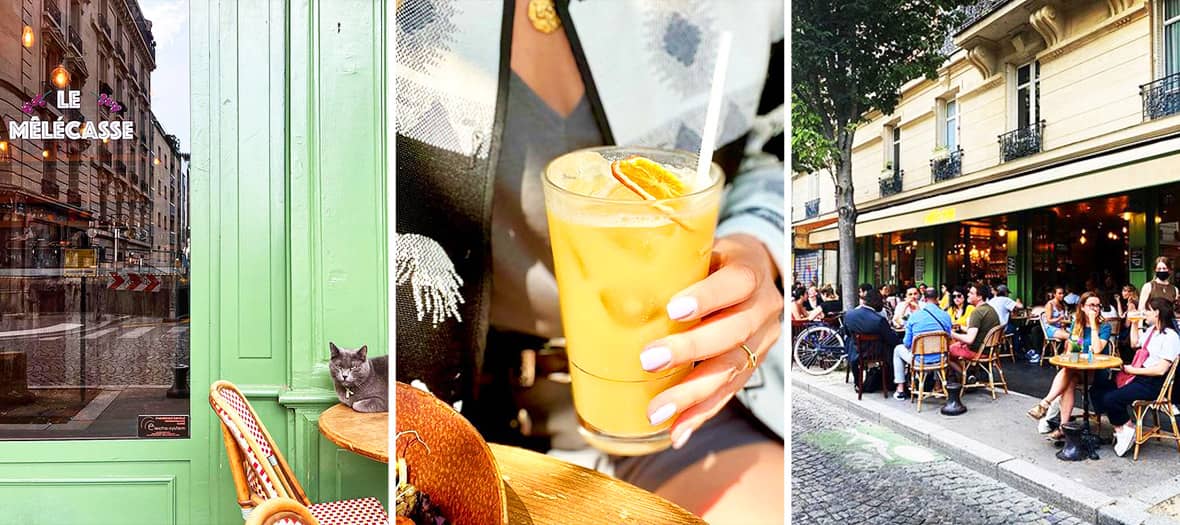 The Place: With its vast green terrace, this is the place to hang out for a drink on the Butte. Le Mêlécasse welcomes food lovers and after-work partygoers from noon until nightfall, offering cocktails, wines, and even sharing platters. It's the perfect spot for groups of friends who want to chill on the Butte! Bonus: Lucky ones can enjoy their drinks while cuddling with Souki, the adorable cat owned by the establishment.
Why we go there: Its colorful and eclectic decor will please even the most seasoned designers, in an open space that allows you to extend your evening after the aperitif. We go there for their homemade cuisine, including pies, salads, and hearty dishes. Feeling a bit wanderlust? Opt for a refreshing break with a Moroccan-style mint green tea served in a large metallic jug. When it comes to drinks, grab one of their super affordable cocktails (between €9.50 and €12), such as an excellent Whisky Sour or a refreshing Porn Star Martini. However, be careful, they might make your head spin a bit. Pro tip: Take a taxi home!
Le Mêlécasse, 12 rue de la Butte aux Cailles, Paris 13th. Open every day from 8 am to midnight, Fridays and Saturdays until 1:30 am. 01 55 32 09 97.

And as always…
The superb local grocery store, Solla, 26 rue Duméril, Paris 13th.
An abundance of seafood at La Bonne Mer, 22 rue du Moulin des Prés, Paris 13th.
A chic kebab at Lüks Kebab, 6 Rue du Père Guérin, Paris 13th.
The neighborhood canteen at Auberge de la Butte, 8 Rue de la Butte aux Cailles, Paris 13th.
Delicious Basque products at Gladines, 30 Rue des cinq Diamants, Paris 13th.
Cédric Grolet-inspired trompe-l'œil treats at the delightful Butte aux Piafs, 31 boulevard Auguste Blanqui, Paris 13th (open until the end of September).
Mosaic workshops at Les Flocats, 43 Rue Vandrezanne, Paris 13th.
Artisanal rum at Le Merle Moqueur, 11 Rue de la Butte aux Cailles, Paris 13th.
Stylish rooms at Coq Hotel, 15 Rue Edouard Manet, Paris 13th.
The best Chinese soups at La Table du Lamen, 72 avenue de Choisy, Paris.
Also, check out Saint Ouen flea market : instructions to use and the best spots in Montmartre.