It's the stylistic question of the moment ! How to give your wardrobe a Spring touch while avoiding the hot and cold syndrome, and deal with the fact your legs are still much too white to be shown? To avoid a big hassle every morning: we have put together 10 ideal outfits by following inspirations for this start of season that made our radars go wild.
© Maison Labiche
Define your new working-girl uniform at Comptoir des Cotonniers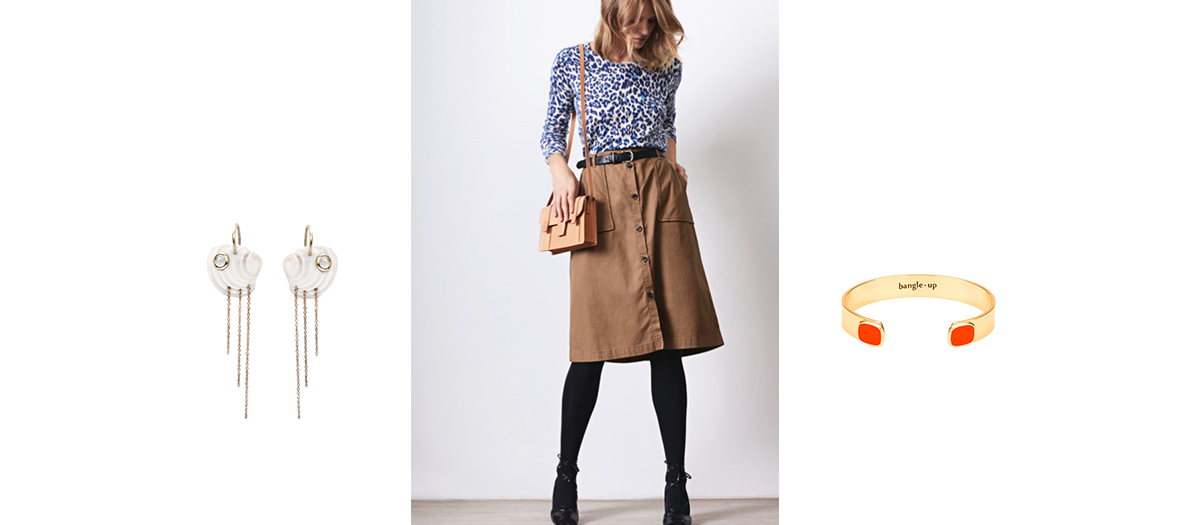 The perfect uniform for the urban gal who runs from one meeting to another? A structured midi skirt, with a retro side updated by a leopard print pullover. Indispensable to show off your waist, an elegant thin leather belt buckles up the outfit.
The good accessories: refined jewellery pieces that awaken the casual side of my outfit, such as a pretty golden bracelet Bangle Up (66€) and earrings featuring shells, vermeil and aqua-marine Shagreen & Tortoise (325 €).
Fine printed pullover with cashmere, Comptoir des Cotonniers, 125€.
Midi skirt in kaki linen, Comptoir des Cotonniers, 115€. Available in shops mid-April.
Bambou leather belt, Comptoir des Cotonniers, 65€.
Mini satchel in Linen leather, Comptoir des Cotonniers, 135€.
Open-toe pumps with hidden lacing, Comptoir des Cotonniers, 165€.
Go for the duo skirt + bombers by ba&sh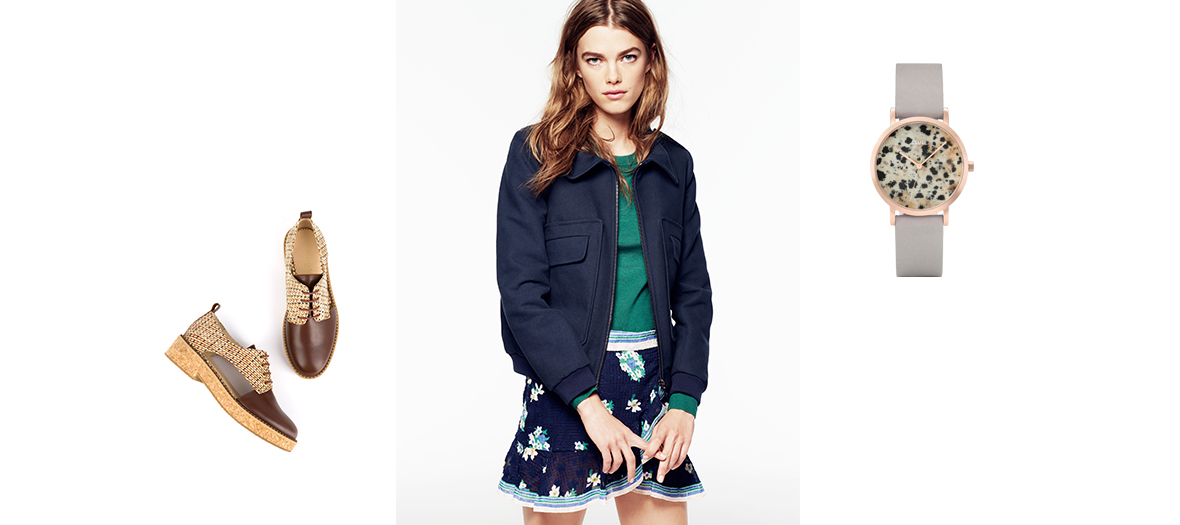 Dare to twist the prim Bash skirt with a structured blouson for a very masculine-feminine spirit. The aristocratic touch is given by a merinos wool pullover in a fabulous green hue.
The good accessories: go for the real Parisian look with these ultra stylish brown derbies at Mellow Yellow (139€) to worn with cute socks in order to keep your footsies warm. To give your silhouette a precious twist: the superb Cluse watch in limited edition (159€) with a dalmate stone and a pink gold case rose.
Gordon wool pullover, ba&sh, 180€.
Short zipped Gemma blouson in cotton, ba&sh, 340€.
Paola flowered spirit with a wrap-around spirit and a bottom with contrasted ruffle spirit, ba&sh, 150€.
Holding your own as a chic and relaxed Parisienne at Marie Sixtine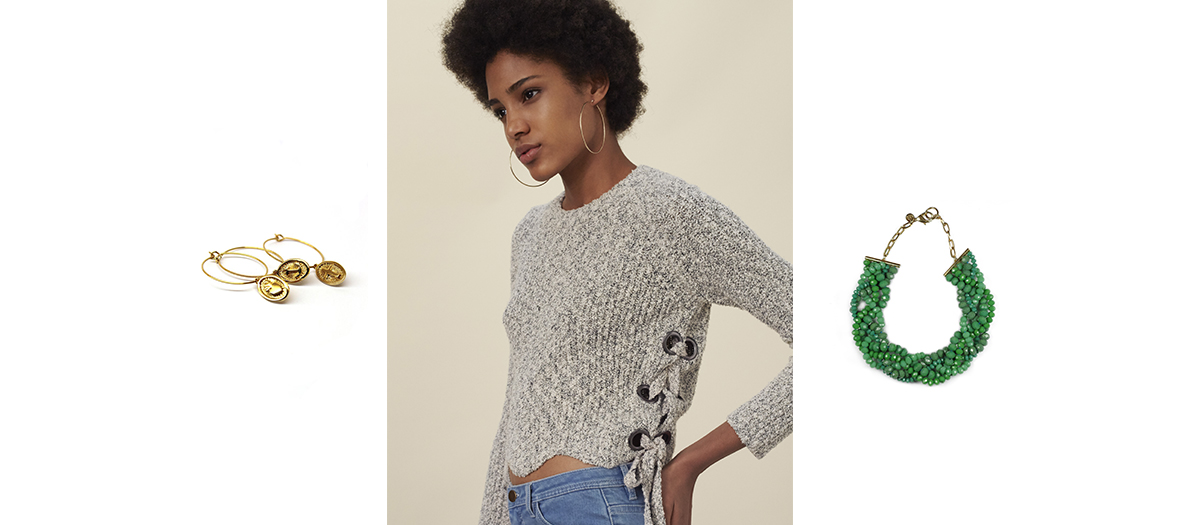 The perfectly cut jean-pullover combo with fabrics in flattering colours and ideal feel: such is the combat outfit of the Parisienne, especially if her cute pullover features a lacing that is as sexy as it is delicate.
The good accessories: XXL details to pimp your outfit, like a single large golden hoop earring by Mimilamour (80€), and a couture Adeline Affre necklace (160€).
« Bulle » pullover in cotton mix, Marie Sixtine, 109 €.
« Bartolo » pants in cotton, Marie Sixtine, 79€.
Available in the boutique of next week on the e-shop.
Marie Sixtine, 13 rue du Jour, 75001 Paris. 01 85 73 41 40.
Go for the chic crossing of the desert spirit at Chloé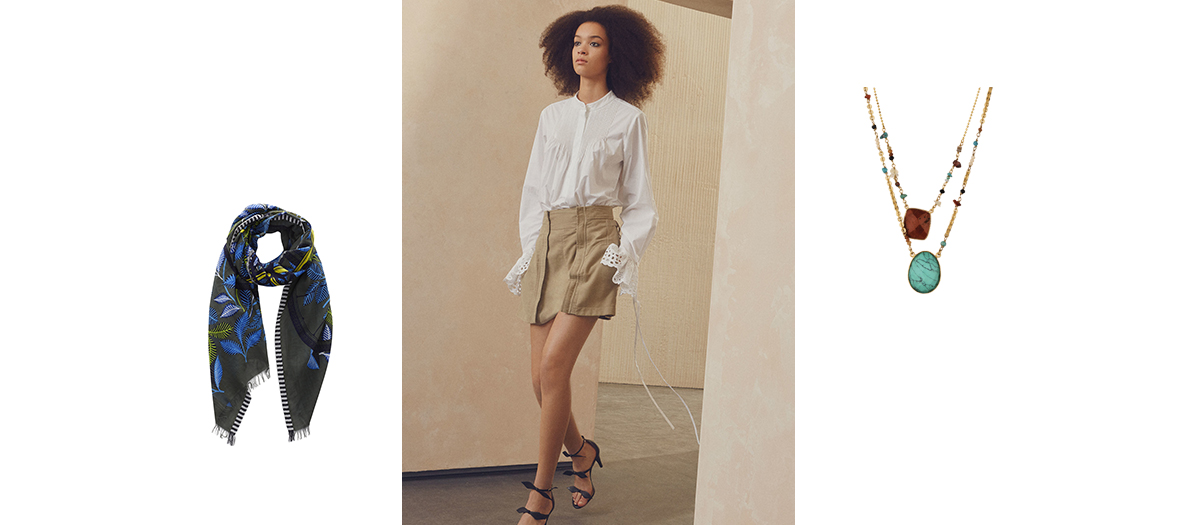 It's Chloé and natch sublime. Here is the proof with this jacket worth of Lawrence of Arabia in jet-set version with high waist shorts and a romantic blouse. It's all enhanced with delicate sandals featuring small bows to convey both a sophisticated and simple look.
The right accessories: a Inouitoosh head scarf (70€) and a delicate necklace by Gas Bijoux (150€).
Blouse in cotton with ridges and English embroidery on the wrists, Chloé, 950€.
High waist utilitarian shorts in washed cotton, Chloé, 790€.
Mike sandals in smooth goatskin suede, Chloé, 595€.
Play the rock baby-doll style with New Look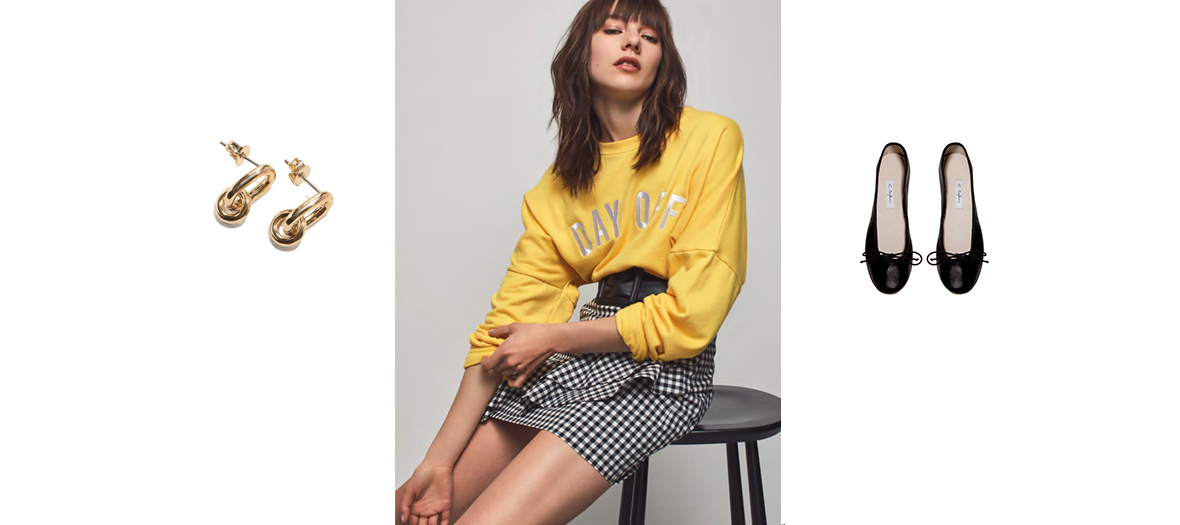 Rock 'N' Roll Damnation! More trendy than ever, the rockabilly style features street credibility. The winning combo is a gingham skirt + oversize sweat with message at New Look. Key to the success: a brightly coloured piece such as this chick yellow that will give some sun to all those with pale complexions this Spring.
The good accessories: downplay the rest of the outfit. Discrete & Other Stories earrings (15€) and on your feet, darling babies by Bagllerina (115€).
Day Off embroidered yellow sweatshirt, New Look, 24,99 €.
Gingham skirt with ruffles, New Look, 29,99 €.
Wide belt in faux leather, New Look, 9,99 €.
Street inspirations taken from Suncoo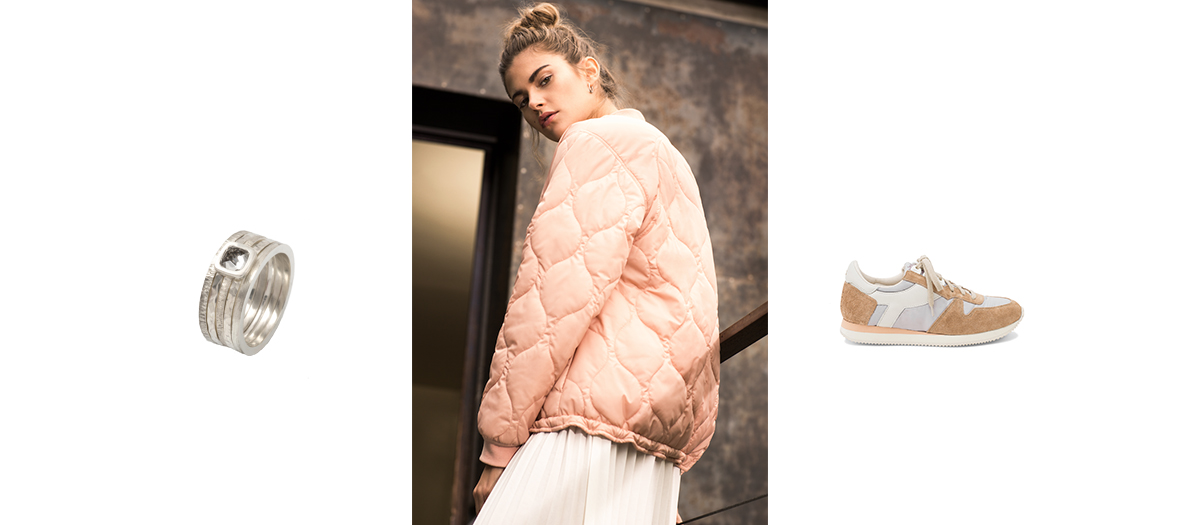 The pleated midi skirt has been our fantasy since several seasons. Hard to wear, we adore breaking its goody-goody side with a quilted bomber in the same powdery hues and a messy chignon.
The good accessories: a nice silver and topaz ring by Paulette à Bicyclette (615€). And to seal the deal, a simple pair of trainers by Natchaf (75€) to race around Paris.
Elfy nude oversized Bomber, Suncoo, 145€.
Freda nude pleated midi skirt, Suncoo, 85€.
Give an aristocratic touch to your shorts… like at Tara Jarmon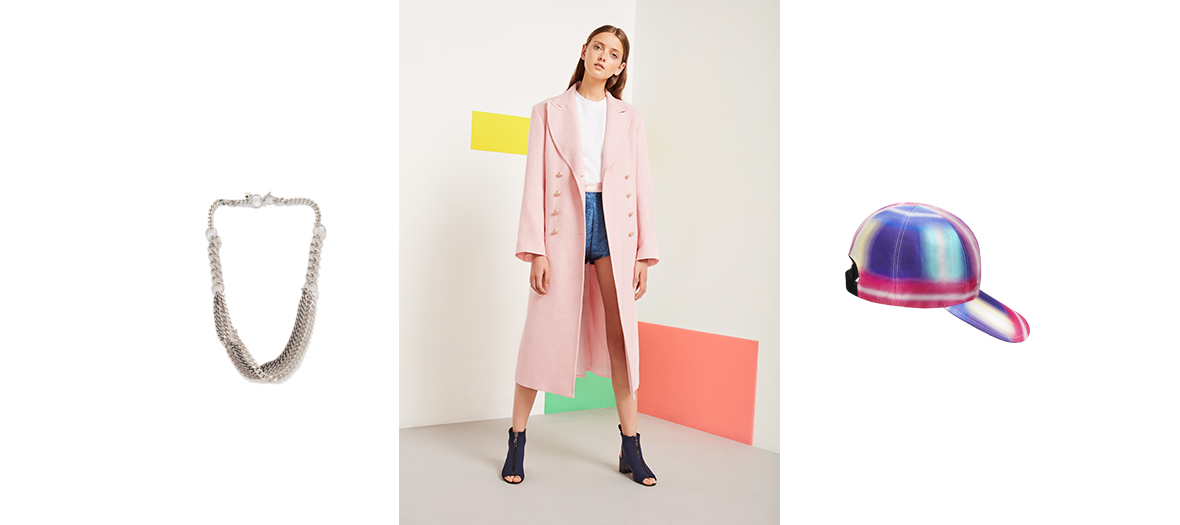 We thought denim micro were big no-nos in town…even it you had perfect thighs! That was before. Worn with a trench coat in powder pink wool and associated with pop sandals : it becomes the best ally of daring Parisiennes!
The right accessories: a Chanel cap, both street and couture in printed silk (650€) and a Les Yeux d'Elsa necklace with heavy links, wildly nineties (166€).
Structured pink coat, Tara Jarmon, 470€. Available in boutiques.
Blue metallic shorts, Tara Jarmon, 280€. Available in boutiques.
Zipped sandals in neoprene, Tara Jarmon, 220€.
Adopt the androgynous look "with a twist" of MKT Studio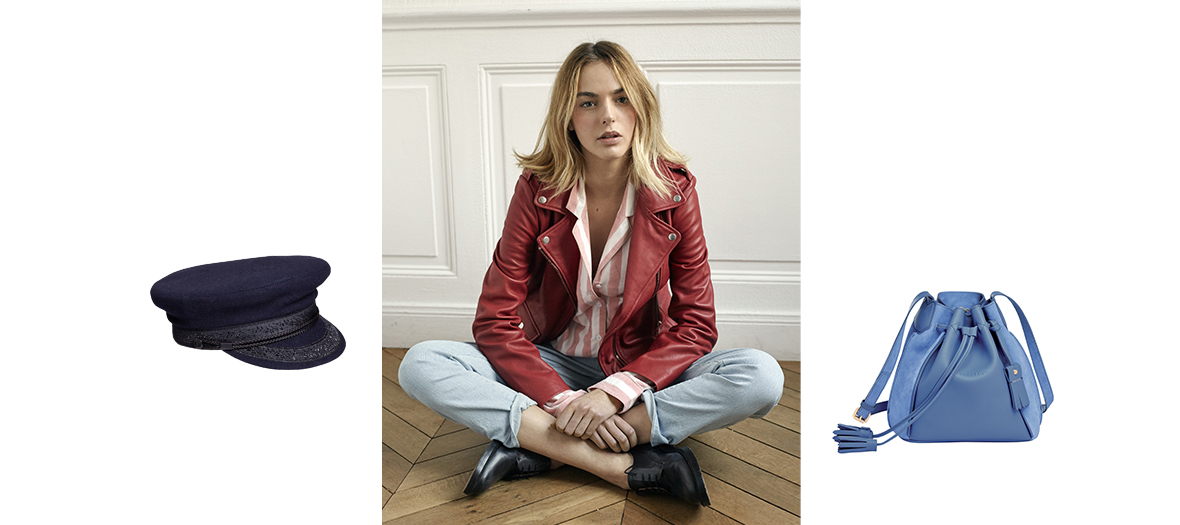 For once, the rock and boyish look is coming out strong this season. So dare to nab the striped shirt of your pan enhanced with a strong piece: the red perfecto rouge. And of course you need a pair of tapered jeans with black patent leather derbies. Kate Moss could not have done much better.
The right accessories: a sassy navy Saint James cap in broadcloth (37€) and a plain Longchamp bucket bag (590€).
Valbere leather blouson, MKT Studio, 299 €.
Shirley shirt in viscose, MKT Studio, 89€.
Woodstock pants with stripes, MKT Studio, 85€.
Available in the boutique. MKT Studio, 55 rue Bonaparte, 75007 Paris.
Having style despite the rain thanks to Topshop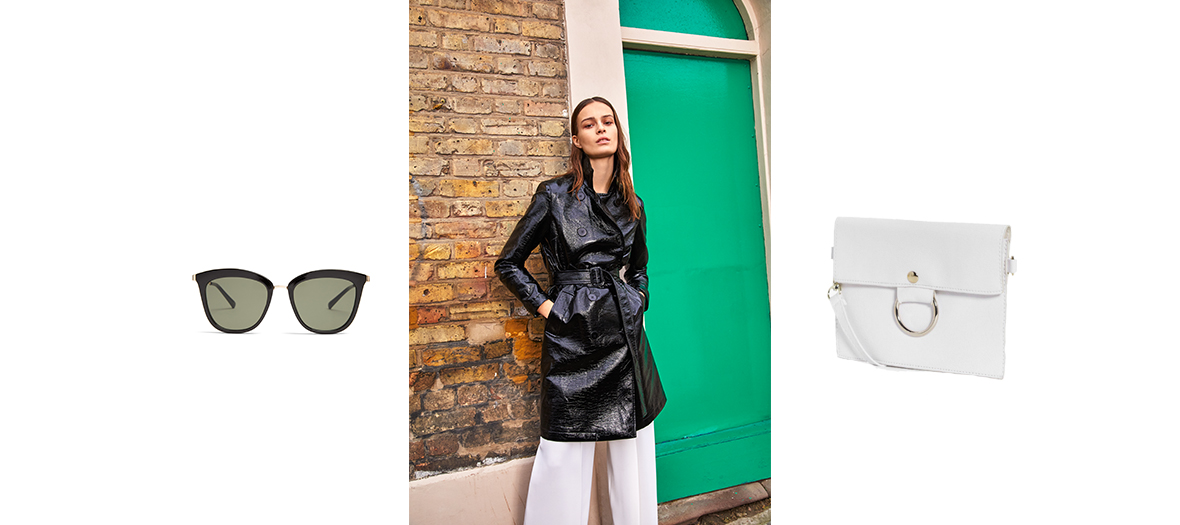 Singing in the rain? Why not, when you have in your closet a spring must: the vinyl trench. So you can capitalize on the sixties allure, don't hesitate to whip out the white flare pant.
The good accessories: XXL Les Specs sunglasses to stay incognito (63€) and the minimalist Boohoo white bag (12€).
Trench in vinyl, Topshop, 155€.
Flare white trousers in polyester, 76€.
Available on www.topshop.com/workwear.
Wager everything on the perfect Maison Labiche shirt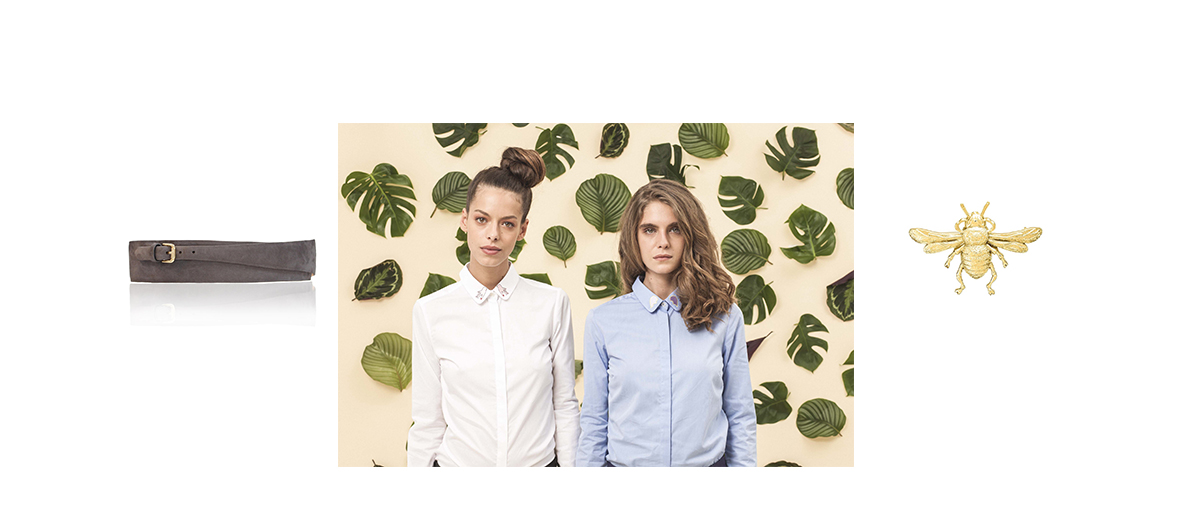 A perfectly cut shirt remains the piece capable of saving the day in case of fashion burnout. It brings allure à to any pair of pants and an instant radiant complexion in blue or white hues. Yet, it's hard to find the perfect model. Except at Maison Labiche, the new Parisienne reference, whose models and cotton quality always keep their promises.
The good accessories: just know that a shirt goes with everything. Tapered pants and sneakers, a sexy leather crayon skirt, in oversized open version on a floral dress … It works in many ways, as long as you don't forget to choose the right accessory. Here, a maxi bee broche by Agatha (45€) and a big belt Célia et Louise (80€).
Cotton shirt with embroidered details, Maison Labiche, 120€.