The Parisienne in the country? Quite an adventure... And not that easy to pull off. How can style survive the mud challenge, without giving in to the anti-sexy temptation of sweat pants/boots/ XXL scarf?
To avoid lugging your entire wardrobe and coming across as a stuck up urbanite, follow our perfect suitcase suggestions eyes closed: pop rain boots, warm socks, leather hoodie, velvet pants… In short, everything the Parisienne needs in the country to stay stylish and feel comfy.
Seventies fever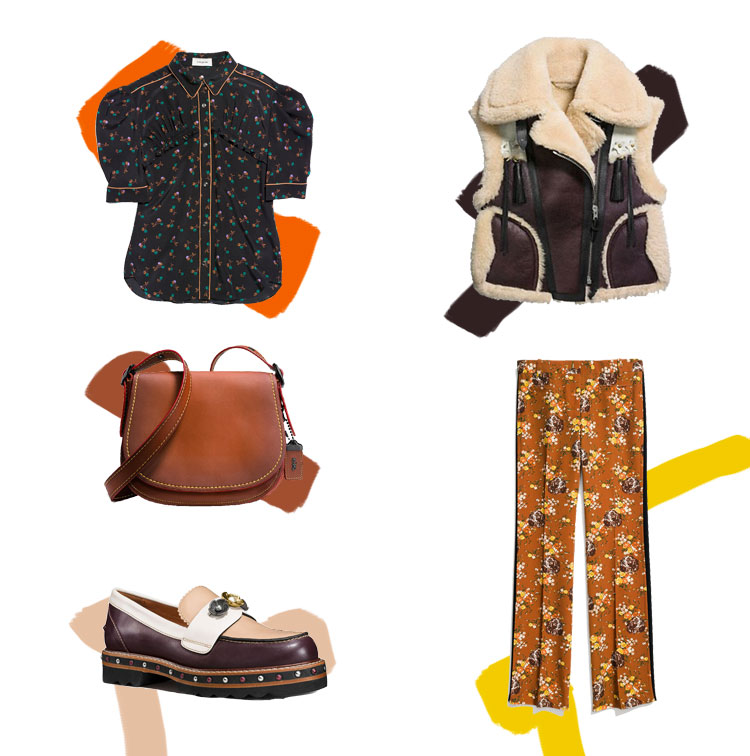 Snuggly warm and stylish, more than ever with this wildly 70's total Coach look. Perfect for a countryside escapade.
Western aviator jacket, Coach, €2150.
Crinkled shirt with cherry print, Coach, €415 .
Pants with flowers and dogs print, Coach, €495.
Lenox moccasins in leather, Coach, €375.
Shoulder-bag in tanned leather, Coach, €495.
Pastel chic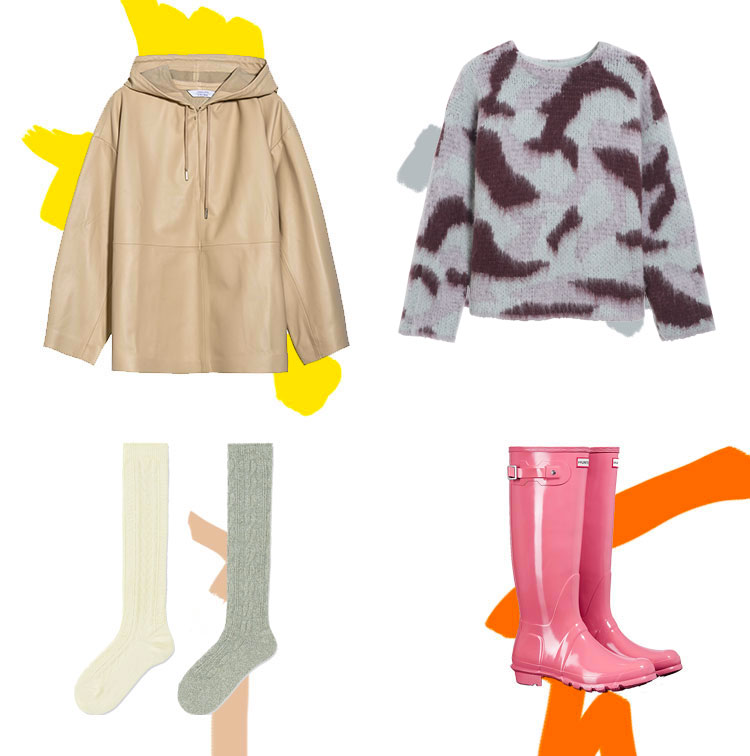 You will be ready to go mushroom picking with this colourful ensemble inspired by a 2.0 red riding hood, so you are sure not to be lost in the forest.
Hoodie in leather & Other Stories at Printemps, €245. Available on the 4th floor of Printemps Mode, 64 boulevard Haussmann, 75009 Paris.
High Glossy Original rubber boots for women, Hunter, €135.
Oversize pullover with long strands, Suncoo, €110.
Heattech high socks, Uniqlo, €9.90.
All-terrain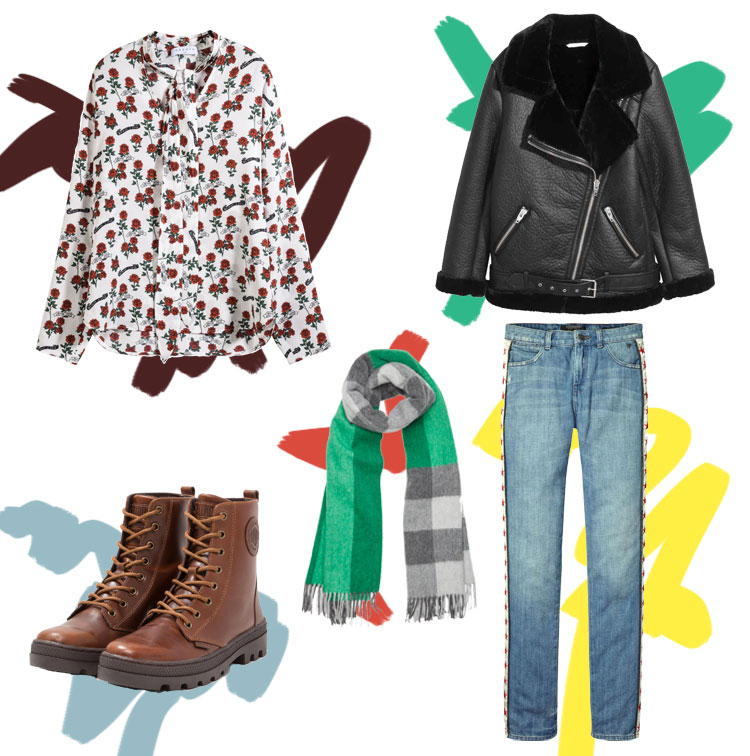 No stylistic downer when you get to the boondocks thanks to this both rock 'n roll and all-terrain look that Kate Moss could very well have assumed. "Me, the country? It's every weekend!". Super easy.
Lined biker style jacket in faux-leather, H&M, €99.
Silk top printed with roses, Sandro, €245.
Laced-up boots, Palladium, €129.95
Straight leg pants with satin star braiding, Scotch & Soda, €170.
Wool scarf, Cos, €110.
Aristo-cool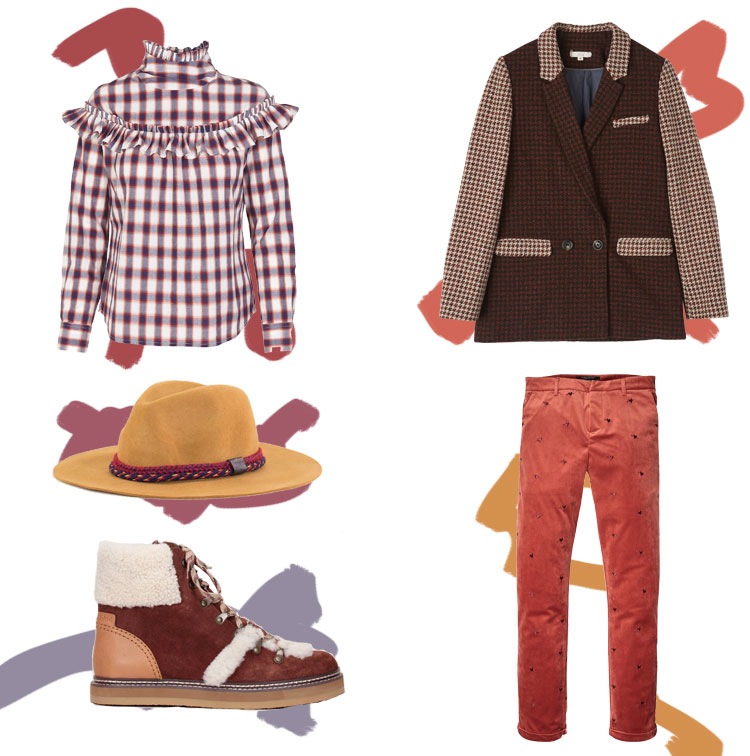 Just like Kate Middleton, as a real Lady of the manor, you master the art of hunting, hiking in the woods, along with your escort of dogs.
Embroidered velvet chino pants, Scotch & Soda, €136.
Checked top with ruffled Victorian collar, School Rag, €59 on placedestendances.com.
Short boots in cognac/beige nubuck leather with imitation wool details, See by Chloé, €395 on monshowroom.com.
Felice fedora hat, wool felt, fantasy braiding, Sessun, €70.
Jacket in mixed wool, Inouitoosh, €340. Available at the boutique located 17 rue des Blancs Manteaux, 75004 Paris.
Comfort street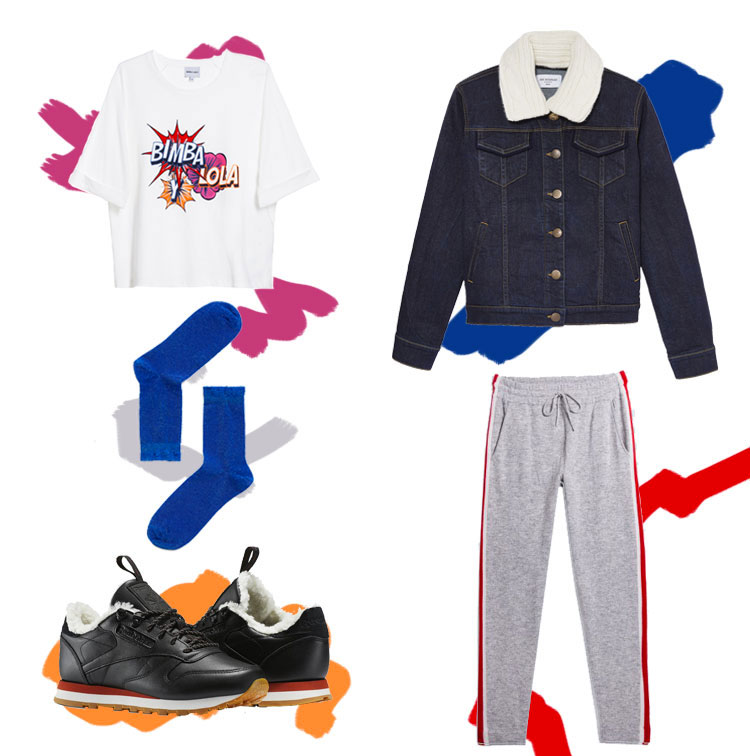 For you, a country weekend entails intense chill by the fireplace. The essential of your suitcase is inspired by Gigi Hadid: street pieces, warm and comfortable, without leaving style by the wayside thanks to lovely materials and modern cuts.
White T-shirt with comics, Bimba y Lola, €58. Available in the boutique located at 17 rue Pavée, 75004.
Jean jacket with removable cashmere collar, Eric Bompard, €230.
Two-tone jogging outfit in cashmere, Kujten, €185.
Glitter blue socks, Monki, €6.
Lined sneakers in leather, Reebok, €99.95.
English countryside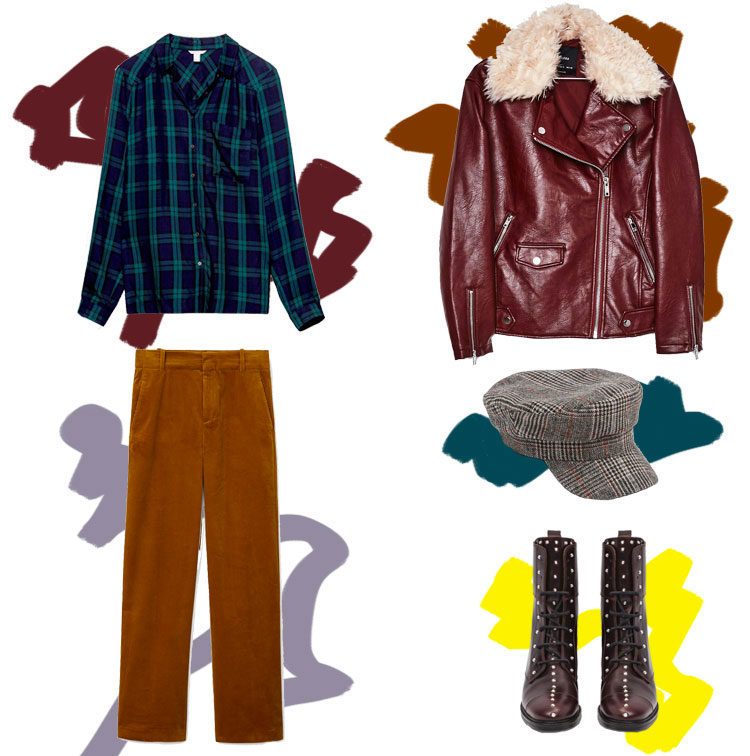 The feminine side of Lord Brett Sinclair, that's you. A resolutely British style accentuated by velvet pants and a checked cap. A must.
Biker style blouson in synthetic leather, Bershka, €45.99 €.
Velvet pants, Mango, €69,99. Available at the boutique 6 bd des Capucines, 75009 Paris.
Burgundy rangers in studded leather, Iro, €435.
Printed shirt with navy and green checks, La Redoute, €39.99.
Checked Gavroche cap, Pimkie, €12.99.