Ok, there isn't a Zara around . No, the neighbors are not cute. Yes, you are here to disconnect from the Parisian superficiality. But self-esteem, so what do we do with it?
For the next weekend in the countryside , let's all refuse the jogging - hiking pumps - fleece combo. By the fire, with mushrooms or on a country walk, follow our ten looks to be stylish even in the pampas.
We reboost a men's shirt with a strong color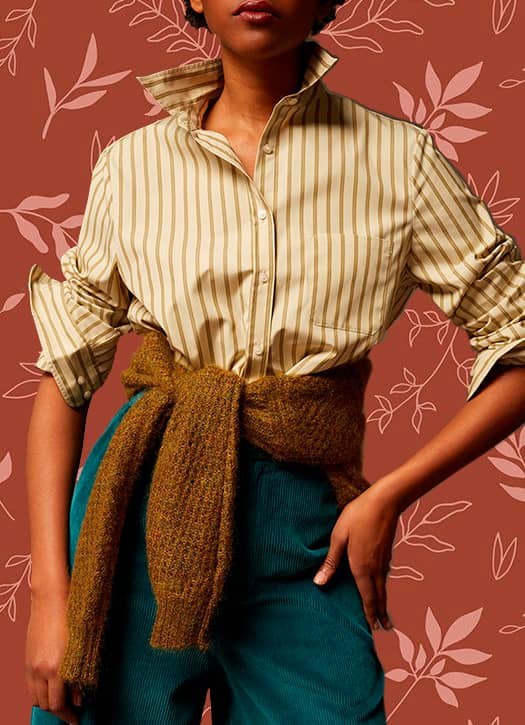 Nothing like a very large man's shirt to go about comfort in the countryside. To keep its fashion credibility even in the Perche, we associate it with a hyper bright contrasting color that will bring out the softness of its stripes. Here, the lagoon-colored Corduroy pants are the perfect chromatic opposite to the cream liquette.
Striped shirt € 135, lagoon corduroy pants € 225, bronze mohair sweater € 195, all from Sœur Paris
We put everything on the aviator jacket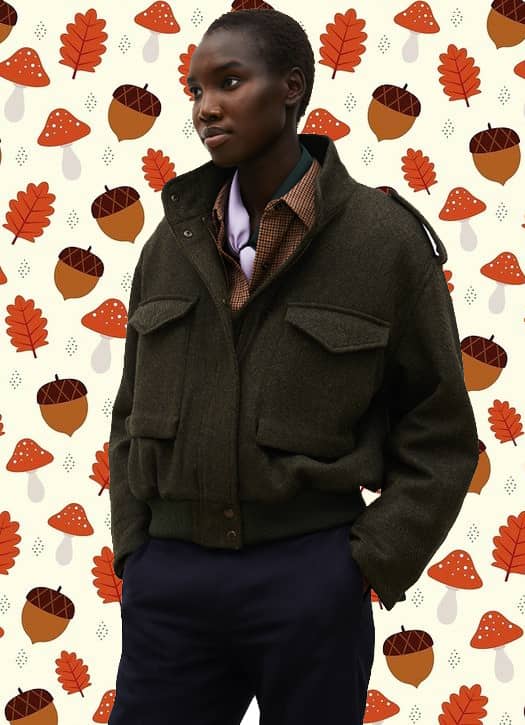 Easy to put on when unbuttoned, the bomber jacket is stylish, keeps you warm, lengthens the leg thanks to its short cut and is wide enough to accommodate under chunky knits when you are an avid chill. Otherwise, we play the layering with a plaid over-shirt and we bring it chic with a silk square to tie casually.
Herringbone wool tweed aviator jacket € 325, fine wool men's shirt € 145, midnight blue chinos € 125, all from Comptoir des Cotonniers
We invest in a great wetsuit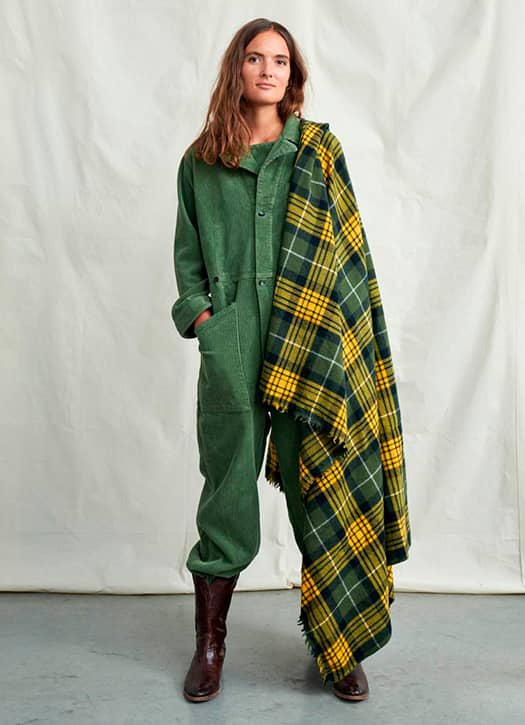 The close -fitting jumpsuit that you wear with pumps is very pretty in town. For the countryside, much less. We choose it in corduroy, oversized cut, in a camouflage color (you never know with the predators of the fields) and we slip the bottom in a pair of aged cowboy boots. By the fireside, we even add a tartan blanket on the shoulders for a decidedly aristocratic look.
Corduroy jumpsuit € 199, tartan blanket € 179, cowboy boots € 315, all by Bellerose
We offer ourselves a trucker sweater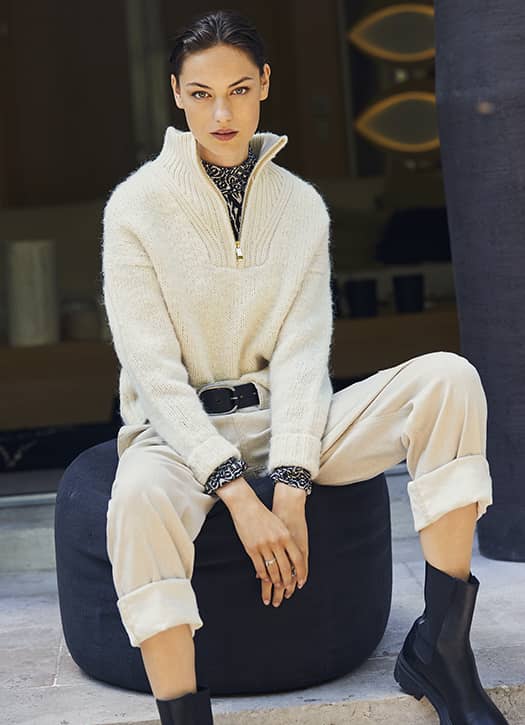 This is THE mesh piece to own this winter. The trucker , essential in the 1980s (you will inevitably find lots of it stashed in your daddy's wardrobe), is making a comeback. We no longer wear it with shapeless jogging but in tone-on-tone ivory with light pants, with a leather pencil skirt or short shorts and tights. In short, a normcore icon that offers itself a fashion credibility when associated with feminine pieces.
Trucker sweater € 280, printed blouse € 190, loose pants € 180, belt € 95, ankle boots € 350, all Ba & sh
We play femininity with a blouse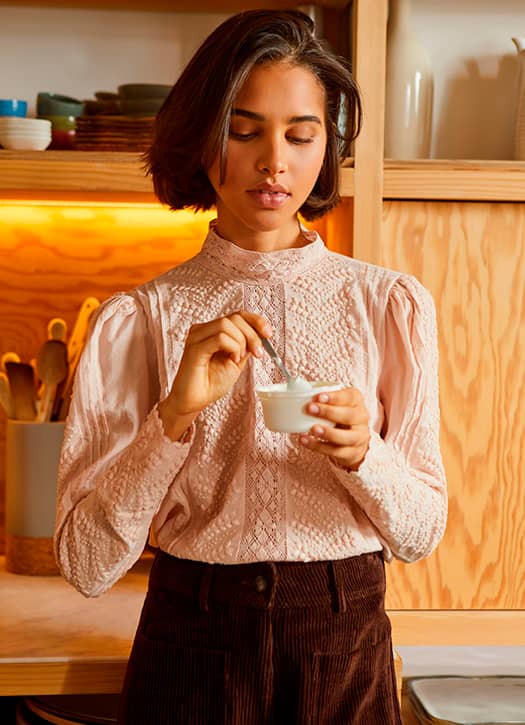 What could be more feminine than a light lace and embroidery blouse ? With its rustic vibes, we associate it with clothes perfect for the countryside such as corduroy pants , jacket and notched ankle boots type Palladium . With a pretty pair of earrings and a loose bun, we keep style at all costs.
Embroidered top € 145, corduroy pants € 140, all Petite Mendigote
We put a sweater on her dress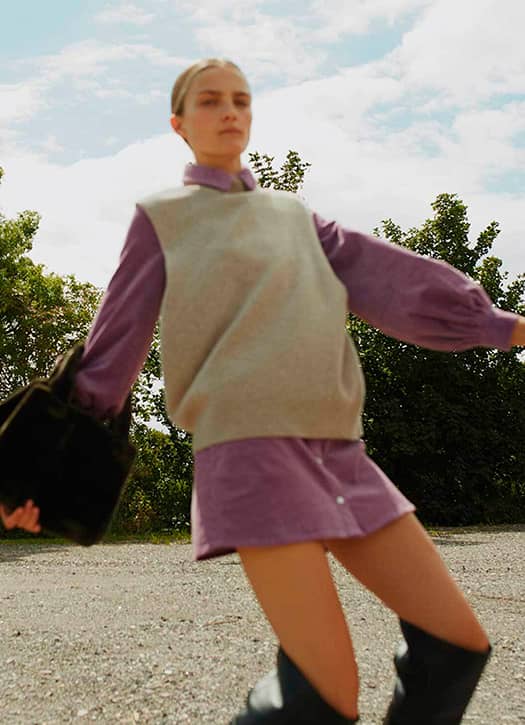 If the short-sleeved sweater is pretty much the only major obsession of the season, we choose it oversized and long so that it can be worn over a short dress . A stylish and comfortable combo when you combine two warm materials and two complementary colors: purple corduroy and a cozy gray woolen fabric.
Corduroy dress € 149, knitted cardigan € 119, boots € 399, faux fur bag € 89, all Samsøe Samsøe
We improvise undermined farmer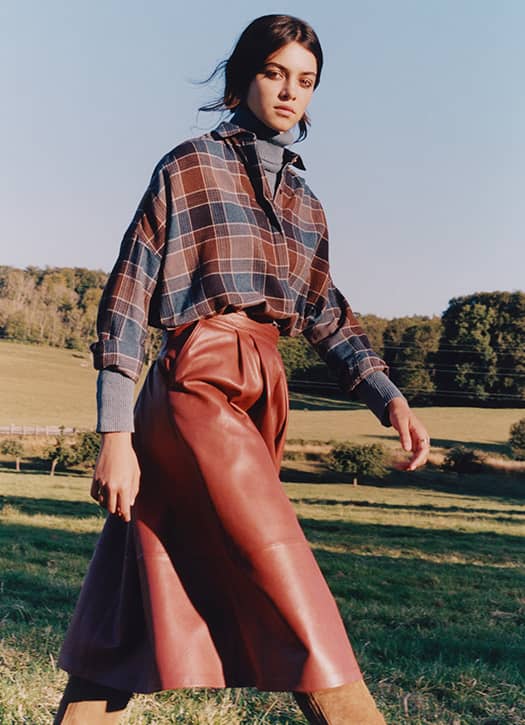 If in town one might wonder where the sheepdogs and the straw bales are, in the countryside the set of wide leather skirt + oversized checked shirt on turtleneck + large boots seems straight out of an editorial. Ralph Lauren shot on his ranch . In short, nothing could be cooler.
Checked shirt € 145, leather skirt € 495, leather boots € 345, all from Sessùn, available soon
We unsheath the white pants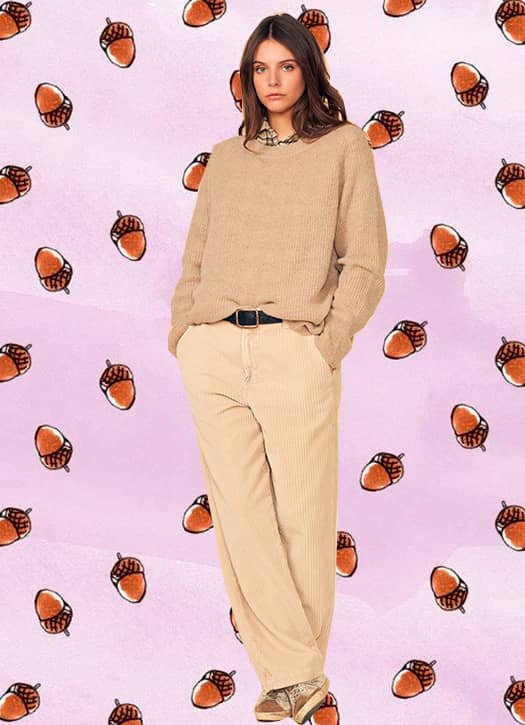 White pants in the country, risky? We're not talking about fluorescent white jeans that would be dirty at the slightest walk, but rather ivory- colored corduroy (yes, again!), Very warm, comfortable and much sharper than the eternal khaki or brown. And with a tone on tone operated by a beige sweater and short sneakers, it's even better.
Jumper € 165, pants € 140, all Diega , available in store
We play it Manon des sources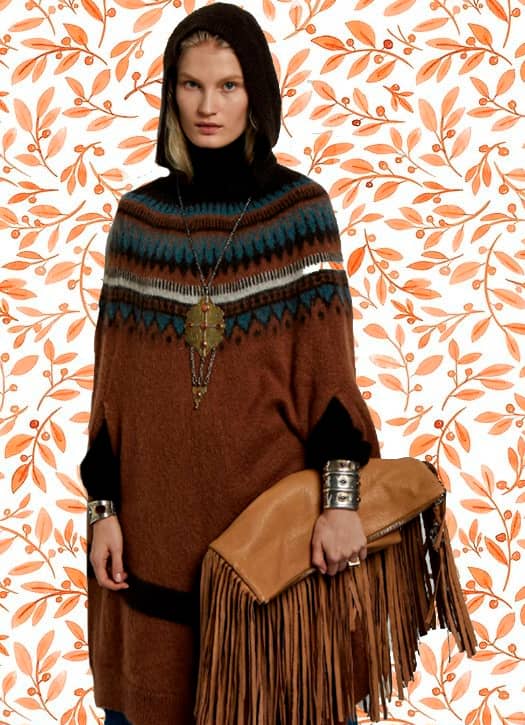 Cap to put on a cape? We have hardly found more sophisticated than this set halfway between Manon des sources and Pocahontas , with hooded mesh cape, large fringed bag, denim culottes and gypset jewelry. Frankly, we have the combo of style to impress the local cows for a long stroll along the fields.
Laurence Bras , prices not communicated, available in store
We dare everything pink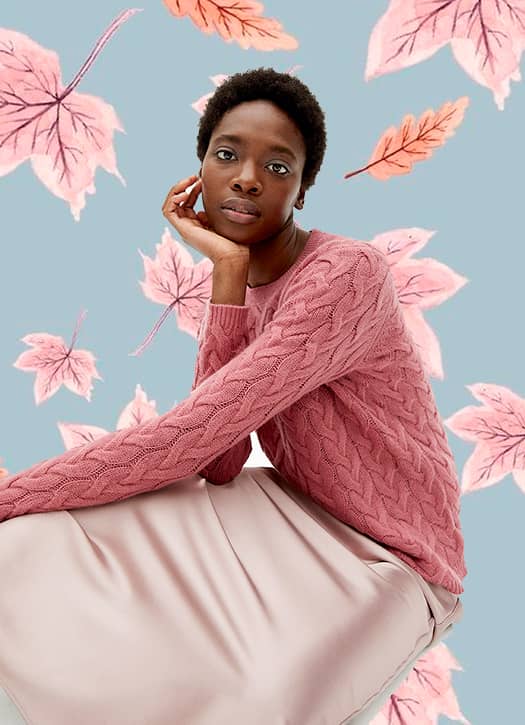 Lounging by the first fire of the season in your little twisted cashmere and silky skirt is the life we have decided to lead. We do not abandon elegance by playing with shades of roses to offer a little sweetness and love to his bucolic stay. A discreet call to hugs operated by a color that never goes out of fashion.
Pink cable-knit sweater, Eric Bompard , € 240, available in store
Also discover ten coats to survive in the rain and the Stella Pardo boutique which sells the finest knits .