It's "the" piece of the season. Starified by Karl Lagerfeld, the red vinyl high thigh is creating a sensation on the pretty legs of all the models walking down the Fendi catwalk… In town, all the fashion icons show off their thigh-high boots with style.
However, this very hot boot can also turn out to be complicated to slip on …Here is the tricky question: how to wear a super sexy high-thigh boot without looking slutty or like a musketeer? Which ones will really enhance your legs? A quick look.
Match it up with something long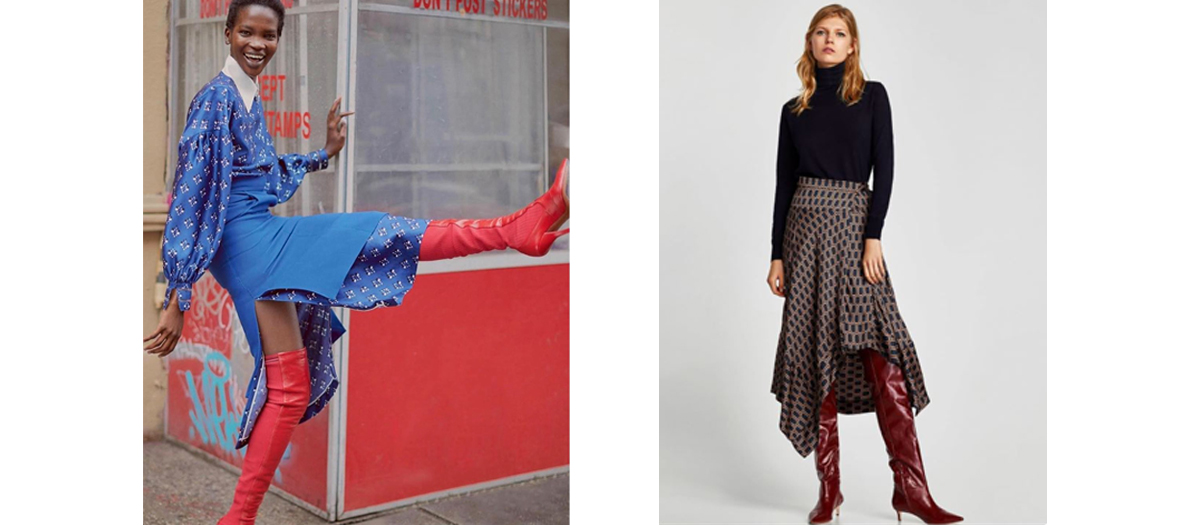 It's definitely the trend this Winter: blurring the high-thigh boot under long dresses and boots this Winter. Or the art of playing the super feminine card without delving in vulgarity.
Our tip : go for strong colours such as red or materials set off the "fashionista" attitude. In short: a great way of showcasing high-thigh boots at the office or for a downtown brunch.
The good models :
Red thigh-high boots by Zara with crumpled patent leather heels (€129)
Fendi thigh-high boots in red leather (€1190)
Go for velvet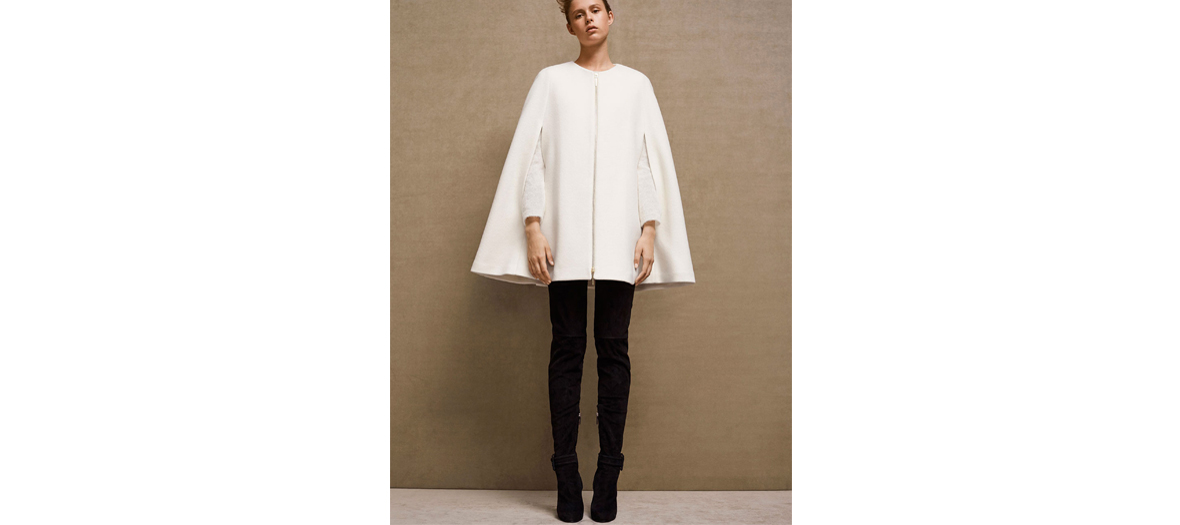 While leather and vinyl convey an additional "Pigalle" connotation to the thigh high, velvet and soft materials immediately give it a more aristocratic movement.
Midnight blue or deep violet, the high thigh is the cute and couture ally to wear absolutely with a nice little leather trapeze skirt. In short the new uniform of your stylish evenings.
Our tip: wear the velvet boots with a hot looking coat. Two pieces " the particularly" ideal outfit for a vernissage or a drink on a heated terrace.
The good model : high-thigh sued boots with asymmetrical metallic heel daim (Massimo Dutti, €149).
Wear them with noble materials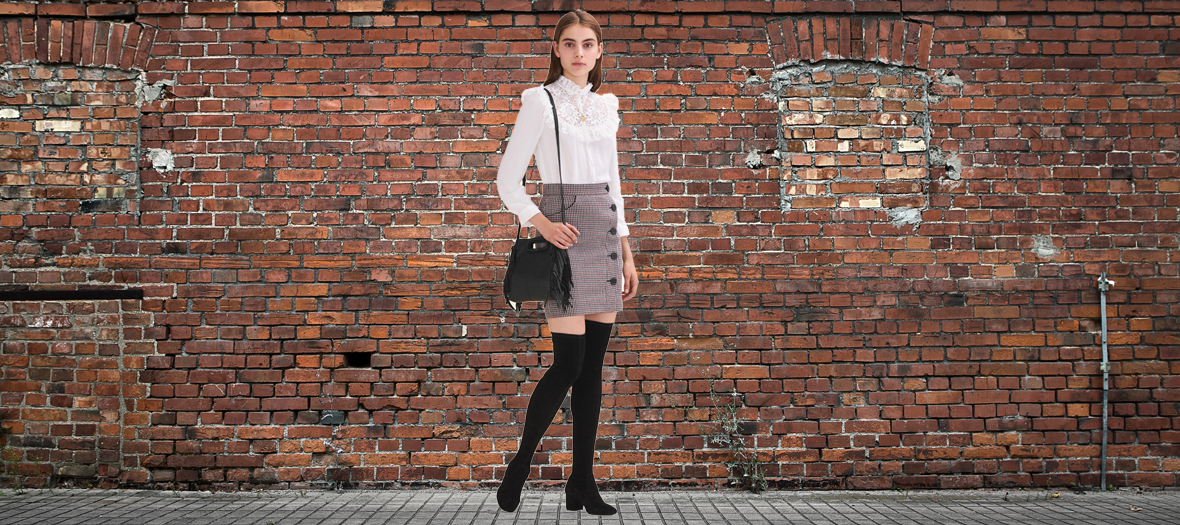 The thigh-high boot + ladylike print = the perfect equation to affirmer the very "special" style of the Parisienne. This entails, houndstooth or Prince of Wales motifs, or tartan that plays the perfect mix and match with this naughty footwear. Neither slutty, nor Bernadette Chirac. The nirvana combo pour un for a first rendezvous with your date.
Our tip: if you don't like prints, replace them by other preppy accessories : peter pan or ruffled collar, pearls or silk scarf.
The good accessories: mini skirt with Prince of Wales motif (New Look, €22.99) and the white ruffled shirt (Sandro, €175).
How to choose your thigh-high boots well?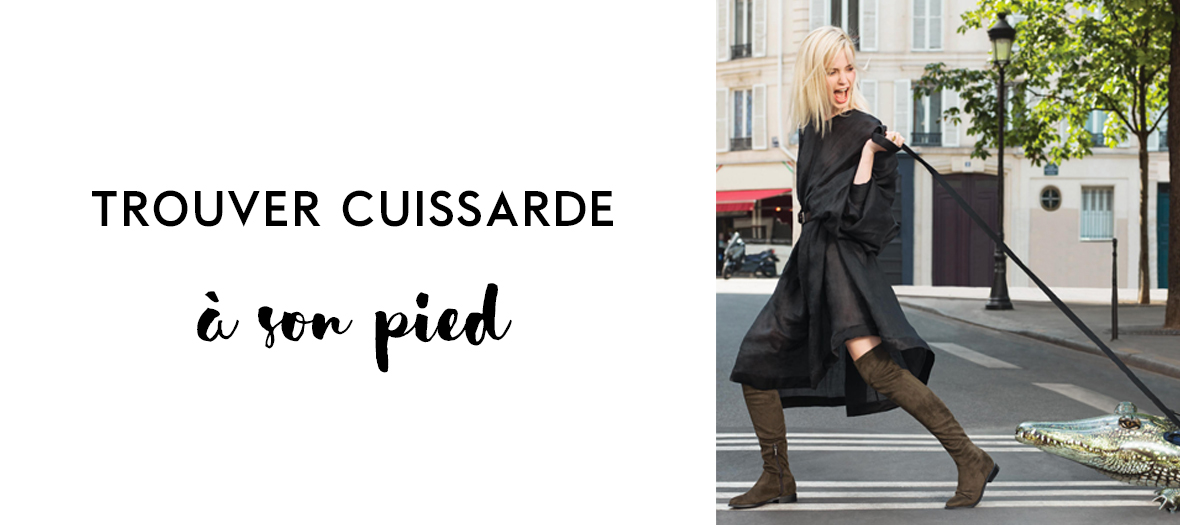 If you have heavy legs: go for a supple pair that covers up the knee. You can allow yourself to wear shorter dresses and skirts than usual.
La prescription: the Minelli thigh-high boots at €199.
If you are more of a small format: do like Noholita or Kim K. Wear boots with very high heels and close to the leg, to be twisted with an oversize pullover.
The prescription: Public Desire high-thigh boots starting at €45.
If you have long legs: set them off by wearing boots that go up mid thigh, but with flat or square heels to avoid the "too much" effect. To maximise the effect "I have the prettiest legs in Paris"; allow yourself a very sophisticated high-waist pair of shorts with pretty specked hosiery
The prescription: Zara high-thigh boots at €39.99.
Also discover the most stylish boots for this winter.