In the film La Fête des Mères, actress Olivia Côte incarnates a teacher who plays hanky- panky with one of her students and does not want children. Discovered in Vous les femmes or as a zany holiday organizer in Larguées, an encounter with a surprising 40-year-old.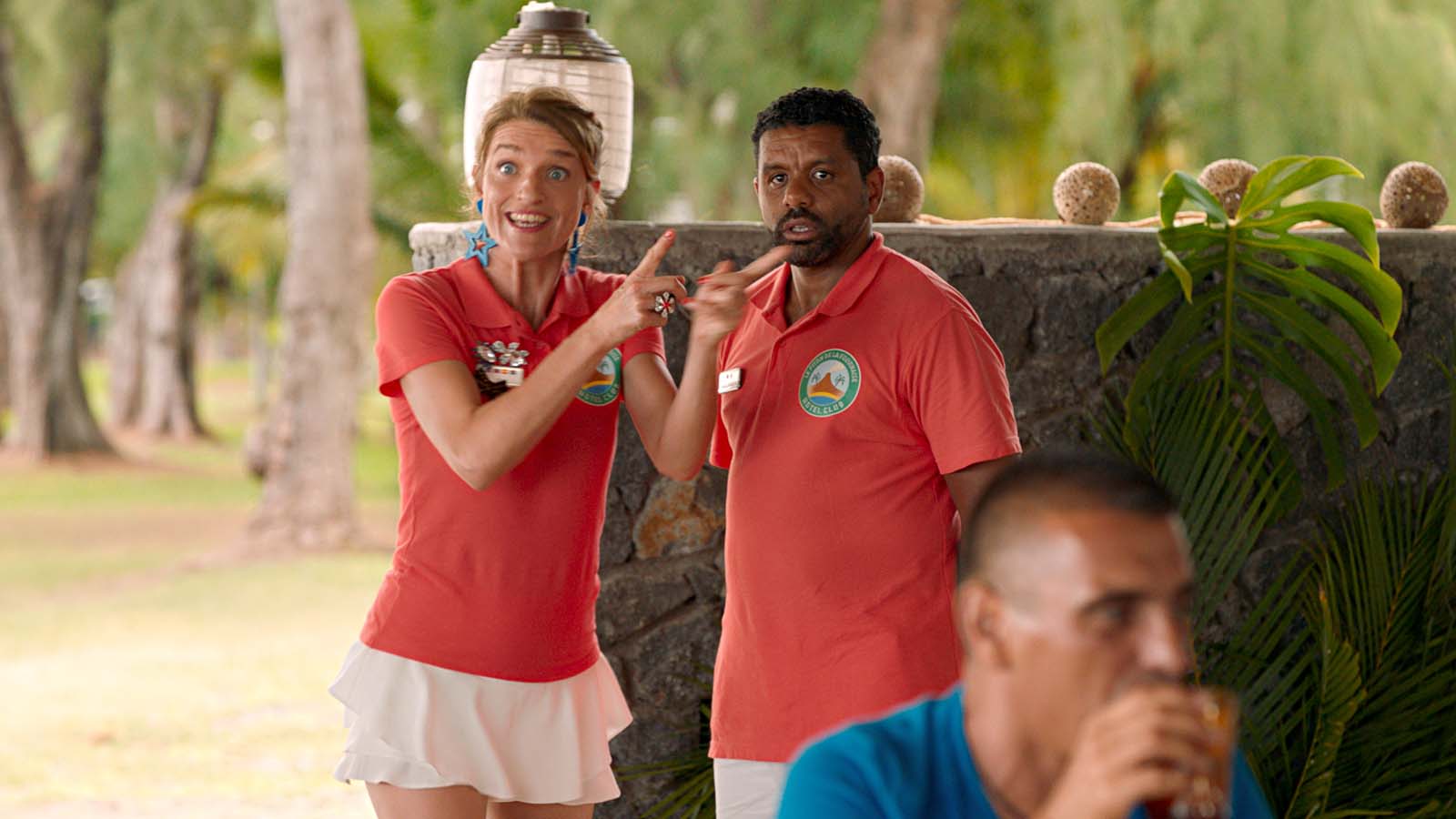 Olivia Côte in Larguées, Pathé Distribution, 2017
After Telle Mère, telle fille, (Like Mother, like Daughter) we run into you again with La Fête des Mères (Mother's Day). Is this happenstance, of is the mother/daughter relationship a theme you feel strongly about?
It's pure happenstance, because I am interested by all kinds of themes. I am fascinated by the world in general as well as humanity—everything interests me.
What do you think of the social pressure on women who do not want children?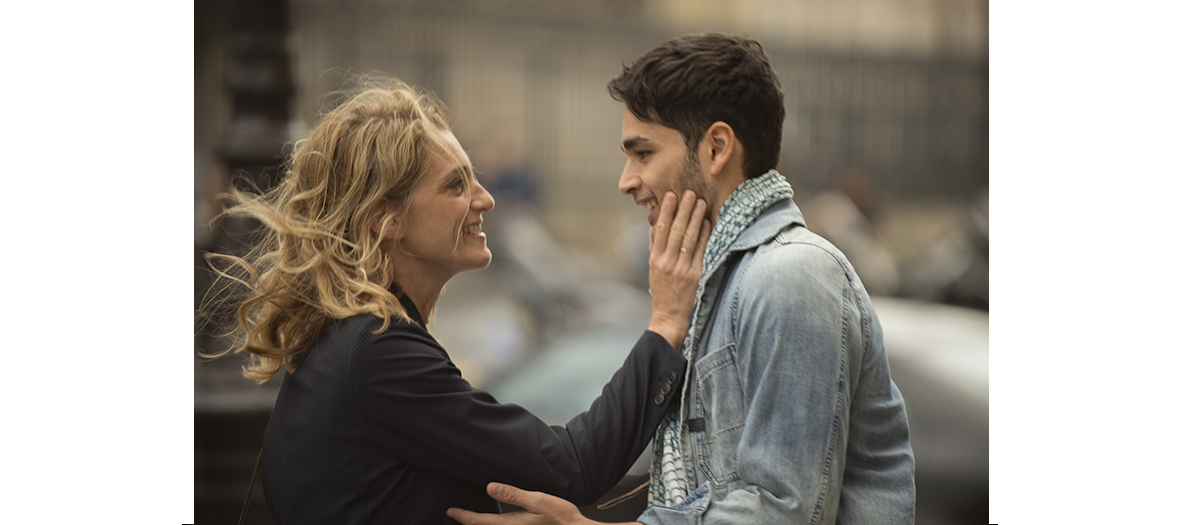 I am influenced by it since I don't have any children myself. Actually, now that I am 43 years old, I am coping with it much better since I became a philosopher (laughs). But it was not always easy, between the ages of 35 and 40, I had the impression of being whiplashed on the face when the fact I did not have any children was discussed.
When I was asked the question and I answered that I had none, there was lots of empathy in the gaze since many preferred to think I could not have any. And if people said to themselves that I did not want to have any, I was really considered as a disgusting being, a mountain of egotism. But now things are better, I no longer receive it as whiplashing, I no longer feel anything—I have become quite hermetic when it comes to those looking at me.
A mother and successful actress, mother and president, mothers and CEO, women who take on both parts are often. For you is this more easily compatible?
I think that it can become compatible. There is a wonderful African proverb that says: "To raise a child, you need an entire village". It's true that it's a very thorny subject because there is the question: "Why did you have children if your nanny is going to bring them up ", that is still quite upsetting nowadays. Personally, I don't have kids, so I don't have to deal with this, but for example, such is the case of my friends who have very active professional lives. Actually, I feel the same gaze, even stricter, on them as on me.
Things really need to change, become more flexible, because women must be able to continue working, to blossom, whether they come out of their kitchen, their living room. Compared to the 19th century when all women were considered either as whores in the cabarets of Toulouse-Lautrec, or as nurturing mothers – the mother or the whore– luckily things have evolved somewhat !
For you is Mother's Day a holiday imposed by Pétain, a marketing invention or a lovely homage to mommies?
As my character explains in the film, this a homage to mothers who try to be engines of peace and reconciliation. It's Anna Gerbis who is at the origin of Mother's Day, an American whose mother was a nurse during the War of Secession. She tried to help treat soldiers from both sides and succeeded, during the Civil War, to gather all mothers around love, protection and kindness.
But now, in the collective idea, it has become holiday imposed by Pétain, making it a marketing venue, that locks up mothers in their roles as mothers, and that's it.
In other words, a phallocratic, macho, paternalistic event, this is somewhat how Mother's Day is perceived in France. While at the outset it was more a homage to women seeking peace rather than other things.
The mother you would really not be ?
It's terrible what just happened in my head, today is really like a kind of therapy with all of you this morning (the journalists), yet I deeply love my mother, whom I admire and respect, I think she is a terrific woman, but I always will begrudge her (even though it's unfortunately the case of all parents but mostly mothers) for being anguished, to see danger and death everywhere. So for sure if I were a mother (in fact I am a step-mother) I would try not to be like my mother was, who was a mountain of anxiety. Too much anxiety.
Are you really touched by the mother/daughter duo?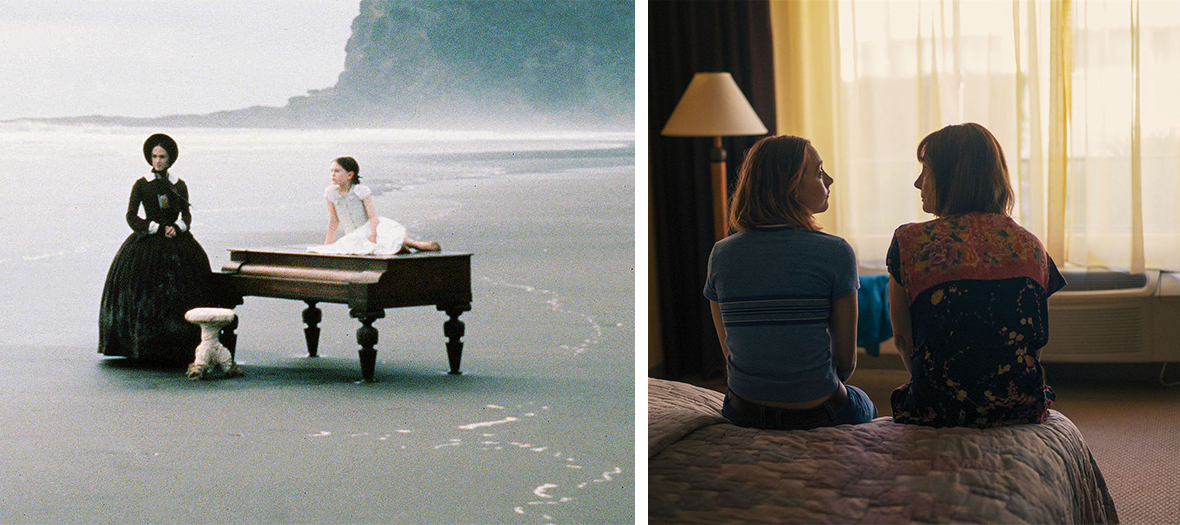 Lately, I saw a film that really touched me by its infinite grace: Lady Bird. I adored this film. The mother/daughter duo touches me enormously, I find it right on target, very true. The mother is also very anxious, which is maybe why I was touched.
And obviously, the mother/daughter duo that really upset me was in The piano, because it's one of the first feminist films. This is a woman who keeps quiet, because speaking out is useless in a world of men. Suddenly, she tries to live her life and detaches herself from her daughter. Her daughter is upset by this but forgives her. I think this is one of the most beautiful mother/daughter duos.
A role of mother or daughter you would like to play at the cinema?
A mother who has no anxieties and who teaches her son or her daughter how to be carefree, constant auto-derision, and how this could affect the child, or asking if the child itself could impose new behaviours on the mother. I would like to have a duo with a child during which I teach the child to make fun of everything, all the time!

Also check out the film of the week: La Fête des Mères and our top 10 of mother/daughter experiences .